NEC Capital Solutions Limited (8793)
President
Tomoo Imazeki
| | |
| --- | --- |
| Company | NEC Capital Solutions Limited |
| Code No. | 8793 |
| Exchange | TSE 1st Section |
| Industry | Other financial business (finance and insurance) |
| President | Tomoo Imazeki |
| Address | Shinagawa Intercity C building, 15-3 Konan 2-chome, Minato-ku, Tokyo |
| Year-end | End of March |
| URL | |
Share Price
Number of shares issued
Total market cap
ROE (Actual)
Trading Unit
¥1,836
21,533,400 shares
¥39,535 million
4.5%
100 shares
DPS (Est.)
Dividend Yield (Est.)
EPS (Est.)
PER (Est.)
BPS (Actual)
PBR (Actual)
¥44.00
2.4%
¥162.54
11.3 times
¥3,675.84
0.5 times
* The share price is the closing price on July 3. The number of shares issued was taken from the latest brief financial report.
ROE and BPS were the values for the previous term.
Fiscal Year
Net Sales
Operating
        Income
Ordinary
    Income
Net Income
EPS
DPS
Mar. 2012 (Actual)
232,760
8,096
8,375
3,847
178.68
44.00
Mar. 2013 (Actual)
229,204
9,132
9,350
4,301
199.77
44.00
Mar. 2014 (Actual)
228,262
16,067
16,478
5,009
232.63
44.00
Mar. 2015 (Actual)
213,853
6,043
4,733
2,816
130.81
44.00
Mar. 2016 (Actual)
202,637
4,870
6,031
3,334
154.85
44.00
Mar. 2017 (Actual)
215,718
6,024
6,537
3,517
163.35
44.00
Mar. 2018 (Forecast)
200,000
7,500
7,500
3,500
162.54
44.00
* The forecasted values were provided by the company. Net income is profit attributable to owners of the parent. Hereinafter the same applies.

This report outlines NEC Capital Solutions Limited, overviews its business performance, and introduces its growth strategies, etc.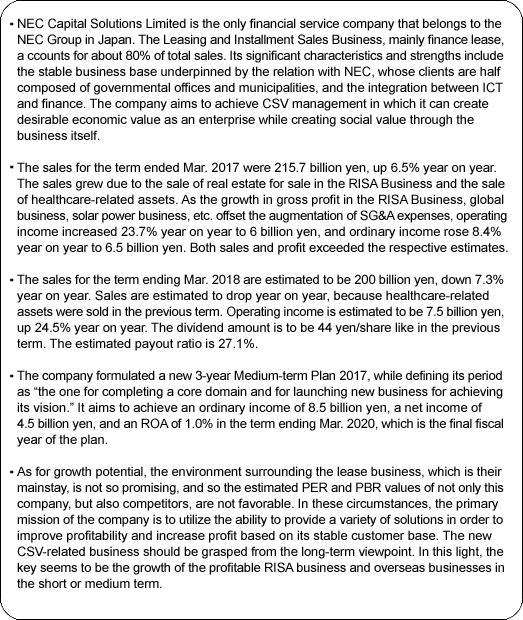 NEC Capital Solutions Limited is the only financial service company that belongs to the NEC Group in Japan. The Leasing and Installment Sales Business, mainly finance lease, accounts for about 80% of total sales. Its significant characteristics and strengths include the stable business base underpinned by the relation with NEC, whose clients are half composed of governmental offices and municipalities, and the integration between ICT and finance. The company aims to achieve CSV management in which it can create desirable economic value as an enterprise while creating social value through the business itself.

 
1-1 Corporate history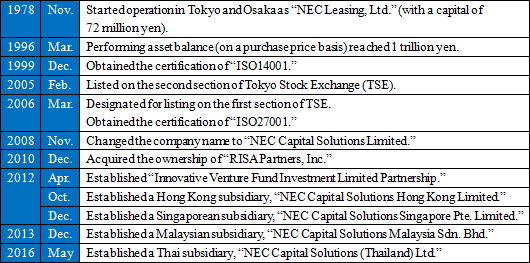 1-2 Management policies, etc.

 

Each employee understands their own mission, value, and vision based on the corporate philosophy, aiming for making them the best and trustworthy partner of each customer.

In addition, the company developed the following group vision in October 2013.
The vision is the aim put into words as what the entire Group will share and pursue for the next 10 years.
As it is anticipated that the external and internal environments surrounding the company will show constant changes, the company deems the vision as anchorage which makes it steadfast in business operation under any circumstances.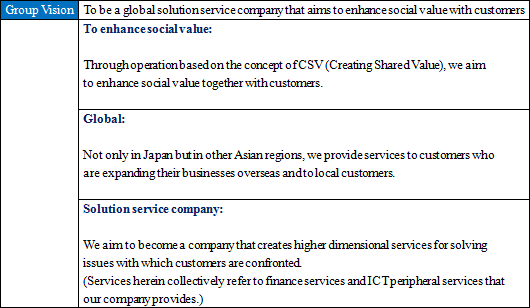 In the group vision, the company has adopted a plan to carry out business operation based on the concept of CSV (Creating Shared Value) which is defined as creation of economic value that should be pursued as a company, as well as creation of social value, through the business itself.

Lately, in order for a company to exist permanently, it is required from them to create social value that contributes to the creation of a more livable society. Accordingly, NEC Capital Solutions clarifies a 10-year vision and aims for sustainable growth with a central focus given on the idea of corporate operation based on the concept of CSV.

The company has conducted businesses by being conscious highly of the concept of CSR (Corporate Social Responsibility). One example is that taking notice sooner than any other companies that the leasing business is a resource recycling-based industry, the company has engaged in processing of articles whose lease periods have expired based on the principle of 3Rs (Reduce, Reuse, and Recycle) and the augmentation in sales of the "eco-lease" field which leases environmentally-friendly equipment.
In addition, in the business targeting government agencies and municipalities, which is its area of specialty, NEC Capital Solutions provides support for the establishment of social infrastructure itself.
After gaining a foothold through the above-mentioned bases, the company will take one step ahead of the idea of CSR to make contributions to the improvement of social value through its business itself.

 
1-3 Market environment, etc.
◎ System of lease

The following describes the system of "lease transactions" that account for a majority of net sales of NEC Capital Solutions: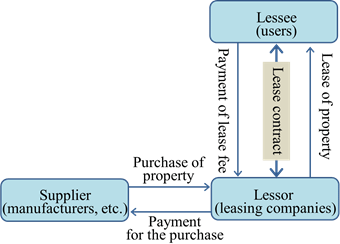 In Japan, lease transactions are divided into 2 categories: "finance lease" and "operating lease," in accordance with the Accounting Standard for Lease Transactions.

 

<Finance lease>

Finance lease refers to leases that satisfy the following 2 requirements:

① Cancellation of a lease contract during a lease period is banned (prohibition of midterm cancellation).

② Almost all (over 90%) of the total amount of the price of a property and ancillary expenses (procurement interest, tax, insurance, commissions, etc.) is recouped through lease fees (full payout). In other words, the total amount of lease fees is composed of "the price of a property + ancillary expenses."

 

Diverse advantages will be brought to users, including labor-saving clerical and administrative tasks, cost reduction, and largely reduced initial costs.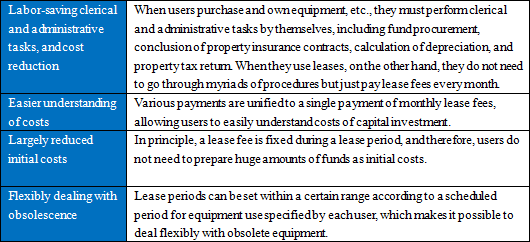 Finance lease transactions are further divided into "non-ownership-transfer finance lease" and "ownership-transfer finance lease."
While "ownership-transfer finance lease" is limited, being composed of leases with conditions for ownership transfer, leases with purchase options, and leases of special specification properties, "non-ownership-transfer finance lease" refers to finance leases other than "ownership-transfer finance lease" and accounts for a majority of the finance lease transactions.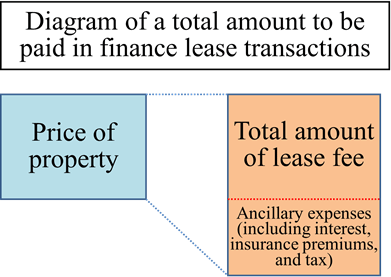 <Operating lease>

Operating lease refers to leases other than finance leases.
In other words, operating lease is leases that do not meet one or either of the above-mentioned 2 requirements, and it usually indicates leases with a system that does not satisfy the requirement of "② full payout."
Operating lease has a lease scheme where the potential future value of equipment or a facility is estimated in advance.

Before an operating lease transaction is conducted, the value of a used property for lease at the time of expiration of its lease contract (salvage value) is estimated and then a lease fee is determined based on the amount calculated by subtracting the salvage value from the property price.
Regarding properties for which users desire operating lease transactions, their salvage value is determined based on their future market value which leasing companies have estimated by taking account of "whether or not a used property market exists and the market trend if the market exists," "economic circumstances," "past results of the relevant property," and "use conditions by users."
Accordingly, the total amount of lease fees in operating lease transactions is smaller than the property price and cheaper than the total lease fees in finance lease transactions.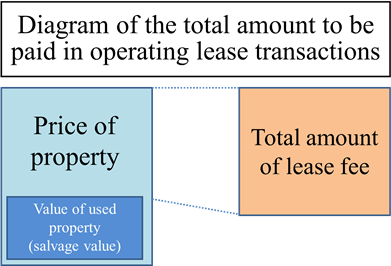 NEC Capital Solutions has engaged mainly in "finance lease" transactions but can deal with operating lease transactions for some aircrafts, vessels, and buildings.

 

◎ Market trend and scale

The statistics released by Japan Leasing Association has shown that the volume of lease transactions in fiscal 2016 was 5 trillion yen, which indicates a considerable decline due to the new Accounting Standard for Lease Transactions (*) introduced in April 2008 and the impact of the financial crisis in September 2008. However, the transaction volume has fluctuated around 5 trillion yen in recent years because the new Accounting Standard does not apply to medium- to small-sized companies and finance lease transactions other than off-balance sheet transactions mentioned above still have attractive advantages.

Meanwhile, competition has intensified among leasing companies, and local financial institutions, who are struggling with a deteriorated business environment attributed to the introduction of the negative interest rate policy, started to proactively grant loans to parties which were not included in their target users, including customers of leasing companies, which has resulted in hightened competition.
It has been required for leasing companies to create differentiating factors such as diverse services and high added value.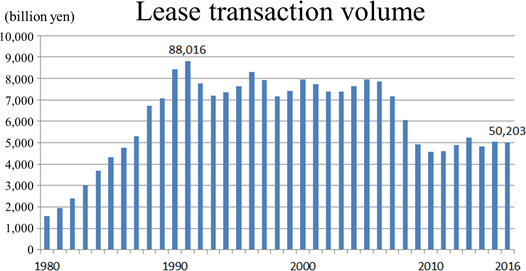 (*) New Accounting Standard for Lease Transactions: Introduced in April 2008. Before the introduction, it was allowed not to record non-ownership-transfer finance lease transactions (off-balance sheet) because such transactions do not involve transfer of ownership; however, the new Accounting Standard has in principle banned off-balance sheet transactions and required sales and purchase accounting (on-balance sheet). As a rule, "lease assets" and "lease liabilities" are recorded in a balance sheet at the time of commencement of a lease. In addition, depreciation regarding lease assets and interest rate equivalents regarding lease liabilities are posted on profit and loss statements, respectively.
Companies to which the new standard applies include listed companies to which Financial Instruments and Exchange Act applies and their subsidiaries and associated companies, and large corporations as stipulated in the Companies Act (with capital being over 500 million yen or total liabilities being over 20 billion yen).
Medium- to small-sized companies are allowed to continue the conventional lease accounting (off-balance sheet). Companies with capital being less than 500 million yen or total liabilities being less than 20 billion yen, including stock companies, special limited liability companies, general partnership companies, limited partnership companies, and limited liability companies, are not subject to the new Accounting Standard for Lease Transactions and are allowed to conduct the conventional lease accounting (off-balance sheet).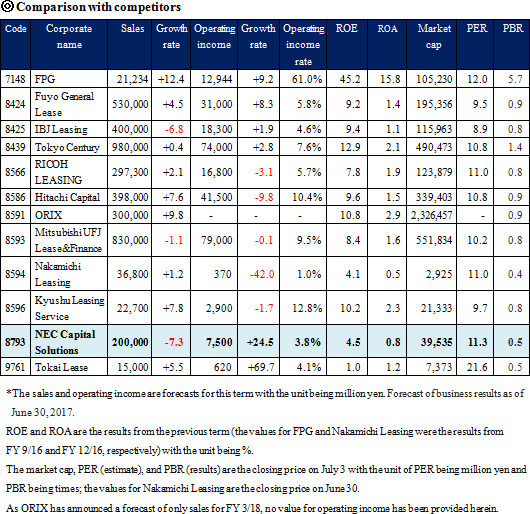 Many leasing companies are in a situation where PBR falls below 1.0. Accordingly, it is indispensable for NEC Capital Solutions to increase investors' awareness of the company and understanding of its characteristics, strengths, and competitive edge as well as improvement in profitability as specified in its "Medium-term Plan 2017" described below.

 
1-4 Business contents
(1) Segments

The company's business consists of the following 4 segments: Leasing and Installment Sales Business, Finance Business, RISA Business, and Other Business.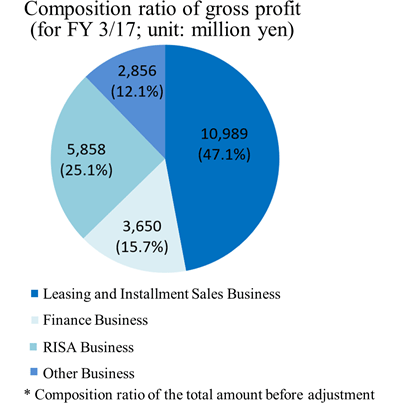 ◎ Leasing and Installment Sales Business

In this segment, the company engages in the Leasing Business and the Installment Sales Business.

In addition to finance lease transactions, the company provides various services, including "maintenance lease" which is a scheme coming with maintenance contracts, "operating lease" where off-balance sheet transactions are allowed, and the "N rental" service which is the remaining value setting type and cancellable operating lease transactions covering ICT equipment.

In general, operating lease transactions deal with assets that can be sold at a certain price even after lease contracts have ended because a decline in their value due to lapse of time is gradual, including aircraft and vessels, but ICT equipment which becomes obsolete quickly, such as computers, is difficult to be subject to operating lease transactions. The company's "N rental lease" service, however, has solved the issue by increasing the value of ICT equipment through regeneration and sold such regenerated equipment to the global used product market.

 
 

As described above, it is certain that leased products are returned regardless of lease types. Therefore, NEC Capital Solutions deems lease transactions as a service that contributes to a resource recycling-based society and, in accordance with the principle of 3Rs (mainly Reuse), regenerates ICT equipment with lease contracts expired which can be sold again. This has led to creation of a resource recycling-based society.

In the Installment Sales Business, according to users' financial needs and needs for possessing facilities, the company purchases facilities on their behalf and sells such facilities by installments to them. Costs of such purchase, interest, and the like are collected in installments.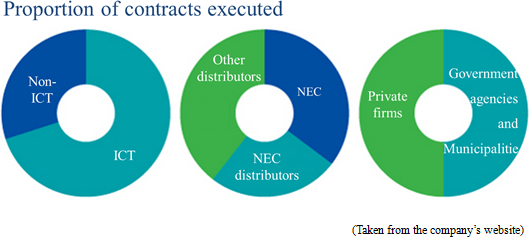 Lately, the company endeavors to diversify operating assets that it handles, including renewable energy related facilities such as solar panels, buildings, aircraft, and vessels.

 

◎ Finance Business

This segment is composed mainly of "business loans" and "factoring."
Principally, business loans refer to "provision of a liquidation program for various receivables" and "provision of structured financing schemes for capital investment."
Factoring is a service that realizes recovery of accounts receivable as quick as possible and alleviates burdens of fund procurement imposed on companies.
These services take another role as an opportunity to link new customers with its major Leasing Business.
The company engages in a business of securities investment as well.

 

◎ RISA Business

This segment is a business of RISA Partners, Inc., which was acquired as a consolidated subsidiary in December 2010 with the aim of diversifying NEC Capital Solutions' financial services.
The company provides client companies with solutions to their management issues in the form of "investment and loans" which provides financial support and in the form of "advisory" which gives advice from the professional perspectives mainly in the fields of finance and real estate.
The capabilities for providing one-stop solutions to a wide range of issues, including support for business growth, improvement of capital efficiency, achievement of liability soundness, and effective utilization of real estate, are the unique strength of the company with a number of experts in various special fields.

What the company is particularly skilled at is support for revitalization of local companies by taking advantage of its network with more than 170 regional financial institutions.
Using that strength, NEC Capital Solutions set up "Tourism Revitalization Mother Fund" in March 2014 jointly with Development Bank of Japan Inc. and Regional Economy Vitalization Corporation of Japan.
The aim of the fund is to revitalize the tourism industry all across Japan and to invest funds in a broad range of tourism related businesses, including hotels, restaurants, local manufacture and sale of products, and local traffic. The company strives to support economic growth of Japan as a tourism-oriented country by contributing to economic revitalization through rich tourism resources in each region all over Japan.

 

◎ Other Business

In addition to posting of various fee revenues such as strucruting fees for structured finance, this segment includes a service where the company engages, on behalf of customers, in trades of used properties with lease contracts expired or cancelled that the company has owned in its Leasing Business, collection of maintenance fees, improvement of business efficiency regarding customers' loan asset management, response to customers' needs for outsourcing, and the like.
Fees in the solar power generation business, PFI business, and health-care business, which the company decided to strive for in the course of searching for new needs from the CSV perspective and propelling commercialization are also contained in this segment.

 

(ICT related business)

The company supports optimization of operation and management of customers' ICT assets at each step of the lifecycle of ICT equipment, ranging from introduction to use and disposal, with the BPO (Business Process Outsourcing) format cloud service.
In addition, Reboot Technology Services and Capitech Limited, a subsidiary of NEC Capital Solutions, regenerates used ICT equipment whose lease contracts have ended and sells regenerated equipment via its own sales channels including overseas.

 

(PFI business)

PFI (Private Finance Initiative) refers to improving social capital by using private funds; in other words, it is a public-private collaborative project for constructing, maintaining, managing, and operating public facilities, etc. by using private funds, management skills, and technical capabilities.
As it is generally required to structure fund procurement through project finance, dedicated staff establishes a structure best suited to a business in order to provide services from the business operators' perspective, including assistance in low-interest fund procurement and production of written proposal for government agencies and municipalities.

 

(Health-care business)

This business is developed mainly with "health-care REITs," real estate investment trusts, where funds raised from investors are invested specially in health-care facilities.

 

(Renewable energy business)

As one of the strategies of corporate operation based on the idea of CSV, the company engages not only in the solar power generation business through SPCs (specific purpose companies) but also in the operation of regional power producers and suppliers (PPSs) and in the purchase and sale of electricity.
In October 2015, under the concept of "local production and consumption of energy," the company established a regional PPS, "Hamamatsu New Electric Power Co.," jointly with Hamamatsu City, NTT FACILITIES, INC., and financial institutions and private companies in the city.
Hamamatsu New Electric Power Co. purchases electricity from solar power generation companies in Hamamatsu City and sells the electricity principally to public institutions including elementary and junior high schools in the city. Local consumption of locally produced energy enables stable supply of electricity without relying on supply from the outside of the city, and besides, funds and resources for electricity supply are circulated within the city, revitalizing the local economy.

 

2. Overseas business expansion

NEC Capital Solutions has propelled business expansion overseas with local subsidiaries currently established in Hong Kong, Singapore, Malaysia, and Thailand.
Quite a few efforts with respect to preparation and time are generally demanded for the establishment of overseas bases; however, as NEC has already focused on some overseas regions and expanded its business there, the company decided to provide financial support to such overseas markets in response to the overseas business strategies of NEC, in order to mitigate risks.
The company plans to expand its business, including dealing with local companies and providing assistance for Japanese companies aiming to enter the Asian markets.

 
1-5 Characteristics and strengths
① Stable business foundation based on the relationship with NEC

As one of the affiliated companies of the NEC Group, NEC Capital Solutions is the only finance services company in Japan and has shared the customer base with NEC since its establishment. The customer base is sound, with the main customers being government agencies and municipalities (which account for over 50% of its customers) , and large companies.
In addition, nearly 2/3 of the volume of contracts executed is attributed to NEC and NEC affliated distributors. Regarding NEC products, the company provides leases in combination with NEC's products and services, which is unique to a manufacturer-affiliated company, including maintenance leases and vendor finance programs.

The company has propelled the establishment of a strategic partnership with NEC.
Regarding proposal for systems to customers by NEC, NEC Capital Solutions has taken part in the proporsal activities from earlier stages, given consideration to sales techniques, and made proposals as a member of "Team NEC."
Both companies enjoy advantages: NEC can make proposal which distinguishes it from competitors, and NEC Capital Solutions can enter into negotiations without vying with other finance services companies.

Lease contracts are a business involving transactions with customers for a long period of time with the average contract period being 5 years.
Transactions between NEC Capital Solutions and customers continue even after manufacturers sold equipment, which allows the company to understand new issues which customers are faced with. Through such relationships with customers, NEC Capital Solutions in some cases introduces NEC to new business opportunities.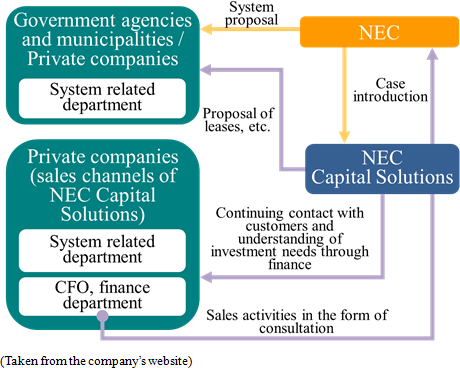 ② Integration between "ICT" and "finance"

Although the company leases various facilities, due to its background as a financial company established for the purpose of pushing up sales of NEC, the ratio of lease transactions of ICT products is large, accounting for nearly 70%.
With such a backbone, the keyword characterizing the presence of NEC Capital Solutions among a myriad of leasing companies is 'integration between "ICT" and "finance."'

One service that represents the company which has integrated "ICT" and "finance" is "PIT managed Service."
This is a BPO format cloud service that provides multifarious one-stop services to manage lifecycles "from procurement and development to operational management and asset disposal" of ICT assets, including a variety of devices such as computers and software, which require a lot of settings and management before use.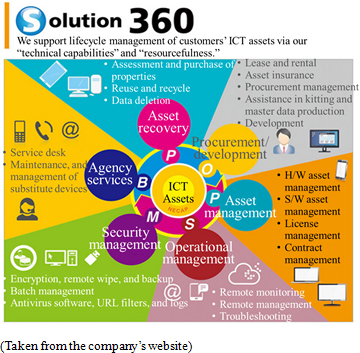 The company deals flexibly with multiple devices including smartphones and tablets as well as computers and handles equipment manufactured by not only NEC but also various manufacturers in order to make the best proposal according to each circumstance of customers.
In addition, the cloud service into which cutting-edge technology and services are incorporated contributes to the curtailment of total cost and the maintenance of quality.
Besides, the company operates a service desk for providing a variety of services by taking into consideration compliance and security and undertaking back-office functions on behalf of each customer.

With the sound business foundation formed through a strategic collaboration with NEC, NEC Capital Solutions provides a wide range of financial solutions by using its profound knowledge of ICT equipment.

 

③ CSV management

Another keyword that characterizes NEC Capital Solutions is CSV management.
The company considered it important to set a policy that always remains steadfast in order to clarify the significance of the company's presence and to pursue sustainable growth, and thus, adopted the idea of CSV in October 2013.

As mentioned above, the concept of CSV is that a business itself creates not only social value but also economic value that a company should pursue.
Prof. Michael Porter, who is known for his book "Competitive Strategy," put forward the idea of CSV on Harvard Business Review in 2011.
While CSR, which is widely known as responsibilities and activities toward society, refers to activities performed around companies' regular business, including compliance, environmental management, and philanthropy (activities contributing to society), CSV attaches weight to strategic expansion of the regular business itself.

It is starting to be understood that CSV is a new movement for taking one step ahead of the idea of CSR and boost corporate value, business value, and competitiveness through the realization of social value.

 

Example of CSV Management Initiative ①: "Environment/reconstruction support syndicated loan"

The "environment/reconstruction support syndicated loan" program aims to provide support for companies oriented toward environmentally-friendly business, and reconstruction of areas damaged by the Great East Japan Earthquake. In collaboration with Development Bank of Japan Inc., syndicated loans are arranged through cooperation from financial institutions all across Japan and funds are invested in projects in accordance with each purport.
Since the launch in 2012, the initiative has earned high reputation and was awarded the "Grand Prize/Minister of the Environment Prize (cooperative project section)," which is the best prize in the 15th annual Green Purchasing Awards in October, 2013.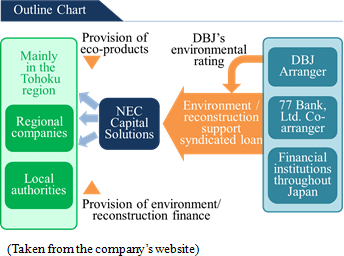 Example of CSV Management Initiative ②: "Development project of charging infrastructure for next-generation automobiles"

The NEC Group has propelled a "development project of charging infrastructure for next-generation automobiles" in order to develop infrastructure, such as charging stations, indispensable for popularizing environmentally-friendly next-generation automobiles including electric vehicles (EVs) and plug-in hybrid vehicles (PHVs).
In the project where the NEC Group makes proposal to companies and local authorities operating facilities that can deal with large-scale introduction of such infrastructure, such as large commercial complexes and public institutions which will be the NEC Group's customers, the company has taken a role in finance related tasks and suggested a system for cutting down on initial costs at the time of introduction as close to zero as possible by utilizing subsidies from the government as well as using leased chargers and the like.
Operation has begun at several facilities principally in the Tokyo Metropolitan area.

The concept of CSV management has taken deep root in the company as a result of the efforts at broadening the understanding of the idea and penetrating it through discussion among all the employees about what should be done in each department and discussion by the president with all the departments including branch offices. With the establishment of a new Medium-term Plan 2017 deemed as a turning point, the company plans to remind its employees of the concept and brush up their understanding.

 
1-6 ROE analysis

 

As it is necessary for the company to possess lease assets in a certain scale, it would be difficult to increase total asset turnover due to its business type, and the issue is to boost ROE through improvement of the margin.

 
1-7 Shareholder return
The Leasing Business, which is the company's core business, is based on a business model with long contract periods during which the company receives lease fees on a regular basis; therefore, its business results remain stable. Based on such business characteristics, the company gives priority to stable distribution of dividends.
In addition, it has established a shareholder benefit plan where benefits are granted once a year to shareholders who hold the company's shares as of the end of every March.
Complimentary goods for shareholders who hold its shares for over 1 year will be upgraded.

Fiscal Year March 2017 Earnings Results

 

Sales and profit grew, reaching the respective estimates.

Sales were 215.7 billion yen, up 6.5% year on year. The sales grew due to the sale of real estate for sale in the RISA Business and the sale of healthcare-related assets.
As the growth in gross profit in the RISA Business, global business, solar power business, etc. offset the augmentation of SG&A expenses, operating income increased 23.7% year on year to 6 billion yen, and ordinary income rose 8.4% year on year to 6.5 billion yen. Both sales and profit exceeded the respective estimates.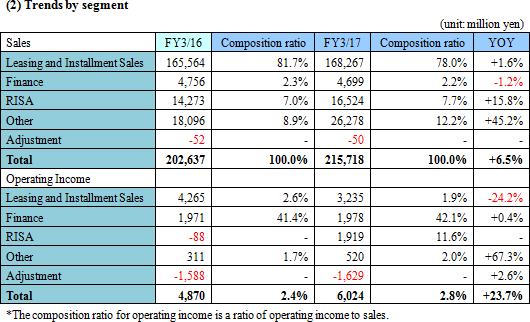 Leasing and Installment Sales Business

Sales grew, but profit dropped.
The lease transaction volume in the entire industry decreased 1.3% year on year, and the lease transaction volume for its core information and communication devices declined 2.6% year on year, indicating the downturn of the market, but sales grew.
Operating income declined, due to the posting of provision for allowance for doubtful accounts, etc.
The amount of contracts executed recovered in the public sector, but dropped in the private demand field, because a large-scale project was recorded in the previous year and the posting of some items was put off. Accordingly, the total amount of contracts executed decreased 16.4% year on year.
The amount of orders placed increased in the public sector, but declined in the private demand field. Accordingly, the total amount of orders placed decreased 1.6% year on year.

 
Finance Business

Sales dropped, but profit grew slightly.
Sales decreased, but operating income was at the same level as the previous year's due to the decline in provision for allowance for doubtful accounts, etc.
The amount of contracts executed grew year on year in the fields of individual factoring and corporate financing. The performance of overseas business contributed too, and the total sales of the finance business increased 16.0% year on year.
The sales in the fields of manufacturing, realty, etc. rose year on year, and the total sales in the private demand field grew 25.0% year on year.

 
RISA Business

Sales and profit increased.
(Asset business)
As there was a large-scale transaction in the previous year, sales dropped, but profit grew, due to the sale of operational investment securities.

(Real estate)
Sales and profit rose due to the sale of existing real estate.

(Advisory)
Sales and profit grew due to the increase in income from commissions related to M&A.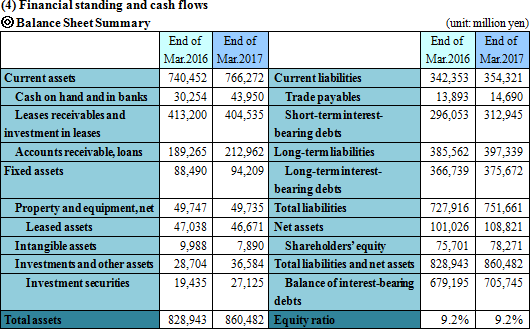 Total assets were 860.4 billion yen, up 31.5 billion yen from the end of the previous term, as leases receivables and investment in leases dropped, but cash on hand and in banks, accounts receivable, loans and investment securities increased.
Liabilities were 751.6 billion yen, up 23.7 billion yen from the end of the previous term, due to the augmentation of short and long-term interest-bearing debts. Net assets were 108.8 billion yen, up 7.7 billion yen from the end of the previous term, due to the increase in retained earnings.
Equity ratio was 9.2%, unchanged from the end of the previous term.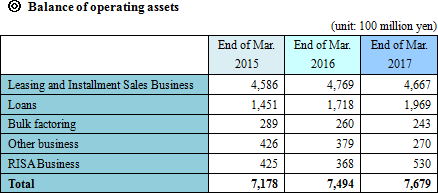 The balance of loans increased, as the amount of transactions in the private sector grew and the global business progressed. The balance of the RISA Business also rose, as the fund business progressed.

 

◎ Situation of fund procurement

Fund procurement cost rate (fund procurement cost ÷ average balance of interest-bearing debts) decreased 0.03 points year on year to 0.68%, because of some measures, including the CP shift of long-term debt and the reduction of procurement spread.
Direct procurement ratio, which means the ratio of CP, corporate bonds, and liquidation of receivables to total interest-bearing liabilities, increased from 27.0% at the end of the previous term to 33.9%, due to the growth of the balance of CP.

 

 

The deficit of operating cash flow shrank, as accounts receivable, loans grew, but real estate for sale, leases receivables, and investment in leases decreased.
The deficits of investing cash flow and free cash flow dropped, due to the decrease in expenditure for acquiring investment securities.
The surplus of financing cash flow expanded, due to the augmentation of CP, etc.
The cash position improved.

 

 
Fiscal Year March 2018 Earnings Estimates

 

It is estimated that sales will drop, but profit will grow.

Sales are forecasted to decline 7.3% year on year to 200 billion yen. As healthcare-related large-scale real estate was sold in the previous term, sales are projected to decline year on year.
Operating income is estimated to grow 24.5% year on year to 7.5 billion yen.
The dividend amount is forecasted to be 44 yen/share, unchanged from the previous term. The estimated payout ratio is 27.1%.

 

 
Overview of Medium-term Plan 2017
 

In the group vision, the company aims to achieve CSV management, in which business activities themselves create social value and also economic value for both society and the enterprise.
Based on this vision, the 10-year roadmap for actualizing CSV management is divided into three stages. As the first stage "Medium-term Plan 2014" has ended, the company formulated the "Medium-term Plan 2017."

 

(1) Review of the Medium-term Plan 2014

During the period of the "Medium-term Plan 2014" under the theme of "redeveloping the base for core business and designing strategies for actualizing the vision," the performance of lease & finance was sluggish, due to the fierce competition fueled by the extraordinary monetary easing, and numerical results did not reach the initial estimates. Nevertheless, the revenue of each business domain increased and new earning sources were secured, achieving the revised estimates in fiscal 2016.

 

 

Each measure progressed steadily, and the redevelopment of the base for core business and the design of strategies for new business bore some fruit.

 

 

(2) Overview of the new Medium-term Plan 2017

This three-year period is recognized as the period for completing core business domains and launching new business for actualizing the vision.

 

① Business Strategies
<Completion of core business domains>

The company will pursue the lease business that can earn additional revenue, and strive to establish "services" which utilize the company's competitive advantage, while using the capabilities to combine a variety of services and inducing synergy inside and outside the company.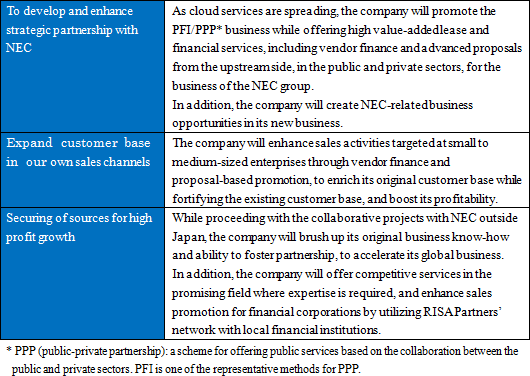 <Launch of new businesses>

The company will engage in business activities for tackling social issues, such as local revitalization and the decrease of the working population.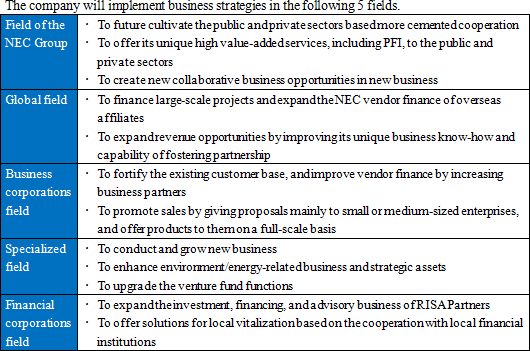 <Strategies for fortifying the management foundation>

The company will strengthen the management foundation that supports business strategies.

 


 

The company will produce good results by improving profitability, and increase profit steadily.

 

 
Interview with the President Imazeki
 

We interviewed Mr. Tomoo Imazeki, who has recently become the President, about his missions, strengths of his company, future growths and his messages for investors.

 

Q: "As the new president, what do you think are your missions?"

A: "Firstly to take the second step securely, then to boost the likelihood of realizing our vision even further."

In October 2013, our company established our group vision that describes our ideals: "To be a global solution service company that aims to enhance social value with customer."
There are three steps to this vision and the first of those was the "Medium-term Plan 2014," which ended in the term ending March 2017. We were able to construct the mechanisms firmly during the first step, so I consider it my mission to take the second step securely on top of the first, so as to boost the likelihood of realizing our vision even further.

 

Q: "What do you consider as the strengths of your company?"

A: "Our strengths and advantages include a stable customer base, confidence in NEC, rapid decision-making and actions, and our capacity to offer diverse financial solutions"

We have four main strong points.

Firstly, our stable customer base:
Our company started off with leasing the NEC products such as their general-purpose large-sized computers and the so-called "mainframes".
Because NEC has especially strong ties with various government offices and local governments, our company was also able to increase such customers.
This stable customer base that arose from the close relationship with NEC forms an important part of our assets.

Secondly, confidence in NEC:
At our company, we are working hard to pioneer the prospective customer base, which we call "own sales channels", separate from NEC's sales channel.
Normally, if you approach a new prospective customer through your own sales channels, I would imagine it would be almost impossible to even get your ideas heard. But with our company it is fairly easy to establish the initial contact with those prospective customers because our company name features those three letters: NEC.
The confidence bestowed in us as an NEC group company is our great advantage.

Thirdly, rapid decision-making and actions:
In terms of sales volume, we are ranked relatively low amongst the listed leasing companies. However, we offer added values to our customers, utilizing our unique advantages in rapid decision-making and actions, namely, highly effective maneuverability, speediness and readiness for highly flexible customer responses.

And finally, our capacity to offer diverse financial solutions:
In order to realize our 2013 group vision, we are continuing to accumulate diverse assets, for example, aircraft, vessels, buildings, and energy-related assets such as solar power generation equipment.
Also, we would like everyone to know that one of our company's differentiating factors is our capacity to offer diverse financial solutions including financing, real estate and M&A advisory, and not just limited to leasing.

One of the factors enabling us to offer diverse financial solutions is our corporate climate.
We continue to hire a multitude of talents as mid-career recruits from banks, stock companies, and trading firms so that we can offer wide-ranging financial services; and our corporate climate and corporate culture, in which all these diverse talents work towards one goal together, in turn make it possible to offer diverse financial solutions.
In addition, I believe it was highly significant from the viewpoint of diversity that RISA Partners was made into a subsidiary.

 

Q: "Next, we would like to ask you about your work towards the company ideals. Can you reflect on the mid-term plan 2014, which ended in the first half of this year?"

A: "Unfortunately we were not able to achieve the initial profit targets; however during the 3 years, we did produce numerous solid results and were able to prepare the mechanisms for the future."

With the introduction of negative interest rates, which we could not foresee at the time of laying down the plan, profit margin shrunk greatly and therefore we were not able to attain the initial profit targets. On the other hand, however, during the 3 years, we produced truly diverse results and were able to prepare the mechanisms for the future.

One of those results was that we were able to fortify our business foundation even further.
We worked to accumulate the operating assets such as leasing and corporate financing steadily, and the accompanying know-how in conjunction. Also I am pleased to report that the RISA business has started to record stable profits.

Strengthening and rebuilding the cooperation with NEC was another important step forward.
With the introduction of the new lease accounting standards in 2008, it became illegal to remove lease assets from company balance sheets, which resulted in greatly lowered incentives for the large corporations to choose the leasing option.
As NEC's chief customers are mostly those large corporations, our company was also not spared form this influence. So we diverted our efforts on our own sales channels to expand our business, but this resulted in a somewhat reduced cooperation with NEC in the area of private demand.
As we were thinking it necessary to strengthen our ties with NEC on reflection, NEC adopted "social infrastructure development" as its priority project area in 2013. And with their renewed recognition of the need for financial functions in infrastructure development, we started to walk in tandem with them again and our company has since been making various suggestions proactively.
As a result of these efforts, in April 2017, our company was able to arrange the syndicated loans, as the lead arranger, for NEC's optical submarine cables building project connecting Hong Kong and Guam. This was the first case of syndicated loans arrangement for overseas project for our company and marked a significant step for us, expanding the scope of our business.
Traditionally, overseas infrastructure development projects would rely on the ODA (Official Development Assistance) but more recently private finances have become the mainstream and I believe the platform for our activities will continue to expand significantly.

We are also rather proud of the fact that we have progressed greatly in building the mechanism towards the CSV business operation, which our company is aiming for.
To realize the CSV business operation, we have earmarked the four priority areas, namely, "energy, "healthcare", "tourism" and "agriculture". In each of these areas, we have been able to produce tangible results such as the founding of Hamamatsu New Electric Power Co., entering agri-business by establishing a Judicial Person Qualified to Own Farmland in Akita prefecture, and investing in a DMC* in Yamagata prefecture.

"Energy", "tourism" and "agriculture" are especially closely linked to local revitalization. As a group, we have numerous local governments as our customers, and with our subsidiary RISA Partners strongly connected with regional financial institutions, we are in a fortunate position to have access to a vast amount of information readily, therefore having a great advantage to be able to create significant business opportunities.
In the future, we are poised to push forward with the horizontal expansion of our business, while completing each case with greatest care.

 

* DMC (Destination Management Company)
A judicial person that helps to develop a touristic region, well-acquainted with the touristic resources of the area such as touristic sites, nature, cuisines, arts/entertainment, customs and traditions. DMO (Destination Management Organization) is another organization with similar functions.
Japan Tourism Agency's website states: "The Japanese-version DMOs are corporations that lay down various strategies based on clear concepts, in collaboration with diverse stakeholders, as the helmsmen in developing touristic regions from the view point of "managing a tourist area" to kindle the pride and love for the region while bringing out its "earning potentials", and are equipped with the adjustment functions to realize those strategies effectively."

 

Q: "Can you tell us about the key points of the Medium-term Plan 2017?"

A: "In terms of completing our core areas, we will continue to work on our objectives through combining our wide-ranging solutions and speediness, fully engaging our characteristics as a company. With the new businesses, as we now have the mechanisms in place, we will endeavor to move towards swift monetization."

Our company regards our Medium-term Plan 2017 as "the period of completing core areas and launching new businesses to realize our visions". Firstly, in the core areas, we will continue to work on our objectives - "establishing and deepening strategic partnerships with NEC", "expanding the customer base in own sales channels", and "ensuring a source for high profit growth" - through combining our wide-ranging solutions and speediness, fully engaging our characteristics as a company.
To realize this, I also feel that building a stronger organizational structure may be necessary.

With the new businesses, as we now have the mechanisms in place, we will endeavor to move towards swift monetization.
The four above-mentioned areas are very attractive markets with advanced deregulations, but for that exact reason they are also extremely competitive markets with numerous new entrants.
Speed and attractiveness of proposals will be the deciding factors; we will try to keep winning here too, in fully utilizing the strengths of our company.

Improved profitability is our big challenge in terms of the numerical target.
I think it would be very difficult to improve our ROA through leasing and financing only, therefore it is essential that we increase the profits through the fund management businesses and the PFI harnessing its characteristic advantages with the local governments, and we will duly put more effort into these areas.

I also keep telling our employees to "be always mindful of the group's vision".
Leasing - unlike distributive trades, etc. - is a business where today's actions do not result in today's sales and profits, but rather in the returns over 2, 3, or even 5 years afterwards.
For this exact reason, unless the employees are very clear about their own future as well as the company's future, there is every danger that they might become unsure about what they are working for now.
To prevent this from happening, it is essential that all our employees continue to think and act together for the realization of our vision.
And if we can accomplish this, I believe our company will be able to grow into an even stronger company.
I feel it is one of my important roles as a manager to keep providing appropriate information to our employees to inspire them and raise their awareness.

 

Q: "Finally, do you have any messages for stockholders and investors?"

A: "Our company is not just a leasing company. We are just beginning to see our tangible shape as a company to realize the CSV business operation. We would like to ask your continued support for our company from the medium- and long-term points of view."

I would like to reiterate the fact that our company is not simply a leasing company or a financial service provider.
We are a company that aims to create reliable profits while contributing to society by offering diverse solutions through the realization of CSV business operation; and we are just beginning to see our tangible shape as a company.
We will continue to strive in our challenges and we would like you to support our company from the medium- and long-term points of view.

 

 
 

As for growth potential, the environment surrounding the lease business, which is their mainstay, is not so promising, and so the estimated PER and PBR values of not only this company, but also competitors, are not favorable.
In these circumstances, the primary mission of the company is to utilize the ability to provide a variety of solutions in order to improve profitability and increase profit based on its stable customer base.
The new CSV-related business should be grasped from the long-term viewpoint.
In this light, the key seems to be the growth of the profitable RISA business in the short or medium term.

 
<Reference: Regarding Corporate Governance>

 

◎ Corporate Governance Report

Last update date: Jun. 30, 2017

<Reasons for Non-compliance with the Principles of the Corporate Governance Code (Excerpts)>
It is mentioned that "We follow all of the principles of the Corporate Governance Code."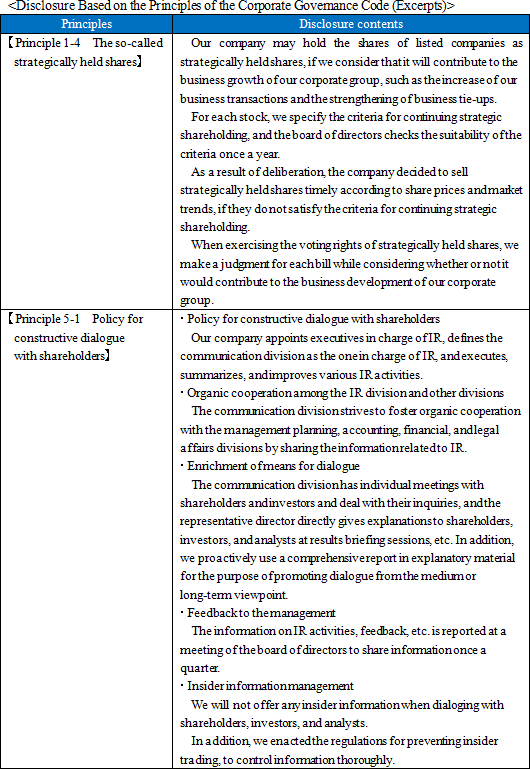 Disclaimer
This report is intended solely for information purposes, and is not intended as a solicitation for investment. The information and opinions contained within this report are made by our company based on data made publicly available, and the information within this report comes from sources that we judge to be reliable. However we cannot wholly guarantee the accuracy or completeness of the data. This report is not a guarantee of the accuracy, completeness or validity of said information and opinions, nor do we bear any responsibility for the same. All rights pertaining to this report belong to Investment Bridge Co., Ltd., which may change the contents thereof at any time without prior notice. All investment decisions are the responsibility of the individual and should be made only after proper consideration.
Copyright (C) 2017 Investment Bridge Co., Ltd. All Rights Reserved.