WADAKOHSAN CORPORATION (8931)
Chairperson
Norimasa Wada

President
Takero Takashima

 
| | |
| --- | --- |
| Company | WADAKOHSAN CORPORATION |
| Code No. | 8931 |
| Exchange | JASDAQ |
| Chairperson | Norimasa Wada |
| President | Takero Takashima |
| Address | 4-2-13, Sakaemachidori, Chuo-ku, Kobe-shi, Hyogo |
| Year-end | February |
| URL | |
Share Price
Number of shares issued
Total market cap
ROE (Actual)
Trading Unit
¥776
9,999,798 shares
¥7,759 million
7.6%
100 shares
DPS (Est.)
Dividend Yield (Est.)
EPS (Est.)
PER (Est.)
BPS (Actual)
PBR (Actual)
¥28.00
3.6%
¥140.00
5.5 times
¥1,872.61
0.4 times
* The share price is the closing price on May 2, 2017. The number of issued shares is obtained by deducting the number of treasury stocks from the number of shares issued at the end of the latest quarter. ROE, BPS are actual results at the end of previous term.
Fiscal Year
Net Sales
Operating
Income
Ordinary
Income
Net
Income
EPS
DPS
Feb. 2014 (Actual)
32,480
2,872
1,981
1,066
106.63
20.00
Feb. 2015 (Actual)
30,097
2,831
2,055
1,180
118.10
22.00
Feb. 2016 (Actual)
28,950
2,938
2,055
1,238
123.86
26.00
Feb. 2017 (Actual)
31,374
3,063
2,193
1,370
137.10
27.00
Feb. 2018 (Forecast)
34,500
3,000
2,200
1,400
140.00
28.00
* The forecasted values were provided by the company.

This Bridge Report presents WADAKOHSAN's earnings results for the fiscal year ending Feb. 2017 and the forecast for the fiscal year Feb.2018.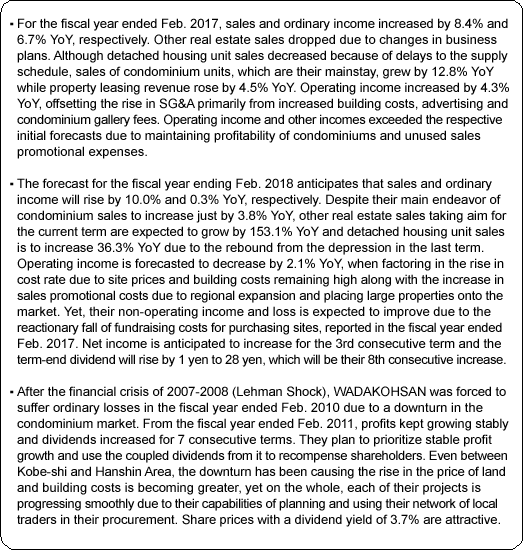 This time-honored real estate firm was founded in 1899. With its main bases between Kobe-shi, Akashi-shi and Hanshin area in Hyogo Prefecture, the company has developed its community based real estate business by selling lots for condominiums and detached houses, and dealing in real estate leases and effective land use. The company specializes in buying up sites and planning, and outsources design, architecture and sales to other firms. The main focus is selling lots for medium scale condominiums, under the "WAKOHRE" brand name, with around 30-50 residences each. Within Kobe-shi, the company is in the second place as a provider of condominiums, and the number one "provider of buildings" for 19 years running. In 2016, the company ranked as the third "provider of condominiums" and the second "provider of buildings" in the Kinki region. As of the end of February 2017, the cumulative supply results were 443 buildings with 16,735 residences (based on those which had started construction).

 

[Business philosophy - symbiosis (living together) your way of living contributes to others' happiness]

The corporate philosophy is "symbiosis," where your way of living contributes to the happiness of others, and values the connections between people and supporting one another. Based on this idea, the company holds up "PREMIUM UNIQUE" as its product concept, and aims to create unique places to live that fit each customer's own way of life, while responding to the feelings of each person who resides there.

 

[Corporate history]

The real estate leasing business was established in Kobe-shi, in January 1899. In December 1966, the business was incorporated under the name of WADAKOHSAN Ltd., and in September 1979 it was reorganized into WADAKOHSAN CO.,Ltd. Having achieved success in selling condominiums wholesale, in March 1991 through the company's own brand, "WAKOHRE," the company regularized its condominium business. Following the Great Hanshin Earthquake in January 1995, the company engaged in projects developing superior buildings for earthquake recovery, and contributed to local reconstruction. In September 2004, the company began trading stocks over-the-counter (becoming listed on the JASDAQ in December). In June 2007, the company reached a milestone, having constructed 10,000 residences with the "WAKOHRE" series as the foundation, and in March 2008 it established a detached house business promotion office, and regularized its wooden detached housing business.

 

[Business segments]

The business segments are divided into sales of condominiums developed for the "WAKOHRE" brand, sales of detached houses developed for the "WAKOHRE-Noie" brand (the sales for both businesses are entrusted to external enterprises), other real estate revenue from dealing in the sale of residential land and rental condominiums, property leasing revenue from the lease of condominiums (the rental condominium brand"WAKOHRE-Vita" and others), stores, parking lots etc., and "other," including things like insurance agency fees not included in the report segment. The sales composition for the term ended Feb. 2017 puts the condominium sales at 84.1%, sales of detached houses at 4.3%, other real estate sales revenue at 3.8%, property leasing revenue at 7.5%, and other at 0.3% (the segment profit composition puts condominium sales at 70.7%, sales of detached houses at ▲0.2%, other real estate sales at 3.1%, property leasing revenue at 24.8%, and other at 1.6%).

 

Condominium sales business

The main areas are the Kobe and Akashi areas (around Kobe-shi and Akashi-shi in Hyogo Prefecture), the Hanshin area (the cities of Ashiya, Nishinomiya and Amagasaki in Hyogo Prefecture) and the area around Itami-shi and Takarazuka-shi in Hyogo Prefecture, and the focus is on developing medium scale condominiums with 30-50 residences under the "WAKOHRE" brand, that do not compete with leading condominium businesses. In addition to a sales strategy that focuses on highly popular areas and supplies different types of condominiums in the same area, thereby realizing diversified needs of consumers and achieving high sales efficiency. Strengths include establishing an efficient business model with unique local community strategy, such as condominium gallery strategy that suppresses selling costs by handling multiple properties at the same time in one permanent condominium gallery. In recent years, the company is pursuing new possibilities by responding to large-scale projects and expanding the business areas to Hokusetsu area in Osaka Prefecture and Himeji-shi in Hyogo Prefecture, which are adjacent areas between Kobe and Hanshin.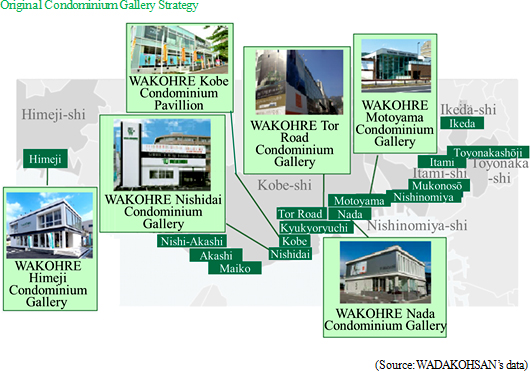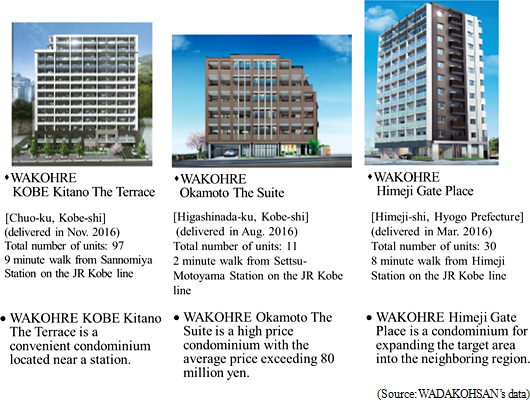 Detached house sales business

Since 2007, the company has been developing around 10 houses with the "WAKOHRE-Noie" brand, in Kobe-shi and further west. From the large amount of site information the company is able to gather, there are many properties suitable for sale for detached house lots in terms of location, area, and site shape. In addition, where the business period for condominiums is just under two years, these projects can be as short as one year, meaning that they can be used to fill the gaps the period completed the condominium construction (which is also effective for turnover of capital). Utilizing design and planning abilities that take the surrounding environment into consideration, cultivated by the work in condominiums, the company aims to differentiate itself from traditional "power builders."

 

Other real estate sales business

The company handles planning, development and sales (of single buildings) of real estate for investment like rental condominiums, and the sale of residential land and land for industrial use. As well as shouldering the function of effective utilization of property information, revenue from selling off lease properties (inventory assets) that accompanies property handover is also included in this segment. In order to strengthen sales of single rental housing buildings aimed at investors, the company is carrying out a capital and business partnership with The Japan Living Service Co., Ltd. (8854) , which is listed on the second section of the Tokyo Stock Exchange, and whose specialty is mediation when acquiring sites or selling off property.

 

Property leasing business

The company mainly manages residential properties, stores and offices, parking lots, and self-storage and other. As a business that can maintain a stable cash flow, in an industry that tends to be strongly influenced by condominium market conditions, from its founding the company has continued to contribute to the stability of revenue. Its basic strategies are to assure stable revenue by improving the operating rate (the rate of tenants moving in), and to maintain and improve the quality of its portfolio through movement of property. With the residences that are its main business, keeping in mind the movement of property after a fixed period of time has expired, the asset composition is focused on 200-300 million yen properties, with many hopeful buyers amongst high net worth individuals. The company maintains an occupancy rate of 95%. In addition, by managing assets and liabilities appropriately, it also aims to reduce the risk of lengthening investment return periods, and the risks associated with assets becoming excessive. The yield of each property is high, at 9-10%, and in future, it aims to cover the burden of indirect expenses with the stable revenue from the leasing operations.

 
Strengths
WADAKOHSAN's strengths are: (1) having the area between Kobe, Akashi, and Hanshin, the foremost residential areas in Japan, as their area of business; (2) the WAKOHRE brand prevailing in their business area; (3) amid the business environment exposed to management risk due to fluctuations in real estate market conditions, maintaining sound finance and having high stability in operations via thorough risk management; and (4) succeeding in differentiating themselves from major real estate companies and railway property firms through expanding business in primarily mid-scale condominiums under the product concept of "PREMIUM UNIQUE", while possessing the capabilities of handling large-scale condominiums. Although they have been prudent in their property selection, in recent years, they are expanding their business area to Himeji-shi in Hyogo Prefecture and Osaka Prefecture (Hokusetsu), which are next to their existing business region, while upgrading their capabilities to handle large-scale condominiums. Their efforts to boost their growth are garnering much interest.

 

Japan's foremost residential area as their region of business

They meet the high demand for housing by making Japan's foremost residential area, between Kobe, Akashi, Hanshin, their main area of business while establishing a comparative advantage with their information capabilities; they even have a reputation for building a community entrenched in the region.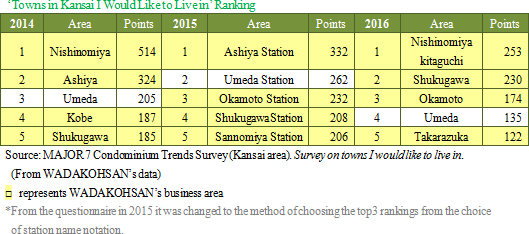 Prevailing WAKOHRE brand in Kansai

Their WAKOHRE brand is prevailing in Kansai, and the power of the brand lets them hold their own against other major condominium developers. In the 18th (2015) Condominium Brand Questionnaire Survey, conducted by the Osaka headquarters of Nihon Keizai Shimbun Inc., they were ranked 5th place in both the Individuality and Familiarity brand sections. (WAKOHRE placed 7th in the Awareness of Company and Brand Combinations, following Lions Condominium, Geo, Proud, Laurel, The Park House, and Park Homes).

 

 

Maintaining sound finances via thorough risk management

They are maintaining sound finances via thorough risk management, have well-balanced suppliers of capital and remain stable. As a result, in their corporate history spanning over 110 years in the real estate industry, where many listed companies have gone out of business, they have only reported a deficit during fiscal year ended Feb. 2010 after being affected by the global financial crisis. They continue to have stable dividends.

 

 

Successful in differentiating themselves from major firms, and having room to expand their business areas

Small and medium condominium businesses were eliminated in the Kinki region due to the real-estate recession after the global financial crisis, and only major real estate companies and railway real estate companies survived, however since these real estate companies specialize in large-scale properties and properties along the railroads, there are not many cases where they compete in site acquisitions with WADAKOHSAN, who develop medium-scale condominium complexes that comprise around 30-50 units of condominium. Yet on the other hand, WADAKOHSAN have their sights on further expanding their operations, making efforts to develop large properties in the existing business area and expanding the area into Himeji-shi in Hyogo Prefecture and Osaka Prefecture, which are next to their existing business area.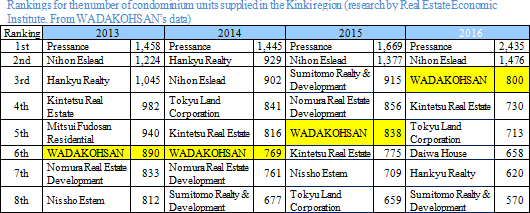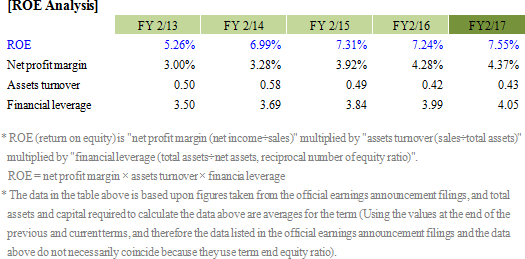 Fiscal Year February 2017 Earnings Results

 

Sales and ordinary income increase by 8.4% and 6.7% YoY, respectively.

Sales increased by 8.4% YoY to 31,374 million yen. Detached housing unit sales decreased due to delays in acquiring permits and approvals as well as negotiating with the neighborhood. Other real estate sales also fell, due to changes to the business plan. However, real estate delivery is proceeding according to schedule with condominium sales growing by 12.8% YoY. Property leasing revenue increased by 4.5% YoY due to the strong performance of existing real estate and contributions from new investment properties.

Operating income increased by 4.3% YoY to 3,063 million yen. Gross profit rate fell by 0.5 points to 21.0% due to the recoil from the high profit ratio of WAKOHRE City Kobe Sannomiya, which delivered 320 units in the previous fiscal year ended Feb. 2016 and the rise in building construction expenses (15,296 million yen, up by 14.0% YoY). Meanwhile, although SG&A, primarily advertising and showroom (condominium gallery) expenses, rose by 6.8% YoY to 3,510 million yen, they were offset by the increase in sales. Net income grew by 10.7% YoY due to the improvement in extraordinary income or loss and the lower tax burden rate.

The term-end dividend is expected to rise by 1 yen to 27 yen.

 

Cause of differences from the initial forecast

In terms of sales, in addition to a decline in detached housing unit sales and other real estate sales, the number of condominium units delivered was 8 smaller than the planned. Meanwhile, operating income experienced an upswing due to condominiums maintaining profitability and unused sales promotional expenses. Ordinary income and net income exceeded the initial forecast.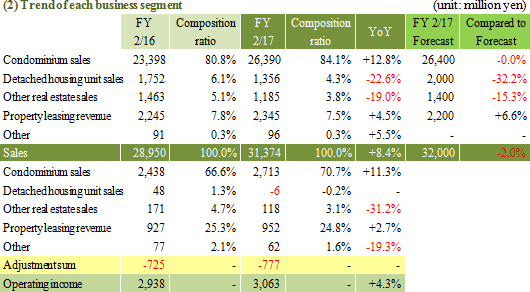 Condominium sales

Sales were 26,390 million yen (up by 12.8% YoY) and segment income was 2,713 million yen (up by 11.3% YoY). The number of condominium units delivered was 762, up by 11.1% YoY, due to contributions by the completion of 16 buildings, including WAKOHRE Kobe Kitano The Terrace (97 units; 3,314 million yen) and WAKOHRE Fukae-Ekimae Gardens (88 units, 2,530 million yen), along with WAKOHRE -shi Kobe Sannomiya (147 units; 4,852 million yen) which was completed in the previous fiscal year ended Feb. 2016. Units on sale consist of 559 units in 17 buildings, primarily within Kobe-shi, Akashi-shi and Hanshin area (down by 32.6% YoY). The number of contructed units, which are an indicator of the sales situation, increased by 2.7% YoY to 716 (on a monetary scale, they amount to 28,658 million yen, up by 12.7% YoY). As of the end of the term, they possess 853 units that have been contracted but are yet to be delivered, which is a 5.1% YoY drop (on a monetary scale, it amounts to 33,929 million yen, up by 7.2% YoY). Complete inventory only consists of 9 units in WAKOHRE Himeji Cross Square. Procurement involved strictly selecting site purchases from market conditions which resulted in 663 units, down by 14.8% YoY.

 

 

Detached housing unit sales

Sales were 1,356 million yen (down by 22.6% YoY) and segment loss was 6 million yen (the same period of the previous year saw a profit of 48 million yen). The number of units delivered was 38, much smaller than the target: 60, due to delays in construction completion as extra time was needed to make adjustments to commence construction work by acquiring permits and licenses as well as negotiating with the neighborhood.

 

 

Other real estate sales

Sales were 1,185 million yen (down by 19.0% YoY) and segment income was 118 million yen (down by 31.2% YoY). They sold 12 pieces of land and rental apartments, which included 4 wooden buildings (23 units) for investment; however it resulted in both sales and profit dropping due to a change in the sales period for investment properties.

 

Property leasing revenue

Property leasing revenue was 2,345 million yen (up by 4.5% YoY) and segment income was 952 million yen (up by 2.7% YoY). Properties purchased in the previous term as well as the high occupancy rate of existing properties, such as residences, shops and offices, contributed.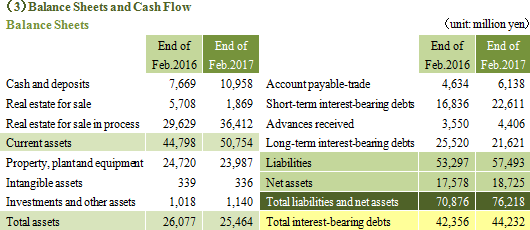 Total assets at the end of the term increased 5,342 million to 76,218 million yen, from the end of the previous period. As for assets, cash and deposits increased because deliveries progress according to schedule, and real estate for in the process of sales rose from purchasing land of projects. Meanwhile, the amount of real estate for sale fell because of the delivery of WAKOHRE City Kobe Sannomiya. Liabilities saw the increases in accounts of payable-trade and interest-bearing debts. As for land of projects, sufficient preparations have been made for the period until the fiscal year ending Feb. 2020. Equity ratio was 24.6% (24.8% at the end of the previous term).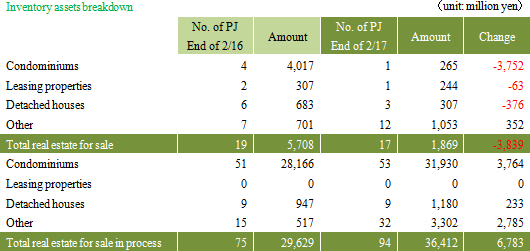 The composition ratio of loan suppliers at the end of the term: major banks - 42.4% (42.5% at the end of the previous term); regional banks - 36.2% (34.6% at the end of the previous term); credit unions - 21.4% (22.9% at the end of the previous term)

 

 

Operating cash flows of 1,876 million yen were obtained due to deliveries progressing smoothly. Despite expenditure used to acquire the shares of Seikou ukou Co., Ltd. which manages condominiums, the deficit of investing cash flows shrank due to the acquisition of less real estate for leasing. Free cash flows which were at a deficit of 10,095 million yen last term rose to a surplus of 1,578 million yen.

 

 
Fiscal Year February 2018 Earnings Estimates
 

(1) Business Environment

In the Tokyo metropolitan area, condominium sales are falling due to the surge in sales price resulting from building costs increase, however they are performing well in the Kinki region where lot prices are relatively low. Although the average price (per unit) in 2016 rose by 3.5% to 39,190 thousand yen (price per m2 grew to 616 thousand yen, up by 5.8% YoY), the number of units on supply in the Kinki region increased by 1.3% YoY to 18,676 and the contract ratio also grew by 1.1 points to 71.9% (exceeding 70% which was considered as the favorable baseline).
Meanwhile, in Kobe-shi and Hanshin area, residential land prices continue to rise in popular areas, including the eastern part of Kobe-shi (Higashinada-ku, Nada-ku, and Chuo-ku), Ashiya-shi, Nishinomiya-shi, and Itami-shi. In 2016, Hyogo Prefecture saw an average price increase of 10.3% YoY (price per m2 rose by 9.0% YoY) with the number of units supplied within the area dropping by 8.4% YoY to 2,167. The average price in Kobe-shi rose by 7.9% YoY to 36,650 thousand yen (price per m2 was 618 thousand yen, up by 8.2% YoY); the number of units supplied dropped by 30.3% YoY.

 

 

10% and 0.3% YoY rise in sales and ordinary income expected, respectively.

Sales were 34.5 billion yen, up by 10.0% YoY. Condominium sales, which are the mainstay, are expected to rise by 3.8% YoY to 27.4 billion yen and have deliveries of 700 units in 24 completed buildings. In addition, other real estate sales are anticipated to increase by 153.2% YoY to 3 billion yen due to the sale of development sites and small rental apartments. Detached housing unit sales, which have plans to deliver 55 units, are projected to increase by 36.3% YoY to 1,850 million yen. Meanwhile, property leasing revenue is expected to conservatively decrease by 6.2% YoY to 2.2 billion yen.

As for profit, cost rate is anticipated to rise, primarily in condominium sales, due to site prices and building construction costs remaining high. Gross profit is expected to slightly increase. Operating income is forecasted to drop by 2.1% YoY to 3 billion yen due to the burden of increased SG&A because of personnel increase for developing systems and progressively expanding sales activities, including the release of large-scale real estate and regional expansion. However, ordinary income is projected to increase by 0.3% YoY to 2.2 billion yen due to improvements in non-operating income and loss from the reactionary fall of fundraising costs for procuring sites, reported in the fiscal year ended Feb. 2017.

The dividend amount is expected to increase by 1 yen to 28 yen, indicating the 8th consecutive increase (the forecasted payout ratio is 20.0%).

 

 

Condominium sales are expected to see the delivery of 700 units in 24 buildings. As of the end of the previous term, 497 units have been contracted (ratio: 71.0%). In the current term, too, sales are expected to be larger in the first half with the handover of 250 units in the first quarter, 155 units in the second quarter, 160 units in the third quarter and 135 units in the fourth quarter. The number of units on sale is forecasted to be 740 units, including a total of 200 large-scale units to be put on the market at the beginning of the fiscal year ended Feb. 2017; the number of contracted units is expected to reach 740 as well. Presently, they are working to sell WAKOHRE Shin Kobe Masters Residence (122 units in total; to be delivered in Mar. 2018) and WAKOHRE Kobe Sannomiya Trad Tower (194 units in total; to be delivered in Mar. 2018). In terms of procurement, they intend to devote their efforts to cautious procurement.

They continue to redevelop the "market" of urban shopping districts (area renovation) and expand the neighboring area (Osaka-shi premises; Hokusetsu region; Himeji-shi, Hyogo Prefecture). They have acquired two new properties in the Hokusetsu area (Suita-shi, Osaka Prefecture) and their project is currently underway for their expansion to the neighboring area.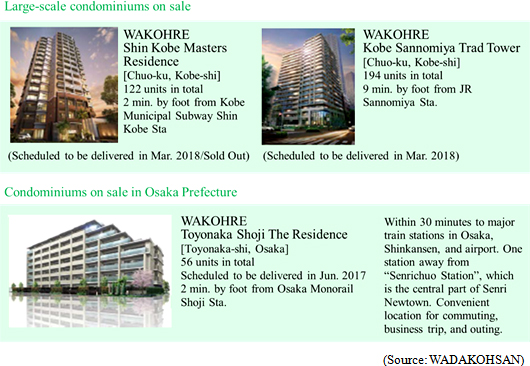 As for their detached housing unit sales, they plan to deliver 55 units of WAKOHRE-Noie Akashi Higashi Hitomarucho (Akashi-shi, Hyogo Prefecture; 10 lots in total) and thoroughly manage their schedule to achieve their plans. In terms of other real estate sales, they intend to sell 7 wooden investment buildings (55 units) and have a project underway that consists of 14 wooden investment buildings (123 units) as well as 11 steel frame investment buildings (166 units) (since the fiscal year ended Feb. 2016, they have been developing steel frame buildings for investment in addition to their conventional wooden ones.) WADAKOHSAN plans to speed up their investment property developments by gathering information on sites using their purchasing network of local traders, acquired from their condominium sales.

Meanwhile, with their property leasing revenue, they intend to construct a portfolio that emphasizes quality over quantity.

 

 
 

After the financial crisis of 2007-2008 (Lehman Shock), WADAKOHSAN was forced to suffer ordinary losses in the fiscal year ended Feb. 2010 due to a downturn in the condominium market. From the fiscal year ended Feb. 2011, profits continued to have stable growth and increase of dividends for 7th consecutive terms. They planned to prioritize stable profit growth and use dividends from it to recompense shareholders.
The fiscal year ending Feb. 2018, which was expecting their 8th consecutive increase, is anticipated to see operating incomes fall slightly and ordinary income to remain at around the same level; however plans for COGS and SG&A will be conservative like most years. There is likely a high chance that condominium results could see an upswing since 71% of scheduled deliveries have already had their contracts finalized by the end of the previous term, as long as completion of construction or deliveries do not stray out of order. However, the upswing will be mild at best. As for profit, an initiative that will lead to a 9th consecutive increase in dividends should be prioritized as the majority of sales and contracts for the next term can already be anticipated.

 
<Reference: Regarding corporate governance>

 

◎ Corporate Governance Report                   Updated May 27, 2016
Fundamental way of thinking

The fundamental policy regarding the company's corporate governance is that establishing a highly transparent and sound, efficient business framework is believed to be an issue of utmost importance, and we are working to perfect it. Although we are a small organization, we are building a simple and efficient organizational framework that also takes mutual checking and balancing, and independence into account. To further strengthen the speeding up of decision making and realizing a highly transparent management, we are striving to strongly maintain the following 5 principles of the governance system.

1. The manifestation of supervisory functions based on substantial discussion at the board of directors' meeting.
2. Timely and adequate deliberation on important matters for managerial decision-making via the board of managing directors.
3. Implementation of highly effective auditing by the auditor.
4. Establishment of an internal control system via installing an internal auditing room, holding an internal integration committee, etc.
5. Collaboration with external agencies such as law firms to create a compliance structure.

WADAKOHSAN has implemented all the Basic Principles of the corporate governance code.

 

<Reference: Initiative for ESG>

WADAKOHSAN's initiatives for ESG are to invest efforts into contributing to the society by building a home that takes into account the resident's peace of mind, safety and health, as well as providing residential compensation in the event of a natural disaster and supporting the growth of youth. Furthermore, in terms of their governance, they are working to completely refurnish their governance framework with the mindset of establishing a management system that is efficient and highly sound and transparent being their top priority, as explained in the corporate governance report

 

<Environment>

WADAKOHSAN has adopted Kobe-shi's environmental performance rules into their condominiums and taken steps towards the smart condominium initiative. In addition, they have applied a vibration control mechanism for wooden homes as a standard feature as well as anti sick building syndrome measures to all of their housing units.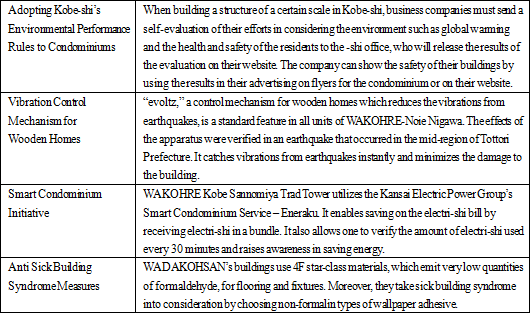 <Society>

Hyogo Prefecture was the first to join the newly introduced national support system for rebuilding homes "Phoenix Mutual Aid System" (victims of a natural disaster will be paid a benefit when rebuilding or repairing their homes) in September 2005. WADAKOHSAN bears the cost of mutual aid funds for a year after delivery for all of the condominium units that they sell in Hyogo Prefecture. In addition, taking into account the escalation of the labor shortage in the construction industry, they provide condominium units in the progress of being built as learning materials for university classes so that students who were aiming to join the industry would be able to picture what the job entailed. Moreover, they are investing efforts into contributing to the society by nurturing youth, such as launching a painting competition for children under the name of "The House I Want to Live in," forming a partnership with the Vissel Kobe Soccer School and assisting in the Kobe Shimbun Children Support Project - Skip.

In addition to the above, they are making efforts to create an easy working environment and striving to extend their benefits program, which includes paid leave and hourly paid leave system, with the intentions of making an easy working environment for their employees. Moreover, they have improved the working environment for women by setting up prior and post maternity/childcare leave and shorter working hours. They are also working to understand the condition of their employees' wellbeing by holding a health committee every month where they can connect with industrial physicians, as well as have physical and mental wellness checks to maintain the health of their employees.

 

Disclaimer

This report is intended solely for information purposes, and is not intended as a solicitation for investment. The information and opinions contained within this report are made by our company based on data made publicly available, and the information within this report comes from sources that we judge to be reliable. However we cannot wholly guarantee the accuracy or completeness of the data. This report is not a guarantee of the accuracy, completeness or validity of said information and opinions, nor do we bear any responsibility for the same. All rights pertaining to this report belong to Investment Bridge Co., Ltd., which may change the contents thereof at any time without prior notice. All investment decisions are the responsibility of the individual and should be made only after proper consideration.

Copyright (C) 2017 Investment Bridge Co., Ltd. All Rights Reserved.