President
Kenichi Sano
| | |
| --- | --- |
| Company | Vision Inc. |
| Code No. | 9416 |
| Exchange | TSE 1st Section |
| Industry | Information and communications |
| President | Kenichi Sano |
| Address | Shinjuku i-Land Tower, 6-5-1 Nishi-Shinjuku, Shinjuku-ku, Tokyo |
| Year-end | December |
| URL | |
Share Price
Number of shares issued
Total market cap
ROE (Actual)
Trading Unit
¥3,750
8,118,700 shares
¥30,445 million
11.8%
100 shares
DPS (Est.)
Dividend Yield (Est.)
EPS (Est.)
PER (Est.)
BPS (Actual)
PBR (Actual)
-
-
¥128.81
27.7 times
¥900.64
4.0 times
* The share price is the closing price on March 10, 2017.
Fiscal Year
Net Sales
Operating
Income
Ordinary
Income
Net
Income
EPS
DPS
Dec. 2013 (Actual)
9,203
10
29
75
12.78
-
Dec. 2014 (Actual)
10,185
286
324
275
46.64
-
Dec. 2015 (Actual)
12,485
804
807
585
97.89
-
Dec. 2016 (Actual)
14,843
1,290
1,298
813
100.24
-
Dec. 2017 (Forecast)
16,713
1,606
1,608
1,045
128.81
-
*The forecasted values were provided by the company. From FY12/16, net income is profit attributable to owners of the parent. Hereinafter the same apply.
*The Company conducted a 100-for-1 share split in Jan. 2015.

This bridge report outlines Vision's, which is listed in the first section of Tokyo Stock Exchange, results for the term ended Dec. 2016, and forecast for the term ending Dec. 2017.
 

Under the management philosophy of "Contributing to the Information and Communications Revolution," Vision conducts the Global WiFi service, which leases the personal WiFi (wireless LAN) routers which can be used in over 200 countries and regions on a flat-rate packet basis, and as an information and communications service distributor, it also provides information and communications services of arranging communications infrastructure and office equipment necessary for business activities, such as fixed-line communications, mobile communications, broadband etc.

The company forms a group with its 14 consolidated subsidiaries, both inside and outside Japan. Of those, the two based in Japan are Members Net Inc. (which conducts the business of charging agency, fixed-line telephone service subscription agency, etc.) and Best Link Inc. (which carries out the business of broadband service subscription agency and OA equipment sales). There are 11 overseas subsidiaries that operate as overseas hubs for the Global WiFi service in South Korea, Hawaii, Hong Kong, Singapore, Taiwan, UK, Shanghai, France, Italy, California and New Caledonia; there is also a local subsidiary in Vietnam, which is an offshore hub for database construction and system development.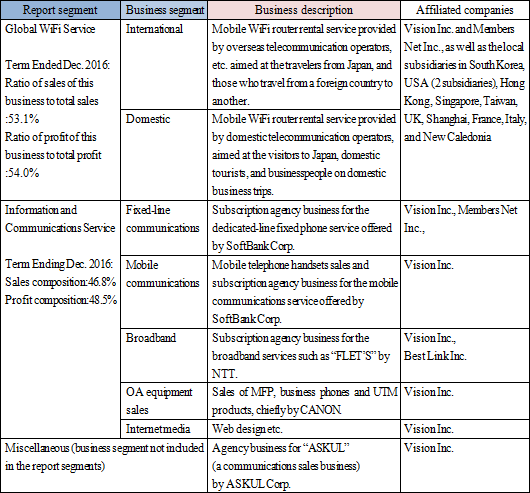 Business Description
Global WiFi service

The company offers services including "Global WiFi" (a WiFi router rental service that allows people traveling overseas to use local internet services at a competitive rate through its partnerships with the overseas operators) and "NINJA WiFi" (a WiFi router rental service for overseas visitors to Japan, etc.), while also engaging in services for the travelers between foreign countries.
Clients can access the service through the company's website (including the rerouted accesses via affiliated sites), apps, corporate sales, and partners (affiliated companies including travel agents, insurance agents and credit card companies), and will receive a WiFi router at 15 different locations such as airport/seaport counters. Its clients include general consumers, listed companies, government offices, local governments, universities, embassies and foreign-capital enterprise, with roughly 50% of its clients being corporate customers, assuring stable demand.

Corporate sales are aimed at various governmental offices and corporations that carry out frequent overseas business trips, and corporate registration is required, but the application process is simple and the clients can benefit from various discounts and special offers at the time of billing. Furthermore, services through its partner companies (affiliated companies and cooperative companies with sales agency/franchise agreements) are also offered ( same for the information and communications service business).

 

Advantages

Its foremost advantages are the fixed-rate system and strong competitive pricing, the most comprehensive coverage amongst the competitors, smooth usage featuring high-speed Internet, safety/security, and substantial corporate sales capability. Specifically, the service's cost advantage could be as high as 89.9% compared to the mobile operators (daily rental fees start from 300 yen depending on the locality) and the coverage offered in over 200 countries/regions worldwide is one of the most comprehensive in the industry. Its partnerships with operators worldwide have enabled a high-speed and smooth user environment (the number of countries/regions employing the high-speed communications standard 4G-LTE is also one of the most comprehensive in the industry), while the connection is highly secure as the communications are encrypted. As mentioned above, the fact that roughly 50% of its clients are corporate customers promising stable demand is also an advantage.

 

Information and communications service

With Best Link Inc. - a consolidated subsidiary - at its core, the group offers services aimed mainly at new corporations, venture businesses and multi-store development enterprises such as food-service chains, from its 7 offices nationwide and in cooperation with its partner companies. The services include subscription agency operations for various communication services such as photocopier/MFP, telephone lines, business phones and corporate mobile broadband lines, sales of mobile communication devices, OA equipment and security products (UTM), etc., and designing websites.

 

Advantages

The company's CRM derived from the streamlined operations and know-how based on its Web marketing strategies is its great strength. Initially attracting potential customers through Web marketing, its ensuing sales operations achieve a high success rate of receiving an order. Continued contact with the clients through customer support etc. ensures repeated orders from existing clients. More specifically, every year the company develops new business relationships with over 18,000 newly established (established within the previous 6 months) corporations - its main target clients - and offers optimized services at the optimal timings in their developmental stages, while securing additional demand for equipment at the same time. For example, in the case of the agency work for communication lines, carriers will continue to pay commission as long as the services are not cancelled, while the maintenance fees would materialize continually with the photocopiers etc., and with the growth of the clients, the increase in the number of lines and devices can also be expected (i.e. recurring-revenue type business).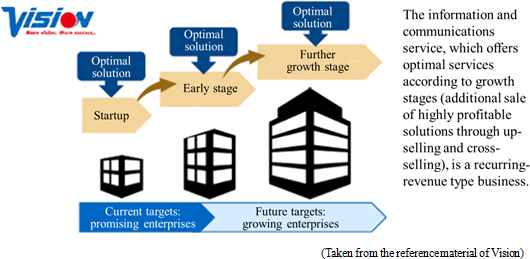 Corporate history
The company was established in June 1995 as Vision Co., Ltd. with international telephone service subscription agency work as its business objective. The company was incorporated in April 1996. In December 2001, a subsidiary, Vision Business Solutions Inc., was established to offer OA equipment sales. Vision Business Solutions Inc. absorbed the former Vision Ltd. in November 2004 and changed its trade name to Vision Inc.

January 2008 saw the founding of Members Net Inc., which operates as an agent for the installation of telephone lines and invoicing operations. In July 2008, Best Communications Inc. (trade name changed to Best Link Inc. in December 2012) was established. In January 2010, the WiFi rental service "e-ca" (aimed at clients on domestic business trips and domestic travelers) was launched, and in June 2011, it was re-branded as "Vision WiMAX" with a higher speed and larger capacity. Also in 2011, a call center "Vision Future Business Center (VFBC)" was opened in July in Saga-city, Saga to assist with the client support. From November 2011 to January 2012, multiple subsidiaries were established in South Korea, Hawaii, Hong Kong and Singapore to develop the overseas hubs. Its Global WiFi operation was launched in February 2012 and another subsidiary in Taiwan was established in the same month.

In December 2013, its MVNO (mobile virtual network operator) business aimed at domestic business travelers and visitors to Japan started operating (brand name: WIFI-HIRE). In 2014, further subsidiaries in Vietnam, Shanghai, France, and Italy were opened. The evolved version of "WIFI-HIRE", "NINJA WiFi" (a WiFi router rental service for foreign visitors to Japan) was commenced in March 2015. In December 2015, the company was listed in the Mothers (Tokyo Stock Exchange). In 2016, subsidiaries in California and New Caledonia were established. Its market was moved to the First Section of Tokyo Stock Exchange in December.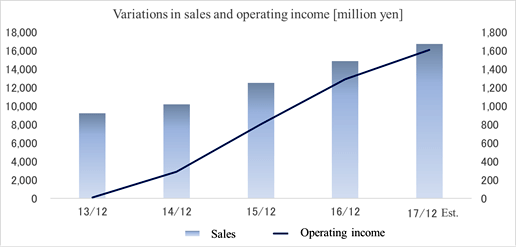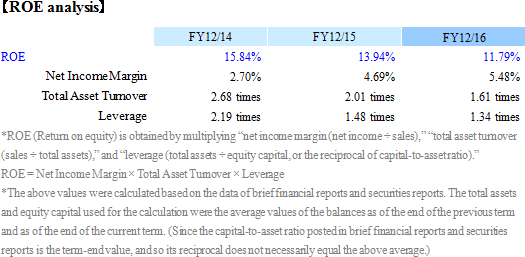 Net income margin is improving thanks to the advantage of scale and the streamlining of business operation, but ROE declined due to the decrease in total asset turnover through active upfront investment, including capital tie-ups, and the drop in leverage through the rapid enrichment of equity capital. The decline in ROE is temporary, and ROE is as high as 11.79%.

 

 
Fiscal Year December 2016 Earnings Results

 

Sales and profit grew 18.9% and 60.3%, respectively, and sales and all kinds of profits marked a record high.

Sales were 14,843 million yen, up 18.9% year on year. As the number of WiFi routers rented increased 46.1% year on year to 1,144,000, the sales of the Global WiFi service grew 30.6%. The sales of the information service business, too, grew 7.9%, due to the cultivation of startups and the increase of the satisfaction level of existing customers based on CRM.

As for profit, gross profit increased 24.8% year on year, as cost ratio declined 2.8 points to 41.9% due to the advantage of scale and the streamlining of shipping operation. Operating income grew 60.3% year on year to 1.29 billion yen, as the augmentation of expenses for business expansion and SG&A expenses due to the establishment of overseas corporations, etc. were absorbed. The low increase in net income of 39.0% is due to the decline in the extraordinary income because investment securities and the gain from sale of the shares of subsidiaries were not posted and extraordinary loss augmented because the company made efforts to improve its financial standing by increasing loss on retirement of noncurrent assets, posting loss on valuation of investment securities, etc.

 

 

Global WiFi service

Sales were 7,882 million yen (up 30.6% year on year), and profit was 1,140 million yen (up 92.2%). The number of outbound rentals increased 36.8% year on year to 886,000 (increasing for both new and repeat customers), and the number of inbound rentals rose 2.1 times to 190,000 as the market expanded (In the case of inbound rentals, each WiFi router is commonly shared by about 3 people, and so the number of actual users is about three times that value). Outside Japan, the number of rentals of WiFi routers increased 52.4% year on year to 66,000, mainly for international travelers from South Korea and Taiwan. Namely, the number of rentals to foreign travelers (inbound + international) increased 91.1% year on year to 257,000.

In addition, the company increased profitability while improving the quality of services. In detail, the company reduced the cost of lines with volume discount, improved the efficiency of shipping operation, dealt with inquiries by utilizing artificial intelligence (AI) (curbing the cost of call centers), and adopted the automatic locker "smart pickup" (curbing the counter operation cost and improving counter operation rate), to improve cost ratio and productivity.

 

 

Information and communications service

Sales were 6,948 million yen (up 7.9% year on year), and profit was 1,024 million yen (up 13.4% year on year). This was achieved by the company's continuous transactions with existing clients by implementing CRM measures while attracting the major targets, including new corporations, ventures, and chain stores. In the continued transactions, average spending per client and profitability improved through up-selling and cross-selling due to the stirring of potential demand.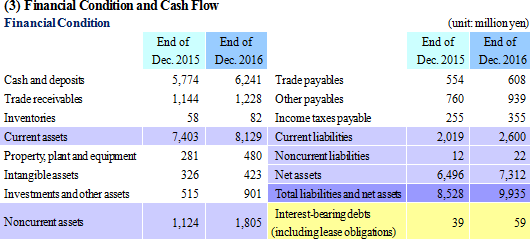 Term-end total assets increased by 1,406 million yen from the previous term to 9,935 million yen. In the debit side, cash and deposits increased due to the improvement in CF, and noncurrent assets grew due to the investment in rental assets, software development, capital alliance, etc. In the credit side, other payables, income taxes payable, etc. increased through business expansion, and net assets, especially retained earnings, grew. At the end of the term, equity ratio was 73.6% (76.2% at the end of the previous term), and rate of return on invested capital was 12.2% (11.7% in the previous term).

 

 

Operating CF increased about two times year on year to 1,492 million yen, due to the increase in pretax income and the improvement in fund efficiency. The investment for purchasing rental assets, capital alliance, etc. was compensated for, and a free CF of 1,019 million yen was secured.

 

 
Fiscal Year December 2017 Earnings Estimates

 

Sales and operating income grew 12.6% and 24.5%, respectively, year on year.

Both sales and profit are estimated to mark a record high. In the Global WiFi service, the company aims to increase sales and profit by meeting the needs for "outbound" and "inbound" services. The company plans to expand its business for travelers "from overseas to overseas" in the U.S. based on the local corporation in Los Angeles, and launch new services one after another while forming tie-ups, but its earnings forecast does not include them so much. In the information and communications service, the company aims to reel in more startups, and promote up-selling and cross-selling by meeting the needs of existing customers in a timely manner.

 

(2) Growth strategy

Global WiFi service

Targeting travelers crossing borders worldwide, Vision aims to meet the needs of this huge market. The company will also implement a travel-related service platform strategy, making use of the "Global Wifi" and "NINJA WiFi" client bases.

 

Global expansion

According to the company's rough estimates based on the documents of Japan Tourism Agency (JTA) and United Nations World Tourism Organization (UNWTO), the industry in Japan, including "inbound" and "outbound," has a potential market scale of around 41.15 million people and ¥288 billion and a potential market scale worldwide, including inbound and outbound, is 1.2 billion people and 8.4 trillion yen. The company will accelerate business expansion at the various stages of "inbound," "outbound," and "overseas to overseas," and will go on to satisfy their needs. Along with aiming to steadily take in the "outbound" and "inbound" in Japan, the company would also like to develop operations focused on foreign countries with a large number of people departing and entering the country. In addition to demand from neighboring countries like South Korea and Taiwan, business expansion in North America will also become a focus point, with its service in Los Angeles having begun in November 2016.

 

Travel-related service platform

Free use of the internet alone does not solve all problems that arise during travel. The company believes, "It would be ideal to be able to live the same way when traveling abroad as you do in your home country," and it will advance its travel-related service platform strategy with the aim of realizing this.
As part of this, as well as launching an "overseas restaurant booking service" aimed at users of "Global WiFi," Vision will launch a rental service for the wearable translation device "ili" in late April 2017. The "overseas restaurant booking service" allows reservations at foreign restaurants to be made easily with a PC or smartphone. "ili," on the other hand, is a wearable translation device developed by Logbar Inc., its capital and business partner. The device can carry out instant spoken translation of anything that has been said. The sound is loud and clear and can be used when going out or being in a crowd, and in addition to daily conversations it can be used in a variety of situations when traveling, such as shopping, when in trouble, and at restaurants. Available languages will be added one after another with Japanese, Chinese, and English translation supported at the launch. In addition, the device will support Korean translation by the summer of 2017. The concept and technology have been highly commended at the global level, having been selected as a "CES 2016 INNOVATION AWARDS HONOREE." CES is the world's largest consumer product technology-related event, and the "INNOVATION AWARDS HONOREE" prize is awarded in 28 different categories.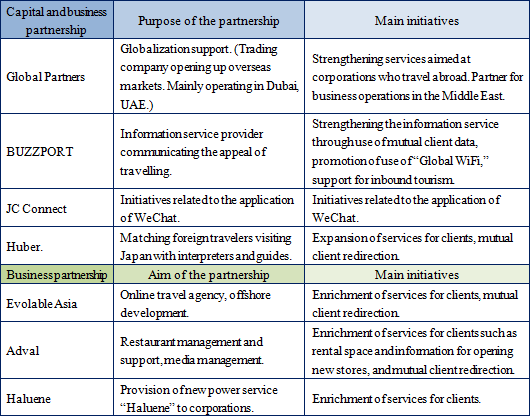 Information and communications service

The two important points are 1) the exploration of new corporations (start-ups) with high potential for growth, and 2) the promotion of a "recurring revenue-type business model." With regard to 1), fortunately the current policy conditions are favorable, and the establishment of Japanese corporations is on an increasing trend. Concerning 2), by carrying out customer follow-up through the unique CRM (customer relations and continued dealings) know-how, Vision will provide individual customers with the optimum solution tailored to match their growth stage, and build its sales and profit.

The company will pursue a productivity model through "web marketing x sales x CLT (customer loyalty team)." Through web marketing based on its unique know-how, it will gather clients from companies that are actualizing demand, realize high sales acquisition rates through specialist divisions, and excavate latent demand to expand its dealings. Furthermore, through customer follow-up by the CLT, the company will achieve continuous dealings and meet additional needs.

 

 

(3) Shareholder returns

As a token of appreciation to the shareholders and to deepen their understanding about the group's businesses the company is presenting them with "shareholder privilege coupons" that allows them to use "Global WiFi."

 

Interview with President Sano
 

We met President Sano at Vision's headquarter in Shinjuku I-land Tower (Shinjuku-ku, Tokyo) to interview him about the strengths, growth strategies, etc. of his company, which has continued to experience rapid growth.

 

President Sano was born in Kagoshima Prefecture. He was a head of the western Japan block at Hikari Tsushin Inc., and supervised services nationwide. After that, as a young entrepreneur at the age of 25, he launched his company in June 1995. He has a vast network outside of his company, having had experience as Japan's representative for the Entrepreneurs' Organization, a global network for entrepreneurs and founders, and he currently works as the director presiding over the Asia Leaders Association.

 

[President Sano's Thoughts and Corporate Culture]

Before establishing Vision Inc., he accumulated work experience at Hikari Tsushin (securities code: 9435), which was known for its strict operations. (After working at the forefront amassing top sales, he oversaw the launching of the Osaka branch. He subsequently assumed positions as the official in charge of the western Japan block and nationwide).

 

What I learned at Hikari Tsushin forms the foundation of my current company. Perhaps, it may be better to say that I use it as a reference to learn in one manner, and to think about how we should progress forward in another manner.

There was much to learn regarding using figures as targets, etc., but I believe the way in which we pursue operating efficiency is very different. We prioritize online marketing and focus on building a system, not to sell, but to draw customers to us and have them choose. Our style of selling does not involve pushing them, rather we are building a system in which we want people with an eagerness to buy to look at our media, compare and inquire about estimates. Of course, there are cases where we end up pushing them from here. We pull customers, whose needs are obvious, using the internet, and we push customers by targeting those whose needs are unclear and ensnaring them. Moreover, we continue to put effort into becoming a company that optimizes operations and increases the productivity of each person; this is reflected in our pricing which we give returns to the customer. We are learning to set our minds towards achieving our targets, but we have built our own original vision for pursuing usability and corporate culture.

 

Customers that you attract online via the pulling method does not allow you to choose who they are. Does it mean you will be unable to approach those that you have targeted?

Usually, there are many customers who buy things because they come to vendors or there are stores nearby. However, the customer who want to lower sourcing costs, they (whose needs are obvious) themselves put effort in searching on the internet. Thus, skill in online marketing will be a key to bringing in customers who have clear needs. As we are having customers, who need something, buy what they require, our mindset as a salesman will improve as well.
Furthermore, we also know from the results of our marketing that customers who themselves work to decrease sourcing costs overlap with those who have a strong desire to expand their business. As the business expands, new needs will become clear, so we will ensure business transactions with these customers do not end in sporadic dealings and accumulate long-term stock in profits.

However, since many of our customers are start-up firms and are strongly conscious of their costs, as mentioned previously, we continue striving to cut prices. For example, our copiers are top-brand items. There are many sales companies that deal in the same product, however the selling price to each customer varies among companies. We, as a company, work to optimize our operations, increasing each person's productivity and return that to customers (note: choosing Vision enables you to cut the cost of copiers by a maximum of 40 - 70%). We did not choose a product because it is one that brings much profit. We didn't add value to a low-price product with business negotiations. We sell it under our policy not to sell highly satisfying top-brand products at high prices.

Our strong points lie in how we have continued to research optimizing usability and operations (cost cuts), and we also place great importance in it as part of our corporate culture. When we think about short-term profit, there surely are other methods, but since our customers are highly satisfied, it will be reflected in our quantity sold in the long-run and be of added stock. We would like customers to invest funds into their growth and in return, we will grow together with customers.

 

We believe you have condensed your thoughts and the company's strengths in your explanation just now. But even though you are originally from Kagoshima Prefecture, why did you choose to found your company in Fujinomiya, Shizuoka, after working 4 years at Hikari Tsushin?

I had no intention of competing with Hikari Tsushin and no clear vision for my business. It was more like I fumbled along with my colleagues in building our business. Fujinomiya City had an industrial complex (note: Fujinomiya Ironwork Complex, Fujinomiya Kitayama Industrial Park, Fujisan Nanryo Industrial Complex.) and was an area populated by foreign workers, mainly from Brazil. When I met them and listened to their worries, I learned that they felt telephone fees (international calling) was expensive. So, I had signed a contract with a deregulated, newly-entered international telephone company (KDDI), and helped them popularize international telephone services. The business began with establishing Spanish and Portuguese call centers.

 

So you started from scratch in a completely unknown area and succeeded overwhelmingly in your first venture?

I worked remembering the gratitude I had for my partner, the international telephone company, and thinking I had to be able to repay them. In order to do so, I needed to strive in the right way, and I believe that my steady effort bore fruit. The company that began with several people has grown into one that has approximately 600 employees, but I believe we were able to thoroughly instill the corporate culture of "continuing to earnestly and steadily work."

 

[Information and communications service and Global WiFi service]

You started selling OA equipment in 2001. Doesn't that have little to do with communications?

Through the proliferation of the internet, methods of communication slowly shifted from telephones to emails. International calling services became increasingly difficult, but at the time we were an agency contracted under KDDI to provide long-distance calling and our corporate sales for the service began to take off. When we would carry out corporate sales, we would often be asked about business phones and copiers, so I felt there was a strong need in that department. I had experience as the operations chief of OA devices while I was at Hikari Tsushin, so I understood the logic of operations and thought to match their needs and expand cross-selling. The products we dealt in grew to copiers, business phones, website creation, cellphones, security, etc. The information and communications services enterprise does not have a bad profit ratio, but it changes with the sales composition. The impact of cellphone sales to corporations in bulk at high unit prices caused sales to greatly fluctuate in the past.

 

We believe information and communications services are a business of a trading company, but in a positive sense, both profit growth rate and profit ratio differ from that of a trading company.

At the beginning, I took appointments by phone, and many business managers came from offices around the country to visit. From around 2004, we switched to the internet. Because we gradually understood the difference between customers with whom we took appointments by phone and customers that were drawn to us via the internet. At the time, we had an analog analysis, but our business expanded and our method was to approach customers who had additional purchases or new needs. Even now, we operate by calling and making appointments, but we have limited this to certain targets (start-up companies). Every month, start-up customers increase by about 1,500, which means one of every 6 companies established in Japan becomes one of our customers.

With corporate sales, even when we use online marketing, ultimately we will have to visit customers, so we are always conscious of improving intellectual and labor productivity. High labor productivity leads to a high profit ratio in information services. Even if we say our profit ratio is high, it does not necessarily mean we sell at high prices. For example, the competitive edge in pricing for a copier is dependent on the number of unit sales per salesperson (note: the company's unit sales for each salesperson is generally 3 to 5 times that of an exceptional one in the industry). Moreover, there are aspects difficult for customers to know, such as the maintenance fee for copiers being unclear in whether it is cheap or expensive, so our company sets prices at the maximum limit in which we can maintain a competitive edge. Because of this, we take pride in having high customer satisfaction and our churn rate being one of the lowest in our industry.

In terms of our individual products, they may in essence be a red ocean, but the start-ups we target are a blue ocean. I believe if we hold our competitive edge in pricing and deal in multiple items, there will be no area for other companies to enter.

 

What were the circumstances for beginning your Global WiFi service?

The "e-ca", pocket WiFi, launched in January 2010 for those traveling within Japan for business and travelers was the foundation of our Global WiFi service. When I traveled around the world with the people from EO (Entrepreneurs' Organization), a global network for entrepreneurs and founders, my terrible experience with slow communications speeds, little areas where I could use the internet, high fares, etc. was the reason why I started the Global WiFi service. When we carried out marketing, we realized people around the world were waiting for a Global WiFi service. Global WiFi is a service that collaborates with overseas telecommunications companies and provides the perfect communications environment using our company's SIM and local network - a global version of e-ca.

When we first started the business, there were already two companies providing such services, but when we benchmarked them, we found that they had issues in usability and we thought about globally joining up with a communications operator while creating a high-quality authorized service. Global WiFi services network is based on two types of lines - one as MVNO ( mobile virtual network operator) and one purchased from telecommunication operators by wholesale contract. When we started our business, sometimes we would create a report in French and sometimes we would negotiate in English with officials in government agencies in other countries equivalent to the Ministry of Internal Affairs and Communications in Japan or communications business managers. Also, we have a fixation towards high-quality communications. Even now, I am positive we are checking our communications lines somewhere in the world. If there is an area that reports that the quality of their connection is poor, then our staff will go to that country and immediately deal with it, for example, by changing the area usage to a different carrier. Even for us to attain high-quality connections in Japan, we change carriers depending on the area, like Okinawa. In general, global roaming is not used outside of areas where the demand is high (note: global roaming normally has extra lines assigned by the local carrier). Our service fees are largely about 70% cheaper than global roaming (note: group travelers such as 2 or 3 students can connect at the same time using this low-price services, so they are very cheap).

 

Even if a competitor is able to start this business, it would be difficult to provide services at the same quality, wouldn't it?

It is indeed difficult. Because we have spent money and time on it. Even if a competitor is able to mimic it on the surface, it is surely difficult to have the same quality in service. The price to procure lines is a must, but we also negotiate with providers regarding conditions that control communications signals, and we are able to do that because of our results in sales. I expect there to be a difference with our company, including the traffic limit. Even if it looks the same, it is different internally.
Our services have various costs, such as the device, accessories, batteries, logistics, as well as the price for the lines, and all have economics of scale. Good service and products are required to increase repeat rate, so it is not a case of choosing the cheapest one. At first, the battery life of our devices would rapidly deteriorate. We quickly responded by switching the battery. Because 3 or 4 people would use it which caused it to deplete quicker than we imagined.
For example, operating costs for call centers would tend to increase with additional clients, but we were able to reduce costs by introducing AI; we are coming up with such new ways to cope with the problem without increasing our staff.

 

Corporations accounting for 50% of your clients is one of your company's traits.

Yes, it is exactly as you say. It is because we have made efforts in corporate sales for our information and communications services. Individual customers' use of our services have a seasonality to them - New Years' Holiday, graduation trips, Golden Week, summer vacations, and Silver Week; however originally, standardizing the Global WiFi service and increasing its operating rate was the key points. Thus, to be able to expect stable demand throughout the year from corporations which amounts to 50% is significant. Of course, this does not come from sales activities to corporation alone; we have many corporate customers who apply via the website. Those switching from other companies often apply through the website.

 

We believe you are working on a series of initiatives, which are Outbound, Inbound and "Overseas to Overseas."

At the moment, the majority of our sales are outbound. Our inbound NINJA WiFi has begun to grow since last year, (Dec. 2015) which was its two-year anniversary, however sales figures are still quite low. Outbound experienced the same, but was offset by repeaters, and once new ones are added, the period where we see true growth will be in 3 or 4 years' time. Since demand will standardize and our operating rate will increase, profit contributions will magnify as well. Overseas travelers to Japan will increase, so we are looking forward to the effect on Inbound. The fact that they can use the domestic counter set up for Outbound is also one of our strengths. For Inbound, we are of course conducting marketing from Japan, as well as overseas, to the rest of the world.

Taiwan and South Korea have grown for "Overseas to Overseas" and are already profitable. We conduct business directly and through franchised chains (FC) in Taiwan. Thailand and China are carrying out business via FC, and Thailand's FC is also providing services to Hong Kong and Malaysia. For Asia, mainly our partners are conducting business, and we are going to put effort into U.S, through a subsidiary established in Los Angeles, California in July 2016. It will be a small start, but if it goes well in Los Angeles, then I believe we will be able to expand our business in the U.S. With vast lands, long periods of stay, and extremely high priced roaming fares set by communication provider, the U.S. is extremely appealing and would be the heart of "Overseas to Overseas." When speaking to our investors, there seem to be many that have the impression that overseas business expansion in the service industry will not be profitable, but that is not true at all - as seen by how we have already been profitable in Taiwan and South Korea. We may need to spend some effort in changing that impression.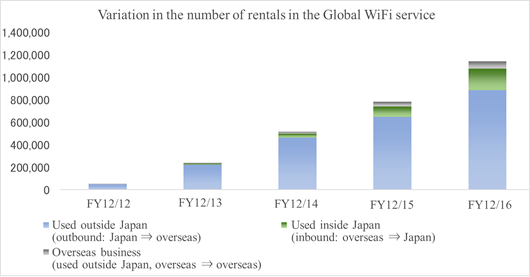 [Growth Strategies]

Thank you very much. We thoroughly understand. Now, could you tell us about your growth strategies?

Global WiFi service: Distinguishing ourselves via add-on business

Increasing our Global WiFi users is a given, but the "troubles" on an overseas trip are not limited to the internet. We plan to set up an enjoyable environment where when you travel overseas, you will feel no inconvenience, as if you were in your home country, and can freely move about actively. "ili," the translation device that we have scheduled to launch in Spring 2017, is a part of this effort. We invested in Logbar Inc., the developer for "ili", last Fall and have been assisting their development. It has reached a level where one can communicate normally in a conversation when experiencing trouble on a trip, so please look forward to it.

Furthermore, there can be a language barrier when reserving a restaurant on a trip. So we have started a service where we book it for you. Currently, our lineup offers 1,900 stores, but we provide booking services for others as well; we also can look for recommended stores in your area of choice and reserve it for you, and you can also ask us to look for ones that offer group bookings and private rooms. We plan to sell travel coupons and booking services for accommodation at 500 yen per case (note: these can cost around 3,000 yen at major travelling agencies). We will greatly expand these services.

In the future, these add-on services may become a major form of business. Because using the internet is not our goal, but our method. Thus, our competitors may change in time. We are already distinguishing ourselves from other companies as we have a high-spec translation device, which has the capabilities to make various reservations, and we provide it at a low price. We are focusing efforts on developing new demand, but if we are able to increase our recognition, then we should be able to expect an influx of customers who have been using the services of other companies.

 

Information and communications service: Initiatives to start reducing costs with efforts by management and diverse product lineup

I would like to increase customers for our information and communications services from the internet, but for us to be widely known by the public, we will need to use a completely different method of promotion. We will need to use analog methods, including referrals and real places, and are considering measures such as supporting start-up companies. One of such methods would be to assist SOHO offices and shared offices, with a theme of creating a channel that could access places that would be able to notify many start-ups of us. Offices that are relocating would be a business opportunity for us, although that does not necessarily mean all start-ups would fall under this category. When offices relocate, they will have to replace their devices and have construction carried out; there are many cases in which the cost for construction is relatively expensive. I believe if they get to know our policy of not selling at high prices, we will be able to increase our clientele. We have repeaters, so our workload would increase, but we plan to conduct experiments to increase the degree of our upgrades and speed.
As for trends by product and service, we can no longer expect much from cellphones which had contributed greatly to our results in previous years. In the future, it will be difficult to greatly increase quantity sold due to the policy change by providers, after hearing the intentions of the Ministry of Internal Affairs and Communications. We already have over 100,000 registered clients in corporations, so I would like to do our utmost to retain them. For fields that are to grow in the future, I have high expectations for security (UTM sales). The role of UTM (note: Unified Threat Management) is to detect and block viruses that attempt to enter your company's internal network. Anti-virus software detects and removes viruses that have entered your computer. So, you can secure yourself externally with UTM, and internally with anti-virus software, that is, protect your network both internally and externally.

In addition, creating websites also requires enormous funding and many creators, so I believe if we choose the right price for our business, then there is room to increase our market share (note: sufficient profits at a quarter to a fifth of the price of other companies). For copiers, Canon models have continued to have the top net increase in copier sales, and I believe it will grow in the future. However, circulation was not like that of cellphones. With copiers, maintenance costs increase at a steady rate as the unit sales accumulate. Business phones are also growing. Our start-up initiative is progressing smoothly and our overwhelmingly competitive prices are our strength. A single business phone is priced at about 700,000 yen and has 7 legal durable years. Thus, we normally introduce a 7-year lease, however for start-ups, as their enterprise expands, they often have to change models during the leasing period, which causes a huge burden when they cancel contracts. For this reason, our company has started dealing in used telephones, selling each one for 50,000 yen, which includes installation fees. We are working to cut costs by having an installation team in groups and performing installation in-house. However, as the service is still not well-known, we will need to carry out activities to raise its awareness among start-ups.

For corporate sales, we ultimately need to go directly to customers, so if there are opportunities to conduct M&A for local stores, then we will consider them.

 

[To Our Investors]

We understand now that an expanding market is not the sole aspect behind high growth, but so are various efforts made by the company in the form of careful marketing, new ideas, and steady cost cuts. It seems high growth is backed by a high level of strategy. Lastly, could you please share a message to your investors?

At the moment, we believe carrying out growth investments while increasing profits is important. Thus, we currently have not thought about shareholder returns in the form of dividends. Building global services in Japan, such as "ili" and booking services, is not a simple matter. However, I believe that as long as we challenge ourselves it can be done. I would like to create a service that many people will use, and be able to give back to you, the shareholders, in returns. I hope that you will understand and ask for your continued support.

 

 
 

The sales of the Global WiFi service increased from slightly less than 1.9 billion yen in the term ended Dec. 2013 to slightly less than 7.9 billion yen in the term ended Dec. 2016. Behind the rapid growth of the Global WiFi service, Vision makes steady efforts to achieve high quality and low prices. The company plans to increase users, add value by combining a variety of services, to improve growth potential, and develop a system that cannot be imitated easily by other companies. We would like to pay attention to its activities as the "only one enterprise" under the policy of "not selling at high prices" while securing profit. Its steady efforts to achieve high quality and low prices can be seen also in the information and communications service. It seems less glamorous, but keeps growing while maintaining high profitability. The two businesses are infused with the corporate policy of "not selling at high prices" while securing profit. It was clarified, through the interview with president Sano, that Vision's rapid growth was supported by the rational and logical thinking and strategy of the company.

 
<Reference: Regarding corporate governance>

 

◎ Corporate Governance Report                   Updated on Jan. 16, 2017

Basic policy

Our corporate group improves ourselves to change clients' expectations into impression, pursues innovation without hesitation to actualize the ideal, always feels grateful about the support of many people (stakeholders), and operates its business activities with a humble mindset. Under this code of conduct, Vision observes laws, in-company regulations, and policies, carries out business in good faith, and strives to realize optimal corporate governance.

 

<Reasons for Non-compliance with the Principles of the Corporate Governance Code (Excerpts)>
Principle 4-1-3 Roles and duties of the board of directors (1) (To oversee the planning by a successor to the chief executive officer and others)

A new chief executive officer and others are selected by the board of directors from candidates while considering and discussing their personalities, knowledge, experiences, etc. while following its corporate ethos and strategies in the rapidly changing business environment. The company will discuss how to oversee the planning by a successor.


Principle 4-8 Utilization of independent outside directors

Vision currently has one independent outside director. The company will appoint another outside director at the annual general meeting of shareholders in Mar. 2017, in order to enhance the overseeing function of employers while foreseeing the further diversification of business.

 

<Disclosure Based on the Principles of the Corporate Governance Code (Excerpts)>
Principle 1-4 So-called strategically held shares

The basic policy of Vision is not to hold the shares of other companies strategically, unless it is considered beneficial for improving corporate value in the mid to long terms. As of now, there are no strategically held shares.


Principle 1-7 Transactions among related parties

Vision recognizes the need for care when starts new transactions with related parties, and from the viewpoint of the soundness of business administration, Vision discusses whether each transaction with related parties degrades the soundness of business administration of the corporate group, whether it is effective from the viewpoint of rational judgment, whether the transaction condition is proper compared with other external transactions, and so on, and makes each transaction undergo appropriate judgment, such as a resolution of the board of directors, in accordance with the regulations for approval, authority, etc. In order to grasp the transactions among related parties, etc., the company requests all executives to submit the list of related parties and a survey sheet about the existence of transactions at the time of appointment of executives and at the end of each fiscal year.


Principle 3-1 Enrichment of information disclosure
(1) Vision's management philosophy, managerial strategy, etc. are written on its website, etc.
(2) The basic philosophy and policy regarding corporate governance are disclosed in its corporate governance and securities reports.
(3) The remuneration of each director is determined by the board of directors while considering the performance of the company, the director's contribution to the company, etc. within the range specified at a general meeting of shareholders.
(4) Executives are appointed and candidate for directors and auditors are nominated by the board of directors while comprehensively considering the knowledge, experience, ability, etc. of each candidate.
(5) The reasons for the appointment of each candidate outside director are disclosed in reference documents written in the convocation notices for a general meeting of shareholders. From now on, the company plans to disclose the reasons for the appointment of all candidates for directors and auditors.
Principle 5-1 Policy for constructive dialogue with shareholders

If shareholders or others want to have a dialogue with Vision, the company will respond positively within a reasonable range, to contribute to the sustainable growth of the company and the medium to long-term improvement in corporate value. As of now, Vision holds a briefing session attended by the president or a director in charge of IR two or more times per year, meetings with institutional investors, briefing sessions for individual investors several times a year, and so on. The information on their results is properly shared through meetings of the board of directors, etc. In addition, Vision takes thoroughgoing measures for preventing the leakage of insider information.

 

Disclaimer

This report is intended solely for information purposes, and is not intended as a solicitation for investment. The information and opinions contained within this report are made by our company based on data made publicly available, and the information within this report comes from sources that we judge to be reliable. However we cannot wholly guarantee the accuracy or completeness of the data. This report is not a guarantee of the accuracy, completeness or validity of said information and opinions, nor do we bear any responsibility for the same. All rights pertaining to this report belong to Investment Bridge Co., Ltd., which may change the contents thereof at any time without prior notice. All investment decisions are the responsibility of the individual and should be made only after proper consideration.

Copyright (C) 2017 Investment Bridge Co., Ltd. All Rights Reserved.