Kyoritsu Maintenance Co., Ltd. (9616)
Chairman
Haruhisa Ishizuka

President
Mitsutaka Sato

 
| | |
| --- | --- |
| Company | Kyoritsu Maintenance Co., Ltd. |
| Code No. | 9616 |
| Exchange | TSE 1st Section |
| Chairman | Haruhisa Ishizuka |
| President | Mitsutaka Sato |
| HQ Address | 2-18-8 Soto Kanda, Chiyoda-ku, Tokyo |
| Year-end | March |
| URL | |
Share Price
Shares Outstanding
Market Cap.
ROE (actual)
Trading Unit
¥5,600
13,036,726 shares
¥73.006 billion
11.0%
100 shares
DPS (Est.)
Dividend Yield (Est.)
EPS (Est.)
PER (Est.)
BPS (actual)
PBR (actual)
¥48.00
0.9%
¥306.81
18.3x
¥2,890.29
2.0x
* Share price as of closing on December 12, 2014. Number of shares outstanding as of most recent quarter end excluding treasury shares.
Fiscal Year
Sales
Operating
Income
Ordinary
Income
Net Income
EPS(¥)
Dividend(¥)
March 2010
84,513
4,033
3,012
1,254
87.33
38.00
March 2011
84,983
4,610
3,308
1,052
73.29
38.00
March 2012
91,170
6,017
4,602
2,376
166.35
38.00
March 2013
99,472
6,521
5,599
3,206
227.21
43.00
March 2014
105,216
7,490
6,796
3,829
290.23
48.00
March 2015 Est.
112,100
7,940
7,100
4,000
306.81
48.00
* Estimates are those of the Company.
This Bridge Report provides information about Kyoritsu Maintenance Co., Ltd. including a review of first half fiscal year March 2015 earnings.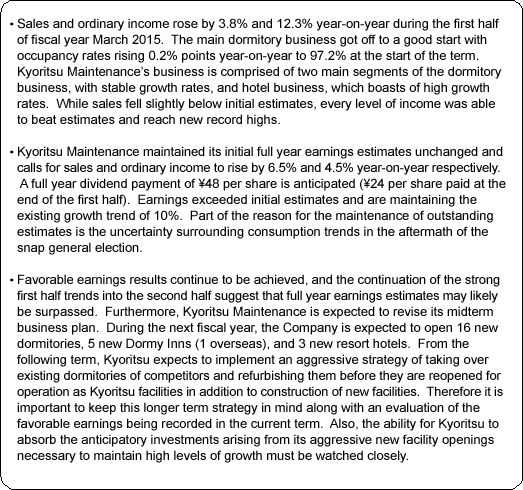 Kyoritsu Maintenance bases its management policy upon the concept of "contributing to a broad based development of society through the provision of healthy food and comfortable living services in various stages of people's lives." In its dormitory business, Kyoritsu seeks to provide modern versions of the "traditional Japanese boarding house" (Geshukuya - Traditional Japanese dormitories that also provide food services). Its hotel business segment can be divided into the business hotel operations, where "large hot spring type bathing facilities" and "good tasting breakfast menus" developed in its dormitory business are provided, and resort hotel operations, where "reasonable and high quality resort lifestyles" are provided. Kyoritsu also provides various services including building maintenance for both residential and office buildings, building rental and leasing services, parking lot operations management and other services in its contracted services business segment. In its food services business, restaurant operations and outsourced food facility management services are provided. Furthermore, Kyoritsu is using its overwhelmingly strong brand recognition to maintain its position as the leader within the dormitory business, and to accelerate growth in its hotel business.

Consolidated sales composition by business segment for fiscal year March 2014 are provided below.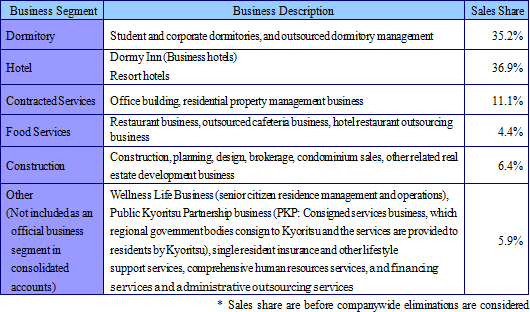 <Corporate History>

Kyoritsu Maintenance was established in September 1979. The founder, Haruhisa Ishizuka, has long been associated with the food service industry and started the Company by taking on the operations of corporate cafeteria facilities on a consigned basis. In the following year of 1980 in Sakura City, Chiba Prefecture, the Company established a two story wooden structure with 28 small four Japanese straw mats and a half rooms as its first dormitory facility. Based on the principle of providing "food" that "fosters the health and well being of students to put their parents' minds at ease," Kyoritsu was able to steadily expand its student dormitory business through partnerships with various schools and put the school name on the dormitory. The Company steadily expanded its operating territory to cover the Tokyo, Kanagawa, Nagoya and Osaka regions. In April 1985, Kyoritsu began offering corporate dormitories to employees that offered highly unique features of "individual rooms with commissary functions providing breakfast and dinner," and "large bathing facilities" as comforting amenities for residents. In May 1987, Kyoritsu began eating-out business based on know-how for board, which was cultivated through consignment business for dormitories and facilities for boarding. In June 1993, the Company moved its headquarters to its current location and in July of the same year it entered the resort hotel business with the opening of a facility in Nagano Prefecture, followed by their entry to the business hotel realm in August with the opening of a facility in Saitama Prefecture. In September 1994, Kyoritsu listed its shares on the JASDAQ Market (At the time called the OTC Market), in March 1999 it moved its listing to the Second Section of the Tokyo Stock Exchange, and then to the First Section in September 2001.

 

<Midterm Business Plan and Hotel Business Promotion>

Kyoritsu is currently promoting its midterm business plan called "Kyoritsu Value Up Plan!," announced in December 2011 and covering the period from fiscal years March 2012 to 2016. This plan calls for "reforms of the dormitory business and implementation of new growth strategies," "acceleration of the expansion in earnings as the hotel business enters its investment recovery phase," "cultivation of new businesses to become the third pillar of operations," and "training and optimal allocation of human resources." Also, the plan has established sales, and operating and ordinary income targets of ¥137.7, ¥11.0, and ¥8.95 billion to be achieved in the final year of the plan in fiscal year March 2016. As of the second quarter of fiscal year March 2015, the fourth year of the midterm business plan, Dormitory business as the main business has started with high occupancy rate initially by 0.2 point above the previous year and the hotel business segment has got off to a good start with occupancy rates at business and resort hotels rising above the previous year's level. Consequently, the potential exists for Kyoritsu to achieve higher levels of profits than called for by the business plan. Because of the favorable near term earnings trends, the midterm business plan is expected to be revised.

 

Midterm Business Plan Numerical Targets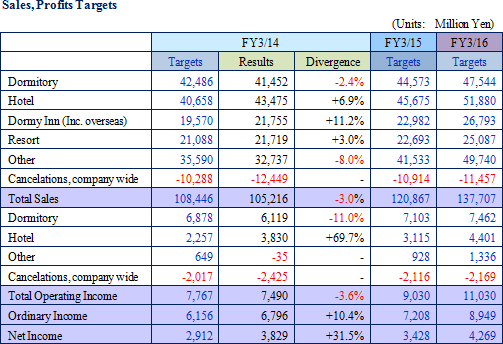 Hotel Business Promotion

Kyoritsu Maintenance's hotel business has been well received in the market, and aggressive efforts will be promoted to expand this business. The Company maintains a policy of promoting efforts to expand the relatively small number of its facilities in Tokyo in advance of the Tokyo Olympics to be held in 2020.

 

 
First Half of Fiscal Year March 2015 Earnings Results

 

Sales and Ordinary Income Rise 3.8% and 12.3%

Sales rose by 3.8% year-on-year to ¥53.574 billion during the first half. The main dormitory business got off to a good start with occupancy rates rising 0.2% points year-on-year to 97.2% at the start of the term. The hotel business, which boasts of high growth rates, also recorded a continuation of the favorable trends from the previous term in both the Dormy Inn (Business hotel) and resort hotel sub-segments. While sales, general and administrative expense margin rose by 0.4% points, gross income margin rose by 0.9% points and allowed operating income to rise by 9.5% year-on-year to ¥4.519 billion. Interest paid declined from ¥542 million in the previous first half to ¥448 million in the current first half, and foreign exchange translation gains rose from ¥116 to ¥185 million over the same period, allowing ordinary and net incomes to rise by 12.3% and 24.5% year-on-year to ¥4.221 and ¥2.726 billion respectively. While sales fell below outstanding estimates, every level of income was able to exceed estimates and achieve new record highs for the first half. This strong earnings performance was made possible by the two cornerstones of Kyoritsu's business, the stable growth dormitory business and high growth hotel business.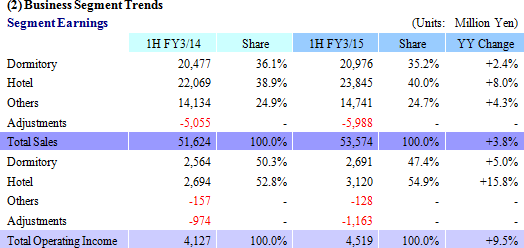 Dormitory Business

Sales and operating income rose by 2.4% and 5.0% year-on-year to ¥20.976 and ¥2.691 billion respectively. Occupancy rates at the term start rose by 0.2% points from the previous term to 97.2%, and the number of contracted rooms rose by 858 from the previous term start to 33,480 rooms. Student dormitories trended favorably due to efforts to fortify relationships with four year universities and increases in the number of foreign students despite a decline in the number of preparatory school students. With regards to corporate dormitories, increases in hiring of new employees by financial institutions and increases in the number of companies reintroducing dormitories for their employees contributed to a rise in the number of resident contracts. Increases in marginal profitability arising from higher occupancy rates and reviews of management expenses helped to absorb increases in utility fees and contributed to an improvement in profit margins.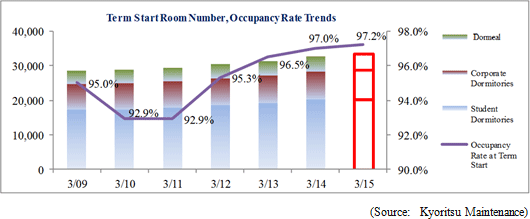 Hotel Business

Sales and operating income rose by 8.0% and 15.8% year-on-year to ¥23.845 and ¥3.120 billion respectively. Dormy Inn business hotels and resort hotels both enjoyed high occupancy rates.

 

Dormy Inn (Business Hotel) Business Operating Income Rises 7.7% to ¥1.893 Billion

Favorable trends at "Natural Hot Spring Satsuki no Yu Dormy Inn EXPRESS Kakegawa" and "Natural Hot Spring Yugiri no Yu Dormy Inn PREMIUM Namba" facilities newly opened during the previous term and strong trends at existing facilities contributed to high occupancy rates. Occupancy rates at existing facilities rose by 0.6% points year-on-year to 88.4%, and the average price per room rose by ¥400 year-on-year to ¥8,800. The weaker yen and strengthened marketing in Korea and other Asian countries to cultivate inbound hotel users contributed to steady growth in foreign hotel guests. The number of inbound foreign hotel guests rose by 8.7% during the first quarter (April to June, compared with 5.4% in the previous first quarter) and 9.5% during the second quarter (July to September, compared with 5.8% in the previous second quarter). Furthermore, the increase in inbound foreign users contributed to increases in both occupancy rates and room pricing, with the average price per room for inbound foreign users rising by ¥1,300 year-on-year to ¥10,000 during the second quarter. The renewal of Dormy Inn facilities in Niigata and Hiroshima (¥266 million) and preparation for opening of overseas facilities contributed to higher expenses, but the favorable occupancy rates and room pricing contributed to an increase in profits.

 

Resort Hotel Business Operating Income Rises 31.1% to ¥1.227 Billion

The opening of "Inishie no Yado Ikyu" was timed to match the commemorative ceremonies being held at Ise Jingu Shrine in the previous term and combined with detailed marketing efforts at existing facilities to realize positive results, and helped to overcome the negative impact of strong hurricanes and torrential rains that occurred during the term under review. Consequently, occupancy rates at existing facilities rose by 2.5% points year-on-year to 83.4%, and the average price per room rose by ¥300 year-on-year to ¥39,300. In addition to improvements in profitability at existing facilities, declines in new facility opening expenses allowed profits to rise by a large margin.

 


 

Other Business Segments

Sales rose by 4.3% year-on-year to ¥14.741 billion, and operating loss declined to ¥128 million from ¥157 million in the previous first half.

Contracted services business saw a 2.2% year-on-year decline in sales to ¥5.499 billion, and operating income turned to a profit of ¥76 million from a loss of ¥20 million in the previous first half. While the sales of facilities owned by Kyoritsu during the previous term caused rental income to decline, profits actually increased.

The food services business recorded a 2.2% year-on-year increase in sales to ¥2.623 billion and operating income turned to break even at ¥0 from a loss of ¥51 million in the previous first half. This improvement in profitability is attributed to strict efforts to control costs were despite delays in the recovery in consumption in the wake of the consumption tax hike and severe operating conditions due to increases in materials costs.

The construction business recorded an 11.8% year-on-year decline in sales to ¥2.172 billion and operating income turned to a loss of ¥7 million from a profit of ¥25 million in the previous first half. Delays in some construction projects due to the sudden rise in development costs are attributed to this weak performance.

The others segment recorded growth in sales of 27.8% year-on-year to ¥4.445 billion, but operating loss increased to ¥197 million from ¥110 million in the previous first half.

 

 

At the end of the first half, total assets declined by ¥3.702 billion from the end of the previous fiscal year to ¥128.293 billion due in part to a contraction in cash and equivalents. Declines in prepayments received contributed to reductions of ¥6.532 billion in liabilities to ¥90.873 billion. Net assets rose by ¥2.829 to ¥37.419 billion on the back of increases in retained earnings. Equity ratio at the end of the term rose by 3.0% points from the end of the previous fiscal year to 29.2%.

 

 

Cash and equivalents at the end of the first half rose by ¥1.811 billion from the end of the previous first half to ¥14.097 billion. Increases in inventories and declines in prepayments received caused the net outflow in operating cash flow to increase by ¥330 million to ¥1.538 billion over the same period. Investing cash flow saw its margin of net outflow expand by ¥2.653 billion to ¥5.566 billion due to payment for acquisition of tangible noncurrent assets and security deposits. Consequently, the net outflow of free cash flow increased to ¥7.104 billion. Financing cash flow recorded an increase in its net outflow of ¥2.286 billion to ¥2.653 billion due in part to repayment of long term debts.

 

 
Fiscal Year March 2015 Earnings Estimates

 

Sales and Ordinary Income Expected to Rise by 6.5% and 4.5%
Kyoritsu maintained its outstanding earnings estimates, which call for sales and ordinary income to rise by 6.5% and 4.5% year-on-year to ¥112.1 and ¥7.1 billion respectively. If this ordinary income estimate is achieved, it would represent a new record high. A Dormy Inn business hotel is scheduled to be opened in Seoul, Korea in February 2015. A full year dividend payment of ¥48 per share (Including a ¥24 dividend paid at the end of the first half) is anticipated. Earnings were able to exceed initial estimates during the first half and are maintaining the existing growth trend of 10%. Part of the reason for the maintenance of outstanding estimates for the full year is the uncertainty surrounding consumption trends in the aftermath of the snap general election.

 

 
 

Despite the negative influence of the consumption tax hike, strong typhoons and torrential rains experienced during the term under review, Kyoritsu Maintenance was able to overcome these factors and record favorable earnings. These favorable trends remain in play currently, and an upward revision to earnings appears to be a strong possibility. The Company is also expected to revise its midterm business plan as well. Kyoritsu Maintenance expects to open 16 new dormitories, 5 new Dormy Inn facilities (Including one overseas facility), and 3 resort hotels in the next fiscal year. At the same time, the Company is expected to adopt a strategy of taking over existing facilities of competitors to be refurbished before being reopened as Kyoritsu facilities. And while fears of rising prices for construction costs persist, Kyoritsu will attempt to limit the negative affect of higher construction costs by relying upon regional construction companies and implementing stricter screening processes in the selection of general contractors. At the same time, reviews of the development structure are being implemented to increase the speed of the development process. While the near term earnings performance in the current term is favorable, it is important to keep an eye on future developments from the next term onwards. The key for Kyoritsu Maintenance is its ability to absorb anticipatory investments while at the same time maintaining its current levels of high growth rates.

 

<Disclaimer>

This report is intended solely for information purposes, and is not intended as a solicitation to invest in the shares of this company. The information and opinions contained within this report are based on data made publicly available by the Company, and comes from sources that we judge to be reliable. However we cannot guarantee the accuracy or completeness of the data. This report is not a guarantee of the accuracy, completeness or validity of said information and or opinions, nor do we bear any responsibility for the same. All rights pertaining to this report belong to Investment Bridge Co., Ltd., which may change the contents thereof at any time without prior notice. All investment decisions are the responsibility of the individual and should be made only after proper consideration.

Copyright(C) 2015 All Rights Reserved by Investment Bridge Co., Ltd.