Kyoritsu Maintenance Co., Ltd. (9616)
Chairman
Haruhisa Ishizuka

President
Mitsutaka Sato

 
| | |
| --- | --- |
| Company | Kyoritsu Maintenance Co., Ltd. |
| Code No. | 9616 |
| Exchange | TSE 1st Section |
| Chairman | Haruhisa Ishizuka |
| President | Mitsutaka Sato |
| HQ Address | 2-18-8 Soto Kanda, Chiyoda-ku, Tokyo |
| Year-end | March |
| URL | |
Share Price
Shares Outstanding
Market Cap.
ROE (actual)
Trading Unit
¥10,290
19,240,290 shares
¥197.983 billion
10.8%
100 shares
DPS (Est.)
Dividend Yield (Est.)
EPS (Est.)
PER (Est.)
BPS (actual)
PBR (actual)
¥50.00
0.5%
¥281.70
36.5x
¥2,903.88
3.5x
*Share price as of closing on December 17, 2015. Number of shares outstanding as of most recent quarter end excluding treasury shares.
Fiscal Year
Sales
Operating
Income
Ordinary
Income
Net Income
EPS(¥)
Dividend(¥)
March 2010
84,513
4,033
3,012
1,254
87.33
38.00
March 2011
84,983
4,610
3,308
1,052
73.29
38.00
March 2012
91,170
6,017
4,602
2,376
166.35
38.00
March 2013
99,472
6,521
5,599
3,206
227.21
43.00
March 2014
105,216
7,490
6,796
3,829
290.23
48.00
March 2015
110,212
8,217
7,663
4,387
224.78
50.00
March 2016 Est.
131,600
10,160
9,430
5,420
281.70
50.00
* Estimates are those of the Company.
This Bridge Report provides information about Kyoritsu Maintenance Co., Ltd. including a review of its first half of fiscal year March 2016 earnings.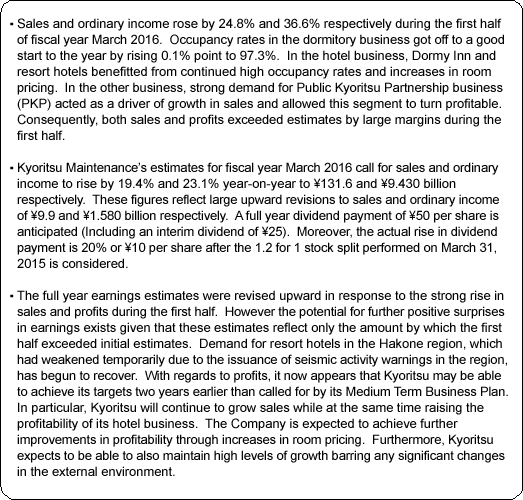 Kyoritsu Maintenance bases its management policy upon the concept of "contributing to a broad based development of society through the provision of healthy food and comfortable living services in various stages of people's lives." In its dormitory business, Kyoritsu seeks to provide modern versions of the "traditional Japanese boarding house" (Geshukuya - Traditional Japanese dormitories that also provide food services). Its hotel business segment can be divided into the business hotel operations, where "large hot spring type bathing facilities" and "good tasting breakfast menus" developed in its dormitory business are provided, and resort hotel operations, where "reasonable and high quality resort lifestyles" are provided. Kyoritsu also provides various services including building maintenance for both residential and office buildings, building rental and leasing services, parking lot operations management and other services in its contracted services business segment. In its food service business, restaurant operations and outsourced food facility management services are provided. Furthermore, Kyoritsu is using its overwhelmingly strong brand recognition to maintain its position as the leader within the dormitory business, and to accelerate growth in its hotel business. The composition of consolidated fiscal year March 2015 sales by business segment are provided below.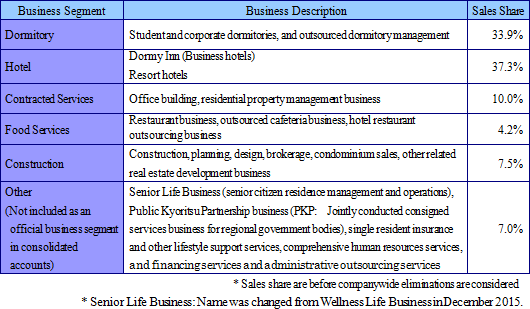 <Corporate History>

Kyoritsu Maintenance was established in September 1979. The founder, Haruhisa Ishizuka, has long been associated with the food service industry and started the Company by taking on the operations of corporate cafeteria facilities on a consigned basis. In the following year of 1980 in Sakura City, Chiba Prefecture, the Company established a two story wooden structure with 28 small four Japanese straw mat rooms as its first dormitory facility. Based on the principle of providing "food" that "fosters the health and well being of students to put their parents' minds at ease," Kyoritsu was able to steadily expand its student dormitory business through partnerships with various schools. The Company steadily expanded its operating territory to cover the Tokyo, Kanagawa, Nagoya and Osaka regions. In April 1985, Kyoritsu began offering corporate dormitories to employees that offered highly unique features of "individual rooms with commissary functions providing breakfast and dinner," and "large bathing facilities" as comforting amenities for residents. In June 1993, the Company moved its headquarters to its current location and in July of the same year it entered the resort hotel business with the opening of a facility in Nagano Prefecture, followed by their entry to the business hotel realm in August with the opening of a facility in Saitama Prefecture. In September 1994, Kyoritsu listed its shares on the JASDAQ Market (At the time called the OTC Market), in March 1999 it moved its listing to the Second Section of the Tokyo Stock Exchange, and then to the First Section in September 2001.

 

 
New Medium Term Business Plan "Kyoritsu Full Accelerator Plan": 3 Years From Fiscal Year March 2016 to 2018
 

Kyoritsu Maintenance created a new Medium Term Business Plan entitled "Kyoritsu Full Accelerator Plan".

 

Business Environment

Unprecedented levels of easy monetary policy lead to low interest rates, weaker yen

Construction costs remain at high levels
"Japan Revitalization Strategy" 2014 Revised

Leverage tourism assets, promote inbound visitors

University reforms, globalization

Gradual reductions in corporate tax

Establish corporate governance code
Future Events

Consumption tax to be raised from 8% to 10% in April 2017

Tokyo Olympics, Paralympics to be held in 2020

 

The targets defined within the "Kyoritsu Full Accelerator Plan" for fiscal year March 2018 are listed below.

 

 

Basic Policies

1. Concentrated and aggressive development investments will be made to satisfy customer needs

2. Strengthen profitability by achieving an appropriate balance between value and pricing

 

The numbers of rooms under development are 4,930 Dormitory and Domeal rooms, 2,794 Dormy Inn rooms, and 641 resort hotel rooms.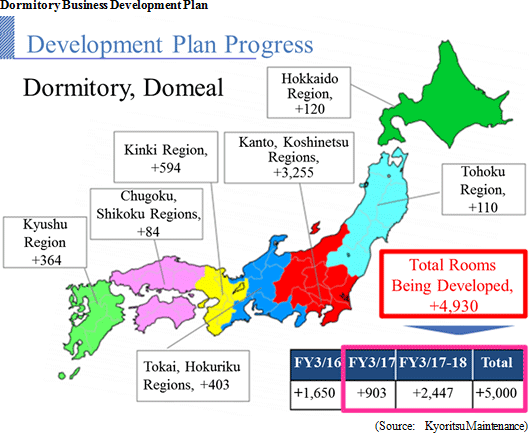 Business Hotel, Resort Hotel Business Development Plans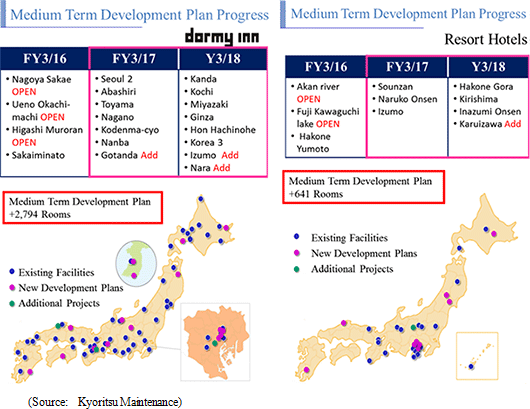 ADR of the Dormy Inn and resort hotels rose by 5.3% and 6.1% respectively over the past three years in the hotel business, and compare with growth estimates of 2.7% and 2.3% cited in its plans. Moreover, capital investments during the same period of the pervious Medium Term Business Plan amounted to ¥44.0 billion.

 

 
First Half of Fiscal Year March 2016 Earnings Results

 

Sales, Ordinary Income Rise 24.8%, 36.6% Year-On-Year

Sales rose by 24.8% year-on-year to ¥66.867 billion. Occupancy rates in the dormitory business at the beginning o the fiscal year got off to a good start by rising 0.1% points year-on-year to 97.3%. In the hotel business, Dormy Inn and resort hotels both saw strong demand from Japanese and overseas visitors, which boosted occupancy rates to high levels. In other businesses, strong demand for construction and PKP services contributed to strong increases in sales and allowed their respective segments to turn profitable. While gross margin declined by 0.6% points, sales, general and administrative expense margin declined by a larger margin of 1.3% points and allowed operating income margin to rise by 0.8% points. Consequently, operating, ordinary and net incomes rose by 36.1%, 36.6% and 39.4% year-on-year to ¥6.153, ¥5.764 and ¥3.8 billion respectively. These figures represent large increases over not only the previous year but also initial estimates.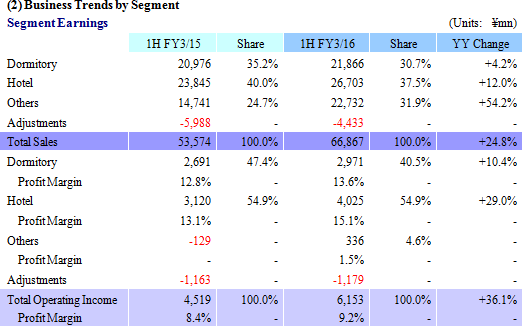 Operating income margin rose by 0.8% points year-on-year to 9.2%. The dormitory business has been the driver of Kyoritsu Maintenance's stable growth ever since its founding. Now the knowhow cultivated in the dormitory business is being leveraged to expand the hotel business as well. In addition to sales growth in the hotel business, improvements in profitability have also become pronounced. Furthermore, recovery of profitability in the other business segment is also contributing to improvement in overall profitability.

 

Dormitory Business

Sales and operating income rose by 4.2% and 10.4% year-on-year to ¥21.866 and ¥2.971 billion respectively. Occupancy rates rose by 0.1% point year-on-year to 97.3% at the start of the term. Contracted residents also rose by 1,580 year-on-year to 32,687 residents as of the end September. Sales of student dormitories remained firm on the back of strong demand from inbound students from overseas. Students from overseas accounted for 10.9% or 2,194 of the 20,153 contracted residents of student dormitories at the end of the first half. In addition, corporate dormitories benefitted from increased hiring by Japanese corporations and the reintroduction of dormitory services by a growing number of Japanese companies, which contributed to an increase in the number of contracted residents. Furthermore, Kyoritsu implemented strict cost controls on a dormitory by dormitory basis, which allowed profit margins to improve.

 

 

Hotel Business

Sales and operating income rose by 12.0% and 29.0% year-on-year to ¥26.703 and ¥4.025 billion respectively. Occupancy rates in both the Dormy Inns and resort hotels trended at high levels, and the average price per room rose. In particular, the rise in profit of the Dormy Inn operations contributed strongly to overall profits of the hotel business.

 

Dormy Inn (Business Hotel) Business

During the first half, Kyoritsu opened two new facilities including the "Natural Hot Springs Kinko no Yu, Dormy Inn PREMIUM Nagoya Sakae" and "Kachi no Yu, Dormy Inn Ueno Okachimachi". "Tanuki no Yu Dormy Inn Sapporo Annex" was selected as the fifth highest ranking hotel in the Expedia's "2015 World's Best Hotels Ranking". Furthermore, Kyoritsu's focus upon satisfying the needs of both Japanese and the growing number of inbound guests from overseas is contributing to continued strong demand for its existing hotel facilities. This strong demand is reflected in the 0.4% point year-on-year rise in occupancy rates at existing facilities to 88.7%. In addition to facilities in major metropolitan areas including Shibuya, Asakusa, Akihabara, Shinsaibashi, Namba, and Kyoto, Kyoritsu operates numerous facilities in Sendai, Hakata and other regional cities. The ADR rose by ¥1,400 to ¥10,200. And while the Medium Term Business Plan calls for an average annual rise in room prices of 2.3%, the average price has risen by 15.9% during the current first half alone. This increase in room pricing is remarkable even despite the favorable occupancy rates noted during the first half.

 
 

Against the backdrop of the recent weakening of the yen, usage by overseas visitors is steadily rising on the back of fortified marketing efforts targeting inbound visitors from Korea, Taiwan, Hong Kong and other parts of Asia. The composition of overseas visitor usage of facilities has risen for nine consecutive quarters and their share of total guests rose from 9.1% during the previous first half to 16.1% during the current first half. By area, the ratio of overseas visitor usage of "Dormy Inn PREMIUM Nanba" and "Dormy Inn Shinsaibashi" in Osaka City have risen markedly. Because of the high number of occupants per room of overseas visitors, ADR visitors of ¥12,500 exceeded the overall average price during the first half by ¥2,600. Consequently, this rise in hotel facility usage by overseas visitors has contributed to increases in both occupancy rates and ADR.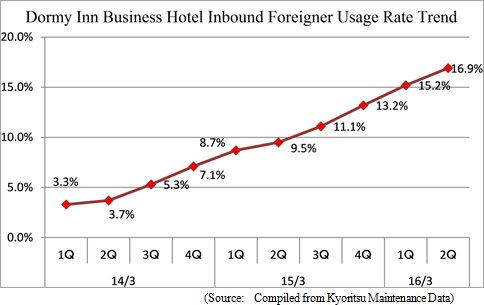 Resort Hotel Business

"Akangawa Hot Spring Kamui no Yu La Vista Akangawa" was opened in September 2015. The decline in occupancy rates of some existing facilities due to seismic activity warnings issued in the Hakone region has been covered by the strong occupancy rates at facilities in other regions. Consequently, the occupancy rate has risen by 0.4% points year-on-year to 83.7%. In addition, the flexible allocation of staff according to occupancy rates has allowed costs to be managed. The ADR rose by ¥600 year-on-year to ¥40,500.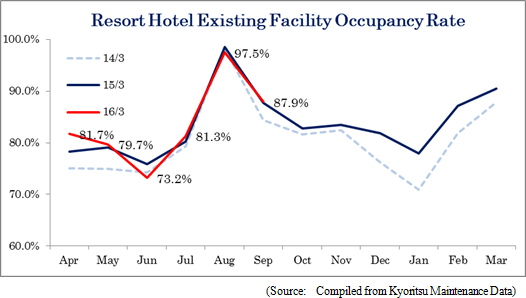 Other Businesses

Sales rose by 54.2% year-on-year to ¥22.732 billion, and operating income recovered to a profit of ¥336 million from a loss of ¥129 million during the previous first half. Sales and operating income of the contracted services business rose by 28.3% and 145.0% year-on-year to ¥7.055 billion and ¥187 million respectively. This strong earnings performance is attributed to the full contribution of rental properties acquired during the previous term and an increase in contracted service projects. Sales of the food services business rose by 2.8% year-on-year to ¥2.698 billion, and the operating loss expanded from less than ¥0 million in the previous term to ¥17 million in the current first half. This rise in sales is attributed to a recovery in personal consumption, and the expansion in losses is attributed to an increase in expenses associated with the opening of new facilities. Sales of the construction division rose by 226.2% year-on-year to ¥7.087 billion, and operating income of ¥188 million was recorded, compared with the loss of ¥7 million in the previous first half. And while development costs continue to trend at high levels, higher revenues from hotel development related orders allowed profits to be recorded. Sales of other business rose by 32.5% year-on-year to ¥5.890 billion, and the operating loss declined from ¥197 in the previous first half to ¥21 million in the current term. An expansion in the PKP services and improvements in operating efficiencies allowed sales to rise and the loss to contract.

 

 

Total assets rose by ¥255 million from the end of the previous fiscal year to ¥140.005 billion due in part to increases in structures and buildings. Total liabilities also rose by ¥8.702 to ¥84.134 billion despite the decline in convertible bonds with options. Net assets rose by ¥8.958 to ¥55.871 billion due in part to increases in capital, capital reserves and retained earnings. Capital adequacy ratio rose by 6.3% points from the end of the previous term to 39.9%. Conversion of the ¥15.0 billion in convertible bonds with stock options issued in December 2013 progressed with only ¥10 billion left outstanding for a conversion rate of 93.2%. Interest bearing liabilities declined from ¥50.3 billion year-on-year to ¥41.3 billion, and net debt to equity ratio improved by 0.7 times to 1.3 times.

 

 

Cash and equivalents at the end of the first half declined by ¥2.070 billion from the end of the previous fiscal year to ¥13.688 billion. The net outflow of operating cash flow declined by ¥75 million year-on-year to ¥1.462 billion due to an increase in net income before taxes and a decline in prepayments. The net outflow of investing cash flow also contracted by ¥821 million year-on-year to ¥4.745 billion on the back of sale of marketable securities and acquisition of tangible assets. Financing cash flow saw a ¥6.893 billion improvement with a net inflow of ¥4.240 billion being recorded during the current term, compared with the net outflow recorded during the previous first half.

 

 
Fiscal Year March 2016 Earnings Estimates

 

Sales, Ordinary Income Expected to Rise by 19.4%, 23.1% Year-On-Year

Kyoritsu Maintenance's full year earnings estimates call for sales and ordinary income to rise by 19.4% and 23.1% year-on-year to ¥131.6 and ¥9.430 billion respectively. These estimates reflect large upward revisions to sales and ordinary income of ¥9.9 and ¥1.580 billion respectively. Dividend payment of ¥50 per share (Including a ¥25 per share interim period dividend) is anticipated. Moreover, this dividend represents an increase of ¥10 per share or 20% after the 1.2 for 1 stock split conducted on March 31, 2015 is considered.

 

 
 

Both sales and profits rose by large margins, and full year earnings were revised upwards to reflect this strong performance of the first half. However, there appears to be potential for further surprises as the revision to the full year earnings estimates reflects only the strong performance of the first half. Demand for resort hotels in the Hakone region had weakened temporarily due to the issuance of seismic activities warnings in the region, but the cancelation of the warnings on November 20 has contributed to a recovery in demand to 80% to 85% in November. With regards to profits, it now appears that Kyoritsu Maintenance may be able to achieve its target of ¥10.0 billion in ordinary income two years earlier than called for in its Medium Term Business Plan.

Both the dormitory and hotel businesses are trending favorably, but the hotel business in particular has recorded strong improvements in profitability due to successful efforts to absorb expenses from numerous new projects. Furthermore, Dormy Inn occupancy rates exceeded 90% during August and September, with some facilities recording occupancy rates of close to 100%. Also, strong increases in room pricing are also contributing to improvements in profitability. Moreover, the other business segment turned profitable and strict cost management strategies have been successful. In particular, the PKP service recorded a rapid improvement in profitability and the future of this service looks optimistic. Furthermore, Kyoritsu expects to be able to maintain high levels of growth barring any significant changes in the external environment.

 

<Disclaimer>

This report is intended solely for information purposes, and is not intended as a solicitation to invest in the shares of this company. The information and opinions contained within this report are based on data made publicly available by the Company, and comes from sources that we judge to be reliable. However we cannot guarantee the accuracy or completeness of the data. This report is not a guarantee of the accuracy, completeness or validity of said information and or opinions, nor do we bear any responsibility for the same. All rights pertaining to this report belong to Investment Bridge Co., Ltd., which may change the contents thereof at any time without prior notice. All investment decisions are the responsibility of the individual and should be made only after proper consideration.

Copyright(C) 2016 All Rights Reserved by Investment Bridge Co., Ltd.