Kazuhiro Hatano
CEO
| | |
| --- | --- |
| Company | Linical Co., Ltd. |
| Code No. | 2183 |
| Exchange | First Section, TSE |
| Industry | Service |
| CEO | Kazuhiro Hatano |
| HQ Address | 10 Fl., Shin-Osaka Brick Building, 6-1 Miyahara 1-chome, Yodogawa-ku, Osaka, Japan |
| Year-end | March |
| URL | |
Share Price
Shares Outstanding
Market Cap.
ROE (actual)
Trading Unit
¥880
11,394,906 shares
¥10.027 billion
26.1%
100 shares
DPS (Est.)
Dividend Yield (Est.)
EPS (Est.)
PER (Est.)
BPS (actual)
PBR (actual)
¥14.00
1.6%
¥54.35
16.2x
¥165.09
5.3x
* Stock price as of closing on December, 8 2014. Number of shares issued at the end of the most recent quarter excluding treasury shares.
Fiscal Year
Sales   
Operating
Income
Ordinary
Income
Net Income
EPS (¥) 
Dividend (¥)
March 2011
2,512
288
278
147
12.37
11.00
March 2012
3,110
728
723
424
37.23
11.00
March 2013
3,599
1,003
998
616
54.13
16.50
March 2014
3,721
706
703
449
39.42
14.00
March 2015 Est.
4,846
1,023
1,020
619
54.35
14.00
* Estimates are those of the Company. An additional ¥2.5 per share was paid to commemorate the move of the Company's shares to the First Section of the Tokyo Stock Exchange during FY3/13

We present this Bridge Report about Linical Co., Ltd. and details of the first half of fiscal year March 2015 earnings results.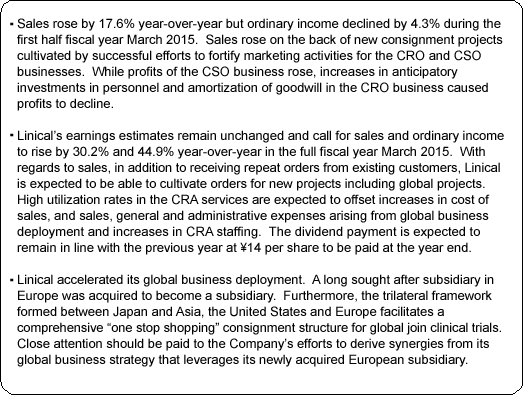 Linical Co., Ltd. provides contract research organization (CRO) services that support the drug development process of pharmaceutical companies on an outsourced consignment basis, and contract sales organization (CSO, sales and marketing functions for pharmaceutical products post market launch and including clinical research and surveys) services. Pharmaceutical products are required to receive the approval of the Ministry of Health and Welfare prior to their sales, and efficacy and safety of pharmaceutical products must be confirmed through clinical trials prior to their approval. Companies providing clinical trial support services are known as contract research organization (CRO) service providers. The importance of CRO companies is growing as pharmaceutical companies increase their outsourcing of various operations to make more effective and flexible use of their development staff and other resources, which are generally limited in number. Linical is a CRO service provider with particular strengths in the most important "phase 2 and 3 clinical trials" and knowhow in the tasks of "monitoring," "quality control," and "consulting," and it seeks to maintain its position as a true partner to pharmaceutical companies by providing high quality support services.

In the CRO business, Linical specializes in the most critical stages of clinical trials of phase II and III studies including major activities such as monitoring. Furthermore, Linical is able to differentiate itself from its competitors by focusing upon schizophrenia depression, Alzheimer's disease, and other central nervous system (CNS) diseases, oncology, and other highly difficult disease realms. (Compared with these disease realms, it is more difficult to differentiate services in the realm of diseases associated with adult lifestyle habits where competition is intense.) At the same time, Linical will focus upon specific patient realms in the CSO business and leverage its knowhow established in the CRO business to provide product marketing and post market launch data planning and collection tasks to differentiate its CSO business from that of its competitors, who primarily provide the service of medical representative dispatch.

Linical's main customers include Takeda Pharmaceutical Company Limited, Daiichi Sankyo Company Limited, Otsuka Pharmaceutical Company, Limited, Shionogi & Company, Limited, Mitsubishi Tanabe Pharma Corporation, Ono Pharmaceutical Co., Ltd. and other major pharmaceutical companies. Phase II clinical trials are conducted to test the safety, efficacy, usage, and dosage of pharmaceutical products. Phase III clinical trials take these results and confirm them in actual treatment conditions to test for efficacy and safety.

 

<Corporate History>

Linical Co., Ltd. was established in June 2005 by nine members who worked at Fujisawa Pharmaceutical Co., Ltd. (Currently known as Astellas Pharma Inc.) on the development of immunosuppressant drugs. Established with the objective of becoming the ideal drug development outsourcing (CRO) company from Osaka, Linical focused its efforts in the realms of central nervous system diseases (CNS) and oncology since its founding, and received one of its first orders from Otsuka Pharmaceutical Company shortly after its establishment. Thereafter, the Company fortified its staffing as part of its efforts to strengthen its order taking capabilities. In addition, Linical is benefitting from its staff with bountiful experience in the realm of oncology pharmaceutical product development who formerly worked at foreign pharmaceutical companies and is seeing an expansion in orders near term.

With its advance into the site management organization (SMO, clinical trial facility support organization) business, Aurora Ltd. was turned into a subsidiary in January 2006. However, all shares held in Aurora were later sold in May 2007 in order to focus management resources upon the CRO business. In July 2008, LINICAL USA, INC. was established in California, United States to provide support to Japanese pharmaceutical companies seeking to enter the United States market. Also in October of the same year, Linical listed its shares on the Mothers Market of the Tokyo Stock Exchange, and subsequently moved its listing to the First Section of the Tokyo Stock Exchange in March 2013. In May 2013, LINICAL TAIWAN CO., LTD and LINICAL KOREA CO., LTD were established in Taiwan and Korea respectively. In April 2014, Linical teamed up with its LINICAL KOREA to acquire the Korean CRO company P-pro. Korea Co., Ltd. In October 29, 2014, all of the shares of Nuvisan CDD Holding GmbH, which conducts CRO business in Europe, were acquired and it was converted to a 100% owned subsidiary effective on December 1, 2014. And in order to strengthen the collaboration within the Group, the company name of Nuvisan CDD was changed to LINICAL Europe GmbH.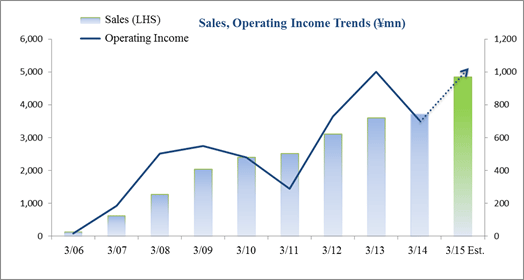 <Business Description>

Linical's business can be divided into the two main segments of the CRO and CSO businesses, with each accounting for 92.3% and 7.7% of fiscal year March 2014 sales respectively. The CRO business is focused upon "monitoring services," which includes the "quality control" and "consulting" services. At the same time, the CSO business specializes in the provision of consigned support services for clinical research and consigned product marketing services as a means of differentiating itself from its competitors, which primarily focus upon medical representative (MR) dispatch.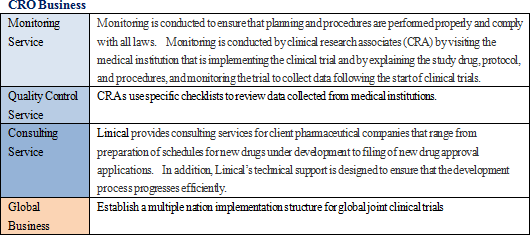 <Strengths>

(1) Concentrated Specialized Knowledge, Know-how, Experience that Respond to Pharmaceutical Companies' Needs

In general, a long period of time of between 10 to 18 years is required to obtain approval for the commercial launch of new drugs into the market. In this overall process, clinical trials require between three to seven years to complete, and lack of preparation and data, and other problems can lead to delays in the progress of trials and in the market launch of new drugs. Linical leverages its bountiful experience in the CRA services, including its highly accurate data, speedy data gathering capability and other knowhow, to predict and prevent various problems from occurring and to ensure that the "clinical trials progress smoothly," allowing it to provide accurate explanation of the overall clinical development process at the orientation stage to clients. Furthermore, a characteristic of Linical's specialized CRO service is its focus upon the three highly efficient tasks mentioned below.

① Linical specializes in the three core tasks ("monitoring", "quality control" and "consulting") of development, and it maintains a structure that is able to perform 100% of this consigned work internally..

② The Company focuses upon the two most important stages of clinical trials of phase II and III.

③ Linical focuses upon major pharmaceutical companies that possess bountiful pharmaceutical product development information.

 

(2) Strengths in CNS, Oncology Monitoring, Highly Difficult Realms with Few Competitors

One of Linical's strengths is its specialization in monitoring services for highly difficult disease realms of the central nervous system and oncology, where there are few competitors. For example in the realm of oncology, evaluating symptoms to determine whether they are the result of side effects of drugs or the cancer itself is very difficult. And in the realm of central nervous system diseases, evaluating the efficacy of drugs prescribed for patients afflicted with Alzheimer's disease is also highly difficult. Therefore, high levels of responses and expertise in monitoring are necessary in these difficult realms. In addition, new drug development for patients of acute diseases and intractable diseases (Difficult diseases), which are also highly difficult disease realms, in addition to oncology and CNS realms is very active (There are only a few number of CROs that can respond to these situations). Evaluation of the efficacy of drugs for adult lifestyle related diseases is far easier because conditions of patients undergoing clinical trials tend to be relatively stable (For example, data gathering of blood sugar levels in diabetes patients).

New drug development trends are shifting from adult lifestyle related diseases towards the realms of oncology and CNS, where treatment satisfaction is low. However as stated above, the safety evaluation of oncology realm drugs and the efficacy evaluation of CNS realm drugs are more difficult. Therefore pharmaceutical companies, which had performed these functions internally, have begun to outsource these more difficult tasks to a greater extent in recent years. The CNS realm has been a main field for Linical since its establishment, and full scale launch of order taking activities for the oncology realm was started four years ago along with the hiring of Iressa development staff from AstraZeneca. Order backlog in the realm of oncology is expanding.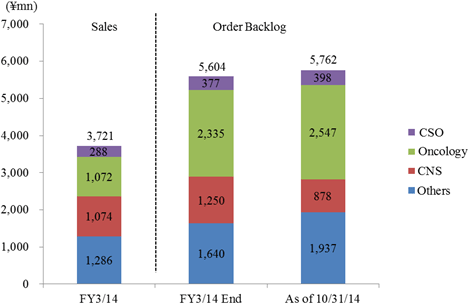 (3) High Profitability

The protocol deviation rates on projects undertaken by Linical have been held to extremely low levels, and the implementation period, including the period required for patient enrollment and recovery of data, for about 80% of all projects has been shortened. Because of its high levels of service quality and quick delivery times in highly difficult disease realms, Linical is able to book orders without having to offer reduced prices and is able to overcome economies of scale advantage of its larger competitors to achieve high profit margins. Moreover, the source of Linical's earnings generation capability is its highly skilled and well trained clinical research associates (CRA), as reflected in the good clinical practice (GCP) passport certification examination passage rates. The GCP passport certification examination is designed to promote improvements in the quality of Japan's clinical trials and clinical research and is conducted by the Japan Society of Clinical Trials and Research. Moreover, all of the employees eligible to obtain qualifications have gone through the examination process, and Linical achieved a passage rate of 100% during the eighth round of the examination.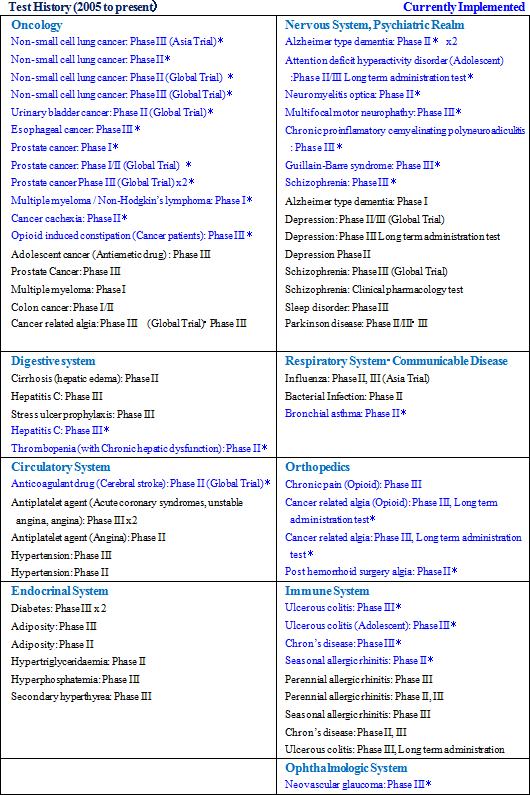 The four main cornerstones of Linical's management strategy include 1) the establishment of its brand through continued growth based upon its high quality, short delivery times, fair pricing and global structure, 2) strengthening and expansion of the CRO business by facilitating a structure of 270 CRAs and by further strengthening oncology and central nervous system related responses, 3) strengthening and expanding the CSO business by creating responses to expanding clinical research needs and by fortifying liaison operations, and 4) cultivation of the new drug discovery support business by providing responses ranging from development plan proposals to application screening.

 

(1) CRO Business

In the CRO business, Linical has focused upon monitoring operations in phase II and III stages of clinical trials and has received high regard from its clients for its efforts in the highly difficult disease realms of oncology and CNS. Along with further extending its track record in the realm of difficult diseases, the Company will also increase its CRA staff numbers to expand its business. Linical will endeavor to establish a structure of 270 staff working as clinical research associates who are always employed at an early stage within Japan.

 

 

Furthermore, Linical endeavors to create a multiple country clinical trial implementation structure as a response to Japan led jointly conducted global joint clinical trials being focused upon by the Ministry of Health, Labor and Welfare. As part of these efforts, Linical Taiwan Co., Ltd. (Taipei, Taiwan, Capitalized at 10 million Taiwanese Dollars in May 2013) and Linical Korea Co., Ltd. (Seoul, Korea, Capitalized at 1.0 billion Korean Won) were established with Linical contributing 100% of the capital of these companies. Linical finished the consolidation of LINICAL KOREA and acquired the Korean CRO company P-pro. Korea Co., Ltd. In addition, Linical USA Inc. (California, USA) was established in July 2008 and opened an office in San Diego in September 2014 for the purpose of expanding its business. In addition, Linical signed share transfer agreement with Nuvisan Pharma Holding GmbH in October 29, 2014 to obtain all shares of Nuvisan CDD Holding GmbH, which conducts CRO services in Europe. Nuvisan Pharma became a fully owned subsidiary as of December 1, 2014, and at the same time changed its name to LINICAL Europe GmbH. This represents Linical's policy of establishing a capability to conduct consignment work on a trilateral basis in the three regions of Japan and Asia, the United States and Europe at an early stage.

 

LINICAL Europe's Expansion

As the new consolidated subsidiary LINICAL Europe GmbH (Formerly known as Nuvisan CDD Germany GmbH) provides CRO services in major countries in Europe, the Linical Group is able to provide customers with comprehensive "one stop shopping" services through fortification and expansion of its consignment structure. LINICAL Europe GmbH's subsidiaries are located in Germany, Spain, France, Netherland and Croatia, and they offer monitoring services to neighboring countries. As a result, the number of countries where the Linical Group offers its services has instantly been expanded to around 40 countries through its various partners. The newly born LINICAL Europe Group is expected to be staffed by about 110 employees.

(Post Acquisition Diagram)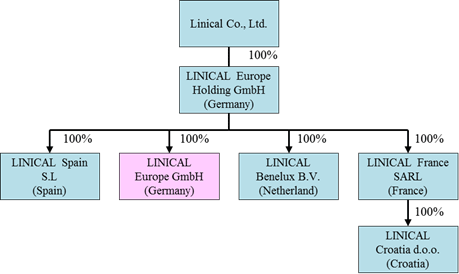 Also, LINICAL Europe focuses clinical trials for oncology realms and boasts of bountiful experience in trials including global joint clinical trials for major global pharmaceutical companies. Furthermore, Linical expects to derive strong synergies from its Group. In addition, LINICAL Europe offers not only monitoring for global joint clinical trials, but also data management, statistics analysis, and medical writing services based upon its bountiful track record in these services, and the Group is capable of taking comprehensive orders for full service global joint clinical trials. Moreover, the company sourced ¥1.4 billion in loans from banks for potential acquisitions.

 

(2) CSO (Drug Development) Business

Linical differentiates itself from its competitors, which offer primarily only MR dispatch services, by focusing upon the consigned service type CSO (drug development) business. Specifically, the Company seeks to differentiate itself by hiring MRs with bountiful experience in special patient realms and leveraging its bountiful knowhow established in the CRO business to take on highly specialized tasks. Currently, Linical provides the two main services of clinical research support and product marketing (liaison). In addition, the ability to receive work for clinical research was responsible for the turn to profits of this business segment during fiscal year March 2013, and new orders for clinical research and development in fiscal year March 2014 allowed sales and profits to rise from the previous term.

 

 

(3) Drug Discovery Support Business (New Business Development)

Linical is endeavoring to cultivate new drug discovery support services by responding to customers' needs for comprehensive "one stop shopping" services by providing new drug development schemes that have little impact upon near term earnings, aggressive development of drug lag compound in various Asian countries, and development plan creation and approval applications. Therefore, the Company will also focus its efforts upon accumulating experiences in the strategic consignment of projects ranging from clinical trial plan creation to data collection, in addition to considering self development of compounds at an early stage by leveraging subsidies and new drug discovery funds. The capability to develop compounds by leveraging new drug discovery funds and experiences in this business is expected to allow Linical to expand the CRO business. Also, experiences in consignment of tasks ranging from development planning to approval applications are expected to be gathered.

 

 
First Half Fiscal Year March 2015 Earnings Results

 

Sales Rise 17.6%, Ordinary Income Falls 4.3%

Sales rose by 17.6% year-over-year to ¥2.007 billion, and ordinary income fell by 4.3% year-over-year to ¥293 million. The CRO and CSO businesses, in which Linical participates, are undergoing gradual expansion due to the growing trend for global joint clinical trials and outsourcing of pharmaceutical product development and sales, against the backdrop of intensifying competition within the industry due to restructuring of the industry resulting from increases in the scale of existing participants, business sales, and retreat from business. Sales increased on the back of fortification of the consignment structure for oncology and central nervous system realms projects, which are growing, and the capture of new consignment projects due to fortification of marketing activities for both CRO and CSO businesses. With regards to profits, increase in personnel costs due to anticipatory hiring of staff and a rise in amortization of goodwill (Korea) caused profits of the CRO business to decline and overall profits to fall, despite the contribution of the CSO business. Training of newly hired staff to handle newly booked projects contributed to a temporary decline in utilization rates of CRAs and a drop in profit margins. Consequently, gross income margin deteriorated by 4.5% points year-over-year to 34.4%, but sales, general and administrative cost margins fell by 1% point to 19.8%. As a result, operating income fell by 4.9% year-over-year to ¥293 million. Also, foreign exchange translation gains contributed to a small improvement in non-operating income, and there were no significant extraordinary profits booked. Increases in tax burdens of overseas subsidiaries contributed to the 10.4% year-over-year decline in net income. While sales were basically in-line with the Company's initial estimates, profits exceeded estimates by a large margin due in part to delays in M&A related costs and personnel and hiring expenses for the hiring of midcareer staff into the second half.

 

 

With regards to the CRO and CSO businesses, sales are booked on a monthly basis (Total value of contract prorated on a monthly basis) in accordance with conditions for contracts that are normally between one to three years in length. Order backlog reflects the value of the amount of consigned service contracts already signed. Therefore, they reflect the total sales value of contracts which are typically between one to three years in length, and are the basis of the Company's earnings estimates.
As of October 31, 2014, order backlog rose 2.8% year-over-year from the backlog at the end of the fiscal year March 2014. This result is a reflection of the Company's ability to book new orders in excess of the amount of order backlog which was booked as sales. The near term order environment is favorable due to the growing trend for global joint clinical trials and outsourcing of various services, and high levels of inquiries for consigned work from new and existing clients resulting from active marketing efforts are expected to allow Linical to fortify its consigned work structure by increasing the number of its CRAs (Clinical Research Associates).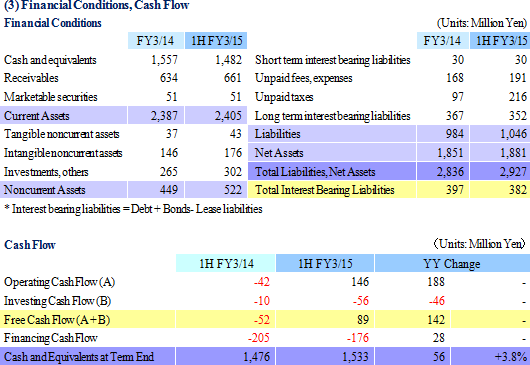 Total assets rose by ¥91 million from the end of the previous term to ¥2.927 billion at the end of first half due in part to increases in guaranty deposits, unpaid taxes and foreign currency translation adjustments. With regards to cash flow, an increase in unpaid consumption taxes and a decline in corporate tax payments allowed operating cash flow to turn positive from a net outflow in the previous first half. An increase in guaranty deposits caused the net cash outflow of investing activities to expand. However, free cash flow turned to a net inflow from an outflow in the previous first half. At the same time, the net cash outflow in financing activities was maintained despite a reduction in dividend payments. An increase in debts associated with M&A activities is expected going forward, but current and equity ratios remained at strong levels in reflection of the healthy financial standing of Linical.

 

 
Fiscal Year March 2015 Earnings Estimates

 

Sales, Ordinary Income Expected to Rise 30.2%, 44.9%

Linical maintained its outstanding estimates for fiscal year March 2015 earnings, which call for sales and ordinary income to rise by 30.2% and 44.9% year-over-year to ¥4.846 and ¥1.020 billion. With regards to sales, the CRO business has continued to be regarded highly by clients since the Company's founding and has received repeat orders from existing customers. Furthermore, orders are anticipated for new projects in the realms of oncology and central nervous system ailments where needs of customers are strong. In the CSO business, Linical seeks to cultivate business from new customers by leveraging knowhow developed in the CRO business to cultivate orders for new projects in highly specialized realms and by fortifying its marketing activities. With regards to profits, the positive impact of higher sales and utilization rates of CRAs are expected to allow profits to rise by a large margin by absorbing increases in cost of sales and sales, general and administrative expenses arising from global business deployment and CRA (clinical development monitor) staffing. Dividend payment is expected to remain in line with projections at ¥14 per share at the term end. The impact of acquiring LINICAL Europe (Formerly known as Nuvisan CDD Holding GmbH) is being analyzed. If this acquisition is found to have significant influence on estimates earnings, Linical is expected to quickly announce information with regards to the influence.

 

 
 

Linical is accelerating the deployment of its businesses globally. With this strategy in mind, a company was acquired in Europe as part of the Company's efforts to facilitate a trilateral global joint clinical trial structure that covers the regions of Japan and Asia, the United States, and Europe. LINICAL Europe (Formerly known as Nuvisan CDD Holding GmbH), which primarily provides oncology realm phase II and III clinical trial monitoring services and boasts of a high ratio of consignment work from major pharmaceutical companies with bountiful pharmaceutical development information, is a good fit with Linical's business strategy and is expected to be quickly integrated without any complications. In addition to the bountiful experiences in global joint clinical trials conducted for global pharmaceutical companies, LINICAL Europe also boasts of multiple monitoring facilities located throughout Europe, and has bountiful experience in data management, data analysis, and medical writing. This ability to supplement deficiencies in business resources in one move is expected to be a strong weapon for the deployment of Linical's businesses globally. This acquisition also contributed to the facilitation of a one stop global joint clinical trial consignment function on a trilateral basis in the three regions of Japan and Asia, the United States and Europe, and will enable Linical to provide full lineup of various services. This fortified capability will contribute to improvements in value addition and competitive standing of new consigned work projects. Furthermore, LINICAL Europe is also expected to ask Linical's group companies to provide global joint clinical trial on a consigned basis in the Japan and Asia and United States markets, which will contribute to increases in the overall consigned work of the Linical Group. Therefore, the market is likely to keep a close watch upon the influence that the European subsidiary will have in extracting new synergies within Linical's global strategy and in the expansion of its earnings.

 

Disclaimer

This report is intended solely for information purposes, and is not intended as a solicitation to invest in the shares of this company. The information and opinions contained within this report are based on data made publicly available by the Company, and comes from sources that we judge to be reliable. However we cannot guarantee the accuracy or completeness of the data. This report is not a guarantee of the accuracy, completeness or validity of said information and or opinions, nor do we bear any responsibility for the same. All rights pertaining to this report belong to Investment Bridge Co., Ltd., which may change the contents thereof at any time without prior notice. All investment decisions are the responsibility of the individual and should be made only after proper consideration.

Copyright(C) 2015 Investment Bridge Co.,Ltd. All Rights Reserved.