Ryosuke Ikeda, President
| | |
| --- | --- |
| Company | WILL GROUP, INC. |
| Code No. | 6089 |
| Exchange | First Section of Tokyo Stock Exchange |
| Industry | Service |
| President | Ryosuke Ikeda |
| Address | 1-32-2 Honcho, Nakano-ku, Tokyo, Japan |
| Year-end | End of March |
| URL | |
Share Price
Number of shares issued
(excluding treasury shares)
Total market cap
ROE (Actual)
Trading Unit
¥919
9,516,556 shares
¥8,746 million
19.7%
100 shares
DPS (Est.)
Dividend Yield (Est.)
EPS (Est.)
PER (Est.)
BPS (Actual)
PBR (Actual)
¥6.50
0.7%
¥63.30
14.5 times
¥641.97
1.4 times
*Share price as of closing on the end of June 26, 2015.The number of shares issued is the number of shares issued at the end of the most recent quarter, excluding treasury shares. ROE and BPS based on previous term's results.
| | | | | | | |
| --- | --- | --- | --- | --- | --- | --- |
| Fiscal Year | Net Sales | Operating Income | Ordinary Income | Net Income | EPS    | DPS    |
| March 2012 | 19,049 | 478 | 472 | 161 | 21.12 | 2.22 |
| March 2013 | 22,174 | 618 | 631 | 289 | 36.61 | 4.10 |
| March 2014 | 26,798 | 808 | 774 | 384 | 45.83 | 6.50 |
| March 2015 | 32,586 | 939 | 950 | 547 | 57.97 | 12.00 |
| March 2016 Est. | 39,120 | 1,094 | 1,094 | 601 | 63.30 | 6.50 |
*Estimates are by Will Group. A 1:200 share split was carried out in October 2013, and a 1:2 share split in September 2014 and September 2015.
* Net Income means Net Income attributable to owners of the parent since FY March 2016.
* DPS in FY March 2014 and FY March 2015 includes commemorative dividend of ¥ 1.9 and ¥ 6.0 respectively.

 

Bridge Report will report on the financial results for Will Group for the first half of fiscal year March 2016.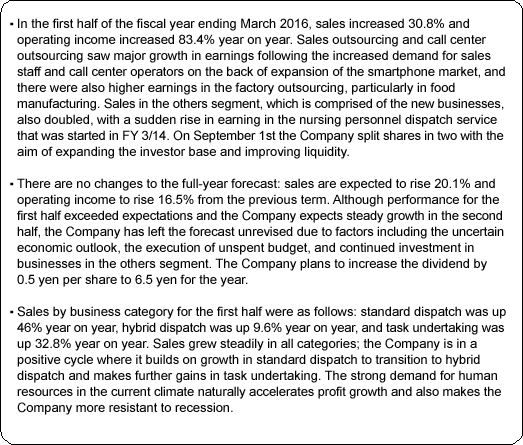 This holding company dispatches and introduces sales promotion staff members, call center operators, production line workers mainly for food products, etc. One of its characteristics is their operation of "hybrid dispatch," in which their employees, or so-called field supporters are stationed on site. The Company aims to differentiate its services with its hands-on policy, while also concentrating on creation of new businesses with the aim of achieving sales of 100 billion yen. Group companies include Saintmedia, Inc., which deals in sales and call center outsourcing; FAJ, Inc., which provides services specialized for the manufacturing industry; Borderlink, Inc., which provides assistant language teachers for elementary and junior high schools, and runs language classrooms for toddlers and children; Creative Bank Inc., which provides sales promotion services, High Breed Inc., which provides IT consulting services, Scientec Consulting Pte. Ltd. and Good Job Creations (Singapore) Pte. Ltd., a human resources service company in Singapore; and GJC Myanmar Ltd., which providesconsulting services in Myanmar. (The information as of November 2015)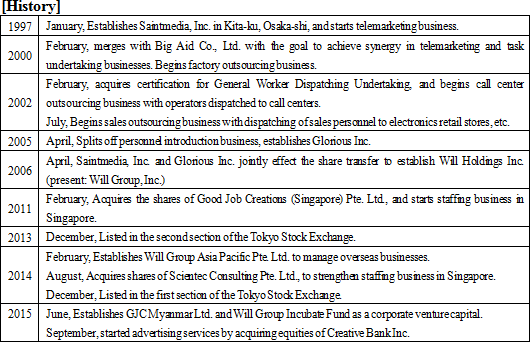 The predecessor of this corporate group was Saintmedia, Inc., a company established in Kita-ku, Osaka-shi in January 1997, which operated telemarketing business. Saintmedia, Inc., is now a consolidated subsidiary. In the meantime, in August 1997, Big Aid Co., Ltd. which undertook short-term businesses, was established in Naniwa-ku, Osaka-shi, and Mr. Ryosuke Ikeda, the current Representative Director and President, joined Big Aid Co., Ltd. as one of its co-founders in October 1997. In February 2000, the two companies merged, with Saintmedia, Inc. being the surviving company, hoping to produce synergetic effects between telemarketing and task undertaking business, and Mr. Ikeda was appointed as the president of this new company. Since then, this business group has operated personnel services with Saintmedia, Inc. as its core company, creating new businesses and restructuring existing businesses to keep pace with market changes. In April 2006, Will Holdings, Inc. (renamed to Will Group, Inc. in June 2012) was founded as a pure holding company, shifting to group business administration in order to improve the expertise of operational companies and optimize managerial resources. The Company was listed in the second section of the Tokyo Stock Exchange in December 2013, then in December 2014, designated to the first section of the Tokyo Stock Exchange.

In June 2015, GJC Myanmar Ltd. was established to provide consulting services in Myanmar, and the corporate venture capital (CVC) "Will Group Incubate Fund" was founded. The CVC has already invested in Travee Inc. (Kawasaki-shi, Kanagawa) which operates the platform Travee, a site that matches travelers in Southeast Asia with activity plans designed by the local people; in Secual Inc. (Shibuya-ku, Tokyo), a company that provides a home security service that detects a break-in at your house through the door or window and sends a notice to your smartphone; and in Another Shot Golf Inc. (Minato-Ku, Tokyo), a site that introduces amateur golfers to professional teachers for online lessons.

 

 

During the period of hardship after the collapse of IT bubble, President Ikeda consulted with the founder of a renowned listed company about what kinds of visions and missions would motivate subordinates and employees in such a hardship, and received the following advice: "Since you are still young, devote yourself to on-site work rather than giving words. If you work diligently for several years, you will come up with visions and missions with your own words. It won't be too late." Since then, the President says, he has worked hard with staff members at each site where workers were dispatched.

He has faced a lot of difficulties, but has learned from his experience that by cultivating your value, developing confidence, improving yourself and going forward positively, you will be able to make people around you also forward-thinking and positive. As he has become certain that the social mission of himself and the Company is to positively influence people around them and organizations they are involved with, he has decided to define their "Mission, Vision and Value" in his own words.

 

[Business Contents]

Its "sales outsourcing," "call center outsourcing" and "factory outsourcing" businesses compose about 90% of its total sales. Each business has grown at higher-than-average rates in markets. As future pillars for growth, Will Group has been sowing seeds for various personnel-related businesses and sales and profits thereof are recorded in the "other" segment.

 

 

Sales outsourcing business

Through the sales activities at consumer electronics mass retailers, mobile phone shops, etc., Will Group is supporting the expansion of clients' products and services.
The main commercial goods Will Group handles are mobile devices, such as smartphones, and broadband internet services. Will Group dispatches teams of workers (hybrid dispatch) who attend to customers, explain products, solicit applications, etc., manage sales staff members, gather and report sales information, etc., as well as carrying out general worker dispatch and undertaking tasks.
In recent years, Will Group, as part of its efforts to explore new markets, has been dispatching workers to the apparel industry.

 

Call center outsourcing business

Will Group dispatches phone operators to companies operating call centers and others conducting telemarketing services.
Will Group focuses on telecommunications companies within the call center industry and dispatches teams of workers (hybrid dispatch) who provide information, deliver goods, offer after-sales and consulting services, listen to, deal with and solve complaints, and so on, as well as carrying out general worker dispatch. Will Group owns call centers and undertakes telemarketing tasks for clients.

 

Factory outsourcing business

Will Group offers technologies and personnel management know-how for the production process in the manufacturing field, to improve the productivity of each client. FAJ Inc. dispatches teams of workers (hybrid dispatch) who engage in the tasks of manufacturing, inspection, quality control, sorting, packaging, etc. to mainly food manufacturing industry, which receives relatively low effects of economic fluctuations within the manufacturing industry, as well as carrying out general worker dispatch and undertaking tasks.

 

Others

As future pillars for growth, Will Group has been sowing seeds for various new businesses including dispatch to offices, dispatch in sports industry, dispatch of care staff, dispatch of assistant language teachers, dispatch of IT engineers, staff introduction in internet business, overseas staff service, shared housing, 3D cloud. Related sales and profits are recorded.

 

[Market Environment]
The worker dispatch market is stable at around 5 trillion yen. The Reformed Worker Dispatch Act would provide more business opportunities.

According to the Ministry of Health, Labour and Welfare's Report on the Status of Worker Dispatching Undertaking, sales from worker dispatching, totaling together general and specialized dispatch, decreased significantly after the global financial crisis, but still remain stable at a base of around 5 trillion yen.
Against this backdrop, in September 2015 the Reformed Worker Dispatch Act, which Prime Minister Abe had promoted as part of his growth strategy, was approved and came into effect. The revisions aim to allow diversified working styles as well as support career advancement for temporary workers and provide them with pathways to becoming permanent employees. This is expected to help activate the personnel dispatching market.

 

Reformed Worker Dispatch Act key points
Eliminating regulation on duration for unlimited-employment (regular employment) dispatch workers, and 26 specialized job types, as well as changing the maximum dispatch period from "job type" to "person" on fixed-term employment dispatch

The system before the reform limited use of dispatch workers in a single job to a maximum of 3 years except for in the 26 specialized job types including software development, mechanical design, interpreting/translating/stenography, etc. Even if the dispatch worker, a "person," was changed, the maximum length was still 3 years and if a company wanted to use worker dispatch, blank period of roughly 3 months was needed.

However, with this reform, the 26 specialized job divisions were eliminated, and dispatch workers with unlimited employment (regular employment) at dispatch companies can work at dispatch locations without a limit regardless of the job type, while dispatch workers with fixed-term contracts can work for up to 3 years. From the perspective of companies using dispatch workers, dispatch workers with unlimited employment can be used without limit, and even fixed-term employment dispatch workers can be used for a position for an unlimited amount of time as long as that person is switched after the set period of time (there is no limit to the amount of switching). With this reform, it has become easier for companies to use dispatch workers and dispatch companies are likely to have more business opportunities, while also providing more opportunities for dispatch workers to build careers.

 
 

Shift from notification to certification and responsibility for training

This reform also has the goal of requiring a certain scale and quality of dispatch companies. Before the reform dispatch companies doing specialized dispatch with unlimited-term workers were only required to send a notice to start business (certification was necessary for general worker dispatch using fixed-term workers), but with the reform both specialized and general worker dispatch companies need to be certified. Conditions for certification include financial standards of having net assets of 20 million yen or over and cash and deposits of 15 million yen or over, as well as providing training, so dispatch companies have a greater responsibility for developing human resources.
Since it will be difficult for SMEs to meet the certification standards, the current number of over 50,000 dispatch companies will be cut down, and a creation of an oligopoly through M&As by major listed companies is likely to occur.

 

 
Business Development Characterized by Hybrid Dispatch and Category Specialization
 

Will Group has two signature features: the system of hybrid dispatching based around the dispatch of field supporters, and the fact that the Company develops businesses across a diverse range of categories while involving deeply into specific categories (category specialization).

 

(1) "Hybrid dispatch" with field supporters
< Outline of hybrid dispatch >

The system called "hybrid dispatch" characterizes Will Group in the personnel dispatch field and drives the growth of the Group.

Personnel dispatch means the dispatch of workers who have concluded an employment contract with a staffing company to client companies that have signed a labor dispatch contract with the staffing company. It is characterized by the division between the employment and chain-of-command relations. Staffing companies receive the fees for personnel dispatch from client companies in accordance with worker dispatch contracts, and pay salaries to dispatched workers in accordance with employment contracts.
At each workplace, dispatched workers follow the instructions and orders from the staff of client companies.

In many cases of general worker dispatch, workers dispatched from several different staffing companies work together at the same place, and so it becomes difficult for the staff of the client company to share information and give instructions and orders.
Full-time employees called coordinators of a staffing company usually assist dispatched workers, but the coordinators are not always at the workplaces, and so they cannot respond swiftly to various daily troubles at consumer electronics mass retailers, the phone booths of call centers, etc.
In addition, dispatched workers in case of general worker dispatch tend to have weak loyalty and a low spirit of teamwork, and so they tend to quit soon or cause troubles frequently, although these depend on the working environments, type of job, each worker's individual attributes, etc. Accordingly, problems often arise both for client and staffing companies.

In the case of Will Group's "hybrid dispatch," full-time employees called field supporters (FS, always on-site) show up at the workplace, and work together with the dispatched workers, while managing, instructing and educating them on the spot on a daily basis. When the staff of client companies gives instructions and orders to the field supporters, it becomes unnecessary for him to instruct each dispatched worker, which makes the chain of command smoother and the sharing of information swifter, streamlining business processes.

Meanwhile for Will Group, when full-time employees stay at workplaces, the morale of dispatched workers is enhanced, bettering teamwork and strengthening the sense of responsibility among dispatched workers. In addition, the presence of the full-time employees enables to immediately meet the client companies' needs and to flexibly respond to an ad hoc plan of increasing manpower. As this system is highly appreciated by client companies, they often place more orders for worker dispatch, and even sign outsourcing contracts.
In some cases, client companies want to directly employ excellent dispatched workers, and Will Group introduces the personnel. Hybrid dispatch thus often increases business opportunities.
On average, one FS supervises about 50 dispatched workers, but for promising clients, with the expectations of future business expansion, a more compact team is first dispatched, so that they would understand the advantage of "hybrid dispatch" and place more orders.
The number of field supporters as of the end of September 2015 is 264, up 79 from the end of the previous year. The Company plans to further increase the number.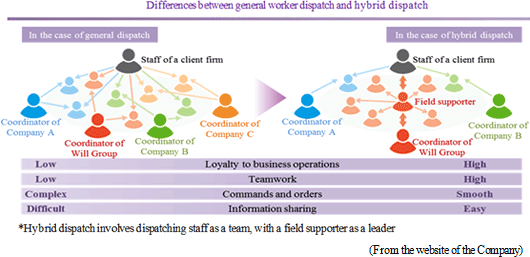 Hybrid dispatch - enabling expanded in-store share

Hybrid dispatching is also the driving force behind expanding in-store share (i.e., the proportion of Will Group dispatch and contract staff out of the total number of such staff at a specific client company). To be specific, the Company increases the in-store share by first developing the standard dispatch market and then shifting into its strong area of hybrid dispatch. By turning the trust in the team gained through hybrid dispatch into opportunities for task undertaking, the Company can increase profitability and strengthen relations with the clients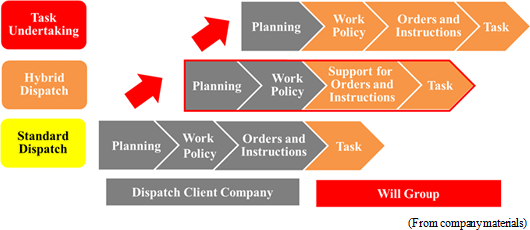 What enables hybrid dispatch?

It is impossible to run a team unless "a field supporter, who is a full-time employee, becomes the most competent among dispatched personnel and then gives instructions." At Will Group, most of the section chiefs and managers, including President Ikeda, joined the Company as new graduates, worked at the site and experienced all of the events that occur in the field of personnel dispatch. It is this hands-on policy that makes hybrid dispatch possible. If, on the other hand, a person with no hands-on experience is assigned to a workplace as a boss to form the dispatched workers into a team, it would be impossible to solve problems and troubles, and dispatched workers would end up quitting soon and the full-time employee on the ground would become like a dispatched worker (compromising all dispatched workers' loyalty to the Company). For this reason, even if a competitor attempts to put together a team like Will Groups does, it would take several years before that competitor could offer quality comparable to it. The Company is now ahead of the pack, but if competitors conduct this business on a full-scale basis, they may catch up with the Company. Therefore, the Company has already started creating systems for developing and training dispatched workers early.

 

(2) Specialization in business categories

The revenue base is currently comprised of three services - sales staff dispatch/contracting (sales outsourcing service), call center operator dispatch/contracting (call center outsourcing service), and light labor staff dispatch/contracting for factories, etc., (factory outsourcing service) - and the Company is engaged in the development of nine other services in a bid to establish the fourth and fifth pillars of its business (these revenues are included under the "other services" section). All of these nine services are characterized by category specialization, as the three main services, and while most of them are in the start-up phase, some have already grown to a certain scale, including the nursing personnel dispatch service and the personnel dispatch service for offices, etc.
This way of proactively specializing in categories of personnel services is the second signature feature of the group.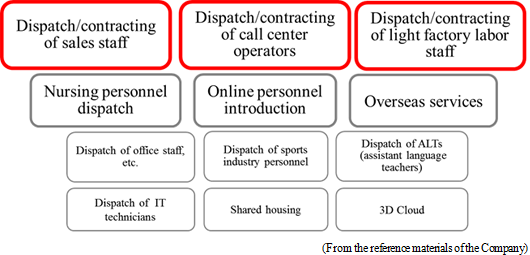 1st Half of Fiscal Year March 2016 Earnings Results
 

Sales up 30.8% and operating income up 83.4% year on year

With employment conditions in an upward trend (as indicated by the higher jobs-to-applicants ratio, etc.), the expansion of the smartphone market has sparked higher demand for sales staff in cellphone stores and electronics retailers as well as for call center operators to explain how to use the devices. There has also been steady growth in demand for personnel in the food manufacturing industry due to the expansion of the ready-made meal market, which includes deli items and sweets and lunchboxes for sale in convenience stores.

In this context, the category specialization business strategy has been successful, and the Company has managed to successfully respond to this strong demand for personnel. Sales from the sales outsourcing service, which mainly involves dispatching and contracting out sales staff for smartphones, etc., were up 20.6% year on year, and sales from the call center outsourcing service, which mainly involves dispatching and contracting operators for call centers, rose 17.9% year on year. The factory outsourcing service, which contracts and dispatches workers to do light factory labor principally in the food manufacturing, saw major growth in sales of 31.3% year on year. In addition, sales in other services doubled year on year, thanks to steady overall growth in the new services including rapid expansion in the nursing personnel dispatch service that was launched in FY 3/14.

As a result of this performance, sales totaled 19,860 million yen, up 30.8% year on year. As for profits, in addition to the high-profit margin field of task undertaking increasing its ratio in sales outsourcing business, increased revenue led to an improvement in profitability across all services; the gross margin rose 1.2 points to 20.1%. Increases in selling, general and administrative expenses incurred through prior investment in areas such as recruitment and office openings in preparation for service expansion was absorbed and operating income increased 83.4% to 614 million yen. 97 million yen in extraordinary losses, including 94 million yen loss on valuation of investment securities due to impairment, were absorbed and net income increased 38.3% year on year to 262 million yen.
At the end of the first half, the Company had 851 employees, up 180 from the end of the previous year (84 new grads, 24 employees from new consolidated subsidiary Creative Bank, and 72 other mid-career recruits). The Company appointed 79 the new members as its signature field supporters, bringing their total number to 264.

 

Reasons for variance with initial forecasts

Profits greatly exceeded initial forecasts, and the Company attributes this difference to the better-than-expected increase in the high-profit margin task undertaking in sales outsourcing, as well as the rapid expansion of the nursing personnel dispatch service and the existence of unspent budget, etc.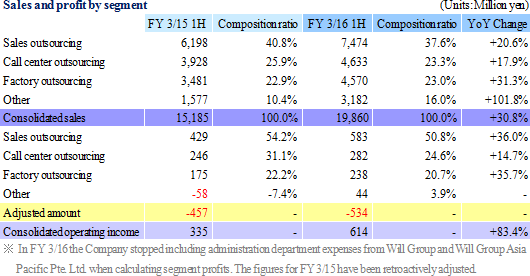 Sales for the first half were 7,474 million yen (up 20.6% year on year) and segment income was 583 million yen (up 36% year on year). Sales were supported by the continuing rise in demand for sales staff following on increased smartphone shipments, as well as by the launch in April 2015 of a personnel service for government offices and the acquisition of Creative Bank Ltd. as a consolidated subsidiary in September 2015. In terms of profits, growth in the high profit-margin area of task undertaking led to an increase in gross profit which, together with higher sales, helped absorb increased fixed costs, including personnel expenses associated with the expansion of operations.

 

Pursuing synergies with Creative Bank Ltd. by providing a promotion service including personnel services

In September, the Company acquired the advertising agency Creative Bank Ltd, which counts major IT corporations among its clients, as a consolidated subsidiary, and launched a promotion service including personnel services. To be specific, the Company will provide clients with a one-stop service by furnishing marketing promotion services planned and delivered by Creative Bank Inc. with Will Group personnel.

 

 

Sales for the first half were 4,633 million yen (up 17.9% year on year) and segment income was 282 million yen (up 14.7% year on year). In terms of sales, on the tail of rapid expansion in recent years in the smartphone market, the Company has been responding to increased demand for call center operators to explain how to use the devices, with a particular focus on long-term projects. As for profits, increased revenue absorbed the increased personnel and recruitment expenses that accompanied the expansion of operations.

 

 

Sales were 4,570 million yen (up 31.3% year on year) and segment income was 238 million yen (up 35.7% year on year). The driving force of this segment, which provides specialized services for the manufacturing industry, is food manufacturing. While the first half saw an increase in orders from non-food manufacturing areas, sales in food manufacturing reached 2,538 million yen, about 55.5% of total sales in the segment. As for profits, sales grew enough to absorb the increased personnel and recruitment fees associated with the expansion of regional operations.

 

 

Sales were 3,182 million yen (up 101.8% year on year), and segment income was 44 million yen (a loss of 58 million yen on the same period last year). This category comprises nine services, including office personnel dispatch, nursing personnel dispatch, online personnel introduction, dispatch of foreign language teaching assistants, and overseas services that are being developed in Singapore and other ASEAN countries. As for sales, the opening of additional bases led to higher sales in nursing personnel dispatch, and the Company also achieved higher sales in office personnel dispatch thanks to the acquisition of new projects. Scientec Consulting Pte. Ltd. (head office: Singapore, hereinafter "STC"), which became a subsidiary in August last year, has made a big contribution since the beginning of this year. As for profits, thanks to expansion in the high profit margin area of online personnel introduction and increased profits/reduced deficit in all its composite services, the segment returned to profit.

 

 

Personnel dispatch, task undertaking, and personnel introduction all showed major sales growth, with particularly notable growth in general worker dispatch. Based on the upcoming profit plans, etc., the Company intends to gradually introduce field supporters and transition to hybrid dispatch, and then go further still and transition into the high profit margin area of task undertaking.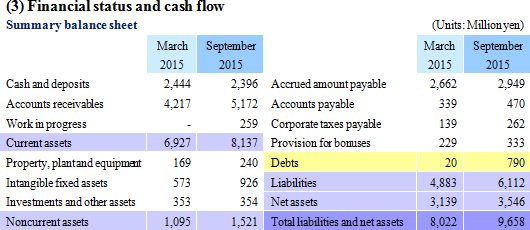 Total assets at the end of the first half were up 1,635 million yen from the end of the previous fiscal year to 9,658 million yen. The increase in assets was mainly due to the increase in accounts receivables under current assets and the increase in goodwill under noncurrent assets subsequent to the acquisition of Creative Bank. On the other hand, the increase in liabilities was mainly due to the increase in accounts payable and debt, and the increase in net assets was due to posting the quarterly net income and the difference between increase in non-controlling interests and dividend payments arising from the acquisition of Creative Bank. The equity ratio is 32.9% (compared to 38% at the end of the previous fiscal year).

 

 

Operating cash flow was negative because tax reforms caused an increase in the fixed consumption tax levy. Investment cash flow dropped further due mainly to the acquisition of Creative Bank. On the other hand, financial cash flow has returned to the black due mainly to borrowing associated with the purchase of Creative Bank.

 

 
Fiscal Year March 2016 Earnings Estimates

 

There are no changes to the earnings forecast: sales are expected to be 20.1% higher than the previous term, with operating income rising 16.5%

Although solid growth is forecast to continue in all segments during the second half, the Company has left the forecast unrevised due to the uncertain economic climate and the execution of unspent budget.

Full-year net sales are set to be 20.1% higher than the previous term at 39,120 million yen. Sales in sales outsourcing are set to be 10.1% higher than the previous term due to increases in the number of staff working in smartphone-related sales, and call center outsourcing sales are also set to rise 15.0% from the previous term, mostly due to demand from communications carriers for smartphone-related call center operators. Furthermore, sales in factory outsourcing, of which more than half of transactions have been with the food manufacturing industry, are set to rise 18.0% from the previous period by cultivating untouched bases ofexisting customers with numerous production bases in several locations across the country. Services in the others segment are set to grow 68.7% compared to the previous term thanks to the proactive establishment of additional bases for nursing personnel dispatch and expansion in office personnel dispatch and online personnel introduction.

At a conservative forecast, operating income is set to increase 16.5% from the previous period to 1,094 million yen. EBITDA, an indicator that the Company considers to be important, is set to rise 17.7% from the previous period to 1,284 million yen.

The Company plans to drop the commemorative dividend of 6 yen per share and raise the ordinary dividend by 0.5 yen to 6.5 yen per share. While maintaining the internal reserves needed to strengthen the financial structure and achieve the business development for sustaining the Company's growth, the Company plans to deliver returns to shareholders that reflect the performance and general management. The Company has a policy of paying shareholder returns at a consolidated dividend payout ratio of 10% or more.

 

 

(2) Acquisition of HiBlead Inc. and investment in Nowall Inc.

In November, the Company acquired the IT consulting company HiBlead Inc., and invested in Nowall Inc., a company that works in system integration and runs a programming school.

HiBlead Inc. provides services that support the training of information system division staff at mid-level and small to medium sized businesses. The Company has acquired HiBlead Inc. in anticipation of the upcoming move among mid-level and small to medium sized businesses to strengthen their information system divisions.

On the other hand, by investing in Nowall Inc. the Company plans to provide graduates of their programming school with opportunities to make their career in Will Group's engineer dispatch service and/or through online personnel introduction service.

 

 
 

Sales by business category for the first half were as follows: standard dispatch was up 46.0% year on year, hybrid dispatch was up 9.6% year on year, and task undertaking was up 32.8% year on year. Sales grew steadily in all categories; the Company is in a positive cycle where it builds on growth in standard dispatch to transition to hybrid dispatch and makes further gains in task undertaking. The strong demand for human resources in the current environment naturally accelerates profit growth and also makes the Company more resistant to recession.
All personnel dispatch companies share the strategy of acquiring new customers through personnel dispatch before transitioning into task undertaking to raise profitability and build up client loyalty, but Will Group is the only company to use hybrid dispatch, a service that no other company could imitate, to steadily upgrade transactions. In fact, even compared to other companies in the currently profitable personnel dispatch industry, the group is achieving outstanding growth in earnings. This tends to get obscured by the favorable business climate, but if there were greater awareness of the fact that the strong earnings growth is essentially underpinned by strategy and its steady implementation, the reputation on the market would be stronger still.

 

Disclaimer

This report is intended solely for information purposes, and is not intended as a solicitation for investment. The information and opinions contained within this report are made by our company based on data made publicly available, and the information within this report comes from sources that we judge to be reliable. However we cannot wholly guarantee the accuracy or completeness of the data. This report is not a guarantee of the accuracy, completeness or validity of said information and opinions, nor do we bear any responsibility for the same. All rights pertaining to this report belong to Investment Bridge Co., Ltd., which may change the contents thereof at any time without prior notice. All investment decisions are the responsibility of the individual and should be made only after proper consideration.

Copyright(C) 2015 Investment Bridge Co., Ltd. All Rights Reserved.