WASHHOUSE Co., Ltd. (6537)
President
Yasutaka Kodama
Company

WASHHOUSE Co., Ltd.

Code No.

6537

Exchange

TSE Mothers
FSE Q-Board

Industry

Service business

President

Yasutaka Kodama

Address

86-1, Shinei-cho, Miyazaki-shi, Miyazaki prefecture

Year-end

End of December

URL
Share Price
Number of shares issued
Total market cap
ROE (Actual)
Trading Unit
¥2,400
6,842,200 shares
¥16,420 million
7.1%
100 shares
DPS (Est.)
Dividend yield (Est.)
EPS (Est.)
PER (Est.)
BPS (Actual)
PBR (Actual)
¥8.00
0.3%
¥27.29
87.9 times
¥331.35
7.2 times
*The share price is the closing price on March 6. The number of shares issued, ROE and BPS are those from the end of the previous term.
Fiscal Year
Net Sales
Operating
Income
Ordinary
Income
Net
Income
EPS
DPS
Dec. 2015 (Actual)
2,050
219
219
131
38.21
8.00
Dec. 2016 (Actual)
3,118
294
284
192
35.25
8.00
Dec. 2017 (Actual)
3,375
243
247
156
22.94
8.00
Dec. 2018 (Forecast)
4,011
300
301
186
27.29
8.00
*The forecasted values were provided by the company. *The Company conducted a 100-for-1 share split on April 2, 2016, a 2-for-1 share split on April 1, 2017. EPS and DPS have been revised retroactively.

We present this Bridge Report reviewing fiscal year December 2017 earnings results of WASHHOUSE Co., Ltd.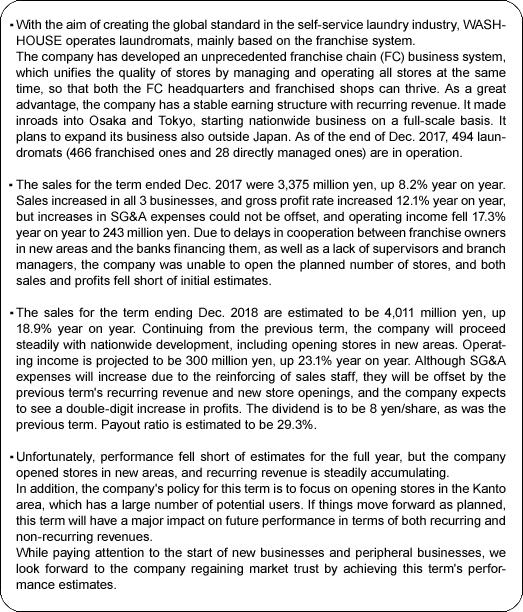 WASHHOUSE operates laundromats mainly based on the franchise system, with the aim of creating the global standard in the self-service laundry industry. The company has developed an unprecedented franchise chain (FC) business system, which unifies the quality of stores by managing and operating all stores concurrently, so that both the FC headquarters and franchised shops can thrive. As a great advantage, the company has a stable earning structure with recurring revenue. It made inroads into Osaka and Tokyo, embarking on nationwide business on a full-scale basis. It also plans to expand its business outside Japan. As of the end of Dec. 2017, 494 laundromats (466 franchised ones and 28 directly managed ones) are in operation in Tokyo, Osaka and 16 other prefectures.
1-1 Corporate history
When starting up this business, President Kodama pondered over how to keep increasing sales and profit eternally in the age that will certainly witness the decreased birthrate and aging and declining population, whether the business has social meanings, whether there are any forerunners, whether the company can survive competitions, whether the business can be imitated easily, whether it is possible to achieve recurring revenue, and so on from various aspects, and decided to do the laundromat business. For expanding the scale of business, the FC system is effective, but the FC business is accompanied by the problem of the conflict between the FC headquarters and franchised stores. In order to solve this problem, the company immediately introduced a call center that is in operation 24 hours a day all year round and the "system for managing and operating all stores at the same time," which is composed of the swift support based on webcams and remote control, etc. and reduced the burdens of franchised stores considerably. Its business grew steadily, partially thanks to the expansion of needs due to the increase in the number of working females. From the Kyushu area, including Miyazaki Prefecture, where the business was launched, the company expanded its sales territory, entering Osaka in Dec. 2015 and Tokyo in Jul. 2016. Then, in Nov. 2016, WASHHOUSE got listed on Mothers of Tokyo Stock Exchange and Q-Board of Fukuoka Stock Exchange.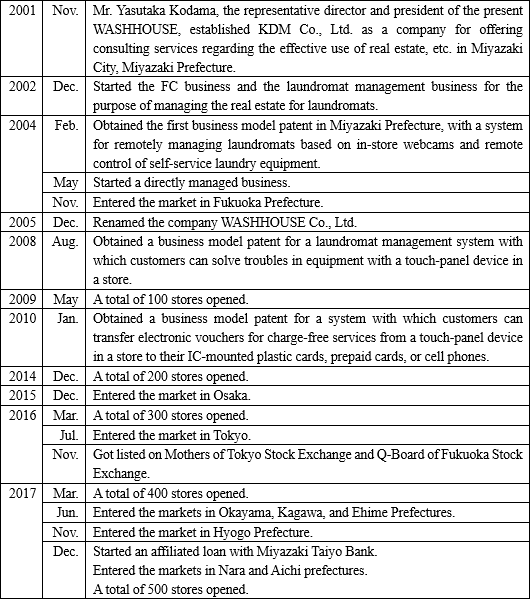 1-2 Corporate ethos, etc.
The ethos of WASHHOUSE is "to think about all matters from the viewpoint of customers and keep being demanded by society." Under this ethos, the company is working on "the creation of the global standard in the self-service laundry industry" with the aim of continuously offering satisfactory services to users on behalf of store owners by fully managing laundromats after the opening of the store rather than "just selling self-service laundry equipment and instructing owners to operate it."
1-3 Market environment
◎ Growing laundromat market
According to the "Survey on coin-operated cleaning facilities" by the Ministry of Health, Labour and Welfare, although it is somewhat out of date, the number of laundromats in Japan in fiscal year 2013 was 16,693, and that in fiscal 1996 was 10,228, indicating a compound annual growth rate (CAGR) of 2.9%. If it keeps growing at a rate of 3%, it will exceed 18,000 stores in fiscal year 2016, which also exceeds the number of the stores (17,656) of FamilyMart ranking second in the convenience store field (as of the end of Nov. 2017), and is approaching the number of stores (19,970) of Seven-Eleven, which ranks first (as of the end of Nov. 2017).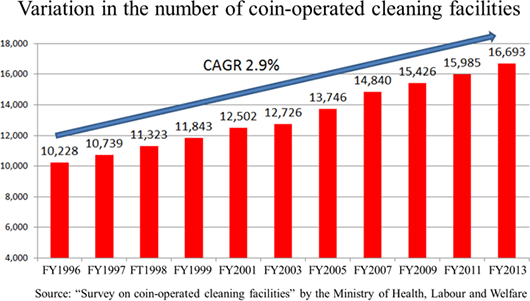 ◎ Growth factors
In the background of such growth, there are:

Women's needs for "the reduction in cleaning time" due to the increase of dual-earner households,

Measures against allergies, such as the allergy to pollen,

Decrease in the use of cleaning services due to the increase of low-priced high-quality clothes,

Enhancement of awareness of cleanliness,
and so on. In addition to these external factors, enterprises, including WASHHOUSE, started offering a variety of services considering the convenience for users, and so "users have increased" and then "the number of laundromats has grown." According to president Kodama, "rate of utilization," which indicates how many households use laundromats among all households living within 2 km from a store, was about 3% on national average 10 years ago, but it is now 5-8%, and expected to increase further.
◎ Market players
It is difficult to obtain detailed information, but the number of main players in the self-service laundry market is said to be 4 to 5. WASHHOUSE has the largest number of laundromats with the same brand, and is the only listed company in this field. Although many enterprises carry out the FC business for growth (increasing in the number of stores), WASHHOUSE possesses an unparalleled "system for managing and operating all stores at the same time," which was developed in pursuing the streamlining of business operation and unification of quality. (For details, see "1-5 Characteristics and Strengths.")
1-4 Business contents
1. Business structure
WASHHOUSE conducts the three kinds of business: (1) FC business, (2) store management business, and (3) direct management business, etc.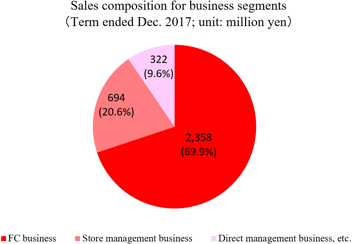 (1) FC business
WASHHOUSE created a unique operation-supported FC business. The company selects candidate places for opening laundromats, sells "a set of WASHHOUSE laundromat systems," which contains the design, interior finish work, equipment installation, etc. in a WASHHOUSE brand store, to franchisees, and receives the preparation fees for opening store, including advertisements, and fees for franchise rights. For increasing franchisees, the company adopts the division system where sales staff visit possible franchisees, with which telephone staff set up an appointment, so that sales staff can concentrate on more active sales activities without the mental burden of sales calls. In addition, business simulation, contract production, etc. are conducted by other staff, so that sales staff can devote themselves to "footwork." Furthermore, by concluding business matching contracts with financial institutions, etc., the company is accumulating information on sites for building laundromats and candidate owners, and developing a "system" for increasing laundromats. WASHHOUSE designs a plan to open new laundromats for each term based on the accumulated data on correlative relations of "the number of years of career of sales staff and achievements of opening franchised stores." Therefore, the company can achieve the target values set at the beginning of each term with overwhelming probability.
② Store management business
WASHHOUSE undertakes the management of all franchised stores, reports a monthly operation status, including revenue and expenditure, to franchisees, and subtracts the fee for laundromat management from monthly sales. In order to keep each store "reliable, safe, and clean," WASHHOUSE provides franchisees with such services as

24/7 Call centers

Swift support based on webcams and remote control

Daily inspection and cleaning

Replenishment of detergents

Maintenance patrol

Bill collection

Advertisement Sales are composed of the fees for store management and system maintenance, sales of detergents, cleaning fees, advertising charges, etc. Since franchisees need not manage their laundromats, if they can bear initial investment costs, they can own multiple stores, increase revenue, and reduce the risk of revenue fluctuation with stores being operated in different regions.
③ Direct management business, etc.
The company directly manages some of "WASHHOUSE" laundromats, receiving the charges for washing and drying machines from users. A directly managed store is opened mainly when entering a new area. It takes the roles as an antenna shop, such as popularizing the "WASHHOUSE" brand as a "reliable, safe, and clean" laundromat, promoting possible users to use it, and offering a store model to franchisees and land owners (individuals and corporations that are thinking of utilizing their real estate). In addition, the company receives commission fees related to the calculation of expenses for laundromat operation, etc. from enterprises.
2. Store operation
As of Dec. 2017, WASHHOUSE operates 466 franchised stores and 28 directly managed stores, that is, a total of 494 stores in Tokyo, Osaka and 16 other prefectures. In 2017, in addition to opening the first stores in the Chubu area (Aichi Prefecture), and Shikoku area (Ehime, Kagawa, and Tokushima Prefectures), stores have been also opened in seven other prefectures for the first time, such as Nara, Hyogo, and Okayama. The company plans to continue nationwide development.

1-5 Characteristics and strengths
(1) Creation of a new FC business system
WASHHOUSE can be characterized most by its unique FC business model. In ordinary FC business, a conflict between the FC headquarters and franchisees tends to emerge. While franchisees pay franchise fees and royalties to the FC headquarters, the FC headquarters permit them to use a brand name, offers know-how to them, supply products to them, store operation, staffing, etc. must be carried out by franchisees on their own responsibility. For franchisees, the operation and management of stores are significant burdens. If their business performance is favorable, there are no problems, but if sales are sluggish, the franchisee complains, "the system of the headquarters is poor," while the FC headquarters blames, "the education in the franchisee is poor," and these complaints lead to a lawsuit in many cases. Meanwhile, WASHHOUSE introduced the "system for managing and operating all stores at the same time." The company conducts necessary tasks for operating and managing franchised stores:

24/7 Call centers

Swift support based on webcams and remote control

Daily inspection and cleaning

Replenishment of detergents

Maintenance patrol

Bill collection

Advertisement As a consequence, franchisees are free from the burdens of store operation. In addition, since the company targets real estate that would have sales of over 1 million yen, it has meticulously surveyed the market, including local population, age distribution, income state, etc. and accumulated know-how for cultivating profitable property. Thanks to the combination of the system for managing stores fully and the capability of cultivating profitable real estate, the satisfaction level of franchisees is very high, and no laundromats have been closed due to sluggish performance in the past 15 years. This result is outstanding.
(2) Bright, clean, easy-to-use stores
A laundromat generally reminds us of a "dimly-lit, dirty, and eerie" place, but WASHHOUSE operates "reliable, safe, and clean" stores with the unified brand targeting women and families including children.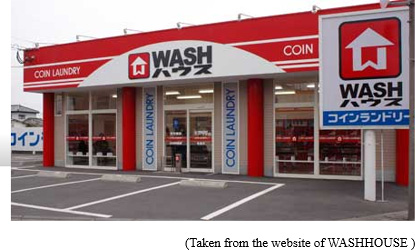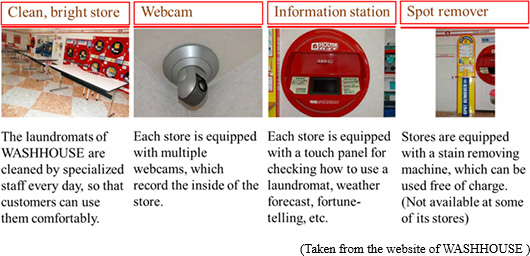 In the past, using a laundromat was considered as one of "sloppy acts in homemaking." However, there is a growing interest in laundromats, which can wash and dry a larger amount of clothes in a shorter period of time than household washing machines, as the employment rate for women rose, high-rise condominiums increased, and the life-work balance changed. Especially, the washing of large items, such as futons and carpets, for removing ticks and allergens is attracting attention, due to the rising health consciousness. In addition, the needs for laundromats mounted with equipment for washing and drying kids' sneakers are getting stronger. In these circumstances, the company installs the following equipment for meeting the needs of consumers:

Washing machines with a capacity of 22 kg, which can wash a full sized futon, and dryers with a capacity of 25 kg (in standard stores),

Sneaker laundry equipment, which can wash sporting shoes, sneakers for commuting to school, etc.

Devices for removing stains free of charge(SpotRemover)
Furthermore, all stores are monitored by webcams 24 hours a day, and mounted with IoT laundry equipment, which can be controlled remotely by the headquarters, so as to offer real-time support like manned stores, although the laundromats are unmanned. Like this, the company has established a system that can be used by users without worry.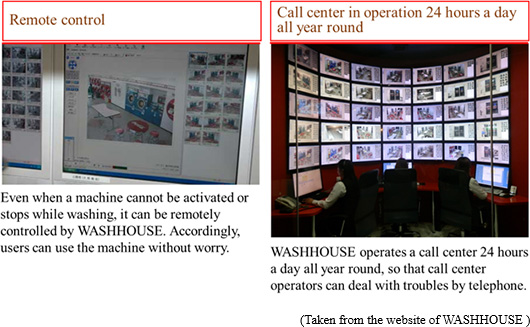 The company also indicates the components of detergents and the temperature in each dryer, to dispel the worries of consumers. In order to keep stores clean, the company cleans stores every day, including the cleaning of the filters of dryers and the sterilization of washing machines.
(3) Stable earning structure with recurring revenue
The sales from the store management business are composed of the monthly store management fee (50,000 yen per store), the fee for system maintenance (10,000 yen), ad charge (30,000 yen), cleaning charge (about 40,000 yen), etc., that is, a total of about 130,000 yen/month. As of the end of Dec. 2016, the number of franchised stores of WASHHOUSE was 361. Accordingly, the sales from store management in the term ended Dec. 2017 can be calculated by adding the sales from existing stores (361 stores × 130,000 yen/store/month × 12 months = 563 million yen) and the sales from 105 new stores opened in the term ended Dec. 2017 (sales vary according to the date of opening). The sales from store management in the term ending Dec. 2018 can be obtained by adding the sales from existing stores (563 million yen), the sales from new stores opened in the term ended Dec. 2017 (105 stores × 130,000 yen/store/month × 12 months = 164 million yen), and the sales from 133 new stores(estimated) opened in the term ending Dec. 2018.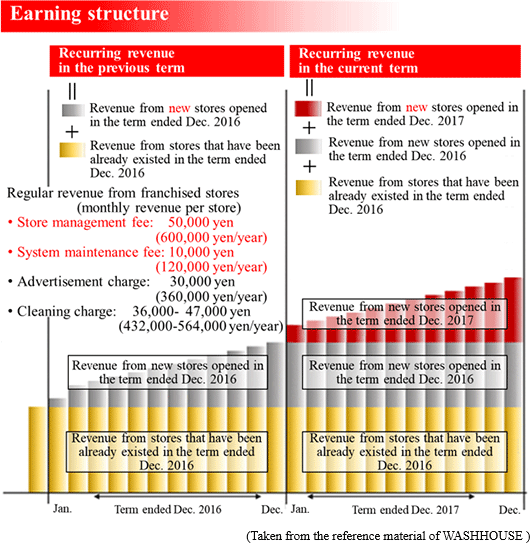 Like this, sales from the store management business grow steadily, as the sales from new stores are added to those from existing stores, year by year. On the other hand, the satisfaction level of franchisees is very high, which can be represented by the fact that no stores have been closed in the past 15 years, and so there is a low possibility that the number of stores will decrease. This fortifies the stable earning structure with recurring revenue.
(4) Efforts for improving the soundness of the self-service laundry market
Although the laundromat market is growing, president Kodama mentioned that there remain a lot of problems, including the issue of compliance with the law. For example, the dryers in a laundromat consume a large volume of gas, and so the Fire Service Act, the Building Standards Act, etc. specify the materials for exhaust ducts, how to install them, etc. in detail, for safety reasons. However, there are many illegal installations. Some laundromat operators try to reel in users by offering to wash clothes on behalf of customers as a measure for differentiating their services from competitors, but they are very likely to be violating the dry cleaning business law. The dry cleaning business law enforced in 1950 set forth the following provisions from the viewpoint of maintaining public health.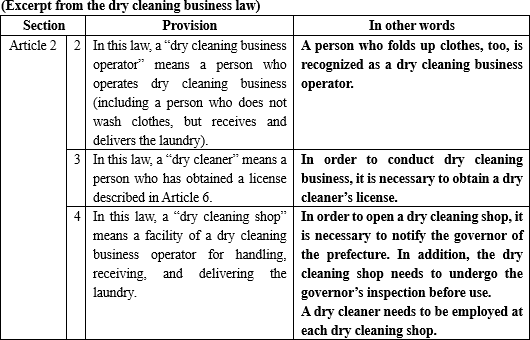 In a nutshell,

Even if a laundromat operator obtains a dry cleaner's license, he/she cannot offer services of handling and folding up the laundry, etc. at a laundromat, which is not a dry cleaning shop.

The washing machines and dryers inside a facility registered as a dry cleaning shop are exclusively for dry cleaning business operators, and so they cannot be used by others (users of laundromats) from the viewpoint of hygiene.
Despite the existence of these laws, in order to avoid the guidance from a public health center, some business operators set a counter inside their stores, install washing machines, explain "We use this washing machine," but actually they wash the laundry of users with unregistered laundromat equipment outside the counter (not installed ones), and fold up the laundry. In this situation, president Kodama considered that in order to promote the use of laundromats, it is indispensable to develop "reliable, safe, and clean" laundromats inside his company and improve the soundness of the self-service laundry industry, therefore established the National Association of Laundromat Operators in Dec. 2003. This association specified the operation standards for equipment and hygienic management complying with laws, regulations, etc. At present, the directly managed stores and franchised laundromats of WASHHOUSE belong to this association, which takes the roles of improving the soundness of this industry and educating general consumers (about the usefulness of laundromats, etc.).
Fiscal Year December 2017 Earnings Results

The company was unable to secure staff and lagged behind in new store openings. Sales increased, but profits dropped. Performance fell short of estimates.
Sales were 3,375 million yen, up 8.2% year on year. Sales increased in all 3 businesses, and gross profit rate increased 12.1% year on year, but increases in SG&A expenses could not be offset, and operating income fell 17.3% year on year to 243 million yen.
Due to delays in cooperation between franchise owners in new areas and the banks financing them, as well as a lack of supervisors and branch managers, the company was unable to open the planned number of stores, and both sales and profits fell short of initial estimates.

① FC business
The number of new franchise openings and their prefectures are as follows: Tokyo (3), Aichi (1), Osaka (4), Hyogo (1), Nara (1), Okayama (10), Hiroshima (4), Yamaguchi (11), Tokushima (1), Kagawa (5), Ehime (8), Fukuoka (36), Saga (2), Nagasaki (5), Oita (2), Kumamoto (11), Miyazaki (2), and Kagoshima (2), for a total of 109 stores. One store in Miyazaki prefecture closed due to the expiration of a fixed-term land lease contract, and three stores began direct management after opening, therefore the number of franchised stores increased by 105 during the term. As a result, the number of FC stores as of the end of Dec. 2017 is 466. However, the company was 43 store openings short of its initially planned 152 stores. The main reason for this is that in addition to delays in cooperation between franchise owners (who need to raise the necessary funds when opening franchises) and the banks financing them, the company was behind in employing sales staff, and with insufficient staff, acquiring necessary real estate took time. As a result, sales increased year on year, but fell short of estimates.
② Store management business
Sales grew thanks to the increase in recurring revenue, but they were smaller than the estimate, because of the delay in opening franchised stores.
③ Direct management business, etc.
The company did not open any new directly operated stores, but it purchased 1 franchise in Oita and 2 in Kagoshima, bringing the number of directly operated stores to 28 at the end of Dec. 2017, an increase of 3 stores from the end of the previous term. As the revenue from regular maintenance increased, the rainfall amount in the Japanese rainy season, which is typically a busy period, was 26.2% smaller than usual, and 55.7% smaller than that in the previous year.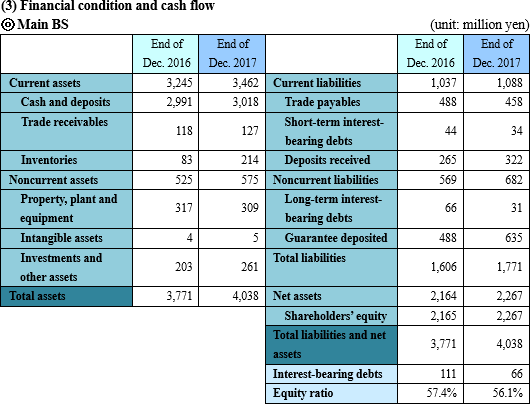 Current assets grew 216 million yen from the end of the previous term, due to an increase in cash and deposits. Noncurrent assets remained mostly unchanged. Total assets increased 267 million yen from the end of the previous term to 4,038 million yen. Total liabilities augmented 164 million yen from the end of the previous term to 1,771 million yen due to an increase in guaranty deposits. Net assets grew 102 million yen from the end of the previous term to 2,267 million yen due to an increase in retained earnings. As a result, equity ratio decreased 1.3% from 57.4% at the end of the previous term to 56.1%.

The surplus of operating CF shrank due to the decrease in net income before taxes. Investing CF turned positive after a decline in purchase of property, plant and equipment, but free CF shrank. Revenue from issuance of shares in the previous term disappeared, and financing CF turned negative. The cash position is mostly unchanged.
(4) Topics
◎ Started an affiliated loan with Miyazaki Taiyo Bank
On Dec. 1, 2017, the company entered a partnership with The Miyazaki Taiyo Bank, Ltd. and started handling "WASHHOUSE loan," a loan specifically for franchise owners. (Background and goals of the partnership) In order to open a franchised store, franchise owners cover costs mainly by receiving financing from financial institutions, but with applications for new loans, or when opening in a new business area, in some cases it requires a lot of time to complete financial screening. The company does not open franchised stores for landowners and tenant owners who wish to use idle land, but it instead introduces potentially profitable locations to the franchise owner, who then signs a lease contract with the landowner. Therefore, there were some cases where financial screening took a long time, and the landowner canceled the lease contract, making it impossible to open the store. This was one reason why performance did not go according to the plan in the previous term. It is possible to achieve a substantially shorter financial screening period for this affiliated loan, and the company believes that the number of cancellations made by landowners will decrease. By utilizing this affiliated loan and by financing franchise owners with its capacity, the entire process from loan application to the opening of a new store is expected to progress more smoothly than before. (Outline of affiliated loan) Starting date: December 1, 2017

Purpose of funds: Funds necessary for the opening and operation of the laundromat "WASH HOUSE"

Target of financing: A corporation or sole proprietor recommended by the company who has concluded or intends to conclude a franchise contract with the company, and whose applicant or business location is within the operating area of Miyazaki Taiyo Bank
Fiscal Year December 2018 Earnings Estimates


Estimated double-digit increase in sales and profit
Sales are estimated to be 4,011 million yen, up 18.9% year on year. Continuing from the previous term, the company will proceed steadily with nationwide development, including opening stores in new areas. Operating income is projected to be 300 million yen, up 23.1% year on year. Although SG&A expenses will increase due to the reinforcing of sales staff, they will be offset by the previous term's recurring revenue and new store openings, and the company expects to see a double-digit increase in profits. The dividend is to be 8 yen/share, as was the previous term. Payout ratio is estimated to be 29.3%.
(2) Plans for store openings
In total, a new record of 133 stores will be opened, including 41 in the Kanto area, 9 in the Chubu area, 31 in the Kansai area, 18 in the Chugoku-Shikoku area, and 34 in the Kyushu area. In detail, 130 stores will be franchised, and the remaining 3 will be directly operated. There will be an estimated 596 franchised stores and 31 directly operated stores at the end of Dec. 2018. Store openings in the Kanto area are of particular interest, as there were only 5 locations at the end of the previous term.
(3) Future business development
① Securing human resources After falling short of the previous year's plan, the company will review its structural plan and secure human resources as follows. Until now, support for franchise owners has been handled by individual sales staff members, but because sales staff are also engaged in store development, it has become difficult to provide sufficient support. The company will set up an organization focused mainly on support for existing franchise owners, and establish a framework to provide meticulous support, such as presenting plans and campaign proposals. Also, because it is necessary for the company to open stores in areas where sufficient sales will be generated, it is important to secure people with good judgment in these matters. The company has already interviewed more than 20 mid-career supervisors and branch managers who were introduced via a recruitment agency. In addition, it is the company's policy to work with outside organizations to systematically implement programs for nurturing managers, as well as on-the-job training. ② Affiliated loan As stated above, in cooperation with the Miyazaki Taiyo Bank, the company began handling affiliated loans for opening WASHHOUSE franchises in order to facilitate financial screening for franchise owners. ③ Other related and peripheral businesses (Self-manufacture of detergents) As for the in-house production of detergents, whose monthly use amount is 300,000 tons, the company is conducting the final check of the manufacturing of detergents. As for the construction of a factory, the company is having final discussions with Miyazaki Prefecture. Since the investment amount is 700 to 1,000 million yen, the company will incur a depreciation of about 100 million yen per year, under the assumption that its service life is 7 years. In order to cover this depreciation, the company is proceeding with a project for "making laundromats prefabricated." The company aims to stabilize its revenue by proceeding with the manufacturing of detergents in parallel with the business of selling mobile units to FC owners. (Money lending business) In addition to cooperating with banks to promote more stable franchising, the company began accepting employee transfers from financial institutions in Oct. 2017, and is preparing to finance its own loans. (Overseas expansion) As for overseas business expansion, which is the pillar of its growth strategy, the prototype of a "cloud IT laundry system" was completed in collaboration with AQUA Co., Ltd. (which belongs to the Haier group in China) and Microsoft, and the trial operation has been started in Japan. It will take a little more time to complete the final version, including the development of hardware, but the company is taking steady steps toward the cultivation of the huge global market through "the development of an optimal system for operating multiple stores."
Unfortunately, performance fell short of estimates for the full year, but the company opened stores in new areas, and recurring revenue is steadily accumulating. In addition, the company's policy for this term is to focus on opening stores in the Kanto area, which has a large number of potential users. If things move forward as planned, this term will have a major impact on future performance in terms of both recurring and non-recurring revenue. While paying attention to the start of new businesses and peripheral businesses, we look forward to the company regaining market trust by achieving this term's performance estimates.
<Reference: Regarding Corporate Governance>

◎ Corporate Governance Report
Last update date: Apr. 13, 2017 <Reasons for Non-compliance with the Principles of the Corporate Governance Code (Excerpts)> The company mentioned, "We will implement all of the basic principles."
Disclaimer
This report is intended solely for information purposes, and is not intended as a solicitation for investment. The information and opinions contained within this report are made by our company based on data made publicly available, and the information within this report comes from sources that we judge to be reliable. However we cannot wholly guarantee the accuracy or completeness of the data. This report is not a guarantee of the accuracy, completeness or validity of said information and opinions, nor do we bear any responsibility for the same. All rights pertaining to this report belong to Investment Bridge Co., Ltd., which may change the contents thereof at any time without prior notice. All investment decisions are the responsibility of the individual and should be made only after proper consideration.
Copyright (C) 2018 Investment Bridge Co., Ltd. All Rights Reserved.