Masanori Sugiyama,
President
| | |
| --- | --- |
| Company | enish, Inc. |
| Code No. | 3667 |
| Exchange | Mothers Market of the TSE |
| Industry | Information, Communications |
| President | Masanori Sugiyama |
| HQ Address | Hiroo 1-13-1, Shibuya-ku, Tokyo |
| Year-end | December |
| URL | |
Share Price
Shares Outstanding
Market Cap.
ROE (actual)
Trading Unit
¥2,101
2,637,400 shares
¥5.541 billion
48.9%
100 shares
DPS (Est.)
Dividend Yield (Est.)
EPS (Est.)
PER (Est.)
BPS (actual)
PBR (actual)
-
-
¥170.62
12.3x
¥398.24
5.3x
* Closing stock price as of February 26, 2013. Number of shares at the end of the most recent quarter excluding treasury shares.
| | | | | | | |
| --- | --- | --- | --- | --- | --- | --- |
| Fiscal Year | Sales | Operating Profit | Current Profit | Net Profit | EPS | Dividend (¥) |
| January 2010 | 22 | -40 | -41 | -41 | - | 0.00 |
| December 2010 | 415 | 64 | 71 | 55 | 821.99 | 0.00 |
| December 2011 | 2,590 | 526 | 523 | 298 | 2,956.25 | 0.00 |
| December 2012 | 4,430 | 666 | 654 | 373 | 174.55 | 28.00 |
| December 2013 Est. | 6,700 | 820 | 800 | 450 | 170.62 | - |
* Estimates are those of the Company. A 20 for 1 stock split was performed in September 2012.
Fiscal year December 2010 is an irregular 11 month accounting period.

 

We present this Bridge Report along with the fiscal year December 2012 earnings results for enish, Inc.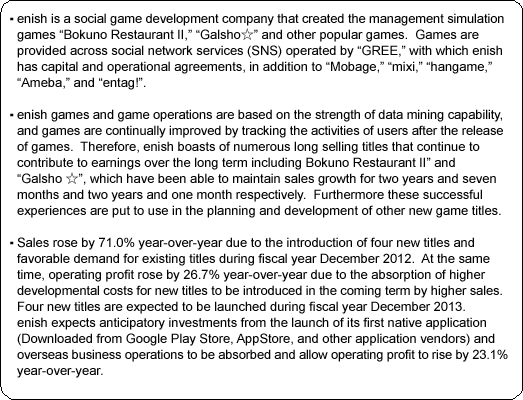 enish is a social game development company that boasts of the highly popular restaurant management simulation game "Bokuno Restaurant II" and apparel shop management simulation game "Galsho ☆." The Company also maintains capital and operational ties with GREE, Inc., which operates the popular SNS website "GREE," in addition to relationships with "Mobage," "mixi," "hangame," "Ameba," "entag!" and other popular SNS websites over which its game titles are provided. President Masanori Sugiyama formerly worked as the corporate planning officer at cellular telephone contents provider Index Corporation, and as the Chairman and President of the fortune telling contents provider ZAPPALAS, INC. He was also instrumental in helping ZAPPALAS list on the First Section of the Tokyo Stock Exchange.

 

<Corporate History>

enish started out as the application development division of Synqroa Inc. (Currently named Kii Corporation), and was spun off as Synphonie Inc. in February 2009 under the direction of the lead engineers Kohei Antoku and Yoshiyuki Kumon. In August 2009, the Company entered the social game market via the open platform of "mixi" (Open platform represents the opening of standards to allow third parties to provide applications via "mixi" ). In October of the same year, Synphonie began providing the restaurant management game "Bokuno Restaurant," which is linked to location information of nationwide restaurants ( "Bokuno Restaurant II" was launched in June 2010). In July 2010, the Company received capital from GREE, Inc. and began providing the apparel shop management simulation game "Galsho☆ " from November of the same year over GREE's website.

Thereafter, Synphonie began broadening the breadth of its product lineup to include role playing games (RPG) and other social network related products. Furthermore Masanori Sugiyama was appointed as President and the search type RPG called "Bokurano Pocket Dungeon" was launched in June 2011. In July 2011, GREE formed an operational agreement with Synphonie, and collaborative planning with Fuji Television Network, Inc. was undertaken for the launch of a cooking battle game called "Ryorinotetsujin" . In addition, a top model cultivation simulation game called "Platinum ☆ Girl" (December 2011), search type RPG "Bokurano Pocket Dungeon 2" (January 2012), card battle game "Dragon Tactics" (July 2012), and other products were added to the lineup. In September 2012, the Company name was changed to enish, Inc. and it went public on the Mothers Market of the Tokyo Stock Exchange in December of the same year.

 
 

<Business Description>

enish is comprised of only a single business segment entitled social applications business. In this business, games developed in-house are provided via "GREE," "Mobage," "mixi," "hangame," "Ameba," "entag!," and other SNS and social game platforms to be played by feature phones and smartphones users.

Games are provided free of charge, but various items including tools used in the games to make them more enjoyable to use are offered for purchase over phones (For example, "Bokuno Restaurant II" sells recipes and decorations designed to make restaurants in the game more popular). The collection of fees from users is outsourced to the SNS platform operators, and they keep a portion of the fees as system operating commissions.

enish currently provides the titles listed below. During fiscal year December 2012, "Bokuno Restaurant II," "Galsho☆," "Dragon Tactics," "Pocket Dungeon 2" and others accounted for 49.0%, 23.9%, 10.6%, 9.7% and 6.8% of non-consolidated sales respectively.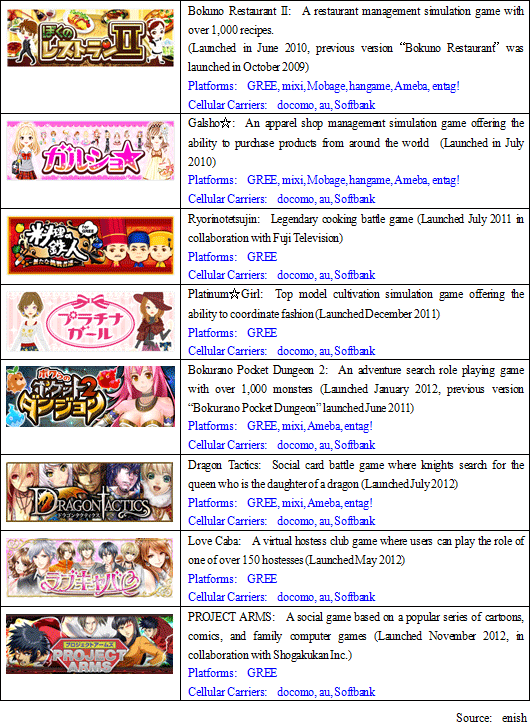 "Ameba" is an SNS, "hangame" an online game community site operated by the NHN Group of Korea, and "entag!" a smartphone game site.

 

<Characteristics>

70% to 80% of the users of "Bokuno Restaurant II" and 90% of "Galsho☆" are users called "F1 Layer" and represent a group of Japanese in their 20s to 30s who are primarily women with high purchasing power.

Recently, social games provided over SNS are primarily comprised of card battle games based on trading card games, but in pioneer days, various simulation games for the cultivation of animals and agricultural products, and store management were provided. A majority of these simulation games have a very short lifespan and are quickly eliminated from the market, causing many competitors to shift to the much more popular card battle games that target male users. Despite these market trends, enish has two long selling simulations games "Bokuno Restaurant II" and "Galsho☆" , which continue to contribute to earnings even in their third year of operation.

Because of this bias of a high composition of female users, enish has implemented measures to expand the number of male users from fiscal year December 2011 including the entry into the card battle game realm with the introduction of search type RPGs like "Bokurano Pocket Dungeon" in June 2011 ( "Bokurano Pocket Dungeon 2" was launched in January 2012), and "Dragon Tactics" in July 2012.

 

Product Portfolio

 

In particular, the favorable reception of "Dragon Tactics" allowed its sales during the fourth quarter of fiscal year December 2012 to exceed sales of "Galsho☆" and contributed to an expansion in the composition of male users from 20% in fiscal year December 2011 to 33% in fiscal year December 2012.

 

 

In addition, "GREE," with which enish has capital and operational agreements, accounted for 60% of enish's sales by platform during fiscal year December 2012. At the same time, the Company's dependence upon "GREE" is on the decline thanks to effective measures to fortify its product lineup and expand its genre of games, and diversification of its distribution platforms based on customer profiles and characteristics of users. During fiscal year December 2012, the sales composition of "mixi" and "Mobage" grew while the share of "GREE" declined from 73% in fiscal year December 2011 to 60% (While the composition of sales declined, sales to "GREE" actually grew from FY12/11 to FY12/12.).

 

 

<Strengths>

The social games business employs a business model where games are basically provided free of charge to users with earnings being derived from the sale of tools used in these games. Therefore, the key to making successful games is to increase their quality levels so that they captivate users and "make them want to purchase tools to enjoy the games even more." Furthermore, making improvements to match the changing tastes of users after the release of games is also important in ensuring the continued popularity and profitability of games.

enish leverages its data mining capability to analyze user information to derive game utilization rates, continuation rates, fee charge rates, and other data to optimize their games on an ongoing basis. While these optimization efforts are not unique to only enish, the fact that they have numerous long selling games which continue to contribute to earnings over the long term, in a market where many games are only distributed for several weeks, appears to be a reflection of the accuracy of enish's data analysis, and the success of its various measures. Furthermore, new title planning and development activities are based on these successes as part of a strategy to launch new titles on an sustained basis.

Another of enish's strengths is its effort to facilitate a framework that enables the quick provision of games over a wide range of multiple platforms. Consequently, the Company is able to choose the most appropriate platform after considering the users and characteristics of each platform to best match the characteristics of its games. Furthermore enish is able to quickly plan and develop applications in short periods of time and produce flexible responses that match the speed of growth in the social games market. (A framework is software, serving as a foundation for applications available for developing applications software.)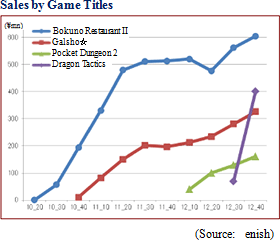 Charge Rates for Two Main Titles Improve, Growth Trend in Place

While sales of "Bokuno Restaurant II" declined during the second quarter of fiscal year December 2012 due to the impact from the controversy surrounding "Complete Gacha" , but fees rates recovered from the third quarter onwards and contributed to higher earnings.
The revenue of "Galsho☆" after the second half of fiscal year December 2012 shifted to growth due to the same reason.

 

<Self Restraint Response>

While the process of selling tools to be used in social games such as "Complete Gacha" were a significant contributor to earnings of the various social game companies, reports of the potential illegality of this process carried in the news led to the changes in the Truth in Advertising Law and "notes regarding limitations of provision of prizes" calling for a ban of the "Complete Gacha" game the Consumer Affairs Agency in July 2012. Various game companies implemented voluntary halt of the provision of "Complete Gacha" games before the actual ban went into effect. At the same time, enish joined the Japan Social Games Association, which was established for the sound development of the social game industry through the protection of users.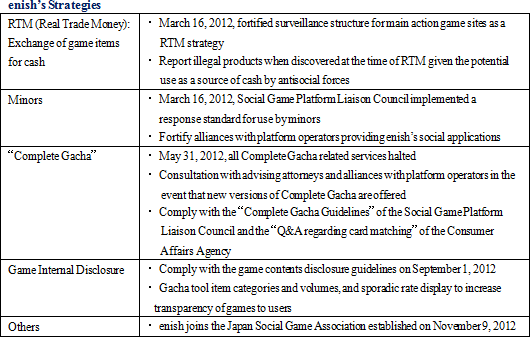 (1) Market Trend

According to data from a research company, the fiscal year 2011 social game domestic market amounted to ¥284.2 billion (Based on user fees charged and excluding advertising revenues). The market is expected to have grown by 37% to ¥387.0 billion in fiscal year 2012, and to rise by another 10% to ¥425.6 billion in fiscal year 2013. Responses to match the progressing shift from feature phones to smartphones and the ability to monetize business development in overseas markets are issues which remain at the core of discussions in the development of the market.

 

 

(2) Growth Strategy

enish maintains a basic strategy of "realizing sustained growth (Over 20% growth in profits) while responding to changes in the business environment." In addition to expansion in the Japanese social game market, the Company anticipates rapid growth in the native application game market (Browser application market is expected to undergo moderate growth) based on shifts in responses from the domestic market to the global market, and from feature phones to smartphones. Therefore, enish will endeavor to maximize earnings derived from both new and existing titles, and deploy its native applications business in overseas markets. Furthermore, enish will expand its business into social games representative of the online to offline (O2O) realm as a means of expanding its non-fee charge based income.

Native applications are those applications which can be purchased over online stores including Google Play Store and AppStore to be downloaded to user terminals (Browser applications refer to those applications which can be used over "GREE" and other browser based platforms).

 

Maximize Earnings Generated from Existing and New Titles

Earnings will be maximized through the implementation of high speed "plan, do, check, and action" strategies (PDCA) leveraging enish's data mining strengths to improve the quality and efficiency of operation, and control advertising costs of existing titles. At the same time, the Company plans to introduce four new titles per year, including two native applications titles (Android and iOS) and two browser applications during fiscal year December 2013.

 

Native Application Response and Overseas Business Development

With regards to efforts to fortify its native applications, initially enish expects to start off with applications in its realms of strengths including management simulation games and card battle games, with domestic launches being followed by overseas launches (Asia and North America).

 

Expansion into Related Businesses

enish seeks to diversify its business model through an expansion into business realms related to social games. As a part of this strategy, the Company will pursue O2O applications as a means of pursuing other revenue streams that are not fee charge based that leverage its user numbers and profiles. enish has also conducted trials to prove this strategy in both real and virtual collaborative planning through O2O tie ups with various companies at a pace of about one per quarter during fiscal year December 2011.

For example, serial numbers have been provided to users of NTT Docomo's shealth support service called "i Bodymo" as part of a limited campaign that enables users to acquire special tools for use in "Bokuno Restaurant II" (Special page within the game where serial numbers can be used to acquire tools). Moreover, the Company has formed a tie up with Myojo Foods Co., Ltd. to issue serial numbers to buyers of "Myojo Foods Charumera 5 Meal Pack (Ramen - Japanese noodles)" that can be used on a special page within the "Bokuno Restaurant II" to acquire special tools. In both cases, enish receives fees for this collaborative sales promotion which are treated as sales promotion expenses by the partnering company (While still in experimental stages, a fee of several millions of yen is currently received for each sales campaign).

 

 
Fiscal Year December 2012 Earnings Results

 

Exceeded FY12/12 Sales, Profit Estimates Released at Time of Listing, In Line with Upwardly Revised Earnings Announced on January 21

Sales rose by 71.0% year-over-year to ¥4.430 billion. Demand for the two main existing titles "Bokuno Restaurant II" and "Galsho☆" trended favorably, and four new titles were launched during the term. The new search type RPG game "Pocket Dungeon 2" launched in the first quarter ramped up favorably, and the new card battle social game "Dragon Tactics" launched in the third quarter actually exceeded sales of "Galsho☆" in the fourth quarter. At the same time, the impact from the halt of provision of Complete Gacha services at the end of May 2012 was limited.

With regards to profits, gross profit margin declined by 5% points to 36.4% due to increases in labor expenses associated with development of new titles to be launched in the current and coming terms (Increases in development lines), outsourcing fees, and commissions. Despite large increases in sales, general and administrative expenses arising from hiring expenses due to increases in dispatched workers and full time employees, and advertising expenses, the strong growth in sales absorbed these higher costs and allowed operating profit to rise by 26.7% year-over-year to ¥666 million. Despite the booking of ¥11 million for listing costs as non-operating expenses, current profit rose by 25.0% year-over-year.

 

Characteristics of Sales

With regards to the sales composition of various game titles, "Bokuno Restaurant II" accounted for 49.0%, "Galsho☆" 23.9%, "Pocket Dungeon 2" (Service launched in January 2012) 9.7%, "Dragon Tactics" (Service launched in July 2012) 10.6%, and others 6.8% of sales. Efforts to fortify enish' s business structure include strategies of maintaining growth of existing titles through aggressive operating, deriving earnings from new titles, and shifting from a two pillar to a four pillar business structure. Through the introduction of card battle games, the composition of male users is on the rise as planned (The composition of male users of all titles rose from 20% in FY12/11 to 33% in FY12/12).

By platform, the share of "GREE" fell from 73% of sales in fiscal year December 2011 to 60% during fiscal year December 2012, and the share of "mixi" and "Mobage" rose, contributing to a more balanced portfolio of platforms serviced (This decline in share comes despite an actual increase in sales to "GREE." ). By device, efforts to improve usability for smartphone users allowed the share of smartphone sales to rise in line with the increase in smartphone diffusion (39.8% according to the Internet Media Research Center) even while sales to feature phones continued to rise.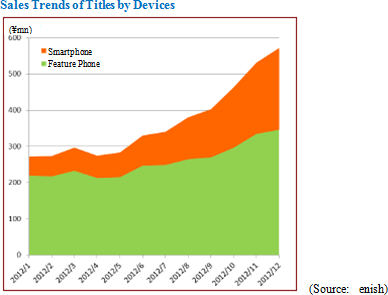 Labor and outsourcing costs associated with development work for new titles to be introduced during the fiscal years December 2012 and 2013 grew (A large portion of development work was conducted internally until now, but enish decided to outsource some of this work to reduce the ratio of fixed costs from FY12/12). In addition, higher commissions paid arising from the increase in sales contributed to an 85.6% year-over-year increase in cost of sales. Sales, general and administrative costs also rose by 73.3% year-over-year due in part to the increase in advertising and promotional costs arising from higher sales, and listing related expenses. As a result of these developments, total costs rose by 82.4% year-over-year increase to ¥3.763 billion.

Furthermore, developmental costs for new titles were not booked as assets but treated as expenses to be accounted for within the current term. The number of employees grew by 27 to 98 at the end of the term, including 25 new employees assigned to the product division and 2 to the administrative division (Total number of employees stood at 121 including 90 and 8 in the product and administrative divisions respectively, and 23 dispatched and consigned workers.). The product division is comprised of the application team(about 8-10 per line), systems, data mining, promotion, development support, creation (UI, design, flash) team and others. The administrative division is comprised of human resources, accounting, finance, management planning, and internal audit teams.

 

 

Total assets rose by ¥646 million from the end of the previous term to ¥1.598 billion at the end of the current term due in part to the funds sourced during enish' s listing on the Mothers Market of the Tokyo Stock Exchange in December 2012. By category, accounts receivables, account payable, cash and equivalents and net assets rose. As a result of these changes, equity ratio rose by 15.5% points to 65.7%.

 

 

Increases in both working capital, arising from the higher sales, and tax expenses (Up from ¥27 to ¥373 million) contributed to a large deterioration in free cash flow, but the sourcing of funds from the Mothers Market listing allowed cash and equivalents to rise by ¥182 million from the end of the previous term to ¥708 million at the end of the current term.

 

 
Fiscal Year December 2013 Earnings Estimates

 

Estimates Call for Sales, Current Profit to Rise by 51.2%, 22.3% YY

enish's estimates call for sales to rise by 51.2% year-over-year to ¥6.7 billion during fiscal year December 2013. Sales of existing and new titles are expected to amount to ¥5.77 billion and ¥930 million respectively, and include two new native application titles (For Android and iOS) and two browser based application titles (One of these expected to be launched during the first half and three during the second half). One of these titles is the first title based on a famous intellectual property right. In the O2O business, enish expects to release one title per quarter and to see only limited amount of contributions to sales during the coming term.

Estimates call for operating profit to rise by 23.1% year-over-year to ¥820 million. Increases in cost of sales (Including primarily labor and outsourcing expenses) and sales, general and administrative expenses (Including primarily advertising expense) are expected to be absorbed by higher sales. The total number of employees is expected to grow by 36 to 134 by the end of the coming term, with the bulk of these new employees being assigned to the product division (Including dispatched and consigned workers, the total number of staff is expected to rise by 36 to 157). The increase in staff is expected to necessitate an expansion in office floor space in the first half, and moves and consolidation of offices during the second half (Total costs arising from these changes are expected to amount to several tens of millions of yen, with some of these costs being booked as expenses and some as assets). At the same time, two of the four new titles to be launched are native applications, which are also expected to be launched in overseas markets, of which no sales are expected to be booked. At the same time, development, operating and advertising expenses of ¥170 million have been booked into estimates. Also, only a limited amount of sales are expected to be booked from native applications launched within Japan, but development, operating, and advertising expenses of ¥130 million have been included in the Company's estimates. While the use of advertising until now has been measured and restrained, advertising expenses in the coming term are expected to rise due to the introduction of three new titles to be released during the second half (Total advertising expenses are expected to account for about 10% of sales).

 

 

While the weight of sales is expected to rise during the second half of the fiscal year due to the introduction of three new titles, the timing of advertising for these new titles is expected to contribute to an increase in advertising expenses relative to sales. Furthermore the move and consolidation of operation floors are also expected to contribute to deterioration in profitability during the second half.

 

(3) Shareholder Return Policy

Management of enish places a top priority upon the return of profits to shareholders. Dividend payout ratio is an important consideration in the determination of dividends from retained earnings and the Company maintains an intermediate term target dividend payout ratio of 20% (Dividend of ¥28 per share in FY12/12 reflects a payout ratio of 16%) while endeavoring to achieve a higher level of dividends. While enish has not announced a dividend estimate for fiscal year December 2013 at the time of its earnings announcement, an increase in dividends of ¥6 per share to ¥34 may be expected if earnings estimates can be achieved.

 

 
 

Despite the fact that three years have passed since the release of "Bokuno Restaurant II" in June 2010, it continues to see growth in sales. And while the rapid user growth phase has ended for both "Bokuno Restaurant II," and "Galsho☆," which is also seeing similar sales growth trends after it entered its third year of provision in November, the number of users continues to trend at high levels and fee charge rates are on the rise. A critical factor in enish's success in achieving sustained popularity of its games and monetizing them is its ability to link its users by cultivating game communities, implementing effective events, and implementing superior development and operating capabilities.

"GREE" , "Mobage" and "hangame" are estimated to have male to female user rates of over 60%, compared with "mixi" and "Ameba" which have male user rates of 30% to 50%. At the same time enish's male to female user ratio remains at a low 33%. Based on the success of its first card battle game, enish is expected to launch its second and third games targeting male users and should be able to increase its male user ratio a step further based on the potential successes of these new games. Furthermore, the new O2O business represents a departure from conventional games and is reflective of enish's unique way of thinking, which is another of its strengths. Also, close attention should be paid to the Company's overseas business deployment in the future.

Disclaimer

This report is intended solely for information purposes, and is not intended as a solicitation to invest in the shares of this company. The information and opinions contained within this report are based on data made publicly available by the Company, and comes from sources that we judge to be reliable. However we cannot guarantee the accuracy or completeness of the data. This report is not a guarantee of the accuracy, completeness or validity of said information and or opinions, nor do we bear any responsibility for the same. All rights pertaining to this report belong to Investment Bridge Co., Ltd., which may change the contents thereof at any time without prior notice. All investment decisions are the responsibility of the individual and should be made only after proper consideration.

Copyright(C) 2013 Investment Bridge Co., Ltd. All Rights Reserved.