Masanori Sugiyama,
President
| | |
| --- | --- |
| Company | enish, inc. |
| Code No. | 3667 |
| Exchange | Mothers Market of the TSE |
| Industry | Information, Communications |
| President | Masanori Sugiyama |
| HQ Address | Hiroo 1-13-1, Shibuya-ku, Tokyo |
| Year-end | December |
| URL | |
Share Price
Shares Outstanding
Market Cap.
ROE (actual)
Trading Unit
¥2,813
5,329,760 shares
¥14.993 billion
48.9%
100 shares
DPS (Est.)
Dividend Yield (Est.)
EPS (Est.)
PER (Est.)
BPS (actual)
PBR (actual)
¥17.00
0.6%
¥85.31
33.0x
¥398.24
9.3x
* Stock price as of close on November 5, 2013. ROE and BPS based on actual results at end of previous term.
| | | | | | | |
| --- | --- | --- | --- | --- | --- | --- |
| Fiscal Year | Sales | Operating Profit | Current Profit | Net Profit | EPS | Dividend (¥) |
| January 2010 | 22 | -40 | -41 | -41 | - | 0.00 |
| December 2010 | 415 | 64 | 71 | 55 | 821.99 | 0.00 |
| December 2011 | 2,590 | 526 | 523 | 298 | 2,956.25 | 0.00 |
| December 2012 | 4,430 | 666 | 654 | 373 | 174.55 | 28.00 |
| December 2013 Est. | 6,700 | 820 | 800 | 450 | 170.62 | 34.00 |
* Estimates are those of the Company. 20 for 1 and 2 for 1 stock splits were performed in September 2012 and October 2013 respectively. Fiscal Year December 2010 was an irregular 11 month accounting period.

 

We present this Bridge Report along with the third quarter earnings results of the fiscal year December 2013 for enish, inc.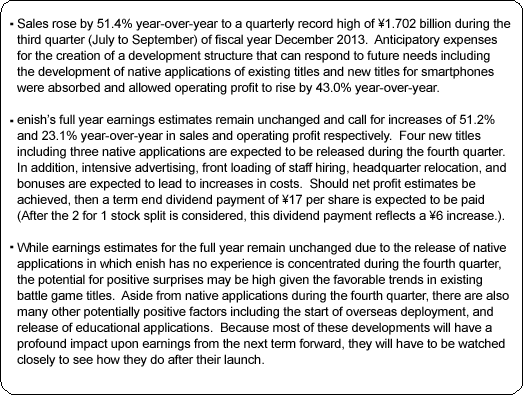 enish is a social game development company that boasts of the highly popular restaurant management simulation game "Bokuno Restaurant II", apparel shop management simulation game "Galsho☆", and card battle game "Dragon Tactics" The Company also provides various games primarily to the popular SNS website "GREE," in addition to "Mobage," "mixi," and other popular SNS websites. President Masanori Sugiyama formerly worked as the Chairman and President of the fortune telling contents provider ZAPPALAS, INC. (3770) and was instrumental in helping it list on the First Section of the Tokyo Stock Exchange.

 

<Business Description>

enish maintains only a single business segment entitled social applications business. In this business, games developed in-house are provided via "GREE," "Mobage," "mixi," "hangame," "Ameba," "entag!," and other SNS and social game platforms to be played by feature phone and smartphone users. Games are provided free of charge, but various items including tools used in the games to make them more enjoyable are offered for purchase over phones (For example, "Bokuno Restaurant II" sells recipes and decorations designed to make restaurants in the game more popular). The collection of fees from users is outsourced to the SNS platform operators, which keep a portion of the fees as system usage commissions.

70% to 80% of "Bokuno Restaurant II" and 90% of "Galsho☆" users are called "F1 Layer" users and represent a group of Japanese in their 20s to 30s, who are primarily women with high purchasing power. For the first half of the fiscal year December 2013, "Bokuno Restaurant II," "Galsho☆," "Dragon Tactics" "Bokurano Pocket Dungeon 2" "Sakigake! Otokojuku" and others accounted for 34%, 22%, 27%, 9%, 2% and 6% of non-consolidated sales respectively.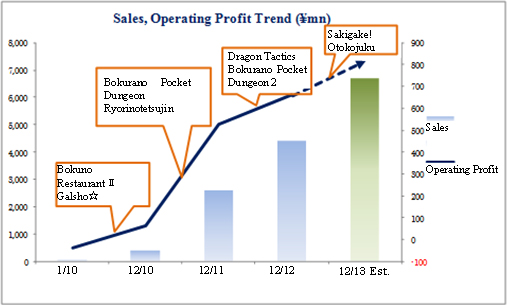 <Strengths>

The social games business employs a model where games are provided to users free of charge with earnings being derived from the sale of tools used in these games. Therefore, the key to making successful games is to increase their quality levels so that they captivate users and "make them want to purchase tools to enjoy the games even more." Furthermore, making improvements in the game system to match the changing tastes of users after their release is also important in ensuring their continued popularity and profitability.

enish leverages its data mining capability to analyze user information to derive game utilization rates, continuation rates, fee charge rates, and other data needed to optimize their games on an ongoing basis. While these optimization efforts are not unique to only enish, the fact that they have numerous long selling games that continue to contribute to earnings over the long term in a market where many games are only distributed for several weeks is a reflection of the accuracy of enish's data analysis, and the success of its various measures. Furthermore, new title planning and development activities are based on these successes as part of a strategy to launch new titles on a sustained basis.

Another of enish's strengths is its effort to facilitate a framework that enables the quick provision of games over a wide range of multiple platforms. Consequently, the Company is able to choose the most appropriate platform after considering the users and characteristics of each platform to best match the characteristics of its games. Furthermore, enish is able to quickly plan and develop applications in short periods of time and produce flexible responses that match the speed of growth in the social games market (Framework refers to the software that functions as a foundation when application software are first developed.).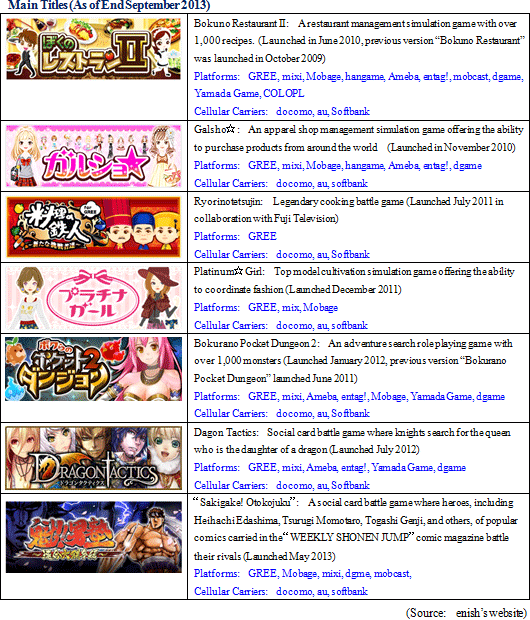 Provider Platforms: GREE, mixi, Mobage, hangame, Ameba, entag!, dgame, mobcast, Yamada Game, COLOPL

 

 
Third Quarter of Fiscal Year December 2013 Earnings Results

 

Sales Reach New Record High, Anticipatory Expenses Absorbed Allowing Operating Profit to Rise 43.0%

Sales rose by 51.4% year-over-year to ¥1.702 billion. The release of Ameba use browser application "Dragon Tactics Regalia" (October 9 release date) and the native application "Dragon Tactics Infinity" (October 30 release date) had been expected during the third quarter but were delayed until October. However, the number of users is expanding steadily due in part to the launch of the large licensed title "Sakigake! Otokojuku" from May 2013, and the release of "Dragon Tactics" in the third quarter of the previous fiscal year, which achieved record high sales for a browser application on a quarterly basis, (Grown to a similar level of sales as "Bokuno Restaurant II"). Furthermore, the advertising campaign and efforts to increase platforms have successfully contributed to favorable trends in the game "Galsho☆."

With regards to sales composition by title, Bokuno Restaurant II, Galsho☆, Bokurano Pocket Dungeon 2, Dragon Tactics, Sakigake! Otokojuku, and others accounted for 29.9%, 21.3%, 6.1%, 29.7%, 7.8% and 5.3% of sales respectively. By game categories, battle games sales expanded by 3.75 times from the same term in the previous year and their share of sales rose from 18% to 44% (Management simulation games rose by 6% year-over-year). By provider platform, GREE's share declined from 69% to 45%, while mixi and mobage rose from 12% to 18% and from 11% to 16% respectively over the same period. The share of games provided by new platforms (Yamada Game, COLOPL) also rose from 6% to 11% over the same period. Furthermore, the share of sales to smartphones has grown from 33% in the same period of the previous year to 50% in the current term.

With regards to profits, higher costs arising from development for new titles and native applications of existing titles for smartphones, increases in development staff, and anticipatory investments were absorbed by the higher sales. Consequently operating profit rose by 43.0% year-over-year to ¥326 million. Because of the aggressive facilitation of the development structure to respond to market needs from the next fiscal year onwards, the number of staff rose by 44 from the previous fiscal year end to 165 at the end of the third quarter (Including 35 dispatched workers). Engineers, designers, directors and administrative staff accounted for 37.6%, 31.5%, 17.6%, and 10.4% of the total staff numbers respectively.

Moreover, native application (A category of game applications) is a term used to describe applications that are encoded so that they can be processed and executed directly by CPUs of cellular telephones and other terminals. These applications are provided primarily to smartphones, and can be downloaded to terminals. At the same time, browser applications are not downloaded but accessed through various platforms including GREE, mixi, Mobage and others.

 

 

Outsourcing fees for production of "Sakigake! Otokojuku" and other titles and commissions linked to sales contributed to a 52.9% year-over-year increase in cost of sales to ¥1.093 billion, but the cost of sales margin was held to a small increase of 0.6% points to 64.2%. In addition, sales, general and administrative (SG&A) expenses rose by 56.1% year-over-year to ¥282 million on the back of increases in advertising for "Sakigake! Otokojuku" and personnel due to new hires, but the SG&A expense margin was also restrained to small increase of 0.5% to 16.6%. Moreover, the multiple platform strategy was effective in holding the growth in commissions to below that of sales.

 

 

Compared with the second quarter, sales grew by 10.1% quarter-over-quarter on the back of the contribution from "Sakigake! Otokojuku" and "Dragon Tactics" And while operating expenses including production outsourcing and advertising fees rose, they were absorbed by the increase in sales and allowed operating profit to rise by 5.6%.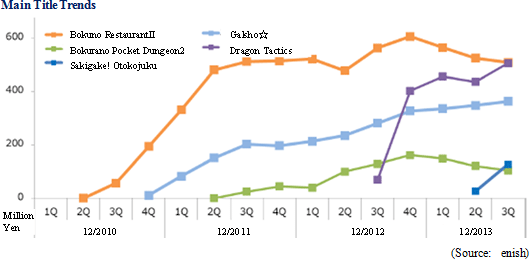 Sales grew on the back of the early introduction of revisions to "Dragon Tactics", which saw a decline in sales in the previous second quarter, in addition to the contribution from "Sakigake! Otokojuku." Sales of "Galsho☆" also trended favorably. At the same time, "Bokuno Restaurant II" continued to suffer weaker sales after recording peak sales during the fourth quarter of the previous fiscal year. Lower sales are attributed to a decline in the average spend by active user and reflect the lack of interest in these events (Monthly unique user levels have been maintained). Therefore, enish performed a renewal of their events, but the outsourcing of some of the renewal tasks contributed to a two to three month delay and sales are expected to bottom during the fourth quarter.

 

 

Hiring of personnel is progressing favorably due to improvements in hiring efficiency resulting from the increased recognition of enish due to its public listing. The yearend target of 165 staff has already been achieved, and further hiring of staff is being considered to facilitate the development structure for the next term onwards.

 

 

Total assets rose by ¥617 million from the end of the previous fiscal year to ¥2.216 billion at the end of the third quarter due to increases in cash and equivalents and net assets. Cash and equivalents accounted for 53.1% of total assets, and equity ratio improved to 72.7% from 65.8% at the end of the previous fiscal year.

 

 
Fiscal Year December 2013 Earnings Estimates
 

(1) Progress on Measures Implemented from the Second Half

Measures to be implemented from the second half include the introduction of new native application titles, fortification of development structure, deployment of O2O business, start of provision of educational applications, overseas business deployment, and implementation of a multiple platform strategy. Progress in these various measures is described below.

 

Concentrated Release of 4 Titles during the Fourth Quarter

The number of titles to be released during the second half has been increased from three to four (Including one browser and three native application titles) and will be concentrated during the fourth quarter. Along with these releases, concentrated launch of advertising is expected. Furthermore, one browser application title and two native application titles have already been released in October.

 

Fortification of Development Structure

Front loading of new staff hiring has been promoted with a view to the needs of the development structure from the next term onwards, and the revised target for total staff numbers of 165, up from initial estimates of 157, at the term end has been achieved by the end of the third quarter. At the same time, the increased recognition of enish brought about by its public listing has contributed to an improvement in its ability to hire staff, and the Company is now considering further steps to fortify its development structure. During the fourth quarter, the hiring of some additional staff is being considered. The corporate headquarter is expected to be relocated in December 2013 to accommodate the increased staff numbers. Increases in labor fees and moving costs have already been included in enish's earnings estimates.

 

Progress in O2O Business

With regards to the "Online to Offline" (O2O) services as part of the game business, a collaborative project with "Gurunavi," Japan's largest restaurant search engine with about 500,000 registered restaurants, was started on October 29, and a collaborative project formed with COLOPL, Inc. leveraging location-based games is expected to be launched from the fourth quarter. The collaborative project with "Gurunavi" is called "Gurunavi Touch" and allows users to receive game items free of charge to their cell phones at participating member restaurants. "Gurunavi Touch" allows users to transfer game items by passing them over specialized contactless terminals and is a service unique to "Gurunavi."

 

Educational Application Provision Starts

Educational applications are expected to be released during the fourth quarter. However, only the operating expenses from the launch of this service and no sales (Four titles expected to be released during the second half) have been included in the fiscal year December 2013 earnings estimates.

 

Overseas Business Deployment

Preparations to enter overseas markets where the market is large and growth high have been conducted, and the first project is expected to be launched during the fourth quarter in Korea. Leveraging their superior positioning in existing markets, enish has plans to conduct localization of applications into local languages and cultures, and has already acquired staff to conduct this localization. Until knowhow can be accumulated in this localization process, enish will seek to avoid taking on risk for doing its own promotions and will collaborate with local publishing companies and provide them with development code for the localization and publishing of these applications. During fiscal year December 2013, only the operating and advertising costs and no sales have been included into estimates.

 

Multiple Platform Strategy

Levering the existing framework, existing titles will be launched over new platforms as part of enish's multiple platform strategy. As part of this strategy, provision of applications to Yamada Game and COLOPL, Inc. has begun from the third quarter. Currently, enish supplies its applications to 10 platforms. This multiple platform strategy provides new opportunities to acquire sales without having to incur development costs. At the same time, profitability will be maximized through implementation of an advertising strategy that focuses upon effectiveness for existing platforms.

 


 

Full Year Estimates Remain Unchanged, Sales, Operating Profit to Rise 51.2%, 23.1%

While sales results as of the third quarter achieved only 72% of the full year estimates, operating profit results have already achieved 128% of the full year estimates. Consequently, enish has taken the decision to release four new titles and launch an aggressive advertising campaign. In addition, the Company will also book expenses for the move of its headquarter and for bonuses, and is considering frontloading of the staff hiring. enish is considering prioritization of the excess profit achieved during the first half for investments to expand the realm of its businesses.

While no formal estimates for dividends have been announced, a potential dividend of about ¥17 per share may be expected given the Company's net profit estimate. Given the two for one stock split performed on October 1, this dividend payment would represent a ¥6 increase to an actual dividend of ¥34 per share at the term end. enish maintains a total payout ratio target of 20%.

 

 
 

Although profits achieved during the third quarter have already exceeded the full year estimates, the fact that enish has not revised its earnings estimates suggests that it may now be expected to see losses during the fourth quarter. However, the maintenance of their earnings estimates is not due to expectation of losses but is attributed to their inability to come up with rational earnings estimates given their "lack of experience in native applications" and the release of three native applications during the second half (Two native applications have already been released in October). It is this uncertainty surrounding the launch of the native applications that is behind the Company's decision to maintain its outstanding earnings estimates. In actuality, battle games and other existing titles are trending favorably and there appears to be few concerns with regards to enish's near term earnings. Native applications, overseas business deployment, educational applications and other positive developments are expected to arise during the fourth quarter. Because these developments are expected to contribute to earnings from the next fiscal year onwards, how they fair after their launch should be watched closely.

 

Disclaimer

This report is intended solely for information purposes, and is not intended as a solicitation to invest in the shares of this company. The information and opinions contained within this report are based on data made publicly available by the Company, and comes from sources that we judge to be reliable. However we cannot guarantee the accuracy or completeness of the data. This report is not a guarantee of the accuracy, completeness or validity of said information and or opinions, nor do we bear any responsibility for the same. All rights pertaining to this report belong to Investment Bridge Co., Ltd., which may change the contents thereof at any time without prior notice. All investment decisions are the responsibility of the individual and should be made only after proper consideration.

Copyright(C) 2014 Investment Bridge Co., Ltd. All Rights Reserved.