Kouhei Antoku,
President
| | |
| --- | --- |
| Company | enish, inc. |
| Code No. | 3667 |
| Exchange | 1st Section of Tokyo Stock Exchange |
| Industry | Information, Communications |
| President | Kouhei Antoku |
| HQ Address | Roppongi Hills Mori Tower 39F 6-10-1, Roppongi Minato-ku, Tokyo |
| Year-end | December |
| URL | |
Share Price
Shares Outstanding
Market Cap.
ROE (actual)
Trading Unit
¥2,066
6,918,720 shares
¥14.294 billion
32.3%
100 shares
DPS (Est.)
Dividend Yield (Est.)
EPS (Est.)
PER (Est.)
BPS (actual)
PBR (actual)
¥24.00
1.2%
¥119.96
17.2x
¥432.82
4.8x
* Stock price as of close on February 20, 2014.
| | | | | | | |
| --- | --- | --- | --- | --- | --- | --- |
| Fiscal Year | Sales | Operating Profit | Current Profit | Net Profit | EPS (¥) | Dividend (¥) |
| December 2010 | 415 | 64 | 71 | 55 | 821.99 | 0.00 |
| December 2011 | 2,590 | 526 | 523 | 298 | 2,956.25 | 0.00 |
| December 2012 | 4,430 | 666 | 654 | 373 | 87.28 | 28.00 |
| December 2013 | 6,624 | 1,109 | 1,078 | 653 | 121.89 | 22.00 |
| December 2014 Est. | 8,700 | 1,350 | 1,350 | 830 | 119.96 | 24.00 |
* Estimates are those of the Company. 20 for 1 and 2 for 1 stock splits were performed in September 2012 and October 2013 respectively.

 

We present this Bridge Report reviewing the Fiscal Year December 2013 earnings results for enish, inc.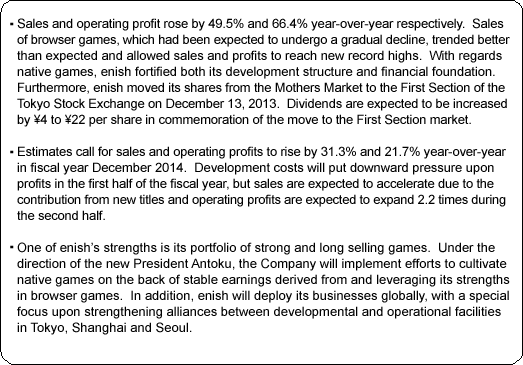 enish is a social game development company that boasts of the highly popular restaurant management simulation game "Bokuno Restaurant II", apparel shop management simulation game "Galsho☆", and card battle game "Dragon Tactics." The Company also provides various games primarily to the popular SNS website "GREE," in addition to "Mobage," "mixi," and other popular SNS websites.

 

<Business Description>

enish maintains only a single business segment entitled social applications business. In this business, games developed in-house are provided via "GREE," "Mobage," "mixi," "dgame," "Ameba," (Accounting for 38%, 16%, 15% 12%, and 9% of FY12/13 sales respectively) and other SNS and social game platforms to be played by feature phone and smartphone users. Games are provided free of charge, but various items including tools used in the games to make them more enjoyable are offered for purchase over phones (For example, "Boku No Restaurant II" sells recipes and decorations designed to make restaurants in the game more popular). The collection of fees from users is outsourced to the SNS platform operators, which keep a portion of the fees as system usage commissions. With regards to sales composition by title, Bokuno Restaurant II, Dragon Tactics, Galsho☆, Sakigake! Otokojuku and others accounted for 28%, 26%, 23%, 8% and 15% of sales respectively. By category of games, simulation games, battle games, and others accounted for 58%, 39% and 3% of sales respectively.

 
Participation in Social Applications Business

On the back of SNS platforms opening, commenced right after its initiation, Antoku and Kumon, actual founders, have begun providing social applications in October 2009, with the thought of "creating services that are exciting for both their creators and users that have yet to exist in the world".

Organization Fortification

Due to SAP (Social Application Provider, which develops and operates social applications) industry with a low barrier to entry, new entries into the market have rapidly increased. While existing game publishers' entries to the market cause it to be increasingly competitive, enish has fortified its management and administrative structure through joins of Sugiyama and Matsumoto in June 2011.

Listing

enish listed on TSE Mothers markets in December 2012, after 4 years in business, and implemented market shift to the first section of the Tokyo Stock Exchange in December 2013.
 

<Strengths>

The social games business employs a model where games are provided to users free of charge with earnings being derived from the sale of tools used in these games. Therefore, the key to making successful games is to increase their quality levels so that they captivate users and "make them want to purchase tools to enjoy the games even more." Furthermore, making improvements in game systems to match the changing tastes of users after their release is also important in ensuring their continued popularity and profitability.

enish leverages its data mining capability to analyze user information to derive game utilization rates, continuation rates, fee charge rates, and other data needed to optimize their games on an ongoing basis. While these optimization efforts are not unique to only enish, the fact that they have numerous long selling games that continue to contribute to earnings over the long term in a market where many games are only distributed for several weeks is a reflection of the accuracy of enish's data analysis and the success of its various measures. Furthermore, new title planning and development activities are based upon these successes as part of a strategy to launch new titles on a sustained basis.

Another of enish's strengths is its effort to facilitate a framework that enables the quick provision of games over a wide range of multiple platforms. Consequently, the Company is able to choose the most appropriate platform after considering the users and characteristics of each platform to best match the characteristics of its games. Furthermore, enish is able to quickly plan and develop applications in short periods of time and produce flexible responses that match the speed of growth in the social games market (Framework refers to the software that functions as a foundation when application software are first developed.).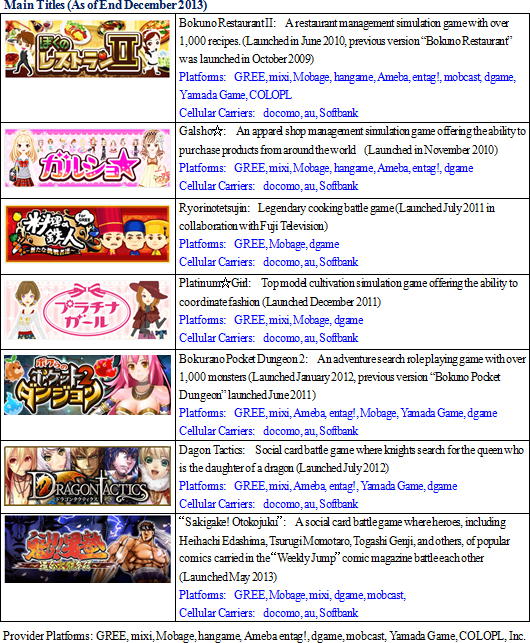 Fiscal Year December 2013 Earnings Results

 

Better Than Expected Performance of Browser Games, Strong Increases Push Sales, Profits to New Record Highs

Sales rose by 49.5% year-over-year to ¥6.624 billion. Sales of native games fell short of estimates due to delays in the release of three games. However, sales of browser games, which had been expected to undergo a gradual decline, trended more strongly than expected. Operating profit rose by 66.4% year-over-year to ¥1.109 billion. Increased outsourcing costs associated with development work for new games and higher commissions paid arising from the increase in sales contributed to a 56.6% year-over-year increase in cost of sales to ¥4.410 billion. While sales, general and administrative expenses rose by 16.6% year-over-year to ¥1.104 billion due to fortification of the development structure (Staff numbers increased by 45 year-over-year to 166 by the end of the term) and relocation of the corporate headquarter to accommodate the increased staff numbers, these higher expenses were successfully absorbed by the higher sales.

 

 

Developmental costs for applications were not booked as assets but treated as expenses and booked within the current term. In fiscal year December 2013, outsourcing fees rose by ¥463 million year-over-year, with ¥316 million of this amount associated with new applications.

 

 

While sales reached a quarterly record high during the fourth quarter of the fiscal year December 2013, outsourcing fees for native game development (¥114 million), relocation costs for the headquarters (¥80 million), and bonuses (¥70 million.) limited operating profits to ¥63 million.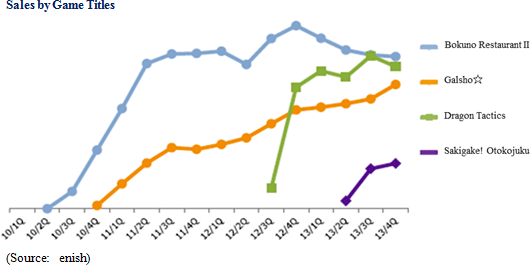 Sales of existing titles had been expected to gradually decline. However, demand for "Bokuno Restaurant II" and "Dragon Tactics" trended favorably, and sales of "Galsho☆" and "Sakigake! Otokojuku" grew. With regards to sales composition by main titles, "Bokuno Restaurant II", "Dragon Tactics", "Galsho☆", and "Sakigake! Otokojuku" accounted for 28%, 26%, 23% and 8% of sales respectively. "Bokuno Restaurant II" accounted for 66% of sales during the fourth quarter of fiscal year December 2011, but the balance between sales of various titles has improved significantly through the decreased dependence upon specific titles.

 

 

Total assets rose by ¥2.423 billion from the previous term end to ¥4.022 billion at the end of the current term. ¥1.252 billion in capital was sourced from the public offering and third party allocation of new shares conducted during enish's move to the First Section of the Tokyo Stock Exchange. These funds were used to fortify the Company's native games development capability. The increase in tangible fixed assets, investments and others (deposits and security deposits) arose from the headquarter relocation. Equity ratio stood at 74.4%.

 

Fiscal Year December 2014 Earnings Estimates

 

Estimates Call for Sales, Operating Profit to Rise by 31.3%, 21.7%

enish expects five native game titles (three during the first half and two during the second half) to be launched in the fiscal year December 2014, and it will conduct concentrated development for native games during the first half. Therefore, sales are expected to rise year-over-year, but development costs, promotional costs, and development for game titles expected to be released during the second half are expected to contribute to a decline in operating profits during the first half. At the same time, sales are expected to accelerate on the back of the contribution from new titles, and operating profit is expected to expand by 2.2 times during the second half of the fiscal year. Moreover, promotional expenses during the first three months after the launch of titles is expected to reach ¥80 million, and additional promotions thereafter may be conducted depending upon the results of key performance indicators for charges and continuation rates.

A commemorative dividend of ¥4 is expected to be paid to commemorate the move to the First Section in addition to the normal ¥18 dividend, expected to bring the total dividend to ¥22. enish endeavors to fortify retained earnings and maximize corporate value while sustaining earnings growth and prioritizing the return of profits to shareholders. Therefore, the Company maintains a dividend payout ratio target of 20% while endeavoring to fortify retained earnings and to continue to pay dividends based upon business performance. Overall payout ratio represents the total value of dividend payments and treasury stock acquisition divided by net profit, and reflects the return to shareholders paid from net profits.

 
 

(2) Change of President

Kouhei Antoku, currently a director and manager of the product division, is expected to receive approval of shareholders in the 5th general shareholders meeting to be held on March 26, 2014 and officially appointed as the new President of enish in the board or directors' meeting to be held thereafter. On the back of fortification of the development structure and strengthening of the financial foundation during fiscal year December 2013, the new President Antoku is expected to leverage his expertise in service technologies to expand the native applications business.

Kouhei Antoku and the director of and assistant manager of the product division Yoshiyuki Kumon are the actual founders of enish. Cultivation of enish's social applications business has been based upon the concept of "creating services that are exciting for both their creators and users that have yet to exist in the world."

 

(3) Strategy for Fiscal Year December 2014

enish's strategy for fiscal year December 2014 entails 1) introduction of native titles, 2) promotion of global business deployment with a focus upon Japan, China and Korea, 3) and the securing of stable earnings from browser games. In addition, enish is expected to pursue O2O (Online to Offline) alliances for educational applications and native games in order to cultivate business in bordering realms.

 

Introduction of Native Titles

enish boasts of strengths in games providing stable earnings by targeting women, and games which can become mega-hits targeting male mid core users, with seven titles being developed in Tokyo, Seoul and Shanghai including two titles expected in fiscal year December 2015.

 

 

② Promote Global Business Deployment Focusing Upon China, Korea and Japan

A company was established in Korea in November 2013. In addition to in-house development, enish expects to leverage the help of external partners to fortify its product pipeline. At the same time, the Company will be responsible for the operation of major titles in China, Korea and Japan.

 

③Secure Stable Earnings from Browser Games

Browser games boast of having a wide range of both male and female users, and there are a number of these games which have become long selling applications. Therefore, enish is expected to focus its efforts upon developing browser games to become providers of stable earnings. The Company will also promote alliances with external partners to extract cost performance synergies from existing platforms with which it already conducts business.

 

 

A strength of enish is its portfolio of browser application games with long shelf lives that do not rely upon specific platforms. Therefore, enish's strategy of "cultivating native games to become growth drivers based upon the stable earnings of browser games" appears to be the correct strategy. During fiscal year December 2013, the Company fortified its developmental foundation for native games in terms of both human resources and financial foundation. Consequently, enish will endeavor to develop and cultivate native games while maintaining the earnings of browser games during fiscal year December 2014. Amongst the key factors in the Company's strategy in fiscal year December 2014 is how much success it can achieve in cultivating native games that meet a minimum criteria level and become major hit games, and the ability of the new President Antoku to successfully implement this strategy.

 

Disclaimer

This report is intended solely for information purposes, and is not intended as a solicitation to invest in the shares of this company. The information and opinions contained within this report are based on data made publicly available by the Company, and comes from sources that we judge to be reliable. However we cannot guarantee the accuracy or completeness of the data. This report is not a guarantee of the accuracy, completeness or validity of said information and or opinions, nor do we bear any responsibility for the same. All rights pertaining to this report belong to Investment Bridge Co., Ltd., which may change the contents thereof at any time without prior notice. All investment decisions are the responsibility of the individual and should be made only after proper consideration.

Copyright(C) 2014 Investment Bridge Co., Ltd. All Rights Reserved.