Kouhei Antoku,
President
| | |
| --- | --- |
| Company | enish, inc. |
| Code No. | 3667 |
| Exchange | First Section, TSE |
| Industry | Information, Communications |
| President | Kohei Antoku |
| HQ Address | Roppongi Hills Mori Tower 39F, 6-10-1 Roppongi, Minato-ku, Tokyo |
| Year-end | December |
| URL | |
Share Price
Shares Outstanding
Market Cap.
ROE (Act.)
Trading Unit
¥500
7,800,800 shares
¥3.900 billion
-
100 shares
DPS (Est.)
Dividend Yield (Est.)
EPS (Est.)
PER (Est.)
BPS (Act.)
PBR (Est.)
¥0.00
0.0%
-
-
¥229.10
2.2x
*Stock price as of close on July 29, 2016. Shares outstanding as of end of most recent quarter and exclude treasury shares.
| | | | | | | |
| --- | --- | --- | --- | --- | --- | --- |
| Fiscal Year | Sales | Operating Profit | Current Profit | Net Profit | EPS | DPS |
| December 2011 | 2,590 | 526 | 523 | 298 | 147.81 | 0.00 |
| December 2012 | 4,430 | 666 | 654 | 373 | 87.28 | 28.00 |
| December 2013 | 6,624 | 1,109 | 1,078 | 653 | 121.89 | 22.00 |
| December 2014 | 6,452 | 149 | 151 | 22 | 3.19 | 0.00 |
| December 2015 | 5,482 | -964 | -1,004 | -1,447 | - | 0.00 |
* As of FY12/16, the definition of net profit will be changed to net profits attributable to parent shareholders (Abbreviated as parent net profit)
* 20 for 1 and 2 for 1 stock splits were performed in September 2012 and October 2013 respectively (EPS has been retroactively adjusted to reflect these stock splits).

 

We present this Bridge Report reviewing the first half of fiscal year December 2016 earnings results and other information about enish, inc.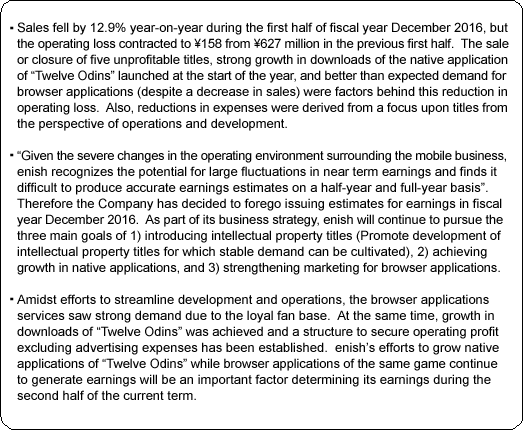 enish is a social game planning, development and operations company that boasts of the highly popular restaurant management simulation game "Bokuno Restaurant II," apparel shop management simulation game "Galsho☆," and card battle game "Dragon Tactics." Under the motto "Link with Fun," the Company's mission is to cultivate enish fans all around the world. The company name "enish" is derived from the Japanese word "en

," meaning a link or bond that connects people. Effective March 2014, Kohei Antoku, the de facto founder of the company, was appointed to serve as the new President. The Company aims to maintain profitability of browser applications, while creating new hit native applications and expanding its business by deploying its contents distribution both domestically and internationally with a focus on Asia.

Native applications are applications that can be enjoyed by users by downloading them to their smartphones and other devices. Browser applications, on the other hand, are not downloaded but can be accessed and enjoyed over various platforms such as GREE, mixi, and Mobage. Both forms of applications are provided for free, but various items used in the games to make them more enjoyable are offered for purchase. Responsibility for collection of the fees charged to users for items purchased over browser applications is contracted to social networking service (SNS) platform providers, and the Company pays them system usage fees in consideration.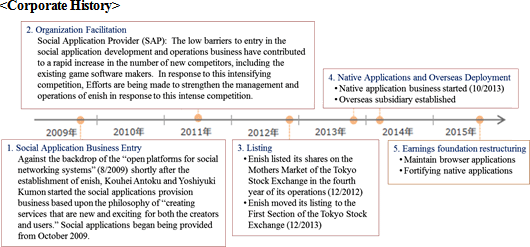 <Business Description>

enish maintains only a single business segment entitled social applications business (Games are considered as one type of application category). Based on the Company's earnings foundation built upon the browser application business, enish also develops native applications. While games are provided free of charge, various items in the games to make them more enjoyable are offered for purchase. Responsibility for collection of the fees charged to users for items purchased in browser applications is contracted to social networking service (SNS) platform providers, and as the Company pays them system usage fees in consideration.

 

Success of social games hinges on operation after their launch

Social games have features that allow for: 1) users to communicate with other users through relevant games; 2) items and tools to be purchased by users of relevant games which are provided free of charge; 3) smartphone users to easily play being in principle free of charge; 4) a play without goals; 5) release of new functions as games are updated after their launch; and 6) the operation style to add characters and items. Unlike packaged games, how the games are operated after their launch is the key for success.

"Operation" refers to event operations within games, and there are three different types of events including acquisition event, where items and characters to be improved are acquired and collected; improvement event, where characters are improved (Implement distribution of specialized items for character improvement); and usage event, where improvement items' and characters' capabilities are tested. Furthermore, a type of usage event where users battle and cooperate with each other and user rankings are displayed in real time as the game progresses, draws a great deal of attention from users, contributing to a large growth in sales.

 

<Main Titles>

The three main themes of enish's business strategy include Introduction of intellectual property titles (Promote development of intellectual property titles for which stable demand can be cultivated), growth in native applications, and strengthening of operations for browser applications (Selection, concentration and maintenance of profitability).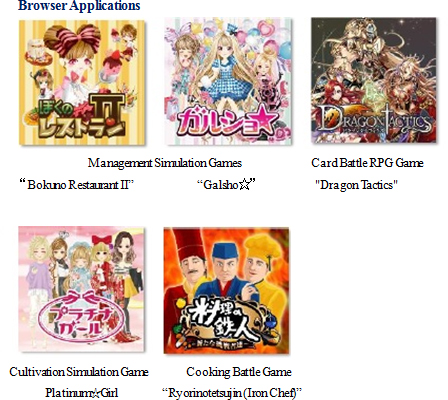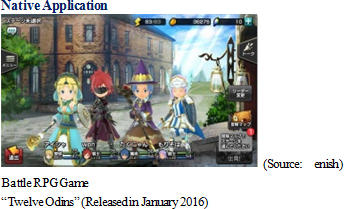 Based upon the plot of a magical dragon that threatens to destroy the world, this game allows players to enjoy real time battles with other players with flashy three-dimensional effects and to leverage their battle skills.

 

 
First Half of Fiscal Year December 2016 Earnings Results

 

Operating Loss Reduced from ¥627 to ¥158 Million

Sales declined by 12.9% year-on-year to ¥2.508 billion. The sale or closure of five unprofitable titles, growth in downloads of the native application of "Twelve Odins" (Android version and an iOS version on January 26 and 28, 2016 respectively) newly released at the start of the year, and smaller than expected decline in sales of "Bokuno Restaurant II", "Galsho☆" and "Dragon Tactics" were factors contributing to this contraction in operating loss.

With regards to profits, focusing upon titles from operational and development perspectives contributed to reductions in labor and outsourcing expenses and a 24.2% year-on-year decline in cost of sales, allowing the loss of ¥2 million recorded during the previous first half to improve to a profit of ¥323 million at the gross profit level during the current term. At the same time, advertising rose on the back of efforts to strengthen promotions for "Twelve Odins", but reductions in main expenses including labor, hiring and commission payments allowed sales, general and administrative expenses to decline by 22.8% year-on-year. Consequently, operating loss contracted from ¥627 million in the previous first half to ¥158 million in the current first half.
Booking of ¥15 million in doubtful account reserve provisions and ¥70 million in impairment loss from the partial cancelation of office rental space contributed to a net loss of ¥238 million.

 

 

Aggressive Advertising for "Twelve Odins"

Despite the decline in sales during the second quarter compared with the same period of the previous term, operating loss contracted by a large margin over the same period. While strengthened promotions led to favorable downloads of "Twelve Odins", they also boosted advertising expenses from a relatively subdued level of ¥11 million in the previous period to ¥171 million in the current second quarter (On a quarter-and-quarter basis, advertising expenses rose by three fold from ¥56 million in the first quarter). However, efforts to reduce costs including labor and outsourcing allowed expenses aside from advertising to decline.

 



 

Total assets rose by ¥48 million from the end of the previous term to ¥2.301 billion at the end of the current first half. Cash and equivalents rose on the back of the sourcing of ¥405 million from the exercise of stock options and subsequent issuance of new shares, negating the effect of the net loss of ¥238 million and allowing net assets to rise. Moreover, enish does not book developmental costs as an asset, but instead books them as an expense during the term in which they occur. Capital adequacy ratio rose from 71.6% at the end of the previous fiscal year to 77.6% at the end of the current term.

 

 

Operating cash flow was basically flat at a net outflow of only ¥6 million due in part to the reduction in losses. The net outflow of investing cash flow expanded due in a large part to the deposit into time deposits (¥100 million). A net inflow of ¥274 million was recorded in financing cash flow due to the issuance of new shares arising from exercises of stock options and despite the repayment of a portion of outstanding short term debt.

 

 
Fiscal Year December 2016 Earnings Estimates
 

<Disclosure of Earnings Estimates Postponed>

"Given the severe changes in the operating environment surrounding the social applications business, enish recognizes the potential for large fluctuations in near term earnings making it difficult to produce accurate earnings estimates on a quarterly basis in the coming year". Therefore the Company has decided to postpone disclosure of earnings estimates. enish describes the main points of its business strategy and investments below.

 

<Future Guidance>

enish will endeavor to steadily grow its business by creating an earnings platform based upon its native applications services. The three points mentioned below are the main themes of its business deployment strategy.
(1) 
Intellectual property
title introduction:
Development of intellectual property titles for which stable demand can be cultivated
(2) 

Grow native applications:

Invest in advertising for "Twelve Odins" to turn it into a hit title
(3) 
Strengthen browser apps
operations:
Leveraging operations and selection, concentration strategy to maintain profitability of existing browser titles
(1) Intellectual property title introduction

enish cooperated in the development of "Kamen Rider Battle Rush" which was released by Bandai Namco Entertainment Inc. on July 25, 2016 (iOS, Android versions). This new release has come to be highly regarded for appearances by all of the Kamen Rider characters that have appeared in the past.

 

(2) Grow native applications:       Invest in advertising for "Twelve Odins" to turn it into a hit title

The Android and iOS versions of "Twelve Odins" were released on January 26 and 28, 2016 respectively. Subsequently, the number of downloads has steadily grown from 300,000 to 500,000 to 600,000 during February, March and April respectively, and exceeded 1.0 million in July. This performance has earned "Twelve Odins" a 41st placed ranking, the highest ranking for any enish application, in top selling applications of App Store. As of July 29, enish is conducting a special campaign commemorating the 1.00 millionth download during the past six months as a means of improving the applications' recognition and earnings generating capability.

 

 

Overview of Campaign Commemorating 1.00 Millionth Download in the Past Six Months

① In the campaign commemorating the 1.00 millionth download in six months, gacha "Akasha Dagger" and "Shaman Set" make special appearances.
② Special value-for-money pack will be offered as a limited time offering
③ During the log-in bonus campaign period, weapon and shield gacha medals, orbs, elixirs and other play items will be available in complimentary play-sets

 

(3) Strengthen browser app operations:       Selection, concentration strategy to maintain existing browser title profitability

The process of selection and concentration, including sell-off or closure of unprofitable titles, has been completed. In the future, enish will focus upon operations and fortification of facilities for titles and collaboration and expansion of platforms for the management simulation

games"Bokuno Restaurant II" (3.70 million downloads) and "Galsho☆" (3.50 million downloads), the card battle role playing game (RPG) "Dragon Tactics" (2.30 million downloads), the model cultivation simulation game "Platinum☆Girl", and the legendary cooking battle game "Ryorinotetsujin (Iron Chef)".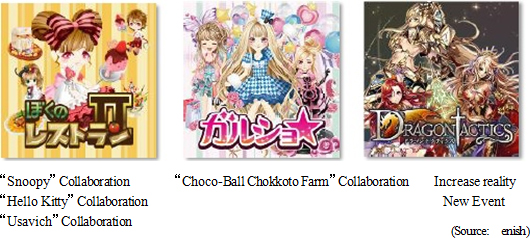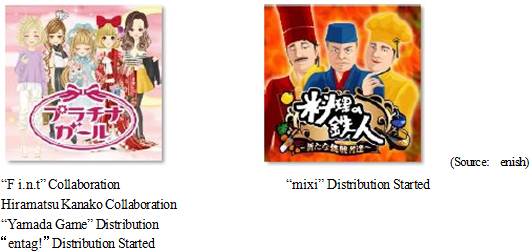 "Focus of Investment and Efforts"

In addition to conducting aggressive investments in promotions focused upon native applications, developmental investments will be made on an ongoing basis to establish a structure to enable enish to release one to two new titles per year. Furthermore, the Company will also continue to implement cost controls.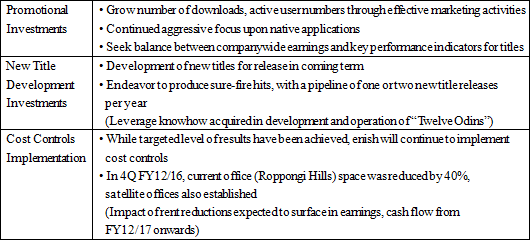 Amidst efforts to streamline development and operations, the browser applications including "Galsho☆" and "Bokuno Restaurant II" saw strong demand due to their loyal fan base. At the same time, growth in downloads of "Twelve Odins" was achieved. Because of the need to implement advertising flexibly in response to conditions and regardless of near term profits (Results of advertisements usually achieved within six months to a year), the potential for a temporary decline in profitability at the operating level may be incurred. However, enish has endeavored to create a structure that is able to achieve consistent profitability at the operating level after advertising expenses are excluded. Furthermore, the ability of enish to cultivate its native applications business and achieve profitability of "Twelve Odins" in the second half while its browser applications business continues to generate profits will be an important point in enish's business strategy. Another important point will be how quickly "Kamen Rider Battle Rush" can achieve results.

 

 
<Reference: Regarding corporate governance>

 

◎ Corporate Governance Report           Updated on March 28, 2016

 

<Reasons for Non-compliance with the Principles of the Corporate Governance Code (Excerpts)>

Supplemental principle 1-2-4  Creating an enabling environment to exercise the shareholders' voting rights
The Company will examine the possibilities of developing the convening notice of a general meeting of shareholders in English and an electric platform for voting rights based on the needs of the institutional investors and overseas investors.


Principle 5-2  Establishment and disclosure of business strategies and business plans
Because of rapid changes in the environment surrounding social applications business, the Company's business results may also drastically change within a short period of time, which makes it difficult for the Company to calculate specific numeric targets. Therefore, although the Company will make efforts to conduct timely disclosure of financial results and business summary, it will not disclose specific numeric targets.

<Disclosure Based on the Principles of the Corporate Governance Code
(Excerpts)>

Principle 1-4  So-called strategically held shares
In order to focus our business on the social game development, the Company will not hold shares of the other listed companies for the time being. If the time comes when the Company may strategically hold such shares in the future, it will determine the pros and cons on a case-by-case basis from the perspective of a medium- to long-term corporate value enhancement.


Principle 1-7  Related parties transactions
Concerning related parties' transactions, the Company will deliberate the transaction conditions and validity of the decision-making method at the board and make a decision.
Furthermore, even after the decision is made at the board, the accounting department will examine the contents of the transaction, etc.


Principle 3-1  Improving information disclosure
(i) The Company's goal (corporate philosophy, etc.), business strategy, and business plan
Under the corporate statement "Link with Fun," the Company established its mission to "Create enish fans all over the world." With this mission, the Company established the following basic business principles: To be a company in which game designers, engineers and art designers produce highly value-added services and to be a company that produces global-level creators and specialists. Under these business principles, the Company will continue providing new pleasures to the global users through social applications.
Furthermore, the competitive environment of the social game industry that the Company belongs to is intensifying.
Under this circumstance, it is necessary for the Company to establish a system to continuously introduce high-quality game titles to the market and respond to the diverse users' needs. The Company also recognizes that strengthening corporate governance associated with expanding the Company's scale in the future is another important agenda.
The Company explains important management agendas and their progress at general meetings of shareholders, in the quarterly financial settlement announcements and at other occasions as appropriate. The Company also discloses the policy to improve the corporate value through information materials at financial results briefings as needed. For details, please refer to the Company's IR page (http://www.enish.jp/ir/).


Principle 5-1  Policy for constructive dialogue with shareholders
The Company makes efforts to promote constructive dialogue between managerial executives and shareholders using various occasions.
Furthermore, for a wide range of IR activities, the Company assigns the Director and Executive Manager of the corporate administration group as the executive officer in charge of IR. This person leads administrative headquarter corporate planning at the IR department. The IR department also makes organic collaboration with relevant departments such as the accounting department and general affairs department.
The Company makes efforts to provide information in a timely manner to analysts, investors, and shareholders. It also ensures management of insider information during dialogues, while making efforts to promptly and appropriately respond to inquiries. The opinions and concerns from shareholders are reported to the senior management and the board.

 

Disclaimer

This report is intended solely for information purposes, and is not intended as a solicitation to invest in the shares of this company. The information and opinions contained within this report are based on data made publicly available by the Company, and comes from sources that we judge to be reliable. However we cannot guarantee the accuracy or completeness of the data. This report is not a guarantee of the accuracy, completeness or validity of said information and or opinions, nor do we bear any responsibility for the same. All rights pertaining to this report belong to Investment Bridge Co., Ltd., which may change the contents thereof at any time without prior notice. All investment decisions are the responsibility of the individual and should be made only after proper consideration.

Copyright(C) 2016 Investment Bridge Co., Ltd. All Rights Reserved.