Kouhei Antoku,
President
| | |
| --- | --- |
| Company | enish, inc. |
| Code No. | 3667 |
| Exchange | First Section, TSE |
| Industry | Information, Communications |
| President | Kohei Antoku |
| HQ Address | Roppongi Hills Mori Tower 39F, 6-10-1 Roppongi, Minato-ku, Tokyo |
| Year-end | December |
| URL | |
Share Price
Shares Outstanding
Market Cap.
ROE (Act.)
Trading Unit
¥2,116
7,800,800 shares
¥16.506 billion
-
100 shares
DPS (Est.)
Dividend Yield (Est.)
EPS (Est.)
PER (Est.)
BPS (Act.)
PBR (Est.)
¥0.00
-
-
-
¥154.52
13.7x
*Stock price as of close on August 1, 2017. The number of shares outstanding is the number of shares outstanding at the end of the most recent quarter less treasury shares. ROE, BPS are as of the end of the previous term.
| | | | | | | |
| --- | --- | --- | --- | --- | --- | --- |
| Fiscal Year | Sales | Operating Profit | Current Profit | Net Profit | EPS | DPS |
| December 2013 | 6,624 | 1,109 | 1,078 | 653 | 121.89 | 22.00 |
| December 2014 | 6,452 | 149 | 151 | 22 | 3.19 | 22.00 |
| December 2015 | 5,482 | -964 | -1,004 | -1,447 | -207.53 | 0.00 |
| December 2016 | 4,970 | -361 | -401 | -340 | -45.13 | 0.00 |
| December 2017(Est) | - | - | - | - | - | - |
* Non-disclosure of performance forecast.

We will report on enish' s first half of fiscal year ending December 2017 settlement of accounts and forecast for full year in this Bridge report.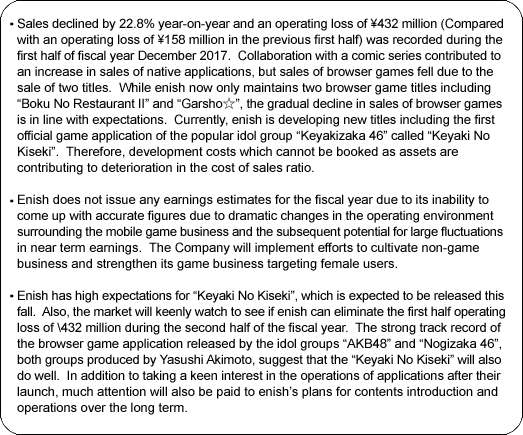 enish is a social application planning, development and operations company that boasts of the highly popular restaurant management simulation game "Bokuno Restaurant II", apparel shop management simulation game "Galsho☆", and others. Under the motto "Link with Fun," the Company's mission is to cultivate enish fans all around the world. The company name "enish" is derived from the Japanese word "en

," meaning a link or bond that connects people.

As part of its basic strategy, enish will focus upon "business development targeting female users", "strengthening of the game business", and "investments in non-game businesses". The Company seeks to create a stable earnings generating structure based upon growth in games targeting female users and expansion of the non-game business. In the non-game business, enish will cultivate new realms related to the fashion rental service "EDIST.CLOSET", marriage support application "metune" and other services related to games.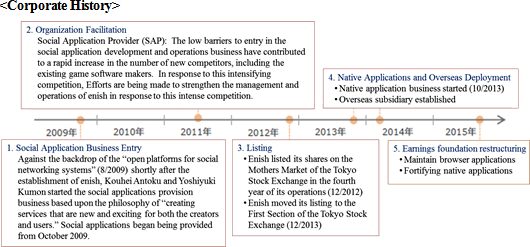 <Game Business Overview>

Enish will continue to implement efforts to maintain the earnings generating capabilities of its browser games, while at the same time creating new hit native applications and expanding the breadth of business to include global distribution of contents into Asia. The strategy of selection and focus will be implemented with a goal of maintaining its current earnings generating capability. Also, enish will maintain its focus upon operations of the two titles of"Boku No Restaurant II" and "Garsho☆" in addition to focusing resources upon the development of native applications.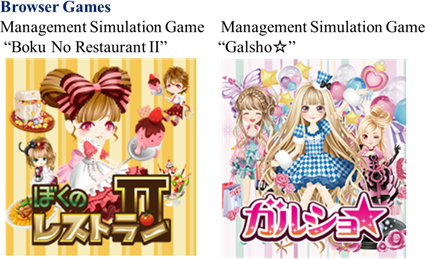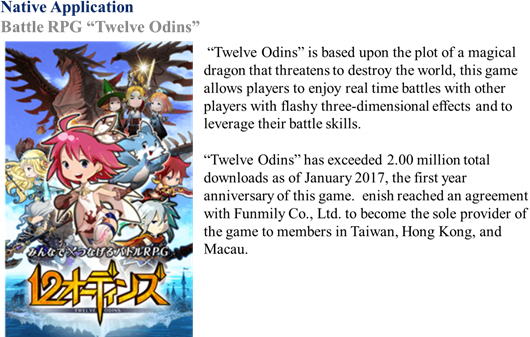 Native applications refers to applications downloaded to handset terminals including primarily smartphones. Browser games refer to games which are not downloaded but played by accessing various platforms such as GREE, mixi, Mobage and others. In both cases, the games can be played for free, but fees are charged for tools that are needed to advance to higher levels of games. Collection of fees from users for browser games is outsourced to the SNS platform operators, and enish pays a system usage fee to these operators.

 

※Post Launch "Operations" an Important Factor for Mobile Games

An even more important factor than the actual "release" of games is the post launch "operations" of mobile games that take into consideration the following factors of 1) promotion of communication between game users, 2) collection of fees for tools used to advance in these complimentary games, 3) ability for smartphone users to casually choose complimentary games, 4) creation of games that do not have an end goal, 5) need to add new life extending functions after the release of games, and 6) operations capable of adding characters and tools to games.

"Operations" includes events within specific games that promote opportunities to 1) acquire tools and characters by users for fees, 2) try out cultivation and growth of game characters and 3) provide users with opportunities to sample tools and characters. Amongst the various types of operational capabilities, the provision of opportunities for users using the same game to cooperate and compete with each other to advance within games is a highly important capability that provides the largest increases in sales.

 

 
First Half of Fiscal Year December 2017 Earnings Result

 

Sales Decline 22.8%, Operating Loss of ¥432 Million Booked

Sales declined by 22.8% year-on-year to ¥1.937 billion. By category, sales of native applications ("12 Odins") and browser games accounted for 40% and 60% of the total respectively. While native application sales rose on the back of a collaboration between "Fairy Tail" and "Seven Deadly Sins", sales of browser games declined due in part to the sale of "Dragon Tactics" and ""Platinum☆Girl" (Sold in December 2016 and April 2017 respectively). Furthermore, the two remaining browser game titles of"Boku No Restaurant II" and"Garsho☆" saw gradual declines in sales as anticipated.

The operating loss booked during the first half expanded to ¥432 million from ¥158 million in the previous first half. The inability to book developmental costs arising from the focusing of resources primarily on the development of "Keyaki No Kiseki" as the first official game application of "Keyakizaka 46" idol group as assets on the balance sheet caused cost of sales ratio to rise. Furthermore, sales, general and administrative expenses also rose due primarily to increases in labor, hiring and advertising (Primarily for "12 Odins" and "Keyaki No Kiseki" during the first quarter).
An extraordinary profit of ¥95 million was derived from the sale of "Platinum☆Girl", but a ¥168 million impairment loss on intangible assets was booked as an extraordinary loss. Development of titles targeting female users was temporarily halted due to the focusing of resources upon the development of the new title "Keyaki No Kiseki". Consequently, changes in the future outlook for the future earnings structure contributed to the occurrence of impairment loss.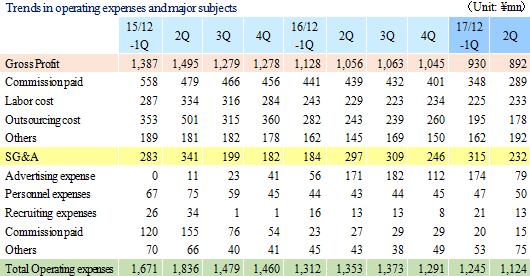 Total assets declined by ¥612 million from the end of the previous fiscal year to ¥1.565 billion at the end of the current first half. Impairment losses on tangible and intangible assets, deterioration in operating cash flow and repayment of debt contributed to a decline in cash and equivalents over the same period. The booking of a net loss led to a decline in net assets. However, capital adequacy ratio remained relatively unchanged at 77.0%, compared with 77.4% at the end of the previous fiscal year.

 

 

Deterioration in profitability and an increase in working capital for the development of the new title "Keyaki No Kiseki" led to an increase in the margin of net outflow of operating cash flow. At the same time, recovery of deposits and security deposits, and sale of "Platinum☆Girl" allowed the net outflow of investing cash flow seen during the previous first half to turn to a net inflow in the current first half. The net inflow seen in financing cash flow in the previous first half turned to a net outflow due to repayment of debt.

 

 
Strategies during the Second Half
 

Enish does not issue any earnings estimates for the current fiscal year due to its inability to come up with accurate estimates caused by dramatic changes in the environment surrounding the mobile game business and the subsequent potential for large fluctuations in near term earnings.
The Company will implement efforts to cultivate non-game business and strengthen its game business targeting female users. With regard to the game business, enish is currently promoting efforts to develop the first official game application of the popular idol group "Keyakizaka 46" entitled "Keyaki No Kiseki" (A puzzle game). At the same time, a large scale update of the existing role playing game (RPG) entitled "12 Odins" is expected to be launched within the year for distribution in China, Hong Kong, Taiwan, Macau and Thailand. In addition, enish is also focusing its efforts on implementing collaborative events for the browser game titles "Boku No Restaurant II" (Released seven years and one month ago) and"Garsho☆" (Released six years and eight months ago) to invigorate sales.
In the non-games realm, efforts are being made to raise customer satisfaction of the "EDIST.CLOSET" clothing rental service by fortifying the lineup of seasonal clothing products and sizes. In addition, enish is currently fine tuning the marriage support application "metune", and expects to conduct collaborative events and other promotions for this application once the tuning has been completed. In the realm of game related peripheral business, the Company is expected to expand the number of titles developed in conjunction with "Yahoo! Game Player" from its current level of five.

 

Game Business

"Keyaki No Kiseki"

"Keyaki No Kiseki" is the first official game application based upon the popular idol group "Keyakizaka 46". This game is being developed as a puzzle game that documents the various miracles that occur on the growth path of the group, and boasts of a soundtrack created by Yasushi Akimoto. The game will use various pictures and the voices of "Keyakizaka 46" members, who are popular amongst both male and female fans.

 

"12 Odins"

Furthermore, large updates using highly popular UI and other practical functions had been planned for launch within the year, but will be delayed due to the focusing of resources upon marketing for "Kayaki No Kiseki" in spring 2017. Furthermore, release in Thailand through Hot Head Co, Ltd. has been determined. Hot Head Co, Ltd. was established in April 2017 as a company that conducts distribution platform operations, smarphone game development and publishing businesses.

 

Non-Game Business

"EDIST.CLOSET"

Enish expects to double the number of model product to 14 by this summer, and fortify the lineup of product sizes. Promotions for fall and winter clothing are expected to be launched during the third quarter, and fitting events will be publicized across Instagram and by bloggers.

 

 

Moreover, enish will conduct special events in March and September in which customers will be given presents of their preferred clothing. Customers who will become premium members by August 20 will be the target of this event, and will receive clothing presents in the following September as part of the event.

 

 
 

Enish has high expectations for "Keyaki No Kiseki", which is expected to be released this fall. Also, the market will keenly watch to see if enish can eliminate the first half operating loss of ¥432 million during the second half of the fiscal year. The application based upon the initial successful idol group "AKB48" called "AKB Stage Fighter" (Currently the second title) has been distributed over the GREE platform and has been able to record monthly sales of ¥1.5 billion due in part to the strong support of GREE. Similarly, the application "Nogi Koi" based upon the idol group "Nogizaka 46" is expected to record sales of between ¥300 and ¥500 million per month according to App Store and Google Play rankings. Based upon this favorable outlook for sales of "Nogi Koi", the Sakamichi Series of applications is expected to record similar strong results. In addition, the long term vision for operations and introduction of contents after the launch is expected to determine the success of each application.
In the non-game business, "EDIST.CLOSET", which is expected to contribute to earnings in about two to three years time, is expected to turn profitable within the current term on the back of efforts to expand the variation and sizes of clothing products (Unavailability is the largest reason for member withdrawal). The "Life Time Value" of "EDIST.CLOSET" can be calculated for the next six months to a year because of its flat rate subscription membership fees. And while this service may lack the explosive growth of games, this service is expected to contribute to more stable earnings over a longer period of time than games.

 

 
<Reference: Regarding corporate governance>

 

◎ Corporate Governance Report

Updated on April 6th, 2017

Basic way of thinking

In order to continuously enhance corporate value, it is extremely important for us to strengthen and function the management monitoring system that enhances the soundness and transparency of the management. Together with prompt decision-making and appropriate business execution we strive to enhance corporate governance in order to maintain the trust of our stakeholders.

<Reasons for Non-compliance with the Principles of the Corporate Governance Code (Excerpts)>

Principle 5-2 Establishment and disclosure of business strategies and business plans
Because of rapid changes in the environment surrounding social applications business, the Company's business results may also drastically change within a short period of time, which makes it difficult for the Company to calculate specific numeric targets. Therefore, although the Company will make efforts to conduct timely disclosure of financial results and business summary, it will not disclose specific numeric targets.

<Disclosure Based on the Principles of the Corporate Governance Code (Excerpts)>

Principle 1-4 So-called strategically held shares
In order to focus our business on the Mobile games and peripheral services development, the Company will not hold shares of the other listed companies for the time being. If the time comes when the Company may strategically hold such shares in the future, it will determine the pros and cons on a case-by-case basis from the perspective of a medium- to long-term corporate value enhancement.


Principle 1-7 Related parties transactions
Concerning related parties' transactions, the Company will deliberate the transaction conditions and validity of the decision-making method at the board and make a decision.
Furthermore, even after the decision is made at the board, the accounting department will examine the contents of the transaction, etc.


Principle 5-1 Policy for constructive dialogue with shareholders
The Company makes efforts to promote constructive dialogue between managerial executives and shareholders using various occasions.
Furthermore, for a wide range of IR activities, the Company assigns the Director and Executive Manager of the corporate administration group as the executive officer in charge of IR. This person leads administrative headquarter corporate planning at the IR department. The IR department also makes organic collaboration with relevant departments such as the accounting department and general affairs department.
The Company makes efforts to provide information in a timely manner to analysts, investors, and shareholders. It also ensures management of insider information during dialogues, while making efforts to promptly and appropriately respond to inquiries. The opinions and concerns from shareholders are reported to the senior management and the board.

 

Disclaimer

This report is intended solely for information purposes, and is not intended as a solicitation to invest in the shares of this company. The information and opinions contained within this report are based on data made publicly available by the Company, and comes from sources that we judge to be reliable. However we cannot guarantee the accuracy or completeness of the data. This report is not a guarantee of the accuracy, completeness or validity of said information and or opinions, nor do we bear any responsibility for the same. All rights pertaining to this report belong to Investment Bridge Co., Ltd., which may change the contents thereof at any time without prior notice. All investment decisions are the responsibility of the individual and should be made only after proper consideration.

Copyright(C) 2017 Investment Bridge Co., Ltd. All Rights Reserved.