Kouhei Antoku,
President
| | |
| --- | --- |
| Company | enish, inc. |
| Code No. | 3667 |
| Exchange | First Section, TSE |
| Industry | Information, Communications |
| President | Kohei Antoku |
| HQ Address | Roppongi Hills Tower 39F, 6-10-1 Roppongi, Minato-ku, Tokyo |
| Year-end | December |
| URL | |
Share Price
Shares Outstanding
Market Cap.
ROE (Act.)
Trading Unit
¥756
9,001,600 shares
¥6,805 million
-
100 shares
DPS (Est.)
Dividend Yield (Est.)
EPS (Est.)
PER (Est.)
BPS (Act.)
PBR (Est.)
-
-
-
-
¥185.44
4.1x
*Stock prices as od close on August 7. The number of shares outstanding is the number of shares outstanding at the end of the most recent quarter less treasury shares. ROE, BPS are as of the end of the previous term.
| | | | | | | |
| --- | --- | --- | --- | --- | --- | --- |
| Fiscal Year | Sales | Operating Profit | Current Profit | Net Profit | EPS | DPS |
| December 2013 | 6,624 | 1,109 | 1,078 | 653 | 121.89 | 22.00 |
| December 2014 | 6,452 | 149 | 1,561 | 22 | 3.19 | 22.00 |
| December 2015 | 5,482 | -964 | -1,004 | -1,447 | -207.53 | 0.00 |
| December 2016 | 4,970 | -361 | -401 | -340 | -45.13 | 0.00 |
| December 2017 | 4,382 | -914 | -911 | -982 | -125.99 | - |
*Non-disclosure of performance forecast.

This Bridge Report presents First Half of Fiscal Year December 2018 Earnings Result and the future strategies of enish, inc.

 
enish is a social application planning, development and operations company that boasts of the highly popular restaurant management simulation game "Bokuno Restaurant II", apparel shop management simulation game "Galsho☆", and others. Under the motto "Link with Fun," the Company's mission is to cultivate enish fans all around the world. The company name "enish" is derived from the Japanese word "en

," meaning a link or bond that connects people. As part of its basic strategy, enish will focus upon "business development targeting female users", "strengthening of the game business", and "investments in non-game businesses". The Company seeks to create a stable earnings generating structure based upon growth in games targeting female users and expansion of the non-game business. In the non-game business, enish will cultivate new realms related to the fashion rental service "EDIST.CLOSET", marriage support application "metune" and other services related to games.
<Corporate History>

【The first official mobile game of the popular Japanese idol group "Keyakizaka 46" was released on October 18】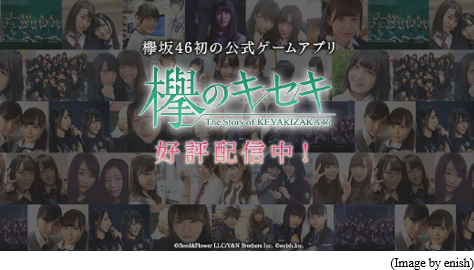 Distribution of "Keyaki No Kiseki" across App Store, Google Play, and Yahoo! Game was started on October 18. This is a puzzle game with a documentary style that involves group growth trajectory enabled by the efforts of its members, that also has functions which allow fans to become more familiar with the group and the members including pictures and streaming video of members. The basic function of the game is free (paid tool items are available in the game). This game allows users to "become a new fledgling manager" and to allow them to cultivate and grow members from the time of their audition. "Keyaki No Kiseki" saw over 2.50 million downloads in the first three months after its launch, and continued favorable trends in downloads are contributing to earnings. App Store awarded this title with a high "4.8" rating, including reviews from 94,000 users. Based upon the strong growth in popularity of this smartphone application title, it was nominated for the "App Ape Award 2017".
【Existing titles】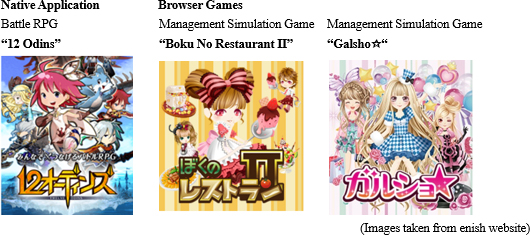 Battle RPG "12 Odins" is based upon the plot of a magical dragon that threatens to destroy the world and allows players enjoy real time battles with other players with flashy three dimensional effects and leverage their battle skills. This is a real time battle game that boasts of multiple functions including a job system and various skills which can be used to form game strategies, and ostentatious three dimensional effects. This game has gained over 2.00 million downloads during the first year since it was released in January 2017. Based upon the sole license agreement formed with Funmily Co., Ltd., this title is also distributed in Taiwan, Hong Kong and Macao.
<Non-Game Business>
enish is cultivating its non-game business through various new projects including fashion rental service "EDIST.CLOSET", providing users outfits matched to the seasons, fortune telling and marriage application "metune", and "Yahoo! Game Player".
First Half of Fiscal Year December 2018 Earnings Result

Profitability improved year on year, but was down from the previous quarter.
Sales in the second quarter (April-June) were 1,401 million yen. Thanks to the contribution from the puzzle game "Keyaki No Kiseki," which was released on Oct. 18, 2017 and was the first official app for the popular Japanese idol group "Keyakizaka 46," sales were up year on year, but due to fluctuations in revenue from "Keyaki no Kiseki" as a result of fluctuations based on promotional events, as well as the sluggish performance of browser games, sales declined 7.5% from the previous quarter. For browser games, the company began distributing "Boku No Restaurant II" and "Galsho☆" through the "Gesoten by GMO" website. Operating loss was 194 million yen. In addition to variable expenses from handling charges, royalty payments for "Keyaki No Kiseki," and EDIST.CLOSET related expenses (procurement and promotion expenses for the trial sales business which began in the second quarter), there were also development costs for new titles (labor and outsourcing expenses), resulting in significantly high operating expenses compared to the same period of the previous term. Due to a rise in sales, operating loss decreased year on year, but compared to the previous quarter, sales declined and operating loss increased. The company is currently developing two titles of native applications; one original title and one IP title from an outside company. Development costs for these titles have been recorded as expenses.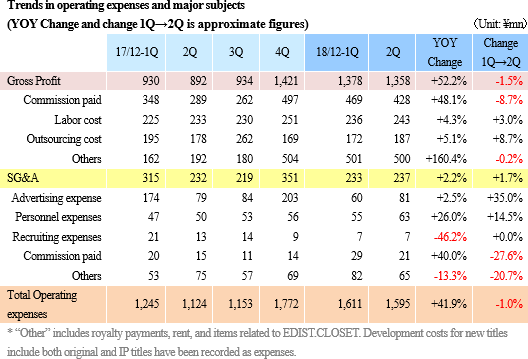 Improvement strategies
On the sales front, the company plans to collaborate with other companies regarding "Keyaki No Kiseki," and as the first step, they began working with Lawson Co., Ltd. on August 1st. As for browser games, they will add new functions to "Boku No Restaurant II," planning to release the updated version in August. In terms of profit, development of new titles is proceeding without the need for additional personnel, and efforts are being made to optimize procurement and promotion for EDIST.CLOSET based on the results of the trial sales business.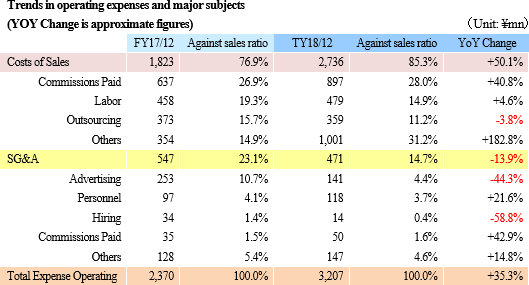 Total assets at the end of the first half were 2,286 million yen, up 604 million yen from the end of the previous term. Equity ratio was 73.0% (41.7% at the end of the previous term). With the aim of strengthening and improving their financial base, enish issued 12,000 share options to Daiwa Securities Co., Ltd. by third party allotment on January 10, 2018, with a provision allowing for exercise price revisions. All exercise was completed on February 15, 2018 (1,200,000 shares issued). As a result, cash and equivalents and net assets both increased due to raising 1,254 million yen in capital.

As part of its basic strategy, enish will focus upon 1) strengthening IP titles, 2) fortifying original titles, and 3) continuing investments in its non-game businesses.
Game business
(1) Strengthening IP titles
The number of downloads for "Keyaki No Kiseki" has been steadily growing, and it is also highly evaluated in user reviews (4.8 in the App Store, 4.6 in Google Play), but there are fluctuations based on promotional events. As such, in addition to collaborating with Lawson Co., Ltd. to attract customers and vitalize the game, enish will improve real incentives in order to raise the billing rate and ARPPU. They will also provide original music and prepare a strategy for the one year anniversary of the game's release.

Collaborative project with Lawson Co., Ltd: "Meet the members of Keyakizaka 46 at Lawson!" (Aug. 1 - Aug. 31, 2018)
When the "Lawson Command" button within Keyaki no Kiseki is pressed while inside a Lawson store, a dedicated page appears. From there, pressing the "Meet" button introduces the members of Keyakizaka 46, and a "key" and "application ticket" will be presented once this step is completed. The "key" can be used to unlock a stage unique to the collaboration, and by clearing the stage, one can receive home photos of the Keyakizaka 46 members wearing Lawson uniforms. Additionally, by collecting "application tickets" and submitting them, one can qualify to participate in an event to actually meet with the Keyakizaka 46 members (37 people will be selected by lottery. For details, refer to the special website). The lottery also potentially grants a Lawson free product coupon for items such as "Large Chicken (salted or spicy)" and "Small Coffee from Machi Cafe." The company plans to utilize collaborations to attract users and vitalize the game.
(2) Improving original titles
"12 Odins," is growing in Asia, and enish began distributing a Simplified Chinese version of the game in mainland China on July 10th. Distribution takes place through the Shanghai Oriental Pearl D2C Culture and Media Co., Ltd. (Shanghai, China. President: Tetsuya Yamaguchi. Abbreviation: OPD2C). This marks the second deployment in Asia, as the company concluded an exclusive contract with Funmily Technology Corporation Limited (Hong Kong, Representative Director: Danny Li) on April 3, 2018 and began distributing a Traditional Chinese version on the Taiwanese App Store and Google Play. Meanwhile, for browser games, the company will focus on "maintaining sales" for "Boku No Restaurant II" through collaborations and by adding new functions. They will strive to "secure profit" for "Galsho☆" by promoting sales through continuous collaboration and improving the efficiency of its management system.

Production Pipeline
Regarding IP titles from other companies, there is currently one under development, and one being discussed with IP rights holders. As for original titles, the company is utilizing their know-how to develop the first classic-storytelling RPG title. They are approaching development from the perspective of global expansion. Titles currently under development are expected to be released in fiscal year December 2019.
Non-game business
In preparation for the fall and winter seasons, when a large number of new "EDIST.CLOSET" members can be expected, on July 24 the company released an "EDIST.CLOSET" application. They will continue to work on promising collaborations, and while staying centered on rental services, the company will also expand to peripheral fields such as "EDIST.SELECT" (sales). enish also began trying something new as part of the non-game business. The "WE LOVE NAMIE" project application, which was released on August 1, was developed to support Namie Amuro's new journey towards retirement on September 16, 2018. It will be provided by Seven Eleven and the company will take part in the application's development and will also manage it after release. The company also plans to do this for other artists in the future. In addition, "Yahoo! Game Player" will host Dragon Quest Rivals "Yusha-Hai Summer 2018," and will also make efforts to acquire game titles and improve functionality.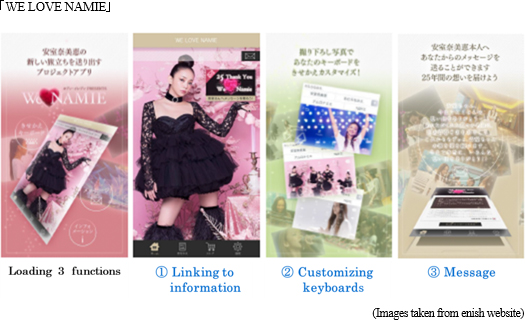 Although sales increased considerably due to the contribution of "Keyaki No Kiseki," large IP titles have high break-even points. However, in order to increase the volume of sales in the second half, the company will collaborate on "Keyaki No Kiseki" with Lawson Co., Ltd., distribute "12 Odins" to mainland China, and add additional functions (game updates) to "Boku No Restaurant II" (updates currently being delayed due to manpower shortage arising from development of "Keyaki No Kiseki," etc.), so some positive results can be expected. Eight years and one month have passed since "Boku No Restaurant II" was released, and sales are on a downward trend, but apparently the number of charging user has not decreased. Earnings from "EDIST.CLOSET" can also be expected. Determining the prospects for securing profit early will be an important topic for the results for the third quarter (July-September).
<Reference: Regarding corporate governance>

Basic policies
In order to continuously enhance corporate value, it is extremely important for us to strengthen and function the management monitoring system that enhances the soundness and transparency of the management. Together with prompt decision-making and appropriate business execution we strive to enhance corporate governance in order to maintain the trust of our stakeholders. <Reasons for Non-compliance with the Principles of the Corporate Governance Code (Excerpts)>
Principle 5-2 Establishment and disclosure of business strategies and business plans
Because of rapid changes in the environment surrounding social applications business, the Company's business results may also drastically change within a short period of time, which makes it difficult for the Company to calculate specific numeric targets. Therefore, although the Company will make efforts to conduct timely disclosure of financial results and business summary, it will not disclose specific numeric targets. <Disclosure Based on the Principles of the Corporate Governance Code (Excerpts)>
Principle 3-1: Improving information disclosure
(i) The Company's goals (management philosophy, etc.), management strategy, and management plan Under the motto "Link with Fun," the Company's mission is to "cultivate enish fans all around the world." We would like our game designers, art designers, and engineers to continue creating services with high added value, and we desire to remain a company that gives birth to creators and specialists capable of participating in the global market. Based on this basic management policy, we strive to provide enjoyment to users all over the world through mobile games. In the mobile game industry to which the Company belongs, the competitive environment is intensifying. Under these circumstances, we believe that it is necessary to continuously introduce high-quality games into the market and to establish a firm earnings base by cultivating new businesses in addition to the game business. For that reason, we will explain important management issues and their status at the general meeting of shareholders, in the quarterly financial results briefing, and at other appropriate times. We also occasionally disclose information regarding our efforts and policies towards expanding corporate value in documents from financial results briefings. For details, please visit the IR page on our website (
http://www.enish.jp/ir/
).
Principle 5-1 Policy for constructive dialogue with shareholders
The Company makes efforts to promote constructive dialogue between managerial executives and shareholders using various occasions. Furthermore, for a wide range of IR activities, the Company assigns the Director and Executive Manager of the corporate administration group as the executive officer in charge of IR. This person leads administrative headquarter corporate planning at the IR department. The IR department also makes organic collaboration with relevant departments such as the accounting department and general affairs department. The Company makes efforts to provide information in a timely manner to analysts, investors, and shareholders. It also ensures management of insider information during dialogues, while making efforts to promptly and appropriately respond to inquiries. The opinions and concerns from shareholders are reported to the senior management and the board.
Disclaimer
This report is intended solely for information purposes, and is not intended as a solicitation to invest in the shares of this company. The information and opinions contained within this report are based on data made publicly available by the Company, and comes from sources that we judge to be reliable. However we cannot guarantee the accuracy or completeness of the data. This report is not a guarantee of the accuracy, completeness or validity of said information and or opinions, nor do we bear any responsibility for the same. All rights pertaining to this report belong to Investment Bridge Co., Ltd., which may change the contents thereof at any time without prior notice. All investment decisions are the responsibility of the individual and should be made only after proper consideration.
Copyright(C) 2018, Investment Bridge Co.,Ltd, All Rights Reserved.