Koji Egusa, President
& CEO
| | |
| --- | --- |
| Company | TOW Co., Ltd. (4767) |
| Code No. | 4767 |
| Exchange | TSE First Section |
| Industry | Service |
| President | Koji Egusa |
| HQ | Tokyo, Minato-ku, Toranomon 4-3-13, Kamiyacho Central Place |
| Year-end | June |
| URL | |
Share Price
Shares Outstanding
Market Cap.
ROE (actual)
Trading Unit
¥541
11,396,260 shares
¥6.165 billion
8.2%
100 shares
DPS (Est.)
Dividend Yield (Est.)
EPS (Est.)
PER (Est.)
BPS (actual)
PBR (actual)
¥25.00
4.6%
¥23.71
22.8x
¥463.29
1.2x
* Share price as of the close on August 15, 2013. Shares outstanding as of the most recent quarter end exclude treasury shares.
| | | | | | | |
| --- | --- | --- | --- | --- | --- | --- |
| Fiscal Year | Sales | Operating Profit | Current Profit | Net Profit | EPS | Dividend(¥) |
| June 2010 | 12,551 | 636 | 635 | 314 | 27.33 | 32.00 |
| June 2011 | 10,538 | 337 | 336 | 128 | 11.24 | 21.00 |
| June 2012 | 13,935 | 973 | 987 | 508 | 44.61 | 32.00 |
| June 2013 | 12,346 | 850 | 864 | 428 | 37.64 | 28.00 |
| June 2014 Est. | 10,869 | 492 | 496 | 270 | 23.71 | 25.00 |
* Estimates are those of the Company

 

We present this Bridge Report reviewing the fiscal year June 2013 earnings results for TOW.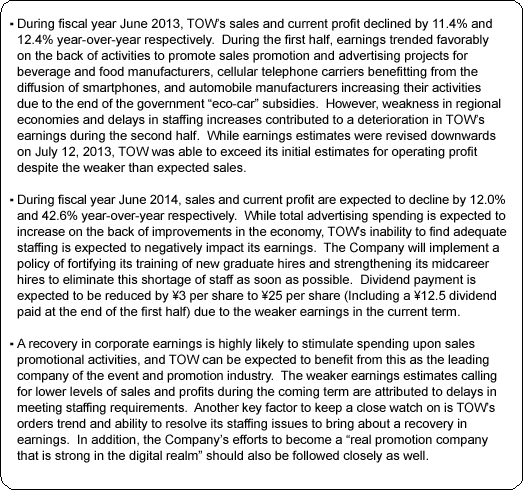 TOW Co., Ltd. is the leading company in the event and sales promotion industry. The industry is highly fragmented with approximately 8,000 companies in operation, but TOW boasts of a dominant position over the bulk of its competitors, which are small businesses. In addition to events, TOW provides a comprehensive "one-stop shopping" for various sales promotion services including provision of novelty goods, printing tools, websites, and election campaign support activities. These services enable the Company to provide comprehensive promotion services to various parties with the exception of mass media.

Orders for the majority of events performed within Japan are usually given to large advertising agencies. Therefore, the actual companies planning, creating and operating the events like TOW commonly receive orders from the major advertising agencies and not directly from the client paying for the event themselves. And while the bulk of competing event and sales promotion companies which tend to be smaller in scale only deal with a limited number of advertising agencies, the Company boasts of transactions with over 10 major advertising agencies because it has built a strong reputation for being the most credible specialist event and sales promotion company within the Japanese industry. In addition, TOW boasts of the ability to handle events held in large facilities such as the Tokyo Dome, Makuhari Messe, Tokyo International Forum, Tokyo Big Sight and others without the need to collaborate with competing companies.

When considering promotions as part of corporate communications, the ability to access the capability for total and comprehensive planning of specialized promotion companies with bountiful knowhow and experience is one of the most important factors in increasing the effectiveness of promotions. In addition to real time communication that leverages a strong track record in event creation, TOW has established a division specializing in sales promotion contents including premium goods and services, tools and websites to provide promotion responses that match the needs of customers and integrate the functions of producers, planners and directors.

TOW is a new type of "promotion partner" providing one-stop solutions as a comprehensive promotion company.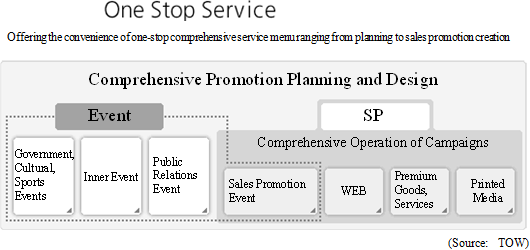 Fiscal Year June 2013 Earnings Results

 

Sales, Current Profits Fall 11.4%, 12.4%

Sales declined by 11.4% year-over-year to ¥12.346 billion during fiscal year June 2013. While total advertising spending rose for the first time in five years during 2012, advertising trended weakly after January 2013 and some advertising agencies recorded weaker sales. Against this backdrop, TOW earnings trended favorably on the back of activities to promote sales promotion and advertising projects for beverage and food manufacturers, cellular telephone carriers benefitting from the diffusion of smartphones, and automobile manufacturers increasing their activities due to the end of the government "eco-car" subsidies. However, weakness in regional economies and delays in increasing staff contributed to a deterioration in TOW's earnings during the second half.

Consequently, operating profit declined by 12.6% year-over-year to ¥850 million, and gross profit margin trended sideways at 12.9%. And while sales, general and administrative (SG&A) expenses were reduced by ¥75 million through cuts in executive compensation and entertainment expenses, the decline in operating profits exceeded that of sales. Despite the revision to earnings estimates announced on July 12, 2013, sales fell below estimates but operating profit exceeded initial estimates. Dividend payment is expected to be implemented as planned with a full year dividend of ¥28 per share (Including a ¥14 dividend paid at the end of the first half).

 

(2) Full Year Earnings Trends

The number of project orders booked declined by 51 from the previous term to 1,360 in the current term. A lack of large projects like the Tokyo Motor Show, electric power conservation campaigns and others conducted during the previous term contributed to a decline in orders for large project of over ¥100 million by seven from the previous term to eight. The number of smaller projects of less than ¥10 million also declined from 1,078 in the previous term to 1,039 in the current term.

By category of project order, proposal type inquiries rose from 266 projects for ¥1.962 billion to 269 for ¥2.137 billion. However, competitive bidding type and appointment type inquiries declined from 168 to 138 and 977 to 953 respectively. And while the decline in competitive bidding type inquiries was significant, appointment type inquiries remained at relatively high levels despite its decline. In addition, the number of proposals made by TOW declined to 2,529 in the current term from 2,744 in the previous term and the number of orders booked fell to 617 from 678 over the same period. Consequently the success rate of order bookings for projects remained at a relatively high level of 32.3%, compared with 32.8% in the previous term.

An important issue for TOW is its ability to fortify a step further its aggressive sales proposal activities for competitive bidding on large projects and to successfully convert them into sales.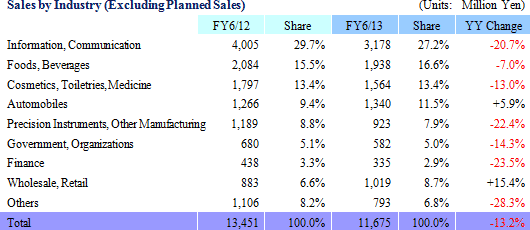 Demand for "public relations" from automobile related projects increased. Demand for "printed advertising" from directories, commercial facilities, cellular telephone related applications declined.

 

 

Total assets declined by ¥633 million from the end of the previous fiscal year to ¥8.756 billion at the end of the current fiscal year. Declines in both accounts and payments receivables were attributed to factoring of large projects conducted during the previous term. At the same time, accounts payables and unpaid taxes also declined from the end of the previous term. Consequently, equity ratio rose by 5% points from the previous term to 60.3%.

 

 

Declines in payments receivable contributed to an improvement in operating cash flow, and allowed free cash flow to improve from a net outflow in the previous term of ¥297 million to a net inflow of ¥1.462 billion in the current term. An increase in dividend payments contributed to an expansion in the net outflow of financing activities, but cash and equivalents was able to increase by ¥1.086 billion from the end of the previous term to ¥2.478 billion at the end of the current term.

 

 
Fiscal Year June 2014 Earnings Estimates

 

Sales, Current Profits Expected to Fall 12.0%, 42.6% in Fiscal Year June 2014

Sales and operating profit are expected to decline by 12.0% and 42.1% year-over-year to ¥10.869 billion and ¥492 million respectively. While total advertising spending within Japan is expected to increase on the back of an improvement in economic sentiment, delays in finding adequate staffing have been factored into TOW's earnings estimates and are a main reason for its expectations of lower earnings. TOW seeks to resolve this staffing issue at an early stage by transferring staff from various divisions, and increasing midcareer and new graduate hires. Dividend payment is expected to decline by ¥3 to ¥25 per share (Including a ¥12.5 per share interim dividend).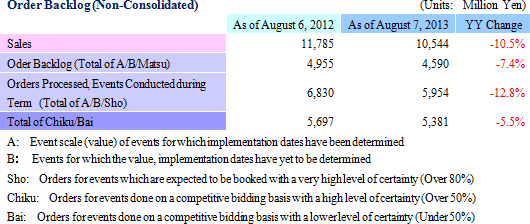 (2) Future Policies, Strategies

TOW's management objective is to fortify its standing as a real promotion company with the reputation as the "only one" comprehensive company with strengths in the digital realm within the industry. In addition to fortifying its strong position in the real event realm, TOW will also bolster its offerings in the realm of digital.

 

①Fortify Digital Capabilities

Training to increase the digital literacy of employees will be implemented. A buddy system linking staff in the DP office with production sales staff will be implemented. From July, monthly meetings for the promotion of digital promotions that cut across the entire company will be held.

 

②Fortify Production Capabilities

Promotion of on the job training (OJT) to ensure the "transfer of skill" and fortification of internal training will be implemented to raise event production capability. Training for new graduate hires and promotion of assistant directors to directors at an early stage as part of a strategy of increasing the number of productive staff will also be implemented.

 

③Fortify Customer Development Capabilities

Cultivate staff with a better understanding of the customer mindset. Ensure that all staff understand the customer base and feel a sense of joy in achieving customer satisfaction to ensure that the needs of customers are satisfied. These efforts are expected to contribute to continued orders.

 

④Fortify Group Capabilities

Fortification of specialized implementation capabilities through collaboration with TOW to expand the external sales of the Group company T2C Ltd. Furthermore, the Group company Soil, Inc. will fortify its digital contents development to cultivate opportunities in the realm of digital sales promotions.

 

⑤Fortify Safety Function

Fortify the credibility of TOW as the "production company that all needs can be entrusted with" through strict compliance, safety and information management.

 

 
 

According to a Dentsu report entitled "Japan's Advertising Spending," total advertising spending within Japan increased for the first time in five years during 2012. Moreover since the start of 2013, the outlook for an improvement in corporate earnings has risen on the back of the weaker yen and stronger share prices sparked by economic policies of the new Prime Minister Abe. Consequently, corporate appetite for sales promotion activities is expected to also grow on the back of the improved earnings environment. As the leading company within the event and sales promotion industry that boasts of transactions with over 10 of Japan's top advertising companies, TOW is expected to benefit from an expansion in demand as a highly credible specialist in events and sales promotions. While the Company calls for a decline in its sales and profits during the coming term due to delays in staffing, it is implementing measures to resolve this bottleneck as quickly as possible including fortification of its hiring of midcareer and new graduate hires and improvements in its marketing efficiency through transfer of staff. Success in these measures is expected to lead to a recovery in earnings and should be monitored closely. In addition, TOW's measures to establish itself as the "only one company" with the reputation of a "real promotion company with strengths in the digital realm" should also be watched closely.

 

Disclaimer

This report is intended solely for information purposes, and is not intended as a solicitation to invest in the shares of this company. The information and opinions contained within this report are based on data made publicly available by the Company, and comes from sources that we judge to be reliable. However we cannot guarantee the accuracy or completeness of the data. This report is not a guarantee of the accuracy, completeness or validity of said information and or opinions, nor do we bear any responsibility for the same. All rights pertaining to this report belong to Investment Bridge Co., Ltd., which may change the contents thereof at any time without prior notice. All investment decisions are the responsibility of the individual and should be made only after proper consideration.

Copyright(C) 2013, All Rights Reserved by Investment Bridge Co., Ltd.