Koji Egusa, President
& CEO
| | |
| --- | --- |
| Company | TOW Co., Ltd. |
| Code No. | 4767 |
| Exchange | TSE First Section |
| Industry | Service |
| President | Koji Egusa |
| HQ Location | Tokyo, Minato-ku, Toranomon 4-3-13, Hulic Kamiyacho Building |
| Year-end | June |
| URL | |
Share Price
Shares Outstanding
Market Cap.
ROE (actual)
Trading Unit
¥694
10,996,260 shares
¥7.631 billion
8.2%
100 shares
DPS (Est.)
Dividend Yield (Est.)
EPS (Est.)
PER (Est.)
BPS (actual)
PBR (actual)
¥26.50
3.8%
¥41.42
16.8x
¥501.68
1.4x
* Share price as of the close on February 27, 2014. Shares outstanding as of the most recent quarter end exclude treasury shares.
| | | | | | | |
| --- | --- | --- | --- | --- | --- | --- |
| Fiscal Year | Sales | Operating Profit | Current Profit | Net Profit | EPS | Dividend(¥) |
| June 2010 | 12,551 | 636 | 635 | 314 | 27.33 | 32.00 |
| June 2011 | 10,538 | 337 | 336 | 128 | 11.24 | 21.00 |
| June 2012 | 13,935 | 973 | 987 | 508 | 44.61 | 32.00 |
| June 2013 | 12,346 | 850 | 864 | 428 | 37.64 | 28.00 |
| June 2014 Est. | 11,948 | 801 | 808 | 457 | 41.42 | 26.50 |
* Estimates are those of the Company

 

We present this Bridge Report reviewing the first half of fiscal year June 2014 earnings results for TOW.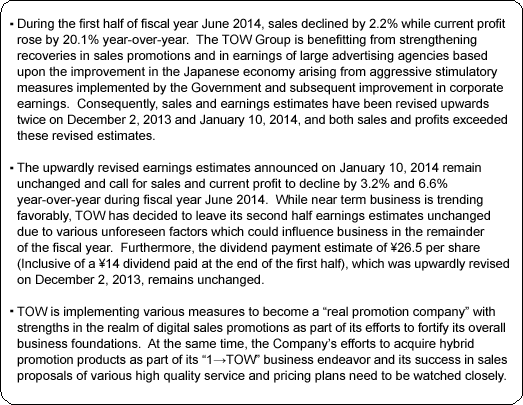 TOW Co., Ltd. is the leading company in the event and sales promotion industry. The industry is highly fragmented with approximately 8,000 companies in operation, but TOW boasts of a dominant position over the bulk of its competitors, most of which are small businesses. In addition to events, TOW provides a comprehensive "one-stop shopping" for various sales promotion services including provision of novelty goods, printed tools, websites, and campaign support activities. These services enable the Company to provide comprehensive promotion services to various parties with the exception of mass media.

Orders for the majority of events performed within Japan are usually given to large advertising agencies. Therefore, the actual companies planning, creating and operating the events like TOW commonly receive orders from the major advertising agencies and not directly from the clients paying for the event themselves. And while the bulk of competing event and sales promotion companies tend to be smaller in scale only deal with a limited number of advertising agencies, TOW boasts of transactions with over 10 major advertising agencies because it has built a strong reputation for being the most credible specialist event and sales promotion company within the Japanese industry. In addition, TOW boasts of the ability to handle events held in large facilities such as the Tokyo Dome, Makuhari Messe, Tokyo International Forum, Tokyo Big Sight and others without the need to collaborate with competing companies.

When considering promotions as part of corporate communications, the ability to access the capability for total and comprehensive planning of specialized promotion companies with bountiful knowhow and experience is one of the most important factors in increasing the effectiveness of promotions. In addition to real time communication that leverages a strong track record in event creation, TOW has established a division specializing in sales promotion contents including premium goods and services, tools and websites to provide promotion responses that match the needs of customers and the ability to integrate the functions of producers, planners and directors.

TOW is a new type of "promotion partner" providing one-stop solutions as a comprehensive promotion company.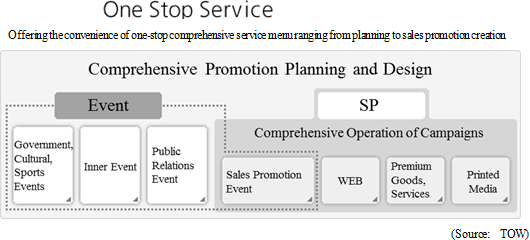 The issues and requirements of customer companies vary widely depending upon the nature of the advertising customer company. Furthermore, the target customers also vary depending upon the nature of the product brand. Therefore, being able to provide and coordinate an optimal media menu matching the target consumers, product brand, and advertising company at the time is critical in the age of multimedia. TOW maintains a structure that provides responses to various promotional needs and boasts of the capability as a "comprehensive promotion creation company" with the ability to provide complete responses excluding mass media functions with advertising agencies as partners.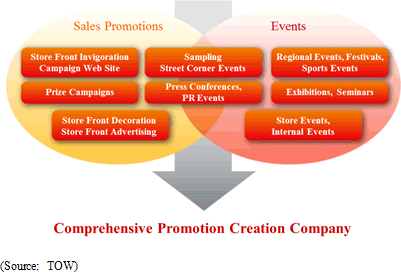 Moreover, sales promotion companies must be able to propose plans that bundle various promotional events using a wide range of media in the age of multimedia. TOW boasts of a specialized planning section with separate functions for "planning" and "operations and creation," which other competitor promotion creation companies do not have. The 20 specialist event planners working within TOW take a lead role in planning operations, and are responsible in securing high quality levels in the some 3,000 events conducted by the Company in the course of a year. Consequently, TOW is able to implement the chosen plan and concept in cooperation with advertising agencies to create proposals and overall plans for various promotions.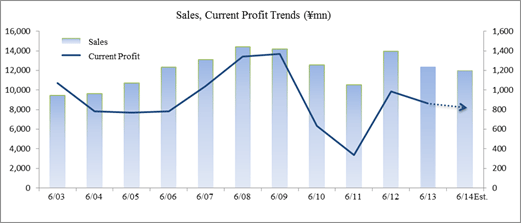 First Half of Fiscal Year June 2014 Earnings Results

 

Sales Fall 2.2%, Current Profit Rise 20.1%

Sales fell by 2.2% year-over-year to ¥6.599 billion while current profit rose by 20.1% year-over-year to ¥613 million. The aggressive fiscal and monetary policies of the Government have contributed to a recovery in the Japanese economy and corporate earnings. Consequently, the recovery in earnings of major companies belonging to the advertising industry, to which TOW belongs, has become even stronger. Also, the business recovery in realm of promotions has also strengthened. With regards to sales, orders for large events (Annually held) contributed to an increase in public relations related sales, while sales promotional and creative sales promotions and printed advertisements in the sales promotion realm declined. Operating profit rose by 20.4% year-over-year to ¥608 million. Measures taken to improve profitability proved effective and allowed gross margin to improve by 1.7% points. Sales, general and administrative (SG&A) expenses declined by 3%, and allowed SG&A margin to trend sideways despite the decline in sales.

 

(2) Trends during First Half

The number of event orders declined by 35 to 673. But because of the large G1 and Toyo Motor Show events that did not occur in the previous term, the number of events valued at over ¥100 million rose by 4 from the previous term to 8, while the number of events valued at less than ¥10 million declined from 539 to 514 over the same period. By type of business inquiry, appointed events fell from 497 totaling ¥4.344 billion in the previous term to 445 totaling ¥3.326 billion. At the same time, competitive bidding and proposal based events rose from 72 to 75 and 139 to 153 respectively. Overall event pricing rose from ¥8.9 million to ¥9.2 million. Furthermore, TOW conducted 803 proposals (Down from 865 in the previous term), of which it secured 281 (Up from 278 in the previous term). Consequently, their proposal success rate rose to 34.9% from 32.1% in the previous term. Efforts to fortify competitive bidding and proposal based events were successful in increasing the number of events secured and reflect the increased credibility of TOW amongst its clients.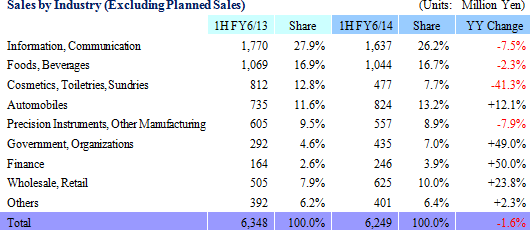 Sales derived from the "information and communication", "foods and beverages", and "automobiles" industries trended favorably, but those of the "cosmetics, toiletries and sundries" industry declined. Furthermore, "government and organization" related sales benefitted from new orders secured in relation with the National Sports Festival.

 

 

Public relations sales grew on the back of the contribution from large internal events (Annually held events).

 

 

At the end of the first half of fiscal year June 2014 (End December 2013), total assets increased by ¥0.43 billion to ¥9.187 billion from the end of the previous fiscal year. Accounts receivables rose, along with increases in accounts payables, director bonus reserves and retained earnings. Liquidity remained at high levels with current assets accounting for 86% of total assets. Equity ratio also remained at a high level of 60%.

 

 

Declines in outstanding payments and increases in accounts receivables contributed to a deterioration in operating cash flow, and caused free cash flow to decline from a net inflow of ¥543 million in the previous second quarter to a net outflow of ¥14 in the current second quarter. Declines in dividend payment contributed to a reduction in the net outflow in financing cash flow. At the same time cash and equivalents increased by ¥585 million from the end of the previous second quarter to ¥2.304 billion at the end of the current second quarter.

 

 
Fiscal Year June 2014 Earnings Estimates

 

Estimates Call for Sales and Current Profit to Fall 3.2% and 6.6% in FY6/14

During fiscal year June 2014, TOW's upwardly revised estimates announced on January 10, 2014 call for sales and operating profit to decline by 3.2% and 5.8% year-over-year to ¥11.948 billion and ¥801 million respectively. While near term earnings are trending favorably, TOW has factored the potential influence of various unforeseen factors into its second half earnings estimates and therefore left its full year estimates unchanged despite the better than expected first half earnings. TOW calls for gross and operating profit margins of 13.0% and 6.2% respectively (12.9% and 6.0% in the previous term). The upwardly revised dividend payment forecast announced on December 2, 2013 has also been left unchanged at ¥26.5 per share (Inclusive of a ¥14 dividend payment at the end of the first half.).

While an increase in advertising spending within Japan is anticipated on the back of improvements in the economy, the influence of delays in personnel adjustments and other factors have been considered in estimates. TOW is implementing measures to improve operating efficiencies including the transfer of staff working in its headquarter functions, and fortification of mid-career hires and training of new graduate hires to eliminate the delays in personnel adjustments.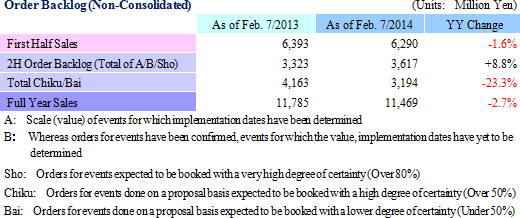 Order backlog as of February 7, 2014 were in line with the same date in the previous year, but the "chiku" and "bai" categories of potential orders declined. With the goal of expanding earnings in the next fiscal year, TOW needs to secure high quality "chiku" and "bai" category events.

 

(2) Future Policies and Strategies

TOW will increase its value addition by leveraging its strength of real promotions with newer expertise in the realms of digital and ideas. At the same time, it maintains a management target of establishing its position as the "only" real promotion company with strengths in the digital realm and the ability to achieve the maximum effect sought after by its clients. Sales of hybrid promotions, which combine aspects of real with digital promotions, expanded to ¥1.1 billion in the current first half from ¥560 million in the previous first half, and has already exceeded sales recorded in the full fiscal year June 2013 of ¥1.07 billion.

 
 

In order to realize the above mentioned policies, TOW has established the following five strategies.

① Fortify Digital Capabilities

Conduct ongoing training to increase the digital literacy of employees (Traffic light method). Continue to increase staffing in the DP office. Form alliances with external companies in the digital realm (Start "1→TOW").

② Fortify Production Capabilities

Implement the corporate concept of "narrow margin is a large margin" and fortify leadership. Implement training to improve the production capability of younger staff. Improve profitability to eliminate unnecessary work in the order acquisition process. Nine new graduates expected to join from April 2014.

③ Fortify Customer Development Capabilities

Objective management by improving the major client mindset sharing capability as a basis for the P2P business. Implement training camps for half of the marketing staff to fortify their customer development capabilities (Theme: The ability to listen).

④ Fortify Group Capabilities

T2C will expand sales through increases in staffing. Furthermore, the Group company Soil, Inc. will fortify its original contents development function to be used as a weapon to promote digital promotions.

⑤ Fortify Safety Function

The President Kenji Egusa will establish an information security management committee as part of a strategy of fortifying the information management structure. Advisory contracts will be formed with specialists in compliance.

 

(3) Start "1→TOW"

TOW has formed a collaborative agreement with the interactive studio company "1→10 Design Inc." which produces comprehensive digital marketing (2014/1/10). This arrangement was established with the goal of strengthening TOW's capabilities to plan and produce hybrid promotions (Real x digital promotions). With the goal of achieving the "maximum effect" sought after by customers, the Company will propose "new types of real promotions" that break the mold of existing methods.

 

 
 

TOW and the advertising industry overall are expected to be affected by the rush to buy in the January to March period ahead of the implementation of a hike in the consumption tax from April and the subsequent drop in demand thereafter. Consequently, the impact of the consumption tax hike upon the Company's earnings is difficult to assess.
Despite this uncertainty, favorable near term business conditions were confirmed during the first half. In addition, improvements in the competitive nature of TOW in competitive bidding based proposals and an increase in their numbers have also been confirmed. Moreover, the number of hybrid type promotional events increased by a large margin. At the same time, a negative factor is the decline during the second half in the value of "chiku" and "bai" category events, which are expected to become drivers of future sales. However, TOW can insulate itself from fluctuations in the economy and maintain stable earnings if it achieves success in its efforts to become a real promotion company with strengths in the digital realm. Therefore key factors for the Company include its ability to acquire high quality "chiku" and "bai" category events and trends in competitive and proposal based events based upon efforts to fortify its operating foundation. Furthermore, the development of the "1→TOW" business, which is crucial to the expansion of hybrid promotions, is another key factor in TOW's business strategy.

 

Disclaimer

This report is intended solely for information purposes, and is not intended as a solicitation to invest in the shares of this company. The information and opinions contained within this report are based on data made publicly available by the Company, and comes from sources that we judge to be reliable. However we cannot guarantee the accuracy or completeness of the data. This report is not a guarantee of the accuracy, completeness or validity of said information and or opinions, nor do we bear any responsibility for the same. All rights pertaining to this report belong to Investment Bridge Co., Ltd., which may change the contents thereof at any time without prior notice. All investment decisions are the responsibility of the individual and should be made only after proper consideration.

Copyright(C) 2014, All Rights Reserved by Investment Bridge Co., Ltd.