Kenji Egusa, President
& CEO
| | |
| --- | --- |
| Company | TOW Co., Ltd. |
| Code No. | 4767 |
| Exchange | TSE First Section |
| Industry | Service |
| President | Kenji Egusa |
| HQ Location | Hulic Kamiyacho Building, 4-3-13 Toranomon, Minato-ku, Tokyo |
| Year-end | June |
| URL | |
Share Price
Shares Outstanding
Market Cap.
ROE (actual)
Trading Unit
¥710
10,996,260 shares
¥7.807 billion
11.7%
100 shares
DPS (Est.)
Dividend Yield (Est.)
EPS (Est.)
PER (Est.)
BPS (actual)
PBR (actual)
¥31.00
4.4%
¥56.67
12.5x
¥511.64
1.4x
* Share price as of the close on August 20, 2014. Shares outstanding as of the most recent quarter end exclude treasury shares.
| | | | | | | |
| --- | --- | --- | --- | --- | --- | --- |
| Fiscal Year | Sales | Operating Profit | Current Profit | Net Profit | EPS | Dividend(¥) |
| June 2011 | 10,538 | 337 | 336 | 128 | 11.24 | 21.00 |
| June 2012 | 13,935 | 973 | 987 | 508 | 44.61 | 32.00 |
| June 2013 | 12,346 | 850 | 864 | 428 | 37.64 | 28.00 |
| June 2014 | 12,188 | 1,026 | 1,035 | 638 | 57.79 | 28.00 |
| June 2015 Est. | 12,423 | 1,000 | 1,005 | 623 | 56.67 | 31.00 |
* Estimates are those of the Company

 

We present this Bridge Report reviewing the fiscal year June 2014 earnings results for TOW.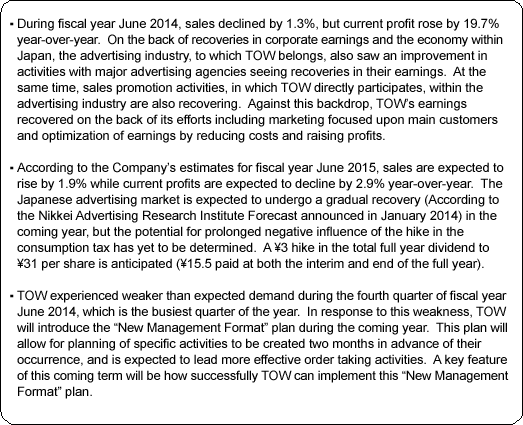 TOW Co., Ltd. is the top independent company in the event and sales promotion industry. The industry is highly fragmented with approximately 8,000 companies in operation, but TOW boasts of a dominant position over the bulk of its competitors, which are small businesses. In addition to events, TOW provides a comprehensive "one-stop shopping" for various sales promotion services including provision of novelty goods, printing tools, websites, and election campaign support activities. These services enable the Company to provide comprehensive promotion services to various parties with the exception of mass media.

Orders for the majority of events performed within Japan are usually given to large advertising agencies. Therefore, the actual companies planning, creating and operating the events like TOW commonly receive orders from the major advertising agencies and not directly from the client paying for the event themselves. And while the bulk of competing event and sales promotion companies which tend to be smaller in scale only deal with a limited number of advertising agencies, TOW boasts of transactions with over 10 major advertising agencies because it has built a strong reputation for being the most credible specialist event and sales promotion company within the Japanese industry. In addition, TOW boasts of the ability to handle events held in large facilities such as the Tokyo Dome, Makuhari Messe, Tokyo International Forum, Tokyo Big Sight and others without the need to collaborate with competing companies.

When considering promotions as part of corporate communications, the ability to access the capability for total and comprehensive planning of specialized promotion companies with bountiful know-how and experience is one of the most important factors in increasing the effectiveness of promotions. In addition to real-time communication that leverage a strong track record in event creation, TOW has established a division specializing in sales promotion contents including premium goods and services, tools and websites to provide promotion responses that suit customers' needs and integrate the functions of producers, planners and directors.

TOW is a new type of "promotion partner" providing one-stop solutions as a comprehensive promotion company.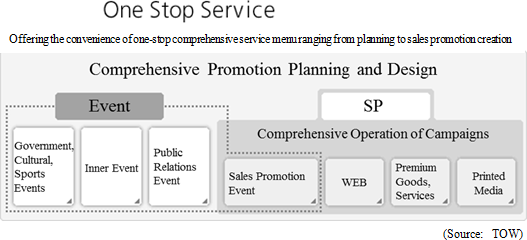 In addition, client company's concerns and requirements vary widely from one company to another. Furthermore, the target customers also vary depending upon the nature of the product brand. Therefore, the ability of providing and coordinating the optimal media menu matching the target consumers, product brand, and company placing the advertisements is critical in the age of multimedia. TOW maintains a structure that provides responses to various promotional needs and boasts of the capability as a "comprehensive promotion creation company" to provide complete and comprehensive responses with advertising agencies as partners, excluding mass media functions.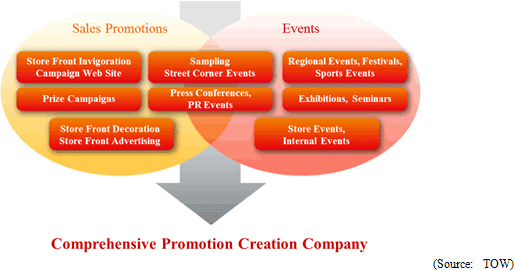 Moreover, sales promotion companies must have the ability to propose plans that bundle various promotional events using a wide range of multiple types of media in the age of multimedia. TOW boasts of a specialized planning section with separate functions for "planning" and "operations and creation" which other competitor promotion creation companies do not have. The 20 specialist event planners working within TOW take a leading role in planning operations, and are responsible in securing high quality levels in the some 2,000 events conducted by the Company in the course of a year. Consequently, TOW is able to implement the chosen plan and concept in cooperation with advertising agencies to create proposals and overall plans for various promotions.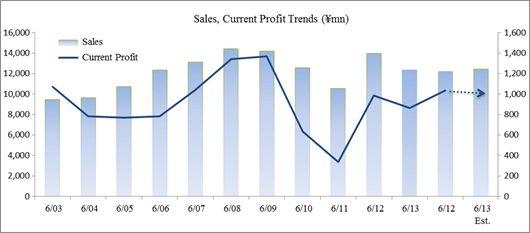 Fiscal Year June 2014 Earnings Results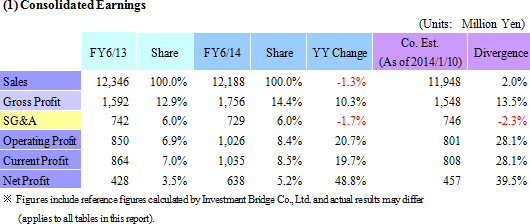 Sales Fall 1.3%, Current Profit Rise 19.7%

Sales declined by 1.3% year-over-year to ¥12.188 billion, but current profit rose by 19.7% year-over-year to ¥1.035 billion. On the back of recoveries in personal consumption and corporate earnings sparked by the Government's economic stimulus measures and financial policies, the advertising industry, in which the TOW Group operates, also saw an improvement in activities with major advertising agencies seeing recoveries in their earnings. At the same time, the recovery in the sales promotions, which is the main business realm of TOW, is also growing stronger. Against this backdrop, TOW's earnings recovered on the back of its various efforts including marketing focused upon main customers and optimization of earnings by reducing costs to raise profits.

With regards to sales, demand for events trended favorably, but productions of sales promotions declined due to weakness in novelty goods production. Operating profit rose by 20.7% year-over-year to ¥1.026 billion. As a result of the implementation of effective profitability improvement measures, gross profit margin rose by 1.5% points year-over-year to 14.4%. Despite efforts to optimize sales, general and administrative expenses (SG&A), SG&A ratio trended in line with the previous term at 6.0%. In addition, the margin of increase in net profits increased on the back of the booking of ¥37 million (Previously booked as temporary receipt but investigations regarding inappropriate accounting methods have now deemed that this money does not need to be refunded) as an extraordinary profit.

Because these results exceeded TOW's outstanding estimates for the full fiscal year, TOW took the decision to raise its dividend payment estimate from ¥26.5 per share, which had been revised up on December 2, 2013, to ¥28 per share, including interim dividends of ¥14 per share.

 

(2) Full Year Earnings Trends

The number of orders booked declined by 36 to 1,324. However, product exhibitions and commemorative events contributed to a rise in large projects of over ¥100 million in value by five from the previous fiscal year to 13 in the current term. At the same time, the number of orders for projects in the price range between ¥10 to ¥20 million declined by 22 from 170 in the previous term to 148 in the current term. By business inquiry type, competitive bidding events and proposal based events trended sideways from the previous year at 138 and 269 respectively. However, appointed events declined from 953 (¥7.659 billion) in the previous term to 917 (¥6.533 billion) in the current term. However the average project pricing actually rose from ¥8.5 to ¥8.7 million. Furthermore, our proposal based order acquisition rate improved by 2.2% points from the previous term as we were able to book 594 orders on the back of 1,722 proposals in the current term (Compared with 617 orders booked on the back of 1,912 proposals in the previous term).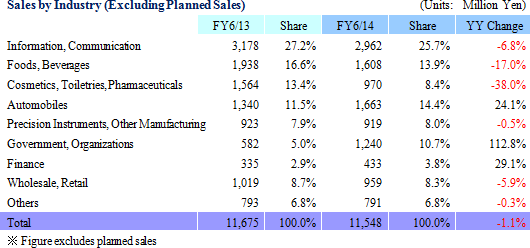 At the end of fiscal year June 2014, total assets rose by ¥222 million from the end of the previous year to ¥8.979 billion. Increases were recorded in both payment receivables on the debit side and retained earnings on the credit side. Notably, TOW maintains a high level of liquidity with current assets accounting for 86% of total assets. In addition, equity ratio stood at a high 63%.

 

 

Increases in payment receivables contributed to a deterioration in operating cash flow, and caused the margin of net cash inflow to decline by ¥1.43 billion from ¥1.462 billion in the previous term to ¥32 million in the current term. Reductions in dividend payments allowed net cash outflow in financing activities to contract from the previous term. At the same time, cash and equivalents declined by ¥282 million from the previous term to ¥2.196 billion at the end of the current term.

 

 
Fiscal Year June 2015 Earnings Estimates

 

TOW's Fiscal Year June 2015 Earnings Estimates Call for Sales to Rise 1.9%, Current Profit to Decline by 2.9%

TOW's earnings estimates for fiscal year June 2015 call for sales to rise by 1.9% year-over-year to ¥12.423 billion, and current profits to fall by 2.9% year-over-year to ¥1.005 billion. Recovery in earnings of exporters arising from the effective Government economic stimulus measures and the weakening in the yen are expected to contribute to a gradual recovery in the Japanese advertising market (According to the Nikkei Advertising Research Institute Forecast announced in January 2014). However, TOW's earnings estimates have also taken uncertainties arising from the recent hike in the consumption tax and the potential for yet another hike in the near future into account. The Company will also implement a strategy of conducting aggressive marketing activities and taking steps to improve profitability through optimization of SG&A expenses. TOW's assumption for gross margin is 13.9% (Compared with 14.4% in the term just ended), and a SG&A to sales ratio of 5.9% (Compared with 6.0% in the term just ended). Dividends are expected to be raised by ¥3 per share from the previous term to ¥31.0 per share in the full year (Including ¥15.5 per share dividend paid at the end of the first half). This corresponds to a dividend yield of 4.5% using the closing share price on the day before the announcement of earnings (August 7, 2014).

While the fourth quarter is normally the busiest period of the year, TOW introduced a "New Management Format" plan in response to the weaker than expected results recorded during the fourth quarter of fiscal year June 2014. The introduction of the "New Management Format" plan will enable the Company to accurately assess demand for orders two months into the future (Effectively becoming sales 3 to 5 months in the future) on an ongoing basis, and will allow it to create a specific activities plan covering the next two months. Furthermore, the same format was implemented for all of the various teams on a companywide basis.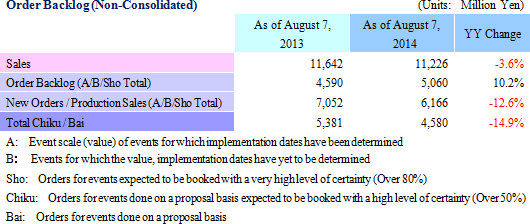 While the number of staff employed by TOW is expected to decline because of the transfer of some to subsidiaries, there is expected to be no changes to the overall staff number on a consolidated basis. And while order backlog continues to rise, TOW will focus its efforts to pursue high quality orders in the "Chiku" and "Bai" categories.

 

(2) Future Policies and Strategies

TOW will increase its value addition by leveraging its strength of real promotions with its newer expertise in the realm of digital and ideas. At the same time, the Company maintains a management target of establishing its position as the "only" real promotion company with strengths in the digital realm and abilities to achieve the maximum effect sought after by its clients. Sales of hybrid promotions, which combine aspects of real promotions with digital promotions, expanded by a large margin to ¥2.10 billion in the current term from ¥1.07 billion in the previous term. And while the contribution from large spot orders received for product exhibitions, general orders are considered to be expanding favorably.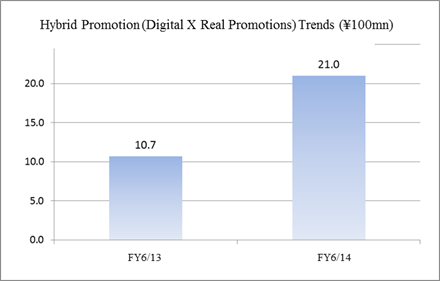 In order to realize the above mentioned policies, TOW is taking the following five actions.

① Fortify Digital Capabilities

Hybrid promotions combining aspects of both real and digital promotions represent the selection of the best parts of both worlds, and effectiveness of its interactive promotion (IP) capabilities is one of its strongest weapons. (1) "1→TOW" will be promoted, (2) the name of the DP office will be changed to IP Office, and staff will be hired, (3) numbers for IP and responsible personnel will be established by the headquarters, (4) training of IP planners will be started (Current term) including 6 staff per year over three years for a total number of 18 planners, (5) training IP producers will be started (Currently 8 staff per year over three years), and (6) start an "IP School" (From November 2014).

② Fortify Production Capabilities

In 2014, TOW hired 10 year graduates, and in 2015, another 8 to 9 are expected to be hired. On-the-job training will be fortified, with their progress in their growth being followed using "career sheets" until they reach AD1 class. New employees will be trained to quickly become contributing staff of the D level. From July 2014, the human resources system was revised, with "production capability (Skill improvement and training of subordinates)" being included as a point of evaluation.

③ Fortify Customer Development Capabilities

Fortify instruction of "slim margin is a large margin" strategy. "Fan creation (Using a numerical benchmark to assess relationship of employees with each main customer)" is an important evaluation point.

④ Fortify Group Capabilities

The subsidiary T2 Creative Co., Ltd. (T2C) will fortify orders derived from outside of the TOW Group. At the same time, T2C will also fortify its creation and proposal capabilities to expand its external sales and facilitate an easier order taking environment. TOW will second 3 directors to T2C, along with 7 planners who will hold concurrent posts at both T2C and TOW. In addition, T2C will respond to internal creation by recruiting another 6 new employees from new graduates and contracted workers.

⑤ Fortify Safety Function

Operate an information security committee comprised of managers of the various departments (Continued from previous term). Compliance staff will create sheets to predict and prevent various risks at the frontline of work.

 

(3) Start "1→TOW"

TOW and Works - 1 → 10design, Inc., which is an interactive studio that conducts comprehensive production of digital marketing, entered into a formal alliance on January 10, 2014. This unit was formed to fortify the "Real x Digital = Hybrid" operations planning and creation structure. TOW seeks to "maximize the effect" sought after by customers by "providing new forms of real promotions" that are not limited to conventional methods. The new unit "1→TOW" entertained inquiries for 34 projects between January to July 2014, of which 6 were booked as orders (Work on all 6 is currently being promoted), and the business is progressing favorably.

 

 
 

The Nikkei Advertising Research Institute (Announcement made in January 2014) projects advertising spending in Japan during 2014 to rise by 1.7% year-over-year. Corporate earnings continue to recover, and there appears to be little risk of the operating environment for TOW to deteriorate in the near future. With regards to fiscal year June 2014 earnings, the Company was able to realize improvements in gross profit margin and the confirmation of improvement in average gross margins on its lower profitability projects (Projects with gross margins of less than 15%) is a significant development. In addition, another highlight of the year just ended was the aggressive optimization of SG&A expenses. Furthermore, progress in the recovery in corporate structures combined with the tailwind supporting the overall market to create conditions in which companies may readily expand profits. While the fourth quarter is normally the busiest quarter of the fiscal year, TOW was unable to achieve the results that it had anticipated during the fourth quarter of fiscal year June 2014. In response to this weak performance, the Company introduced a "New Management Format" plan. Consequently, this plan will enable TOW to create specific activities plans covering the next two months, and should enable it to successfully capture a greater number of orders. The effectiveness of the "New Management Format" plan should be watched closely. In addition, the ability of TOW to effectively implement its "Digital X Real = Hybrid Type Promotions" to expand sales through various measures including the aggressive fortification of digital capabilities as a real promotion company also needs to be watched closely.

 

Disclaimer

This report is intended solely for information purposes, and is not intended as a solicitation to invest in the shares of this company. The information and opinions contained within this report are based on data made publicly available by the Company, and comes from sources that we judge to be reliable. However we cannot guarantee the accuracy or completeness of the data. This report is not a guarantee of the accuracy, completeness or validity of said information and or opinions, nor do we bear any responsibility for the same. All rights pertaining to this report belong to Investment Bridge Co., Ltd., which may change the contents thereof at any time without prior notice. All investment decisions are the responsibility of the individual and should be made only after proper consideration.

Copyright(C) 2014, All Rights Reserved by Investment Bridge Co., Ltd.