Kenji Egusa, President
& CEO
| | |
| --- | --- |
| Company | TOW Co., Ltd. |
| Code No. | 4767 |
| Exchange | TSE First Section |
| Industry | Service |
| President | Kenji Egusa |
| HQ Location | Tokyo, Minato-ku, Toranomon 4-3-13, Hulic Kamiyacho Building |
| Year-end | June |
| URL | |
Share Price
Shares Outstanding
Market Cap.
ROE (actual)
Trading Unit
¥840
11,031,570 shares
¥9.266 billion
11.7%
100 shares
DPS (Est.)
Dividend Yield (Est.)
EPS (Est.)
PER (Est.)
BPS (actual)
PBR (actual)
¥31.00
3.7%
¥61.58
13.6x
¥541.30
1.6x
* Share price as of the close on February 25, 2015. Shares outstanding as of the most recent quarter end exclude treasury shares.
| | | | | | | |
| --- | --- | --- | --- | --- | --- | --- |
| Fiscal Year | Sales | Operating Profit | Current Profit | Net Profit | EPS | Dividend(¥) |
| June 2011 | 10,538 | 337 | 336 | 128 | 11.24 | 21.00 |
| June 2012 | 13,935 | 973 | 987 | 508 | 44.61 | 32.00 |
| June 2013 | 12,346 | 850 | 864 | 428 | 37.64 | 28.00 |
| June 2014 | 12,188 | 1,026 | 1,035 | 638 | 57.79 | 28.00 |
| June 2015 Est. | 12,890 | 1,119 | 1,132 | 679 | 61.58 | 31.00 |
* Estimates are those of the Company

 

We present this Bridge Report reviewing the first half of fiscal year June 2015 earnings results for TOW.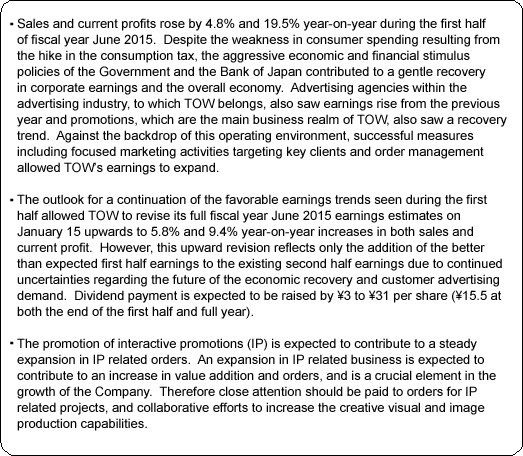 TOW Co., Ltd. is the top ranked independent company in the event and sales promotion industry. The industry is highly fragmented with approximately 8,000 companies in operation, but TOW boasts of a dominant position over the bulk of its competitors, which are small businesses. In addition to events, TOW provides a comprehensive "one-stop shopping" for various sales promotion services including provision of novelty goods, printing tools, websites, and election campaign support activities. These services enable the Company to provide comprehensive promotion services to various parties with the exception of mass media.

Orders for the majority of events performed within Japan are usually given to large advertising agencies. Therefore, the actual companies planning, creating and operating events like TOW commonly receive orders from the major advertising agencies and not directly from the client paying for the event themselves. And while the bulk of competing event and sales promotion companies which tend to be smaller in scale only deal with a limited number of advertising agencies, TOW boasts of transactions with over 10 major advertising agencies because it has built a strong reputation for being the most credible specialist event and sales promotion company within the Japanese industry. In addition, TOW boasts of the ability to handle events held in large facilities such as the Tokyo Dome, Makuhari Messe, Tokyo International Forum, Tokyo Big Sight and others without the need to collaborate with competing companies.

When considering promotions as part of corporate communications, the ability to access the capability for total and comprehensive planning of specialized promotion companies with bountiful knowhow and experience is one of the most important factors in increasing the effectiveness of promotions. In addition to real time communication that leverage a strong track record in event creation, TOW has established a division specializing in sales promotion contents including premium goods and services, tools and websites to provide promotion responses that match the needs of customers and integrate the functions of producers, planners and directors.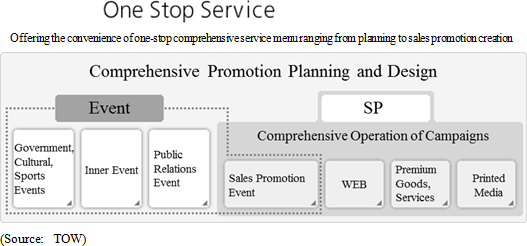 The issues and requirements of customer companies vary widely depending upon the nature of the company placing advertisements. Furthermore, the target customers also vary depending upon the nature of the product brand. Therefore, being able to provide and coordinate the optimal media menu matching the target consumers, product brand, and company placing the advertisements is critical in the age of multimedia. TOW maintains a structure that provides responses to various promotional needs and boasts of the capability as a "comprehensive promotion creation company" to provide complete and comprehensive responses with advertising agencies as partners, excluding mass media functions.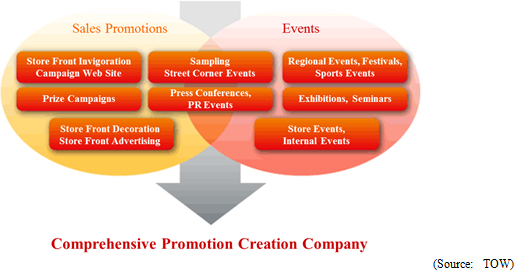 Moreover, sales promotion companies must have the ability to propose plans that bundle various promotional events using a wide range of multiple types of media in the age of multimedia. TOW boasts of a specialized planning section with separate functions for "planning" and "operations and creation" which other competitor promotion creation companies do not have. The 20 specialist event planners working within TOW take a lead role in planning operations, and are responsible in securing high quality levels in the some 2,000 events conducted by the Company in the course of a year. Consequently, TOW is able to implement the chosen plan and concept in cooperation with advertising agencies to create proposals and overall plans for various promotions.

In addition, TOW has formed a collaborative agreement with the interactive studio company 1-10 Design Inc. (January 10, 2014), which comprehensively produces digital marketing. A new unit has been established to fortify the planning and production structure for hybrid tasks, combining both digital and real operations. Real promotions that do not rely upon existing methods will be provided to "maximize the effectiveness" of promotions to satisfy client's expectations.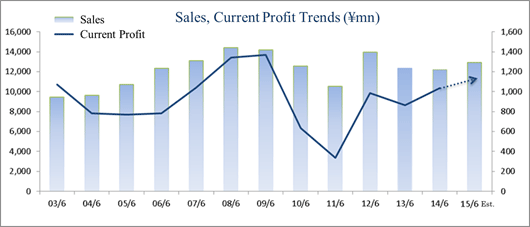 First Half Fiscal Year June 2015 Earnings Results

 

Sales, Current Profit Rise 5.8%, 19.5% Year-On-Year

Sales and current profit rose by 5.8% and 19.5% year-on-year to ¥6.979 and ¥0.732 billion respectively. Despite the weakness in consumer spending resulting from the hike in the consumption tax, the aggressive economic and financial stimulus policies of the Government and the Bank of Japan contributed to a gentle recovery in corporate earnings and the overall economy. Advertising agencies within the advertising industry, to which TOW belongs, also saw earnings rise from the previous year and promotions, which are the main business realm of TOW, also underwent a recovery trend. Against the backdrop of this operating environment, successful measures including focused marketing activities targeting key clients and order management allowed TOW's earnings to expand.

With regards to sales, efforts to capture projects from the information and communications, electronics, automobile, food and beverages and other product realms were successful, and the increase in sales of promotions and marketing categories grew largely. Operating profit rose by 18.7% year-on-year to ¥722 million. Successful efforts to improve profitability allowed gross profit margin to rise by 0.4% points from the previous first half to 15.5%. At the same time, efforts to restrain sales, general and administrative expenses were successful in reducing sales, general and administrative margin by 0.7% points year-on-year to 5.2%. There were no extraordinary items booked during the current term.

 

(2) First Half Earnings Trends

The number of project orders booked rose by 23 from the previous first half to 696. Despite the concern over a potential decline in the number of large projects over ¥100 million due to the product exhibition and Tokyo Motor Show held in the previous year, TOW was able to book the same number of large projects as last year of eight. Furthermore, 1→TOW was able to increase the number of large orders of between ¥50 and ¥100 million by 2 from 11 to 13. By type of order, competitive bidding declined from 75 to 74 and proposal based from 153 to 121, but successful marketing focused upon key clients allowed appointed orders to rise from 445 and a value of ¥3.326 billion to 501 and ¥3.993 billion. Furthermore, 941 events were planned and 286 were produced during the first half, compared with 803 and 281 during the previous first half respectively. And while the project capture ratio declined by 4.6% points compared with the previous first half, it remained above the target level of 30%.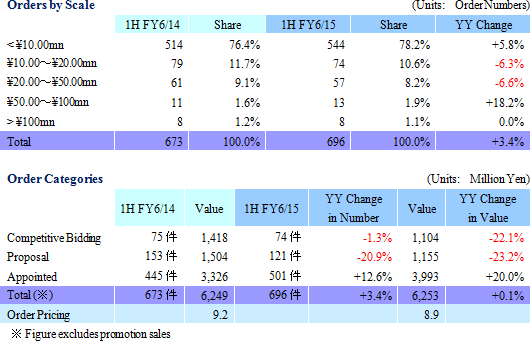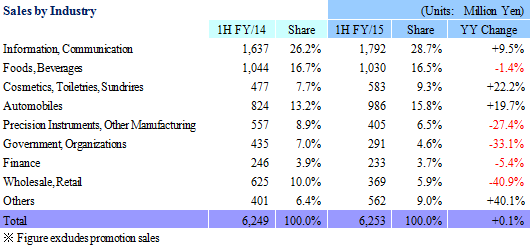 Total assets rose by ¥642 million from the end of the previous term to ¥9.622 billion at the end of the current term. The expansion in earnings, cash and equivalents, accounts receivables, accounts payables and retained earnings were contributing factors to this increase in total assets. Liquidity remains at high levels with current assets accounting for 87% of total assets. Equity ratio also remained at a high level of 62%.

 

 

Declines in uncollected payments and increases in accounts payables allowed operating cash flow to turn to a net inflow from an outflow in the previous first half. Consequently, free cash flow also turned from a net outflow of ¥14 million to a net inflow of ¥571 million. Income derived from the exercise of stock options contributed to a decline in the margin of net outflow of financing cash flow. Cash and equivalents grew by ¥332 million from the previous first half to ¥2.637 billion.

 

 
Fiscal Year June 2015 Earnings Estimates

 

TOW Estimates Call for Sales, Current Profit to Rise by 5.8%, 9.4% in Fiscal Year June 2015

The outlook for a continuation of the favorable earnings trends seen during the first half allowed TOW to revise its full fiscal year June 2015 earnings estimates upwards on January 15 to 5.8% and 9.4% year-on-year increases to ¥12.890 billion and ¥1.132 billion in both sales and current profit respectively. A gentle recovery in the Japanese advertising market is anticipated on the back of a recovery in corporate earnings resulting from the positive influence of the weaker yen and the Government's economic stimulus measures. However, this upward revision reflects only the addition of the better than expected first half earnings to the existing second half earnings due to continued uncertainties regarding the future of the economic recovery and customer advertising demand. Dividend payment is expected to be raised by ¥3 to ¥31 per share (¥15.5 at both the end of the first half and full year).

TOW will continue to optimize its sales, general and administrative (SG&A) functions and implement aggressive marketing activities to improve profitability. The new assumptions for gross profit and SG&A margins after the upwards revision are 14.5% and 5.8% respectively, and compare with the previous year's levels of 14.4% and 6.0%. Dividend payment estimate remains unchanged and is anticipated to be raised by ¥3 from the previous year to ¥31.0 per share in the full year (Including ¥15.5 dividends paid at the end of the first half and full year). Based upon the closing share price on August 6, 2014, this dividend payment would translate to a dividend yield of 4.5%.

 

 

The impact of the shift of employees to subsidiaries with the goal of strengthening marketing upon sales is expected to decline, but there is expected to have no impact upon consolidated earnings. TOW considers the pursuit of high quality Chiku and Bai orders as an important part of its overall strategy.

 

(2)First Half Conditions and Forward Looking Strategy

The largest strength of real promotions will be supplemented with digital and ideas to raise value addition, and to maximize the effectiveness sought after by customers. Consequently, TOW will establish its position as the "only company" based in real promotions with additional strengths in digital promotions. Sales of interactive promotions (IP), which combine both digital and real aspects of promotions, expanded by a large margin to ¥1.65 billion during the first half of fiscal year June 2015 from ¥1.1 billion in the previous first half. The realm of events will be fused with digital through the collaborative arrangement formed with 1-10 Design Inc. Furthermore, this collaboration allows for the development of new real experiences project "1→TOW" and contributed to an increase in orders booked of over ¥200 million to ¥285 million (11 projects). In the future, collaboration with visual promotion creation companies will be pursued in addition to "1→TOW" (Digital promotion creation company) for the creation of promotions that use highly sophisticated streaming video contents.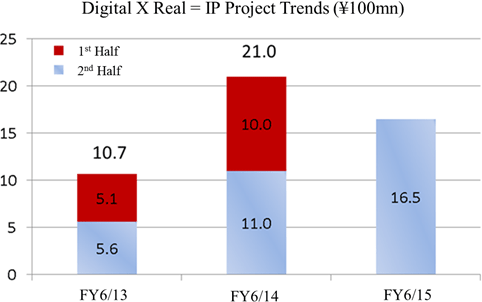 Examples of "1→TOW" Interactive Promotion

Promotions until now had primarily been unidirectional, but are increasingly becoming bidirectional. "1→TOW" is expanding the number of orders for large interactive promotion (IP) projects for major clients. Moreover, sales of the subsidiary T2 Creative Co., Ltd., which has seen fortification of its external order taking capability, rose by 109.4% year-on-year to ¥580 million. Three directors of TOW have been seconded to T2 Creative, along with six planners who hold positions in both TOW and T2 Creative concurrently. Furthermore, six positions which formerly relied upon the use of new graduates, contracted workers and operations consignment were internalized. T2 Creative will endeavor to further expand external sales by continuing to promote external order taking.

 

 
 

TOW was able to record favorable first half earnings with sales and current profit rising 5.8% and 19.5% year-on-year respectively. The successes of its strategy of focusing marketing efforts upon main clients and strict order management have contributed to an improvement in profitability and should be viewed favorably by investors. Despite these positive factors, the fact that the project capture ratio, which reflects the project capability of TOW, declined is one of the few reasons for concern. However, this decline in the project capture ratio may be inevitable given the aggressive proposal based marketing activities conducted during the first half and subsequent increase in the number of proposals put forward. However, a decline in the project capture ratio could lead to declines in efficiency and profitability. Therefore trends in the project capture ratio should be closely watched along with the measures to strengthen various capabilities in the realm of digital promotion, creative production, client cultivation capability, group synergies, and safety, as they can lead to increases in future orders.

In addition, the promotion of interactive promotion (IP) is contributing to the expansion in the booking of orders for IP related projects. The expansion in IP project orders also contributes to an expansion in the size of orders and increases in value addition, and therefore is a crucial element in the growth of TOW. Investors should pay close attention to TOW's efforts to capture orders for IP projects and to collaborate with companies with capabilities in visual production to strengthen the ability to provide creative contents.

 

Disclaimer

This report is intended solely for information purposes, and is not intended as a solicitation to invest in the shares of this company. The information and opinions contained within this report are based on data made publicly available by the Company, and comes from sources that we judge to be reliable. However we cannot guarantee the accuracy or completeness of the data. This report is not a guarantee of the accuracy, completeness or validity of said information and or opinions, nor do we bear any responsibility for the same. All rights pertaining to this report belong to Investment Bridge Co., Ltd., which may change the contents thereof at any time without prior notice. All investment decisions are the responsibility of the individual and should be made only after proper consideration.

Copyright(C) 2015 Investment Bridge Co.,Ltd. All Rights Reserved.