Koji Egusa, President
& CEO
| | |
| --- | --- |
| Company | TOW Co., Ltd. |
| Code No. | 4767 |
| Exchange | TSE First Section |
| Industry | Service |
| President | Koji Egusa |
| HQ Location | Hulic Kamiyacho Building, 4-3-13 Toranomon, Minato-ku, Tokyo |
| Year-end | June |
| URL | |
Share Price
Shares Outstanding
Market Cap.
ROE (actual)
Trading Unit
¥699
22,408,540 shares
¥15.664 billion
13.7%
100 shares
DPS (Est.)
Dividend Yield (Est.)
EPS (Est.)
PER (Est.)
BPS (actual)
PBR (actual)
¥20.75
3.0%
¥41.54
16.8x
¥281.37
2.5x
* Share price as of the close on August 19, 2015. Shares outstanding as of the most recent quarter end exclude treasury shares.
| | | | | | | |
| --- | --- | --- | --- | --- | --- | --- |
| Fiscal Year | Sales | Operating Profit | Current Profit | Net Profit | EPS(¥) | Dividend(¥) |
| June 2012 | 13,935 | 973 | 987 | 508 | 44.61 | 32.00 |
| June 2013 | 12,346 | 850 | 864 | 428 | 37.64 | 28.00 |
| June 2014 | 12,188 | 1,026 | 1,035 | 638 | 28.90 | 28.00 |
| June 2015 | 13,442 | 1,335 | 1,349 | 818 | 36.93 | 33.00 |
| June 2016 Est. | 14,290 | 1,416 | 1,422 | 930 | 41.54 | 20.75 |
* Estimates are those of the Company. For the purposes of this report, net profit is considered to be net profit attributable to parent company shareholders as defined by recent revisions to the accounting standards.
* A 2 for 1 stock split was conducted in July 2015. Consequently, EPS for FY6/14 and FY6/15 have been retroactively adjusted to reflect these stock splits.

 

We present this Bridge Report reviewing the fiscal year June 2015 earnings results for TOW.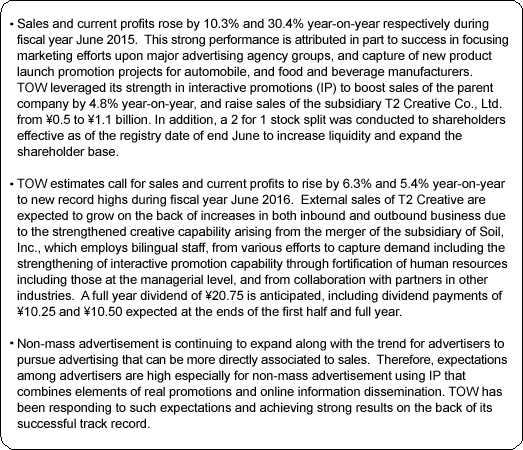 TOW Co., Ltd. is the top ranked independent company in the sales events and promotions industry. In addition to digital promotion of events, TOW provides a comprehensive lineup of various sales promotion services including provision of novelty goods, printed tools, websites, and campaign office based upon its corporate philosophy of "spreading smiles by creating unique experiences." TOW boasts of "one stop" promotion proposal capability, with which the Company can provide solutions in all realms other than mass media. The industry is highly fragmented with approximately 8,000 companies in operation, but TOW boasts of a dominant position over the majority of its competitors, which are small and medium-sized businesses. The TOW Group includes the two consolidated subsidiaries T2 Creative Co., Ltd., which provides event "creation and operation" services, and Soil, Inc., which provides event "production" and "video image creation." The Company name TOW is derived from the slogan "Top Of The World."

 

<Business Overview>

TOW's sales are divided between the event, sales promotion, other businesses, and subsidiaries categories, with each accounting for 30.9%, 59.2%, 0.7% and 9.3% respectively of fiscal year June 2015 sales. TOW accepts orders for a wide range of services in the events division including planning and actual event operations ("Planning," "creation," "operation," and "production"). These services entail the need for various operational tasks including lighting, sound, visual, stage set creation, human resources dispatch (Models, companions, security related positions), crowd control, clean up and others. These tasks are usually outsourced to various specialist companies (Including the two consolidated subsidiaries) in order to ensure that overall coordination and production of events are conducted smoothly from the standpoint of both the hosts and attendees. At the same time, the main tasks of "planning," "design," and "creation" are conducted within sales promotions, as well as printing, premium goods and services, graphic design, office operations and "out of home" (OOH: Public transportation and outdoor advertising) and website advertising production.

Sales promotions are not meant to be conducted independently but as part of larger campaigns, from which they are designed to derive synergies from. At the same time, they are highly important as they affect the quality of "interactive promotions," the type of promotions that are becoming mainstream in the advertising industry. "Interactive promotions," by the way, are a type of promotions that use digital technologies and innovative ideas to create impressive experiences, which are turned into information to be disseminated and shared as part of overall promotions.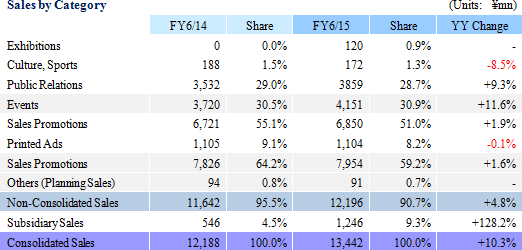 By industry category (Excluding planning sales in FY6/15), the information and communications industry accounted for the largest share of sales of 24.2%, followed by the automobile, food and beverage, cosmetics and toiletries and sundry products, government bodies and other organizations, precision instruments and other manufacturing, wholesale and retail, financial and other industries at 17.4%, 17.2%, 10.0%, 6.5%, 6.2%, 5.8%, 3.8% and 8.9% respectively.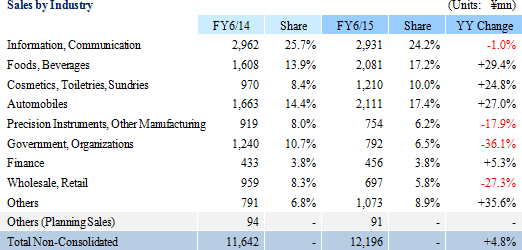 Of particular note is the seasonality of sales with a tendency for a large amount of the full year's sales occurring during the second (October to December) and fourth (April to June) quarters due to increases in sales promotion campaigns targeting consumers who receive summer and winter bonuses. In recent years, rising shares of the Company's sales are made up of sales campaign events for corporate sales promotions and production of accompanying printed materials and goods as well as new product announcement events.

 

<Strengths>

Transactions with Over 10 Major Advertising Firms, Ability to Handle Large Scale Promotional Events by Itself

Orders for the majority of events performed in Japan are given to major advertising agencies (The clients of TOW) by the client companies (the advertisers). Therefore, the actual companies planning, creating and operating events like TOW usually receive orders from the major advertising agencies and not directly from the event organizer itself. While the bulk of competing companies tend to deal with only a limited number of major advertising agencies, TOW, boasting its transactions with over 10 major advertising agencies, by far excels the competitors with its strong customer base. Another big advantage of TOW is that it can handle events held in large venues such as the Tokyo Dome, Makuhari Messe, Tokyo International Forum, Tokyo Big Sight and others without the need to collaborate with competing companies.

 

A Comprehensive Promotion Company Providing "One Stop" Solutions

When considering promotions as part of corporate communications, the single most important factor for maximum promotional effects is a comprehensive plan developed by a team of promotion specialists with rich knowledge and experience. In addition to real-time communications that leverage a strong track record in event creation, TOW has established a division specializing in sales promotion contents including premium goods and services, tools and websites to provide promotion responses that match the needs of customers and integrate the functions of producers, planners and directors.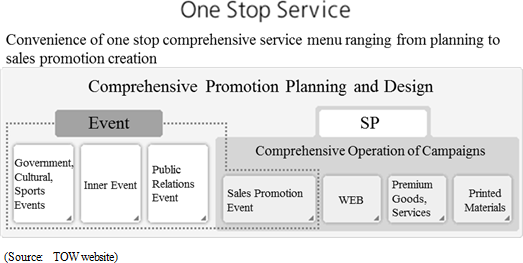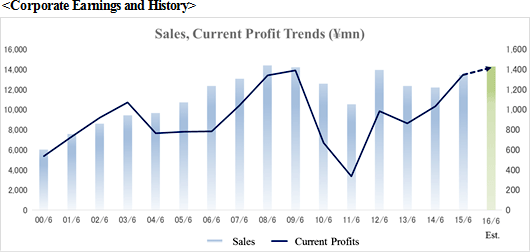 TOW, the Industry Leader Since Its Founding in July 1976

TOW was founded as a limited liabillity company in July 1976, and has since been consistently devoting itself to event planning, creation, operations, production and management services. Events first gained recognition as an advertising tool during the Osaka Expo 1970. And in the following 30 years, TOW has continuously been the industry leader. TOW has actually been involved in news worthy events including the "Walkman (Initial model) sales launch campaign," "Tokyo Aqua Line Tunnel Opening Celebratory Event", "FIFA 2002 World Cup draw ceremony," and many others. And these momentous events remain firmly placed in the memories of many Japanese.

These endeavors have won TOW the trust of the major advertising agencies. Furthermore, repeated business transacitons with these and other high quality clients has cemented relationships of trust with TOW. In addition, TOW changed its status from a limited liability company to a stock issuing corporation in March 1989, around the time when the Japanese era name changed from Showa to Heisei, and with the goal of securing even bigger achievements.

 

Focus Upon Interactive Promotions

TOW has successfully conducted a large number of real events since its founding, and has entered the digital event and sales promotion realm in 2009 to 2010 (The Digital Promotion Office was established in fiscal year June 2011). The Company has also been successful in the creation of various campaign websites, provision of social media (including Facebook) operational support, and development of application in the realm of digital promotions. However, evolution of digital technologies and their fusion with communication technologies are advancing, and the conventional "one way" messaging has become "interactive" with the ability to move people. Therrefore, TOW changed the name "Digital Promotion Office" to "Interactive Promotion Office" in July 2014, and shifted its focus from use of digital technology in production stage to use of digital technology in real events. At the same time, the Company seeks to integrate digital technologies with real events to produce new promotions on a full scale basis.

Because a sole focus upon only the digital realm will limit the possibilities of promotions (Limited proliferation of impressive experiences), there is a need to also integrate elements of real promotions in order to achieve the desired results of advertising companies. Interactive communication is comprised of "virtual environments" and "lead designs," and "technologies must be used in real communications along with digital media in order to proliferate information and move people" for a company like TOW, which has focused upon the production of real promotions.

TOW has been able to successfully exceed the limits of space and time to communicate various messages to people through deep experiences that integrate aspects of both digital and real promotions. This ability is also a reason for the increases in both sales and profits during fiscal year June 2015. And while TOW's earnings estimates for fiscal year June 2016 are conservative, they call for both sales and profits to rise to new record highs.

 

 
Fiscal Year June 2015 Earnings Results
 

Sales to Major Advertising Agencies Grow, Second Consecutive Term of Higher Sales, Third Consecutive Term of Higher Profits

Sales rose by 10.3% year-on-year to ¥13.442 billion. This strong increase reflects the successful strategy of focusing marketing activities upon major advertising agency groups, which are the Company's priority clients, in addition to strong growth in new product announcement events from the automobile industry (Up 27.0% year-on-year) and the foods and beverages industry (Up 29.4% year-on-year, combined with sales of grocery items). Sales of the parent company TOW rose by 4.8% year-on-year to ¥12.196 billion due to the successful leveraging of its strength in interactive promotions. External sales of the event production and management subsidiary T2 Creative (T2C) rose from approximately ¥0.4 and approximately ¥0.5 billion during fiscal years June 2013 and 2014 respectively to approximately ¥1.1 billion during the term just ended. T2C has long been focusing its efforts upon expanding external sales and taken on three directors and six planners from the parent company TOW, in addition to hiring six new graduates and midcareer workers.

With regards to profits, successes of the "attention paid to profit margins while at the same time pursuing growth in sales" plan have resulted in a 1% point year-on-year improvement in consolidated gross profit margins to 15.4%. Efforts to restrain growth in sales, general and administrative expenses allowed operating profit to rise by a large margin of 30.0% year-on-year to ¥1.335 billion. Year-end dividend payment is expected to be raised by ¥3.50 per share to ¥17.50 (Combined with the dividend payment at the end of the first half, full year dividend payment will rise by ¥5 to ¥33 per share).

 


 

Maintaining favorable performance of the previous year, sales of "food, beverage and grocery items," "toiletry, cosmetic and sundry products" and "automobiles" rose by 29.4%, 24.8% and 27.0% year-on-year and to 17.2%, 10.0% and 17.4% of total sales respectively. In addition, orders related to the NHK Enterprise "Space Expo" contributed to a 35.6% year-on-year increase in sales of other business to 8.9% of total sales. Also, financial industry related sales rose by 5.3% year-on-year to 3.8% of total sales. On the other hand, sales of precision instruments and other manufacturing, government bodies and organizations, and wholesale and retail industries declined by 17.9%, 36.1% and 27.3% year-on-year to 6.2%, 6.5% and 5.8% of total sales respectively.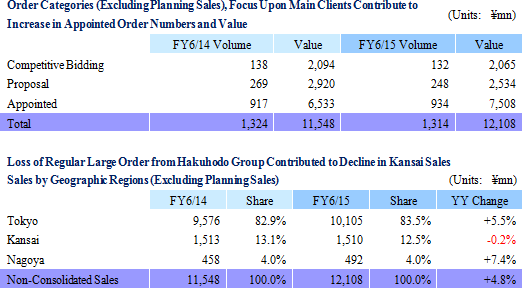 Return On Invested Capital Ratio (ROIC) Rose from 9.3% Year-On-Year to 11.8%, ¥1.220 Billion in Free Cash Flow Secured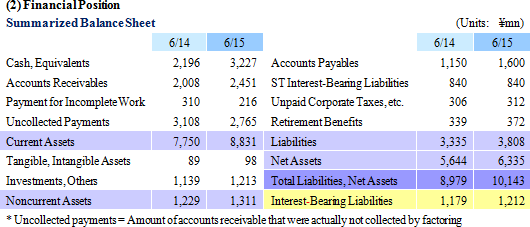 Compared with the end of the previous fiscal year, total assets at the end of fiscal year June 2015 rose by ¥1.163 to ¥10.143 billion. In reflection of the bountiful cash flow, cash and equivalents increased along with a rise in accounts receivables. At the same time, uncollected payments declined due to the factoring of accounts payables. Accounts payables and net assets rose (Due to favorable earnings and the exercise of stock options). Current, non-current and equity ratios declined marginally from 259.5% to 257.4%, 21.8% to 20.8% and 62.7% at the end of the previous term to 62.2% at the end of the current term respectively. At the same time return on invested capital (ROIC) ratio rose from 9.3% to 11.8% over the same period.

 

 

Capital efficiency improved on the back of increases in pretax profits and accounts payables, and a decline in uncollected payments allowing the ¥86 million net outflow of operating cash flow in the previous term to turn to a net inflow of ¥1.287 billion in the current term. Over the same period, the margin of net inflow of free cash flow improved significantly to ¥1.220 billion despite the turn of investing cash flow from a net inflow to a small net outflow on the back of an increase in tangible fixed assets (Income from recovery of deposits and security deposits and cancellation of insurance in the previous term). Payment of dividends contributed to a net outflow of financing cash flow, but cash and equivalents grew by ¥1.031 billion from the end of the previous term to ¥3.227 billion at the end of the current term.

 
* ROE (Return on Equity) is calculated by multiplying by "net profit to sales margin (net profit/sales)," times "total assets turnover (sales/total assets)" times "leverage (total assets/equity capital, inverse of equity capital ration.)" ROE = net profit to sales x total assets turnover x leverage.
* The figures above are calculated using earnings results and assets data from official financial reports. Total assets and equity are averages of the balance during the term (average of balance at the end of previous term and current term). Equity ratio taken from official financial filings is calculated based on balance at the end of term, therefore its inverse and the leverage figure quoted above may differ.

 

Return on equity improved by 2.01% points from fiscal year June 2014 to 13.72% in fiscal year June 2015. Amidst the trend of growth in high value-added integrated promotions that combine the elements of both digital and real promotions, successful results of the strategy of "attention paid to profit margins while at the same time pursuing growth in sales" contributed to a 0.85% point improvement in net profit to sales margin to 6.09%. According to a major United States comprehensive information services company, return on equity of the Tokyo Stock Exchange First Section listed companies at the end of fiscal year March 2015 stood at 8.15% (Compared with 8.56% at the end of fiscal year March 2014). Adhering to the policy of zero reliance upon leverage, TOW will pursue improvements in ROE while maintaining its healthy financial conditions.

 

 
Fiscal Year June 2016 Earnings Estimates

 

Sales, Current Profit Expected to Rise 6.3%, 5.4% Year-On-Year to New Record Highs

External sales of T2 Creative Ltd. are expected to grow on the back of increases in both inbound and outbound business due to the strengthened creative capability arising from the merger of the subsidiary of Soil, Inc., which employs bilingual staff, and from various efforts to capture demand including the strengthening of interactive promotion capability in the growing realm of non-mass advertising applications (Aside from television, radio, newspapers, magazines) through fortification of human resources at the managerial level and collaboration with partners in other industries.

 

 

Order backlog at the start of the term rose by 8.2% year-on-year to ¥5.474 billion. Orders for events currently being planned and proposed, which are expected to have a high probability of being booked (Over 50%), has already reached a total of ¥4.615 billion or 62.4% of the ¥7.401 billion in orders (A 3.3% year-on-year increase) required to achieve the full year sales estimates of ¥12.875 billion.

 

 

End First Half, Yearend Dividend Payments of ¥10.25, ¥10.50 Expected to Be Paid for Full Year Dividend of ¥20.75

TOW uses dividend payout ratio and dividend yield on a consolidated basis as two fundamental indicators of profit distribution. More specifically, the Company dividend payout ratio of 40% relative to fiscal year June 2016 net profit estimates (¥930 million) translates to ¥16.61 per share and the dividend yield of 4.5% based upon the closing share price of ¥654 at the close on August 6, 2015 translates to ¥29.43. Whichever is higher becomes minimum dividend, and dividend amounts will be determined based on this value. But based upon the fundamental policy for retained earnings, a maximum dividend payout ratio of 50% has been determined.

 

(2) Basic Policy for Fiscal Year June 2016

Business Environment

According to the "Advertising Expenditures in Japan," a report issued by Dentsu Inc. in February 2015, total advertising spending in Japan rose by 2.9% to ¥6.1522 trillion in 2014 (January to December) for the third consecutive year of growth. In particular, non-mass advertising spending (Excluding television, radio, newspaper, and magazines) saw particularly strong growth, with the "Koukoku to Keizai (Advertising and Economy)" report (Published on August 1, 2015) indicating that the share of advertising of non-mass applications of the three major advertising agencies rising significantly relative to overall advertising. Amidst the growing trend for the number of people accessing information from their smartphones, the Hakuhodo DY Media Partners Institute of Media Environment finds that the amount of time spent by the average Japanese accessing media on smartphones, personal computers and digital tablets has risen from 57 minutes in 2006 to 169 minutes in 2015, but the time spent accessing the four traditional mass media formats has declined by 50 minutes from 267 to 215 minutes over the same period.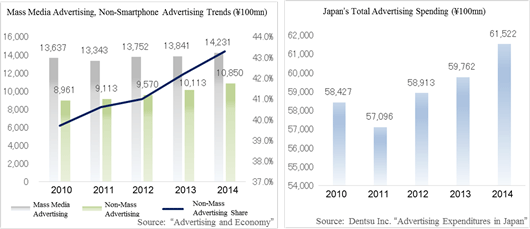 Promotional Effects Eagerly Sought After by Advertising Companies (TOW's Promotion Design)

In the current advertising industry, where non-mass advertising is attracting much attention, the promotional effect that is eagerly sought after by advertisers is consumers' emotions of "sharing and empathy," which can lead to actual "sales." In order to cause such effects, it is necessary to disseminate (to create buzz) people's experience of being deeply moved in the integrated form of digital and real media. This process is made possible by interactive promotions (IP).

TOW lists the following three values to strengthen its competitiveness in obtaining orders: 1) The accelerating of standardization for IP, as well as promotion of collaboration with businesses in other industries, 2) Strengthening integrated promotion capabilities including IP, and 3) Further strengthening of group capabilities.

 

Three Value Added Factors to Strengthen Competitive Standing

(1) "Acceleration of Standardization for Integrated Promotions," "Promotion of Collaboration with Companies in Other Industries"

TOW's business collaboration with Creative Studio Co., Ltd. and 1-10 Holdings, Inc. (Shimogyo-ku, Kyoto), which produced comprehensive digital marketing, ended in June 2015. The second collaborative integrated promotion project started in July 2015 through a collaborative agreement with Kayac Inc., which boasts of strengths in buzzle contents creation (Kamakura City, Kanagawa Prefecture). Kayac Inc. provides planning, development and operations for online advertising, smartphone applications, and community sites. The collaborative agreement with Kayak will establish an interactive promotion project called "TOWAC" and a special working group called "Team TOWAC" for the creation of a buzzle event (Through operation of a pop-up store). As the first interactive promotion project, a digital hybrid unit called "1→TOW" was formed with 1-10 Holdings, Inc. to expand the integrated promotion business.

In addition to the above mentioned endeavors, TOW will strengthen its relationship with the networking companies identified by Party Co., Ltd., which employs four of Japan's finest creative directors, and fortify its interactive promotion office by increasing its staffing from 10 to 18. Party Co., Ltd. is a creative laboratory that develops designs that leverage digital technologies in space, contents, events, services, products, communications and visual applications in response to "networking" and "globalization". In addition, staff will be transferred from the headquarters and external creators will be employed to fortify the interactive promotion office. This function has been separated from the headquarters and established as an independent office.

 

(2) Strengthening "Interactive Promotion" Capabilities

Boasting of strengths in communication structure creation from the standpoint of digital promotion, creative director Akihito Abe, a winner of various awards including the Cannes International Advertising Award, became the first creative director of the Company in July 2015.

Akihito Abe boasts of particular strength in digital communications structure creation, and has created numerous successful campaigns. He boasts of the TIA, Cannes, and numerous other swards, and has served as a selection committee member of the Cleo Award and OneShow Japan representative. In the future, Mr Abe will help to fortify the creative capabilities (Real versus digital versus creative) of TOW. He has also co-authored the book entitled "Webu Kyampeen no Shikakekata (How to Create Web Campaigns)."

 

(3) Further Fortifying "Group Capabilities"

Efforts will continue to expand external sales of T2 Creative. As part of these efforts, the ability to respond to inbound and outbound (Overseas) demand will be fortified through the absorption and merger of T2 Creative's subsidiary Soil, which boasts of bilingual staff. Furthermore, T2 Creative and TOW clarified each other's responsibilities in response to the major advertising agencies' moves to internalize various tasks.

Also, TOW has introduced a frequent-flyer-type stock option to all of the employees belonging to its Group in an effort to further strengthen its "group capabilities." This frequent-flyer-type stock option provides options to employees when earnings targets are achieved in each quarter.

 

(3) Adoption of an Audit Committee Structure

Based upon the anticipated approval of the 39th annual general shareholders' meeting to be held on September 25, 2015 and for the purpose of strengthening the governance of the Company, an audit committee structure is expected to be adopted. This move is designed to realize high levels of transparency of management and to strengthen corporate governance through review of managing directors' execution of responsibilities by corporate auditors to assess the management soundness, and the legality and appropriateness of operation execution. Haruo Kurami (Committee Chairman), Shintaro Hagiwara, and Shigeo Yoshida are expected to be appointed as corporate auditors, along with the seconding of President of Kayak Daisuke Yanagisawa as an external director.

 

 
 

There is a growing trend in recent years for advertising companies to seek out promotions that have more straightforward effect of increasing sales. Reflecting such trend, non-mass advertising expenditure is on the rise. Strong expectations are being placed upon interactive promotions that combine the elements of real promotions with online promotion which has the ability to disseminate information in the realm of non-mass advertising. Therefore, TOW has been able to record strong earnings performance based upon its ability to respond to these needs of advertising companies. Looking at the category and value of promotion orders, appointed promotion orders are increasing in both volume and value, and the pricing has also shown strong increases on the back of the strong recognition and evaluation on the part of major advertising agencies towards TOW's interactive promotion capabilities. During 2014 (January to December), advertising spending within Japan rose for the third consecutive year and the operating environment remained favorable. But in addition to this favorable business environment, TOW's proactive efforts to grow its earnings should also be recognized.

 

Disclaimer

This report is intended solely for information purposes, and is not intended as a solicitation to invest in the shares of this company. The information and opinions contained within this report are based on data made publicly available by the Company, and comes from sources that we judge to be reliable. However we cannot guarantee the accuracy or completeness of the data. This report is not a guarantee of the accuracy, completeness or validity of said information and or opinions, nor do we bear any responsibility for the same. All rights pertaining to this report belong to Investment Bridge Co., Ltd., which may change the contents thereof at any time without prior notice. All investment decisions are the responsibility of the individual and should be made only after proper consideration.

Copyright(C) 2015 Investment Bridge Co.,Ltd. All Rights Reserved.