Koji Egusa, President
& CEO
| | |
| --- | --- |
| Company | TOW Co., Ltd. |
| Code No. | 4767 |
| Exchange | TSE First Section |
| Industry | Service |
| President | Koji Egusa |
| HQ Location | Tokyo, Minato-ku, Toranomon 4-3-13, Hulic Kamiyacho Building |
| Year-end | June |
| URL | |
Share Price
Shares Outstanding
Market Cap.
ROE (Act.)
Trading Unit
¥518
22,408,452 shares
¥11.608 billion
13.7%
100 shares
DPS (Est.)
Dividend Yield (Est.)
EPS (Est.)
PER (Est.)
BPS (Act.)
PBR (Act.)
¥20.75
4.0%
¥41.54
12.5x
¥308.16
1.7x
* Share price as of the close on February 10, 2016. Shares outstanding as of the most recent quarter end exclude treasury shares.
| | | | | | | |
| --- | --- | --- | --- | --- | --- | --- |
| Fiscal Year | Sales | Operating Profit | Current Profit | Net Profit | EPS(¥) | Dividend(¥) |
| June 2012 | 13,935 | 973 | 987 | 508 | 44.61 | 32.00 |
| June 2013 | 12,346 | 850 | 864 | 428 | 37.64 | 28.00 |
| June 2014 | 12,188 | 1,026 | 1,035 | 638 | 28.90 | 28.00 |
| June 2015 | 13,442 | 1,335 | 1,349 | 818 | 36.93 | 33.00 |
| June 2016 Est. | 14,290 | 1,416 | 1,422 | 930 | 41.54 | 20.75 |
* Estimates are those of the Company. Effective from fiscal year June 2016, the definition for net income has been changed to net income attributable to parent company shareholders (Abbreviated hereafter as parent net income).
* A 2 for 1 stock split was conducted in July 2015 and EPS for FY6/14 and FY6/15 have been retroactively adjusted to reflect these stock splits.

 

We present this Bridge Report reviewing the fiscal year June 2016 earnings results for TOW.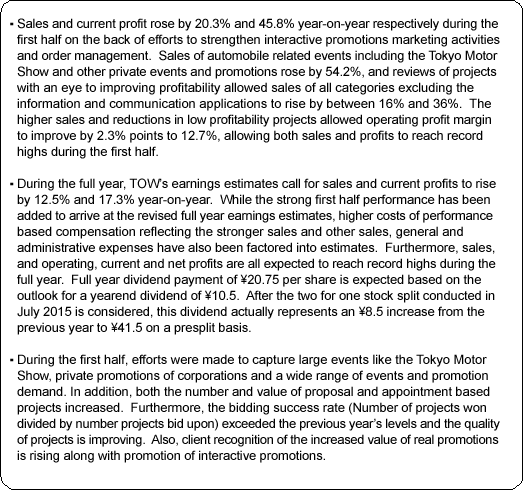 TOW Co., Ltd. is the top ranked independent company in the sales events and promotions industry and a Tokyo First Section publicly traded company. The industry is highly fragmented with approximately 8,000 companies in operation, of which the bulk are smaller to medium sized companies, and TOW boasts of a dominant position over the majority of its competitors. In light of the expanding influence of the Internet, TOW is implementing efforts to strengthen its interactive promotion capabilities based upon its deep experiences in event production and creative digital technologies. The Company can provide "brand experiences that move the hearts of consumers" through planning, creation and operations of interactive promotions to solidly resolve various client issues. TOW's corporate philosophy is to "spread smiles by creating the world's most unique experiences." In addition to TOW itself, the Group also boasts of the subsidiary T2C Co., Ltd., which conducts event creation, operation and production, and visual contents creation. Based upon TOW's corporate philosophy of "spreading smiles by creating the world's most unique experiences", Company name TOW is derived from the slogan "Top Of the World."

 

<Business Overview>

TOW's sales are divided between the events, sales promotions, other business, and subsidiaries categories, with each accounting for 30.9%, 59.2%, 0.7% and 9.3% respectively of fiscal year June 2015 sales. TOW accepts orders for a wide range of services in the events division including planning and actual event operations ("Planning," "creation," "operation," and "production"). These services entail the need for various operational tasks including lighting, sound, visual, stage set creation, human resources dispatch (Models, companions, security related positions), crowd control, clean up and others. These tasks are usually outsourced to various specialist companies (Including the consolidated subsidiary T2 Creative) in order to ensure that overall coordination and production of events are conducted smoothly from the standpoint of both the hosts and attendees. At the same time, the main tasks of "planning," "design," and "creation" are conducted within sales promotions, as well as website creation, printing, premium goods and services, office operations and "out of home" (OOH: Public transportation and outdoor advertising).

Events and sales promotions are not meant to be conducted independently but as part of larger campaigns, from which they are designed to derive synergies from. At the same time, they are highly important as they affect the quality of "interactive promotions." Moreover, "interactive promotions" use digital technologies and ideas to create impressive experiences and these experiences are turned into information to be proliferated and shared as part of overall promotions.

 
 

By industry category (Excluding planning sales in FY6/15), the information and communications industry accounted for the largest share of sales of 24.2%, followed by the automobile, food and beverage, cosmetics and toiletries and sundry products, government bodies and other organizations, precision instruments and other manufacturing, wholesale and retail, financial and other industries at 17.4%, 17.2%, 10.0%, 6.5%, 6.2%, 5.8%, 3.8% and 8.9% respectively.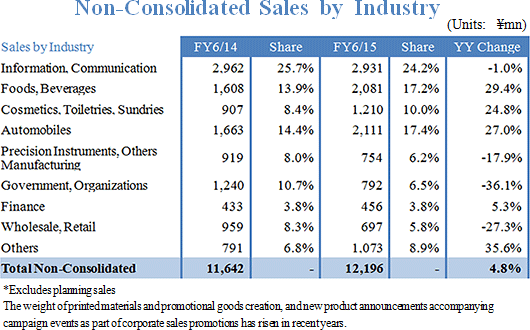 <Strengths>

Transactions with Over 10 Major Advertising Firms, Ability to Handle Large Scale Promotional Events by Itself

Orders for the majority of events performed within Japan are usually given to large advertising agencies, which are clients of TOW, by the companies advertising. Therefore, the actual companies planning, creating and operating events like TOW commonly receive orders from the major advertising agencies and not directly from the client paying for the event themselves. While the bulk of competing event and sales promotion companies tend to be smaller in scale and only deal with a limited number of advertising agencies, TOW boasts of transactions with over 10 major advertising agencies because it has built a strong reputation for being the most credible specialist event and sales promotion company within the Japanese industry. In addition, TOW boasts of the ability to handle events held in large facilities such as the Tokyo Dome, Makuhari Messe, Tokyo International Forum, Tokyo Big Sight and others without the need to collaborate with competing companies.

 

A Comprehensive Promotion Company Providing "One Stop" Solutions

When considering promotions as part of corporate communications, the ability to access the capability for total and comprehensive planning of specialized promotion companies with bountiful knowhow and experience is one of the most important factors in increasing the effectiveness of promotions. In addition to real time communications that leverage a strong track record in event creation, TOW has fortified its services menu lineup that responds to sales promotion needs of clients including premium goods and services, tools and websites to provide promotion and integration of the functions of producers, planners and directors. In other words, TOW seeks to function as an integrated promotions company by newly establishing the "promotion partner" function and providing "one stop comprehensive solutions".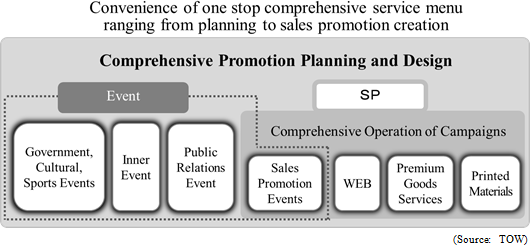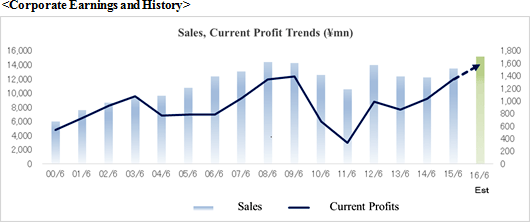 TOW, the Industry Leader Since Its Founding in July 1976

TOW was founded as a limited liabillity company in July 1976, and has been the leader in the event planning, creation, operations, production and management services. Events first gained recognition as an advertising tool during the Japan World Exhibition held in Osaka City in 1970. And during the subsequent period of over 40 years, TOW has continued to act as the leader within the indusry.

TOW has been involved in news worthy events including the "Walkman (Initial model) sales launch campaign," "Tokyo Aqua Line Tunnel Opening Celebratory Event", "FIFA 2002 World Cup Selection Event," and many others. And the memories of these momentous events remains firmly placed in the memories of many Japanese.

These endeavors have won TOW the strong trust of the major advertising agencies. Furthermore, repeated business transacitons with these and other high quality clients has cemented relationships of trust with TOW. In addition, TOW changed its status from a limited liability company to a stock issuing corporation in March 1989 and it exceeded ¥4.0 billion in annual sales in June 1998. TOW listed its shares on the JASDAQ Market in July 2000, and later moved its listing to the Second and First Section Markets of the Tokyo Stock Exchange in July 2007 and June 2008 respectively.

 

Focusing Upon "Ineractive Promotions (IP)" that can Transmit and Diffuse Impressive Experiences that Leverage Digital Technologies and Innovative Ideas

TOW has successfully conducted a large number of real events since its founding, and has entered the digital event and sales promotion realm in 2009 to 2010 (A digital promotion office was established in fiscal year June 2011). The Company has also been successful in the creation of various campaign websites, provision of social media (including Facebook) operational support, and development of application in the realm of digital promotions.

However, evolution of digital technologies and fusion with communication technologies are advancing, and the conventional "one way" messaging has become "interactive" with the ability to move people (and are still evolving now). Therefore, TOW changed the name of the "digital promotion office" to "interactive promotion office" in July 2014, and shifted its focus from real events to the creation and leveraging of digital events. At the same time, the Company seeks to integrate digital technologies with real events to produce new promotions on a full scale basis.

Becausee a sole focus upon only the digital realm will limit the possibilities of promotions (Limited proliferation of impressive experiences), there is a need to also integrate elements of real promotions in order to achieve the desired results of advertising companies. Interactive communication is comprised of "virtual environments" and "leading designs," and "technologies must be used in real communications along with digital media in order to proliferate information and move people" for a company like TOW. At the same time, the focus upon the production of real events and other promotions as its main business and is one of its strengths of TOW and will allow it to extract the maximum effect from digital technologies..

TOW has been able to successfully exceed the limits of space and time to communicate various mesaages to people through deep experiences that integrate aspects of both digital and real promotions. This ability is also a reason for the increases in both sales and profits during fiscal year June 2015.

 

 
Strategies in Fiscal Year June 2016
 

<Business Environment>

According to the "Japan Advertising Spending" report issued by Dentsu Inc. (February 2016), total advertising spending in Japan rose by 0.3% to ¥6.1710 trillion in 2015 (January to December) for the fourth consecutive year of growth. In particular, non-mass media advertising spending (Excluding television, radio, newspaper, and magazines) saw particularly strong growth, with the "Advertising and Economy" report (Published on August 1, 2015) indicating that the share of non-mass media advertising of the three major advertising agencies rose significantly relative to overall advertising.

Amidst the growing trend for the number of people accessing information from their smartphones, the Hakuhodo DY Institute of Media Environment finds that the amount of time spent by the average Japanese accessing media on smartphones, personal computers and digital tablets has risen from 67 minutes in 2006 to 169 minutes in 2015. But also, the time spent accessing the four traditional mass media formats has declined by 50 minutes from 267 to 215 minutes over the same period.

 

 

<TOW Promotion Design: "Interactive Promotion" is the Key Word>

The ability to touch consumers' emotions of "sharing and empathy" can lead to actual "sales" that advertising companies seek to validate the effectiveness of promotions in the realm of non-mass media advertising and it has gathered increasing amount of attention within the advertising industry. In order to realize effective sales, interactive promotions are needed to proliferate information (Creating buzz) by leveraging integrated digital and real promotions to deeply move people.

The "accelerating of standardization for interactive promotions," "promotion of collaboration with companies in other industries," , "fortification of integrated promotion capabilities" and "further strengthening group capabilities" are important factors in increasing TOW's value addition and fortifying its order booking capability.

 

"Acceleration in Standardization of Interactive Promotion Capabilities" and "Promotion of Collaborations Crossing Differing Industries"

In order to quickly standardized interactive promotion capabilities, headquarter staff have been transferred to and external creators have been hired by the interactive promotion office, subsequently the staff numbers has risen from 10 to 18. Furthermore, the interactive promotion office has been moved into a separate room with more space than their previous space within the headquarters. At the same time, the value of real events will be increased and the target market will be expanded through collaboration with partners in other industries to acquire new skills externally. TOW has traditionally conducted collaboration with external partners in its main domain of real events, and it is now promoting collaboration in the four realms which exceed the bounds of digital, visual, and public relations as part of its efforts to create a new promotion portfolio (Event portfolio in new industries). By promoting collaboration outside of its industry, TOW can fortify its portfolio and expand its portfolio to include five or six different realms. The real event market value is estimated to be ¥1 trillion, and the new realms within the above mentioned portfolio of digital, visual (Commercial creation), public relations are estimated to be worth ¥230.0, ¥200.0 and ¥430.0 billion respectively and expand the total market value to ¥1.8300 trillion.

 

Strengthening Integrated Promotion Capabilities Including Interactive Promotions

Masahito Abe, a creative director who has won the Cannes Lions International Advertising Award and numerous other awards, was appointed to become TOW's first creative director of the interactive promotion office in July 2015. Masahito Abe has particular strengths in digital communications and has created numerous successful campaigns which have been chosen for the TIA Award and Cannes Lions International Advertising Bronze Award. In addition, Masahito has also served as the official Japan representative judge of the CLIO Awards and OneShow. In the future, Masahito will work with other staff to strengthen the creative capabilities of TOW (Real x digital x creative).

 

Further Strengthening "Group Capabilities"

TOW believes that it is imperative that "the external sales of T2 Creative Co., Ltd., which conducts event creation and operations, must be expanded to further strengthen the TOW Group capabilities." Along with the hiring of three directors and six planners, the Company is considering the hiring of an additional six more mid-career workers. Due in part to this increase in staff quantity and quality, sales in fiscal year June 2015 rose to ¥1.1 from ¥0.5 billion in fiscal year June 2014. In order to strengthen both inbound and outbound demand during fiscal year June 2016, Soil, Inc., which boasts of bilingual staff, was absorbed by T2 Creative. In addition, the roles of both TOW and T2 Creative have been further clarified in response to the internalization of agency business. As part of the strategy of further strengthening the Group's capabilities, the TOW Group has begun issuing "mileage type stock options" based on earnings achievement targets on a quarterly basis to all staff.

 

 
First Half of Fiscal Year June 2016 Earnings Results

 

Sales, Current Profit Rise by 20.3%, 45.8%, Sales, Profits Reach Record Highs for First Half

The Tokyo Game Show, the Tokyo Motor Show (Total of 10 companies within the Group) and other promotional events were undertaken and allowed consolidated sales to grow by 20.3% year-on-year to ¥8.395 billion. Interactive promotions sales also rose by 27% year-on-year, and efforts to strengthen the Group's capabilities allowed external sales of the subsidiary T2 Creative to grow by 1.5 fold year-on-year.

With regards to profits, the higher sales and strengthened cost management and subsequent decline in low profitability projects allowed gross profit margin to rise by 1.9% points year-on-year to 17.4%. Successful absorption of higher labor expenses and other sales, general and administrative expenses allowed operating profit to grow by 47.6% year-on-year to ¥1.066 billion.

The number of new orders for medium to large sized projects of over ¥50.00 million acquired rose and exceeded both the initial and revised estimates issued in December. Initial estimates had called for sales and operating, current and net profits of ¥7.565, ¥0.833, ¥0.836 and ¥0.549 billion respectively.

 


 

During the second quarter, the expansion in sales contributed to increases in accounts receivables and accounts payables and to a rise in total assets of ¥1.505 billion from the end of the previous fiscal year to ¥11.648 billion. Current, fixed and capital adequacy ratios declined from 257.4% to 246.7%, 20.8% to 20.7%, and 62.2% to 59.3% over the same period respectively, and reflected the superior levels of liquidity and long term stability of TOW's financial position.

 

 

With regards to cash flow, the expansion in sales during the second quarter contributed to an increase in working capital and a temporary deterioration in operating cash flow. The margin of net outflow in investing activities expanded due to the investment in low risk marketable securities (¥1.0 billion) as part of the capital surplus management strategy. A net outflow was seen in financing activities due to the payment of dividends (A ¥5 per share increase).

 

 

The bulk of consolidated earnings is derived from the TOW's non-consolidated earnings, which saw increases in sales and current profit of 19.6% and 48.0% year-on-year respectively. Looking at sales by industry, sales of a wide variety of automobile industry related events including the Tokyo Motor Show and other large events and private promotions rose by 54.2% year-on-year to ¥1.519 billion or 20.3% of total sales. In addition, expansion in sales to existing customers allowed wholesale and retail industry sales to rise by 2.2 fold to ¥0.826 or 11.0% of total sales. Furthermore, sales to the food and beverages, cosmetics and toiletries, precision instruments and other manufacturing, government and public bodies, and financial institutions rose by strong margins of between 16% and 36%.

At the same time, reviews of low profitability projects (self-promotion by a client in kansai district) in the information and communication industries contributed to a 22.0% year-on-year decline in sales to these industries to ¥1.398 billion or 18.7% of total sales. As a result of these developments, sales in the Tokyo and Nagoya regions rose by 26.9% year-on-year to ¥6.616 billion or 88.2% of total sales, and 91.4% year-on-year to ¥425 million or 5.7% of total sales respectively. At the same time, sales in the Kansai region declined by 44.3% year-on-year to ¥455 million or 6.1% of total sales.

The number of orders rose across all price categories by about 50% year-on-year and the average price rose from ¥8.90 million in the previous term to over ¥10.00 million in the current term. By type of project category, competitive bidding, proposal and appointed categories all recorded strong increases in their sales value, and their order numbers rose on the back of marketing efforts focused upon important clients that allowed the number of appointed projects to rise. Furthermore, the bid success rate (Number of projects won divided by number projects bid upon) improved, allowing sales of interactive promotions to rise by 27% year-on-year.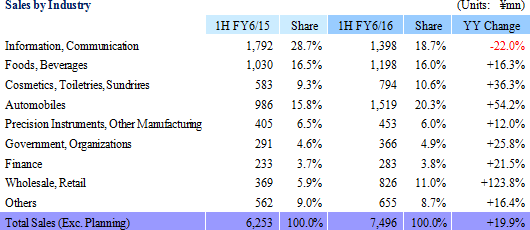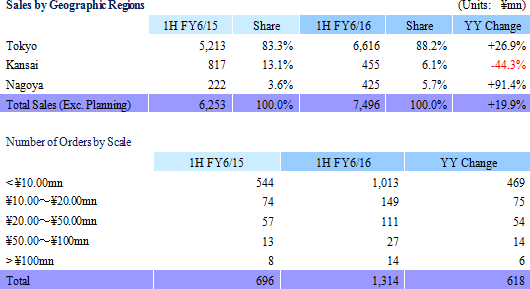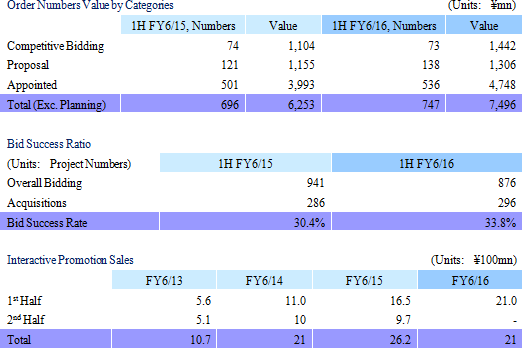 Fiscal Year June 2016 Earnings Estimates

 

Estimates Revised Upwards on Strong First Half Earnings, Sales, Current Profits Expected to Rise 12.5%, 17.3%

The stronger first half results have been added to the revised full year estimates, and performance based bonus compensation in reflection of the stronger first half have been reflected in sales, general and administrative expenses used in these revised estimates. If TOW is able to achieve these estimates, the current fiscal year will mark the third consecutive term of increases in overall earnings, and sales and operating, current and net profits will all rise to record highs.

A ¥10.5 per share dividend is expected to be paid at the fiscal year end, and when combined with the dividend paid at the end of the first half will result in a full year dividend of ¥20.75. After the two for one stock split in July 2015 is considered, the actual dividend will rise by ¥8.5 to ¥41.5 per share. TOW maintains a target maximum consolidated dividend payout ratio of 50%, and a minimum dividend payout ratio of 40% or dividend yield of 4.5%, whichever is higher.

 

 

While orders and work in progress totaling ¥2.393 billon were booked during the second half of the previous term, TOW's estimates call for orders and work in progress of ¥1.936 billion to be booked during the second half of the current fiscal year. About double this amount of orders for which there is a high probability of being booked (Over 50%) that are currently being proposed of ¥3.841 billion need to be achieved in order to realize the sales estimate in the current term.

 

(2) Second Half Policy

In order to strengthen its competitive capabilities, TOW will implement the three pronged strategy of 1) promoting quick standardization of interactive promotion capabilities and collaboration with partners in other industries, 2) strengthening of interactive promotion and other integrated promotion capabilities and 3) further strengthening of the TOW Group's overall capabilities. During the second half, the Company will continue to promote the above three mentioned strategies to further strengthen its overall capabilities.

 

1) Quickly Standardize Interactive Promotions and Promote Collaborations with Partners in Other Industries

An "interactive promotion office" has been established to quickly promote standardization of interactive promotions, and to integrate digital and real promotions to produce new promotions. At the same time, TOW will endeavor to collaborate with partners in industries to create a "new promotion portfolio" (Upgrading TOW to higher specifications).

Currently the other industry domain portfolio consists of the four realms of real events, digital, visual and public relations. And while the market for real events (Promotions), which is the traditional business domain of TOW, amounts to about ¥1 trillion, digital, visual (Commercial production) and public relations amount to ¥230.0, ¥200.0, and ¥430.0 billion respectively, bringing the total size of these four markets to ¥1.8300 trillion. With an eye to capital participation, efforts will be made to fortify existing business realms and to cultivate new realms.

 

New Promotion Portfolio

 

New Collaboration

Collaboration with Taiyo Kikaku Co., Ltd. "TxT": Pursuing Endless Possibilities of New Brand Experiences Leveraging Real and Visual Capabilities
The planning and production unit "TxT" was formed with Taiyo Kikaku Co., Ltd., a visual contents company which conducts television commercial production, in October 2015. TOW collaborated with the internal business unit called "Tokyo" within Taiyo Kikaku to turn its events into visual contents and to pursue the possibilities of new brand experiences that leverage real and visual capabilities. "Tokyo" has been involved in very topical contents including television commercials and is focused not only upon mass media. "Tokyo" has a track record in collaboration with TOW. Moreover, the characteristic of this project is the fact that real and visual capabilities, which had been separated in terms of the division of responsibilities, have been fused. New brand experiences (Brand experiences that cannot be experienced by commercials or events) can be created by leveraging the perspectives, concepts and knowhow of both capabilities. Furthermore, the fusion of these capabilities can contribute to resolution of various issues faced by advertising companies.

 

 

Collaboration with Material Co., Ltd. "PR Motions": Maximizing Effectiveness of Public Relations and Promotions through PR Data x Ideas

A business unit called "PR Motions" was formed through collaboration with the public relations company Material Co., Ltd. in February 2016. Material is known for its abilities to objectively analyze data to measure effectiveness of public relations (Public relations that does not rely only upon highly subjective senses). "PR Motions" uses the results of this data analysis to be leveraged in real promotions. In February, Material's data analysts were invited to join TOW and begin operations.

 

Track Record of Collaboration with Partners in Other Industries

 

Strengthening Integrated Promotion Capabilities including Interactive Promotion

With particular strengths in digital communications capabilities building, creative director Masahito Abe, who has won numerous awards including the Cannes Lions International Advertising Award and others, was appointed to become the first creative director (Interactive promotion office) in July 2015. In the future, Masahito Abe will implement efforts to strengthen creative capabilities.

 

Further Strengthening TOW Group's Capabilities

Ongoing efforts will be made to expand the external sales of T2 Creative. As part of this strategy, production capabilities will be strengthened to capture more of the growing inbound and outbound demand, and Soil, Inc., which boasts large numbers of bilingual staff, will be merged with T2 Creative. In response to the internalization of work by agencies, the roles and responsibilities of T2 Creative and TOW will be further clarified. In addition, as part of efforts to strengthen the TOW Group's capabilities, a "mileage type stock option system" will be introduced for TOW Group staff. These options will be based upon earnings performance and awarded on a quarterly basis.

 

 
 

During the first half, efforts were made to capture large events like the Tokyo Motor Show, private promotions of corporations and a wide range of events and promotion demand. In addition, both the number and value of proposal and appointment based projects increased. Furthermore, the bidding success rate (Number of projects won divided by number projects bid upon) exceeded the previous year's levels and the quality of projects is improving. Also, client recognition of the increased value of real promotions is rising along with promotion of interactive promotions. While various successful collaborations primarily through business cooperation have been pursued, TOW's portfolio can be fortified by pursuing deeper relations including capital collaboration. And despite the upward revision to full year earnings, there may be further room for positive surprises given the near term business conditions (Projects currently being planned and proposed with a high probability of being booked as orders).

 

Disclaimer

This report is intended solely for information purposes, and is not intended as a solicitation to invest in the shares of this company. The information and opinions contained within this report are based on data made publicly available by the Company, and comes from sources that we judge to be reliable. However we cannot guarantee the accuracy or completeness of the data. This report is not a guarantee of the accuracy, completeness or validity of said information and or opinions, nor do we bear any responsibility for the same. All rights pertaining to this report belong to Investment Bridge Co., Ltd., which may change the contents thereof at any time without prior notice. All investment decisions are the responsibility of the individual and should be made only after proper consideration.

Copyright(C) 2016 Investment Bridge Co.,Ltd. All Rights Reserved.