Koji Egusa, President
& CEO
| | |
| --- | --- |
| Company | TOW Co., Ltd. |
| Code No. | 4767 |
| Exchange | TSE First Section |
| Industry | Service |
| President | Koji Egusa |
| HQ Location | Tokyo, Minato-ku, Toranomon 4-3-13, Hulic Kamiyacho Building |
| Year-end | June |
| URL | |
Share Price
Shares Outstanding
Market Cap.
ROE (Act.)
Trading Unit
¥653
22,408,452 shares
¥14.633 billion
16.1%
100 shares
DPS (Est.)
Dividend Yield (Est.)
EPS (Est.)
PER (Est.)
BPS (Act.)
PBR (Act.)
¥26.00
4.0%
¥52.92
12.3x
¥320.64
2.0x
* Share price as of the close on August 24, 2016. Shares outstanding as of the most recent quarter end exclude treasury shares.
| | | | | | | |
| --- | --- | --- | --- | --- | --- | --- |
| Fiscal Year | Sales | Operating Profit | Current Profit | Net Profit | EPS(¥) | Dividend(¥) |
| June 2013 | 12,346 | 850 | 864 | 428 | 37.64 | 28.00 |
| June 2014 | 12,188 | 1,026 | 1,035 | 638 | 28.90 | 28.00 |
| June 2015 | 13,442 | 1,335 | 1,349 | 818 | 36.93 | 33.00 |
| June 2016 | 15,230 | 1,678 | 1,682 | 1,083 | 48.35 | 22.00 |
| June 2017 Est. | 16,032 | 1,793 | 1,792 | 1,185 | 52.92 | 26.00 |
* Estimates are those of the Company. Effective from fiscal year June 2016, the definition for net income has been changed to net income attributable to parent company shareholders (Abbreviated hereafter as parent net income).
* A 2 for 1 stock split was conducted in July 2015 and EPS for FY6/14 and FY6/15 have been retroactively adjusted to reflect these stock splits.

 

We present this Bridge Report reviewing the fiscal year June 2016 earnings results for TOW.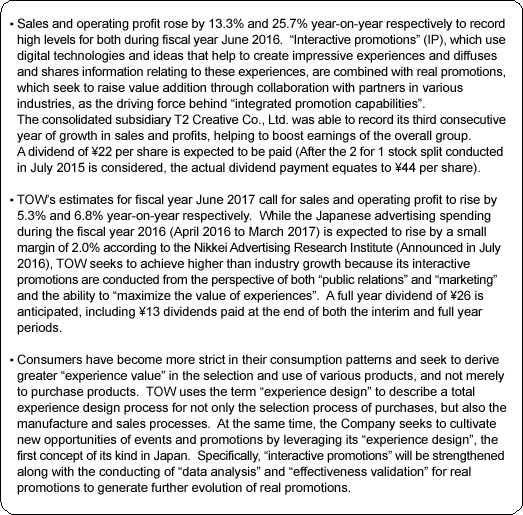 TOW Co., Ltd. is the top ranked independent company in the sales events and promotions industry and a listed company on the First Section of the Tokyo Stock Exchange. The Company provides event and promotion planning, creation and operational services, in addition to novelty goods and printed documents relating to sales promotions. In light of the expanding influence of the Internet, TOW is implementing efforts to strengthen its interactive promotion capabilities based upon its deep experiences in event production and creative digital technologies. Based upon TOW's corporate philosophy of "spreading smiles by creating the world's most unique experiences", Company name TOW is derived from the slogan "Top Of the World." In addition to TOW itself, the Group also boasts of two consolidated subsidiary T2 Creative Co., Ltd. (T2C), which conducts event creation, operation and production, and visual contents creation, and "Sports Is Good Co., Ltd.", which is focused upon the cultivating businesses within the realm of sports. Moreover, "interactive promotions" use digital technologies and ideas to create impressive experiences that are turned into information to be proliferated and shared as part of overall promotions.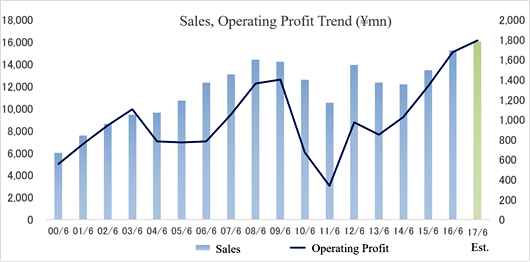 <Business Overview>
Flow of Event Planning to Implementation

Demand for work for events appears as soon as a promoter comes up with an objective (Transmission of information to the promoter's audience). TOW begins work on creating a plan as soon as they are briefed by the promoter about their objective. Thereafter, meetings are held in at every step of the work flow process from proposal, basic plan, implementation plan, detailed plan, progress script, construction drawing, time schedule chart and document creation. TOW also creates stages and conducts rehearsals up until the day of the actual event.

 

Scope of TOW's Business

In the case of events, TOW receives orders that span the entire range of the work flow process from planning to the actual holding of the event, and performs "planning", "production", "operations", and "staging" activities in addition to conducting various onsite services during the actual time that the actual event is conducted. Specifically, these are tasks involved with lighting, sound, visual, stage creation, and model, companion and security guard casting. In addition, TOW provides services related to preparation, site disassembly and removal, and cleaning. TOW is responsible for acting as a total director to oversee the entire event process and outsources these various tasks to specialized service providers, and with a goal of ensuring that the objectives of the promoter are adequately represented and conveyed to the audience.

The consolidated subsidiary T2 Creative Co., Ltd. specializes in "production" and "operations", and Sports Is Good Co., Ltd. specializes in sporting event experience planning and production.

And while the main services of promotions include "planning", "design", and "production", printing, premium goods and services, graphic design, executive operations, OOH, website production and other services are also conducted. Similar to the events business, TOW also acts as a total director overseeing all aspects of promotions including direction, production and product delivery.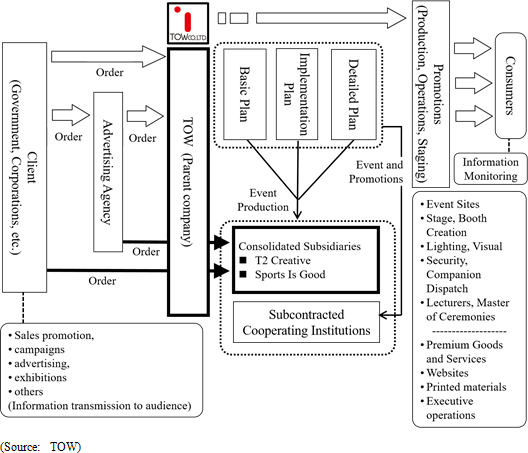 Fiscal Year June 2016 Earnings Result

 

Sales, Operating Profit Rise 13.3%, 25.7% Year-On-Year to New Record Highs

Sales rose by 13.3% year-on-year to ¥15.230 billion. "Interactive promotions" (IP), which use digital technologies and ideas that lead to impressive experiences and diffuses and shares information relating to these experiences, are combined with real promotions, which seek to raise value addition by collaborating with partners in various industries, as the driving force behind "integrated promotion capabilities". The consolidated subsidiary T2 Creative Co., Ltd. (T2C hereafter) was able to record its third consecutive year of growth in sales and profits, helping to boost earnings of the overall group. With regards to profits, the higher sales combined with increases in value addition of services and strict cost controls allowing operating profit to rise by 25.7% year-on-year to ¥1.678 billion.

The consolidated subsidiary T2C saw sales, operating profit and net profit growth of 32%, 36% and 40% year-on-year to ¥1.661, ¥0.506, and ¥0.324 billion respectively.

 

Collaboration with Partners in Different Industries

TOWAC:

Buzz-Making Event


Through the collaboration with Kayak Co., Ltd., which has strengths in the creation of buzz-making contents, an interactive promotion project organizing buzz-making events called "TOWAC" was started in July 2015.

 

T×T: Visual Experience

A collaboration with the television commercial production company Taiyo Kikaku Co., Ltd. was formed to create the planning and production unit called "TxT" in October 2015. This collaboration is focused upon an internal unit within Taiyo Kikaku called "Tokyo", and will turn events planned by TOW into visual contents to provide new brand experiences through the combination of real promotions and visual contents.

 

PR Motions:   Maximizing Publicity Effect by Combining Data x Idea x Media

Through collaboration with the public relations company Material Inc., TOW formed a business unit called "PR Motions" in February 2016. Material Inc. is known for its ability to conduct effective publicity based upon data and results analysis (Publicity that avoids reliance upon human perceptions by leveraging data analysis results in real promotions), and thus committing the results.

 

1→TOW (One

Two Double U): A Hybrid

Unit Combining Real x Digital (Terminated in June 2015)

 

 

At the end of the current fiscal year, total assets rose by ¥710 million from the end of the previous fiscal year to ¥10.854 billion. An increase in uncollected payments due to factoring was recorded, along with declines in both cash and equivalents and accounts receivables. At the same time, a decline in accounts payables was recorded along with an increase in net assets. Consequently, capital adequacy ratio rose from 62.2% in the previous term to 66.2% in the current term.

 

 

While operating cash flow contracted due to the increase in uncollected payments arising from factoring, an increase in redemption of marketable securities allowed investing cash flow to turn from a net outflow of ¥67 million in the previous term to a net inflow of ¥174 million in the current term. The net outflow of financing cash flow expanded due to the increase in dividend and the disappearance of income from the exercise of stock options in the previous term.

 

 

Sales rose by 11.4% year-on-year to ¥13.586 billion on the back of steady increases in sales promotion, public relations and printed materials of 12.7%, 4.8% and 34.8% year-on-year respectively. By industry, large projects in the food, cosmetics and retail industries contributed to this strong growth in sales. The number of orders in all price ranges rose, especially with the number of orders in excess of ¥100 million rising by 28.6% year-on-year. Strong orders for large projects allowed the average price to rise from ¥9.21 million in the previous term to ¥9.63 million in the current term. In terms of type of orders, strong demand for appointed orders acted as a driver for overall orders and the number and value of orders rose by 6.6% and 11.5% year-on-year respectively. At the same time, the total number of plans and production migrations declined by 5.9% and 9.0% year-on-year respectively. However, the successful booking ratio exceeded TOW's internal guideline of 30% at 34.9%.

With regards to profits, company-wide efforts to strengthen interactive promotion capabilities and integrated promotion capabilities through collaboration with partners in new industries contributed to increases in high value addition and allowed gross profit to rise by 16.0% year-on-year. This increase in gross profit allowed increases in labor expenses and overall sales, general and administrative expenses to be absorbed to allow operating profit to grow by 21.7% year-on-year to ¥1.170 billion.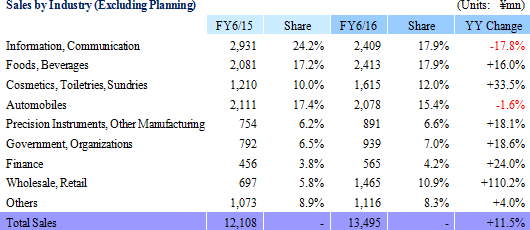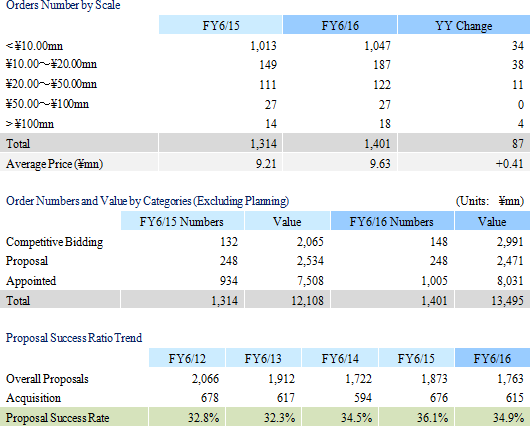 Fiscal Year June 2017 Earnings Estimates

 

Second Consecutive Year of Record High Sales Profits! Sales, Operating Profits Expected to Rise 5.3%, 6.8% Year-On-Year

Total advertising spending within Japan during fiscal year 2016 (From April 2016 to March 2017) is expected to grow by only a small margin of 2.0% year-on-year according to the Nikkei Advertising Research Institute. However, TOW expects to achieve higher than industry growth rates due to its strategies of pursuing interactive promotions from the "perspectives of public relations and marketing", and "maximizing the value of experiences".

 

 

Order backlog at the end of the term just ended rose by 17.5% year-on-year to ¥6.434 billion and compare with the orders of ¥7.721 billion (A 4.8% year-on-year decline) required to achieve full year sales estimates. However, "plans and proposals" and "proposals with a high level of certainty of being booked as orders (Over 50%)" fell by 13.9% year-on-year to ¥3.973 billion. At the same time, near term demand for orders remains strong and TOW will focus its efforts to increasing the number of plans and proposals.

 

 

¥13 Interim, Full Year End Dividends, Total Dividend Payment of ¥26 per Share

TOW uses dividend payout ratio and dividend yield on a consolidated basis as two fundamental indicators to determine profit distribution. Specifically, the Company uses a dividend payout ratio target of 40% based upon nonconsolidated earnings for the coming year and the dividend yield of 4.5% based upon the closing share price at the close on August 5, 2016, the day before the earnings announcement, and selects the higher of the two indicators to determine its dividend payment. But based upon the fundamental policy for retained earnings, a maximum dividend payout ratio of 50% has been determined.

 

(2) Medium Term Basic Business Strategy for Fiscal Year June 2017 and Beyond

TOW identifies the following three points as main factors in its medium term business strategy.

◎ Facilitating IP Data Usage, Pursuing Results for the Next Phase of Growth

Offering Japan's first "experience design and production" capabilities sought after by customers

○ Strengthening Human Resources, Maintaining Profitability = Expanding Scale

TOW has hired 11, 15, 17 and 21 new graduates as part of its strategy of developing young human resources during each of the past four years

○ Pursuing Potential Business for the 2020 Tokyo Olympics Paralympics in the Wake of the Rio Olympics Paralympics

Leveraging the new company "Sports Is Good Co., Ltd."

 

◎ Facilitating IP Data Usage, Pursuing Results for the Next Phase of Growth

Japan's First "Experience Design" Production

In this age of abundance, where, people have acquired nearly all the products they want, there is a need to shift consumer focus from "purchasing the actual products" or "the quality and function of products" to the "experience" that can be derived from selecting and using products. Look at the music industry, for instance. The compact disc market continues to shrink due to the ability to download music to smartphone terminals using applications to be enjoyed while walking, which has led to a reduction in the value of purchasing compact discs.

Now, has the music industry discovered a source of new added value to replace compact discs?
The answer is yes, as the new value addition is "live performances".
The value addition takes the form of time spent with music artists by fans at live performances and their purchases of novelty goods. In other words, a growing number of consumers are finding value in "experiences" (Purchasing "experience value addition"). Of course, this trend is not limited to only the music industry but can also be seen reflected in the hospitability industry where consumers "seek to drink and dine in comfortable environments". A specific example can be seen in consumers frequenting to highly fragrant and expensive coffee shop chain stores. The trend to drink cheaper low-malt beers (happoshu) and no-malt beers (third beers) on weekdays on the way home from work, and the choice of more expensive premium beers on weekend may be yet another example. These are all examples of consumers increasingly seeking "luxurious ways to enjoy time". Furthermore, "the sharing of user experiences" over social networking services is becoming an important aspect of consumption of products and goods. In other words, there is an ongoing shift from "quality of products" to "value of experiences".

Advertising is also undergoing large changes in response to this trend, with new forms of mass advertising being created such as the shift to experience provision across new channels including promotions, digital media, and outdoor advertising from conventional mass advertising across television, radio, newspaper, and magazine channels. In reality, conventional mass and new mass advertising accounted for 63% and 37% respectively in 2003, but by 2015 this ratio was reversed to 46% and 54% respectively according to the Dentsu Inc.'s report "Japan Advertising Spending in 2015".

This trend can be expected to act as a tailwind for TOW, which "boasts of strengths in the realm of "experiences" that take up "center stage of the advertising and communications industries" currently. TOW defines "experience design" as the process of creating and selling experiences that are vital in the purchase selection process by consumers. Furthermore, TOW can be expected to lead the promotions industry due to its ability to contact consumers in its position as Japan's first "experience design" production company.

 

 

Creating "WOW! Experiences" and "Changes" through Event Promotions

The positioning of TOW at "center stage" of industry trends and its "effectiveness" are the factors that create strong demand for its services amongst clients. Therefore, TOW will pursue "maximization of experience value" by leveraging data analysis results in real promotions to avoid reliance upon human perceptions and by adding the "perspectives of public relations and marketing" to interactive promotions.

 
| | |
| --- | --- |
| Data Analysis: | What are people's emotional buttons? |
| Experience Planning: | What type of experiences provide "WOW!" factor and make people want to share them? |
| Execution: | Securing high levels of quality in output associated with "WOW!" experiences |
| Effectiveness Validation:   | How people change after going through experiences |

 

○ Pursuing Potential Business for the 2020 Tokyo Olympics Paralympics in the Wake of the Rio Olympics Paralympics

TOW will conduct efforts to capture business opportunities from the 2020 Tokyo Olympics Paralympics by leveraging its joint venture company Sports Is Good Co., Ltd., which was established on June 1, 2016 as a joint venture among the three companies of TOW, 1→10 Holdings, Inc. (Kyoto City), and Geek Pictures, Inc. (Shibuya-ku, Tokyo). These three companies will collaborate to create "new sports experiences" (New ways to enjoy sports) and will conduct planning and production of events and promotions (Capital participation ratios are 51%, 34% and 15% by TOW, 1→10 Holdings and Geek Pictures).

 

 

Sports Is Good Co., Ltd. bases its business on the concepts of "minority", "corporate assets" and "technologies" to create "new sports experiences" that resolve various issues of customers. Specifically, this company will leverage corporate assets and technologies through matching and by implementing the latest technologies to provide new forms of sports watching activities to invigorate minor sports and sports for athletes with disabilities.

 

 
 

In a society where consumption has matured, consumers place greater emphasis upon "experience value" derived from the experience of selecting and using various products rather than the "actual purchase of products". TOW will strengthen its interactive and integrated promotion capabilities by leveraging its strength in its existing real promotions. At the same time, it will also endeavor to bring about an evolution of traditional real promotions by leveraging both "data analysis" and "effectiveness validation" functions. Along with changes in the objectives of consumers, TOW's strengths in the realm of "experiences" are taking "center stage of the advertising and communications industries". The Company will leverage this business opportunity as Japan's first "experience design" production company to pursue new possibilities in the realms of events and promotions.

 

 
Reference: Regarding Corporate Governance

 

◎ Corporate Governance Report

The company submitted a latest corporate governance report on March 15, 2016 after adopting the corporate governance code.

 

1. Basic Perspectives

Our company believes that corporate governance means the "establishment and utilization of a system that realizes appropriate and efficient decision-making and execution of operation by the management, prompt report of results to stakeholders, as well as healthy, equitable and highly transparent management, aiming to continuously enhance corporate value." In order to fulfill our responsibility to our shareholders, clients, employees and other stakeholders, as well as for steady corporate growth and medium- to long-term improvement of the value of our company, we will strive to achieve effective corporate governance in accordance with the following basic policies:

1. We respect the right of shareholders and secure equality.

2. We make proper cooperation, considering benefits of stakeholders including shareholders.

3. We appropriately disclose information pertaining to our company and ensure transparency.

4. We boost the effectiveness of the function to supervise the execution of operation by our board of directors.

5. We have constructive communication with shareholders whose investment policy conforms to the medium- to long-term benefits of shareholders.

 

<Reasons for Non-compliance with the Principles of the Corporate Governance Code (Excerpts)>
Supplementary principle 3-1-2 Information disclosure and provision in English
Our company produces business reports in English and, semiannually, discloses analyst reports written in English on our website and the like; however, taking account of the trends of the ratio of institutional investors and overseas investors in our shareholders, we will discuss whether other information, such as financial results and contents of notices of convocation of shareholders' meetings, should also be provided in English.

 
Supplementary principle 3-1-5 Explanation about each election and appointment when the board of directors elects executives and appoints candidates for directors
Our company describes the reasons for electing candidates for outside directors on notices of convocation of shareholders' meetings, and will discuss the possibility of mentioning the reasons for electing candidates for directors, in addition to outside ones, on notices of convocation of the 40th annual meeting of shareholders, which is to be held in September 2016, and all the meetings thereafter.

 
Supplementary principle 4-1-2 Commitment to medium-term management plan
Principle 5-2 Formulation and publication of management strategies and plans
Our company puts the finest focus on attaining the performance goal of every single year and, therefore, does not formulate medium-term management plans.

 

<Disclosure Based on the Principles of the Corporate Governance Code (Excerpts)>
Principle 1-4 So-called strategically held shares
Basically, when our company makes investment for purposes other than net investment, we expect synergy effect in our comprehensive promotion business through business alliances with companies we invest in, information sharing and the like, and thus, considering a multitude of aspects such as strengthening of relationships with clients, we will possess listed shares to increase the value of our company from the medium- to long-term perspectives only when the expected effect can be achieved.
Voting rights pertaining to strategically held shares will be exercised after exhaustive consideration is given for each case from various points of view, including medium- to long-term enhancement of corporate value of companies whose shares are held by us and medium- to long-term increase in economic profit of our company and group companies, in order to take proper action. We will report circumstances of the exercise of voting rights relating to primary strategically held shares to the board of directors.

 
Principle 1-7 Transactions with parties concerned
We have defined that, in accordance with the regulations of the board of directors, conflicting interest and competitive transactions stipulated in the Company Act and conducted with the directors of our company must be approved by the board of directors after details of such transactions are explained at meetings of the board of directors.
In addition, our company checks whether there are any transactions carried out with any of the directors of our company or our consolidated subsidiaries, or any of their relatives, once a year by distributing questionnaires to each and every director individually, even when such transactions do not apply to the foregoing. Furthermore, we will properly disclose information about transactions with our major shareholders or other parties concerned in accordance with the Company Act, the Financial Instruments and Exchange Act, other applicable laws, and regulations of Tokyo Stock Exchange.

 
Principle 5-1 Policy on constructive communication with shareholders
In fulfilling our duties, our company regards it one of the top immediate priority to encourage constructive and bidirectional interaction with our shareholders and investors and realize effective corporate governance for sustainable corporate growth and medium- to long-term improvement of our corporate value.
Based on this perspective, we will implement the following measures:

 

1. Appointment of directors responsible for communication with shareholders

In our company, the top management himself proactively interacts with shareholders, and the general manager of the administration department is in charge of investor relations activities.

2. Policy on organic cooperation among internal departments

In our company, the general affairs department, which is in charge of investor relations activities, regularly holds meetings and exchanges opinions with the accounting department. Moreover, the two departments cooperate in creating material for disclosure and discuss the contents of such material with each other and even with the top management.

3. Efforts to enrich measures of communication other than individual interviews

Our company deems shareholders' meetings as an essential opportunity to communicate with shareholders, and therefore we will strive to disclose sufficient information on our business and exert ourselves to earn all the shareholders' trust in our company operation. In addition, we hold meetings on a periodical basis to explain our financial results so that we can interact more closely with our shareholders and investors.

4. Policy on feedback about opinions and concerns from shareholders

Our company will establish a system where the department in charge deals with opinions and concerns about our company which shareholders and investors felt during interaction with our company and periodically report such opinions and concerns to the management and the board of directors, according to their importance and characteristics.

5. Policy on management of insider information

Our company sets a fundamental policy on impartial disclosure of information to secure substantial equality of shareholders and investors. Based on the policy, we will disclose crucial information about our company in a timely and fair fashion and thoroughly manage such information so as not to provide them only for some shareholders and investors.

 

Disclaimer

This report is intended solely for information purposes, and is not intended as a solicitation to invest in the shares of this company. The information and opinions contained within this report are based on data made publicly available by the Company, and comes from sources that we judge to be reliable. However we cannot guarantee the accuracy or completeness of the data. This report is not a guarantee of the accuracy, completeness or validity of said information and or opinions, nor do we bear any responsibility for the same. All rights pertaining to this report belong to Investment Bridge Co., Ltd., which may change the contents thereof at any time without prior notice. All investment decisions are the responsibility of the individual and should be made only after proper consideration.

Copyright(C) 2017 Investment Bridge Co.,Ltd. All Rights Reserved.