President
Nobuo Takaoka
| | |
| --- | --- |
| Company | Takasho Co., Ltd. |
| Code No. | 7590 |
| Exchange | JASDAQ |
| Industry | Retail (Commerce) |
| President | Nobuo Takaoka |
| HQ Address | Minami Akasaka 20-1, Kainan-shi, Wakayama-ken |
| Year-end | January 20 |
| URL | |
Share Price
Shares Outstanding
Market Cap.
ROE (actual)
Trading Unit
¥380
8,319,510 shares
¥3.161 billion
8.0%
100 shares
DPS (Est.)
Dividend Yield (Est.)
EPS (Est.)
PER (Est.)
BPS (actual)
PBR (actual)
¥14.00
3.7%
¥41.01
9.3x
¥542.30
0.7x
* Stock price as of closing on 2011/9/1. Number of shares at the end of the most recent quarter excluding treasury shares.
| | | | | | | |
| --- | --- | --- | --- | --- | --- | --- |
| Fiscal Year | Sales | Operating Profit | Ordinary Profit | Net Profit | EPS | Dividend (¥) |
| January 2008 | 13,437 | 597 | 474 | 289 | 35.05 | 10.00 |
| January 2009 | 13,118 | 440 | 393 | 246 | 29.06 | 9.00 |
| January 2010 | 12,756 | 580 | 584 | 296 | 35.00 | 14.00 |
| January 2011 | 13,019 | 687 | 657 | 339 | 40.34 | 14.00 |
| January 2012 Est. | 14,500 | 664 | 659 | 341 | 41.01 | 14.00 |
* Estimates are those of the Company.

 

We present this Bridge Report along with the first half of fiscal year January 2012 earnings results for Takasho Co., Ltd.

 
 

Takasho Co., Ltd. maintains a basic business concept of contributing to the "creation of comforting spaces" and manufactures and sells artificial and natural wooden fences, garden furniture, greenery materials, and other gardening related materials. Takasho also provides customers with solutions in LED and other lighting fixtures, ponds, waterfalls and water fountain related materials, and spot gardening. The Takasho Group boasts of an integrated structure with the ability to plan, manufacture and sell products, with manufacturing capabilities in Japan and China, and sales outlets in Japan, Europe, Asia, and Oceania. While the Company' s earnings are influenced by weather, the "gardening market" within Japan is growing in popularity and is expected to continue to contribute to strong earnings growth for Takasho.

 

<Sales Routes>

Takasho' s marketing division can be divided by sales route between the "Professional Use" products that are used by midsized construction companies, "Home Use" products sold to home centers on a wholesale basis and used by general consumers, "Ecommerce and Catalog Sales," and "Exports." Each of these respective divisions accounted for 49.7%, 43.6%, 3.1%, and 3.6% respectively in fiscal year January 2011.

"Professional Use" products are products sold primarily through the "PROEX" catalog, which is the industry' s largest with 250,000 units published and distributed by direct mail to gardening and landscaping companies, architects and designers, construction companies specializing in exterior construction, commercial facilities and other users. Pictures of actual gardens using Takasho' s products are included in the catalogs, and users can use to fill in diagrams provided in the catalogs of what products they want to use in the actual landscapes and facilities they are creating. Then customers can send these diagrams by fax or web to Takasho. In turn, Takasho will then create image diagrams using CAD and CG technologies, and price estimates to be sent back to the customers within the same day to show what the gardens and landscapes they are creating look like using Takasho products. The Company also boasts of the ability to be able to supply the products ordered in a very short period of time.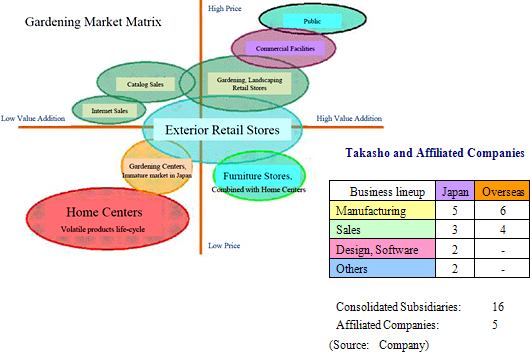 First Half Fiscal Year January 2012 Earnings Results

 

Sales and Current Profits Grew by 18.2% and 30.2% Year-Over-Year

During the first half of fiscal year January 2011, sales grew by 18.2% to ¥8.36 billion. Strong sales of Home Use products, including energy conserving products (Solar powered lights, sun shading blinds, and other products), favorable weather, introduction of new products in the "Porch Gardening" series, and fortification of relationships with house builders contributed to the brisk sales growth.

With regards to profits, declines in gross profit margins due to increases in depreciation arising from aggressive capital investments within Japan and in overseas markets, and increases in selling, general and administrative costs arising from labor and system related consulting fees were absorbed by the strong sales growth and allowed operating profit to rise by 21.6% year-over-year. And while foreign exchange related translation losses improved, an extraordinary loss of ¥40 million was incurred due in part to the implementation of asset retirement obligation accounting standards. Consequently net profits rose by a slightly smaller margin of 19.3% year-over-year to ¥320 million during the first half.

Furthermore, the Great East Japan Earthquake caused some damages to Takasho' s Sendai sales office (Wakabayashi-ku, Sendai City), but operations were restored in 12 days following the disaster on March 11. And while the tsunami caused damages to some products in warehouses and containers at Sendai Port, they were limited in their scale.

 

Takasho Group Company Trends

On a non-consolidated basis, sales and operating, current and net profits rose by 22.8%, 113.0%, 115.7%, and 115.9% year-over-year to ¥7.36 billion, ¥440 million, ¥490 million and ¥280 million respectively. While Takasho' s subsidiaries within Japan recorded sales growth, higher depreciation costs arising from capital investments caused them to see declines in profits overall. With regards to Takasho' s overseas subsidiaries, the two subsidiaries in China were able to record growth in both sales and profits, but intensified pricing competition caused its subsidiaries in Europe to incur declines in both sales and profits.

 

(2) Sales by Sales Routes

Professional Use product division sales rose by 8.2% year-over-year to ¥3.15 billion. While new housing starts trended weakly during the term under review, favorable sales were seen in the "Porch Gardening" product series linking the home and the garden on the back of newly introduced products. Also strong sales of lighting related equipment was recorded due in part to the implementation of the "Exterior and Garden Lighting Meister System," which is a certification system for the creation of garden lighting at night and unique to Takasho. Furthermore, fortification of relationships with house builders also contributed to the strong performance of this division.

Home Use product division sales rose by 39.8% year-over-year to ¥3.77 billion. Due in part to favorable weather, sales of all product categories in this division increased from the previous year between the months of March to July. Sales of energy conserving products, including sun shading blinds and solar powered lighting fixtures, were particularly strong in June and July.

 

Sun shading blinds:       Up 83.8% year-over-year to ¥1.61 billion
Solar powered lighting:  Up 111.6% year-over-year to ¥450 million

 

(3) Financial Conditions and Cash Flow

At the end of the first half, total assets increased by ¥2.68 billion from the end of the previous fiscal year to ¥12.87 billion. During the first half, receivables and inventories grew on the back of increases in manufacturing and sales, and fixed assets also rose in response to higher levels of capital investments. The increased manufacturing activities contributed to growth in payables, and rises in demand for capital due to an expansion of Takasho' s business led to increases in long term debt.

With regards to cash flow, working capital increased but higher profits and reduced taxes led to a ¥60 million inflow in operating cash flow. Increases in capital investments led to an expansion in the net outflow in investing cash flow, and free cash flow turned into a net outflow of ¥330 million. At the same time the increase in long term debt allowed cash and equivalents to rise by ¥210 million from the end of the previous fiscal year to ¥1.95 billion at the end of the first half.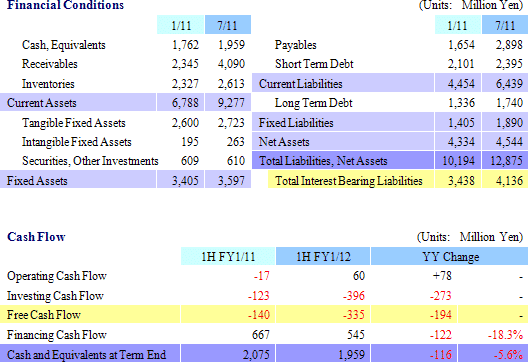 Fiscal Year January 2012 Earnings Estimates

 

Sales, Current Profit Expected to Rise by 11.4%, 0.2% Year-Over-Year

Given the Company' s performance during the first half, Takasho has revised its full year earnings estimates slightly. Takasho has revised its estimates for full year sales up from its original estimate by 6% points due to the strong sales of sun shade blinds, solar powered lighting fixtures, and other energy conserving products. However intensified competition in Europe contributed to a smaller margin of upward revision to the year-over-year decline in operating profit of 1.5% points, and now operating profit is expected to decline by 3.4% year-over-year to ¥664 million. The impact of the stronger yen was also taken into consideration, and current and net profit estimates have been revised downwards by a small margin. The same level of dividend paid in fiscal year January 2011 of ¥14 per share is expected to be paid at the end of the current term. Furthermore, the Company' s profits tend to be reported intensively during the first half.

 

(2) Future Business Development

1) Global Development

Takasho is strengthening the quality standards at its China plant, and facilitating its inventory and delivery structure. Furthermore the Company will accelerate the development of its global sales routes in Germany, the United Kingdom, the United States, Australia and other countries.

 

2) Professional Use

As the concepts of affluence, health, and security are taking root in Japanese lifestyles, Takasho seeks to strengthen its position as a comprehensive outdoor living and gardening lifestyle product manufacturer, supplying terrace, deck, lighting, tiles and other products. Also as part of its marketing strategy, Takasho will collaborate with house builders (New home market), provide maintenance and aftermarket product services (Used home market), fortify its construction sales network ( "Refurbishment Garden Club" , "Exterior and Garden Lighting Meister System" ), and strengthen its marketing to commercial and public facilities. In addition, Takasho expects to fortify and promote an IT strategy that will allow it to respond to new participatory economic structures like social networks.

 

3) Home Use

Along with changes in the market environment brought on by the Great East Japan Earthquake, Takasho will strengthen its endeavors in the "Smart Living Garden" based on the trend to include nature to a greater degree in garden living and the concepts of "security, safety, health, energy efficient, and comfortable living." Specifically, the Company will expand its sales routes for energy conserving products including "Cool Shade" (sun shade blinds), solar powered lighting, and low voltage lighting. At the same time Takasho will focus upon developing products in the area of "Potager Garden" as part of the trend towards sustainable eco-gardening.

 

 
 

The terms vertical business, global business deployment, and comprehensive are key concepts for Takasho going forward. Vertical business is Takasho' s pursuit of an integrated structure that entails planning, manufacturing, sales and related services. Global business deployment refers to the Company' s goal of fully leveraging its China plant, where the facilitation of the manufacturing structure is being promoted, to strengthen its sales route in the global gardening market. And comprehensive represents the fortification of its product lineup in the areas of total exterior (gates, gate posts, name plates) and other product areas through in-house development as well as through alliances.

 

Disclaimer

This report is intended solely for information purposes, and is not intended as a solicitation to invest in the shares of this company. The information and opinions contained within this report are based on data made publicly available by the Company, and comes from sources that we judge to be reliable. However we cannot guarantee the accuracy or completeness of the data. This report is not a guarantee of the accuracy, completeness or validity of said information and or opinions, nor do we bear any responsibility for the same. All rights pertaining to this report belong to Investment Bridge Co., Ltd., which may change the contents thereof at any time without prior notice. All investment decisions are the responsibility of the individual and should be made only after proper consideration.

Copyright(C) 2011, All Rights Reserved by Investment Bridge Co., Ltd.