President
Nobuo Takaoka
| | |
| --- | --- |
| Company | Takasho Co., Ltd. |
| Code No. | 7590 |
| Exchange | JASDAQ |
| Industry | Retail (Commerce) |
| President | Nobuo Takaoka |
| HQ Address | Minami Akasaka 20-1, Kainan-shi, Wakayama-ken |
| Year-end | January 20 |
| URL | |
Share Price
Shares Outstanding
Market Cap.
ROE (actual)
Trading Unit
¥505
9,978,510 shares
¥5.039 billion
8.2%
100 shares
DPS (Est.)
Dividend Yield (Est.)
EPS (Est.)
PER (Est.)
BPS (actual)
PBR (actual)
¥19.00
3.8%
¥64.53
7.8x
¥580.48
0.9x
* Stock price as of closing on 2013/3/15. Number of shares at the end of the most recent quarter excluding treasury shares.
ROE and BPS are based on the actual term end amounts.
| | | | | | | |
| --- | --- | --- | --- | --- | --- | --- |
| Fiscal Year | Sales | Operating Profit | Current Profit | Net Profit | EPS | Dividend (¥) |
| January 2010 | 12,756 | 580 | 584 | 296 | 35.00 | 14.00 |
| January 2011 | 13,019 | 687 | 657 | 339 | 40.34 | 14.00 |
| January 2012 | 14,969 | 708 | 690 | 315 | 37.86 | 14.00 |
| January 2013 | 16,751 | 881 | 956 | 422 | 43.80 | 15.00 |
| January 2014 Est. | 18,362 | 1,254 | 1,207 | 644 | 64.53 | 19.00 |
* Estimates are those of the Company.

 

We present this Bridge Report along with the earnings for the fiscal year January 2013 earnings results for Takasho Co., Ltd.

 
 

Takasho Co., Ltd. maintains a basic business concept of contributing to the "creation of comfortable spaces" and manufactures and sells artificial and natural wooden fences, garden furniture, greenery materials, and other gardening related products and materials. Takasho also provides customers with solutions in LED and other lighting fixtures, ponds, waterfalls and water fountain related materials, and spot gardening.

The Takasho Group manufactures products in Japan and China for sale in Japan, Europe, Asia, and Oceania. The Group's integrated structure with the ability to plan, manufacture and sell products has allowed it to become the leading company within the "gardening market," which is growing to become a firmly established in Japan.

 

<Sales Routes>

Takasho's marketing division can be divided into sales routes of the "professional use" products used by midsized construction companies, "home use" products sold to home centers on a wholesale basis for use by general consumers, "E-commerce and catalog sales," and "exports." Each of these respective routes accounted for 47.3%, 46.1%, 2.8%, and 3.8% respectively in fiscal year January 2013.

"Professional use" products are products sold primarily through the "PROEX" catalog, which is the industry's largest catalog with 250,000 units published and distributed by direct mail to gardening and landscaping companies, architects and designers, construction companies specializing in exterior construction, commercial facilities and other users. Pictures of actual gardens using Takasho's products are included in the catalogs, and customers can fill in diagrams provided within the catalogs to order products they want to use in actual landscapes and facilities they are creating. Customers send these diagrams by fax or email to Takasho. In turn, Takasho will then create image diagrams using CAD and CG technologies to be sent back to customers within the same day to show what the gardens and landscapes they are creating look like using Takasho products. The Company also boasts of the ability to supply products ordered in a very short period of time.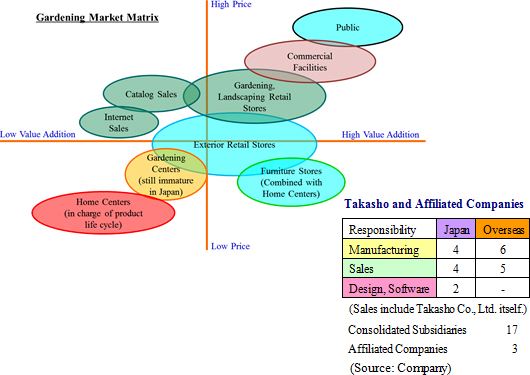 Based upon the basic business concept of contribution to the "creation of comfortable spaces" , Takasho Co., Ltd. is expanding its business realm as a lifestyle maker that provides various solutions responding to a wide range of gardening needs. The Company has established long term targets for sales and operating profit of ¥60.0 and ¥5.0 billion to be achieved in fiscal year January 2025. In addition, Takasho has identified four key areas as part of its business strategy to achieve these targets including vertical business expansion, global business deployment, total business solutions, and modernization of business.

Vertically integrated business is a term used to describe not only the vertical integration of product planning, manufacturing and sales functions, but also Takasho's efforts in the area of downstream services. While most sales are BtoB to house makers, construction companies, and home centers, Takasho also conducts BtoC sales through its own gardening centers and its gardening related magazine "BISES" (Consolidated subsidiary Nihon Integrate Inc.). In addition, the Company is implementing measures to strengthen its direct link with end users including the opening of the first authentic and large scale gardening center in Japan called "GARDENER'S JAPAN" adjacent to its headquarters in April 2012. This development is representative of its efforts to propose the "5th ROOM" concept (Proposal of the garden to play the role of the fifth room in homes). Over half of the space at this facility is used to display various plants and flowers, and invites customers to spend their time enjoying the atmosphere of open gardens created at the center.

 

GARDENER'S JAPAN: Minami Akasaka 3-3, Kainan-shi, Wakayama Prefecture
Tel: 073-482-3333   Fax: 073-482-3332

 

In terms of its global business, Takasho is expanding its facilities in China to manufacture products of the same quality as those manufactured in Japan for sale in the United States, the United Kingdom, Germany, Australia, Korea, and China (Market sizes are estimated to total ¥5, ¥4 and ¥1.2 trillion for the US, UK, and Germany, and ¥400 and ¥200 billion for Australia and Korea respectively.). In addition, a collaborative alliance has been formed with Gardener's Supply Company of the United States to develop and promote products and various services for sale in stores and over the Internet. In the United Kingdom, a partnership has been formed with VegTrug Limited. Home use products are manufactured at Jiujiang Takasho (Jiangxi, China) and other locations in China for sale in Japan, North America and Europe. In the professional use products are manufactured by Zhengte Takasho, (Zhejiang, China), the joint venture with Zhengte Group, which has 100 franchised stores in its network, and production of Ever Art Wood has begun at Zhengte Group for export to Japan. Furthermore, the establishment of a sales network within China has been started for the launch of both home and professional use sales of this product.

With regards to its comprehensive business, Takasho has already entered the exterior market, which is estimated to total between ¥400.0 to ¥450.0 billion, with car port, gate, and fence products. New wall greenery and construction use exterior siding material products have already been introduced. Furthermore, aggressive investments will be made to create links between the domestic and overseas companies within the Takasho Group connecting them through the theme "gardening" and various elements including international, Asia, China, domestic, environment, ecology, retail and Internet businesses as a means of securing future profits.

The concept of modern business reflects Takasho's efforts to provide solutions in the realms of "landscape construction materials" (Non residential) and "Smart Living Gardens" . According to a research study, private non-residential investment rose by 3.9% and 4.6% year-over-year to ¥12.370 and ¥12.940 trillion during fiscal year 2012 and 2013 respectively. Demands upon landscape construction materials are growing in light of the need to develop responses to the aging society, disaster safety, growing informatization, energy efficiency and conservation, demands for increased comfort, image improvements, and effective use of space. Furthermore, corporations operating commercial facilities are increasingly relying upon landscape construction materials to improve corporate image and secure customers and tenants at their facilities. One of the strengths of Takasho's products is the fact that they have acquired the Ministry of Land, Infrastructure, Transport and Tourism's non-flammable certification and can be used as building construction materials. The Company is also fortifying its efforts to sell Ever Art Wood, Porch Series, Ever Screen and other products through agents. In addition, as part of Takasho's collaboration with house makers emphasizing the "Smart House" concept, Takasho proposes "Smart Living Garden" and "energy and electric efficient yards." "Smart Living Garden" is based on the traditional practices of green gardening and planting vegetation in yards combined with new solar panel, solar powered lighting, and other technologies that promote energy conservation.

 

Fiscal Year January 2013 Earnings Results
 

Sales and Current Profit Rise 11.9% and 38.5% Year-Over-Year

Sales rose by 11.9% year-over-year to ¥16.751 billion during fiscal year January 2013. The contribution from new products and successful efforts to increase sales to major house makers enabled professional use segment sales to rise by 15.7% year-over-year to ¥7.188 billion. At the same time, home use products including environmentally friendly sun shades and wooden products saw favorable demand. With regards to subsidiaries, sales of Jiangxi Takasho (China) conducting direct deal with sale destinations in Japan, Garden Create Co., Ltd. (A product manufacturer within Japan), Toko Shizai Corporation (Newly opened Niigata facility acted as a driver of sales), Takasho Digitec Co., Ltd. (Manufacture and sales of signs, LED lighting), and Digilight Sales Co., Ltd. grew.

With regards to profits, some subsidiaries in Europe and other overseas locations saw a deterioration in gross profit margins due to difficult conditions in local markets and the negative impact of the strong yen on imports from Japan. However, the Takasho Group benefited from higher sales and improvements in productivity, allowing selling, general and administrative expense ratio to decline and operating profit to rise by 24.3% year-over-year to ¥881 million for a 0.6% point improvement in operating profit margin. The contribution from foreign exchange translation gains (Up from ¥8 to ¥106 million) led to an improvement in non-operating income and allowed current profit to rise by 38.5% year-over-year to ¥956 million. In consideration of the achievement of record high profits, dividends were raised by ¥1 to ¥15 per share.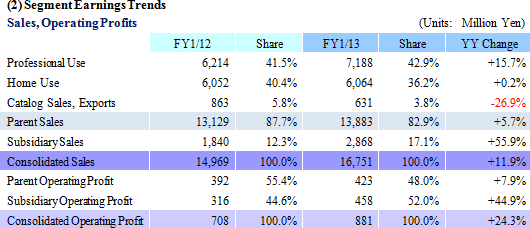 Exports of the parent company Takasho were negatively impacted by the strong yen, but professional use segment grew by a large margin and home use segment trended favorably. At the same time, sales and profits grew due to increases in sales of "Ever Art Wood" and other materials that comprise the "porch garden" series of products within Japan, increases in capacity at the wrapping plant of Garden Create, the opening of the Niigata facility of Toko Shizai, and sales of Takasho Digitec and Digilight Sales, which manufacture and sell sign and LED lighting. Takasho sought to break free from the conventional business of gardening products sold through trading firms in overseas markets by having Takasho Europe and Group companies act as wholesalers. At the same time, Takasho Australasia Co., Ltd. and some subsidiaries in China incurred losses as they started up their businesses. However, Jiangxi Takasho (China) was able to record strong growth in sales and profits on its direct sales of products without passing them through Takasho Co., Ltd. Furthermore, Zhengte Takasho was able to turn profitable as its manufacturing ramped up along with the start of exports to Japan.

 

Professional Use Product Segment

In addition to an expansion in sales of professional use products to major house makers, contributions from new products including "Art Port" car ports using "Ever Art Wood" and "Art Canvas" wall greenery, "Porch Garden" series of products, and "Ever Art Wood" allowed sales to rise. Sales of landscape construction materials in the non-residential division also grew.

 

Home Use Product Segment

While sales of solar lights declined due to the disappearance of the disaster related extraordinary demand seen during the previous term, the increased concern for electric energy conservation contributed to strong sales of sun shades and wooden products.

 

Main Product Sales
Artificial bamboo fence related:
Ever Art Wood:
Sun shade products:
Outdoor lighting (100V, low voltage lights):
 ¥2.384 billion, up 2.2% year-over-year
¥2.076 billion, up 25.9% year-over-year
¥2.185 billion, up 16.8% year-over-year
 ¥935 million, up 26.1% year-over-year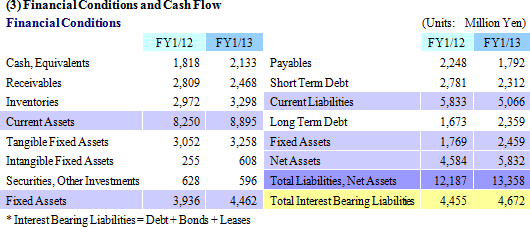 Total assets rose by ¥1.170 billion from the end of the previous term to ¥13.358 billion at the end of the current term due to sourcing of capital through the issue of new shares accompanying growth in the breadth of Takasho's business. Despite the growth in total assets, equity ratio improved by 6.0% points to 43.4%.

 

 

In spite of increases in tax payments from ¥275 million in the previous term to ¥455 million in the current term, operating cash flow rose from ¥82 million in the previous term to ¥352 million in the current term due to increases in profit. A shift from short to long term liabilities and increases in overall liabilities were taken in response to growing need for cash, while the negative amounts of investing cash flow exceeded the positive of operating cash flow because of facility investment in the country and overseas centering on the fortification of production capacity in the Chinese subsidiaries, and system development (new backbone system development). Consequently cash and equivalents rose by ¥306 million from the end of the previous term to ¥2.108 billion at the end of the current term.

 

 
Fiscal Year January 2014 Earnings Estimates

 

Sales and Current Profit Expected to Rise by 9.6% and 26.3% Year-Over-Year

Sales are expected to rise by 9.6% year-over-year to ¥18.362 billion in fiscal year January 2014. Within Japan, Takasho's focus upon improving profitability is expected to allow only a small increase in home use segment sales, along with a larger rise in professional use segment sales due to a rapid ramp up in marketing to the six major house makers and favorable sales of gardening and exterior products. In overseas markets, efforts to fortify sales of materials and products manufactured in China directly to North America, Europe, Asia and Oceania will be implemented.

With regards to profits, higher sales and improvements in profitability of Takasho Europe and Takasho Australasia are expected to allow operating profit to rise by 42.3% year-over-year to ¥1.254 billion in fiscal year January 2014. At the same time, current profit is expected to rise by smaller margin of 26.3% year-over-year due in part to the assumption the disappearance of foreign exchange translation gains. Dividend is expected to be raised by ¥4 to ¥19 per share.

 

 
 

In addition to proposing a new lifestyle leveraging the use of yards through "Porch Gardening" and based upon the concept of "utilizing the yard as a fifth room," Takasho has conducted aggressive educational activities in the market to increase awareness of means of leveraging and enjoying the potential energy and electricity savings capabilities of yards as part of its "SMART LIVING GARDEN" concept and introduced new products to fortify its product lineup. In recent years, the number of house makers supporting these concepts is increasing and purchases of Takasho's professional use products by the six major house makers is increasing (Takasho's products are included in the six major house makers exterior and gardening catalogs).

With regards to "lighting" related equipment designed to highlight yards at nighttime, efforts to expand the number of "Exterior and Gardening Meister System" certified staff, and the launch of low and 100 volt LED lighting, and other new products have allowed this realm to grow and become the third pillar of Takasho's business in addition to garden fence and yard materials.

At the same time, product pricing flexibility in home use products has been achieved through optimization of logistics and inventory management, and the start of full scale production at the overseas manufacturing plant Jiujiang Takasho as a response to pricing pressures from home centers (Takasho will remain focused upon achieving profitability at the expense of gains in unprofitable sales). Furthermore, fortification efforts for European subsidiaries are being promoted, and operations of the Australian subsidiary remain on course. Also, measures to expand business and form alliances with strong partners have been implemented by subsidiaries in the United States and the United Kingdom. Favorable factors such as these are reason for optimism over the future of Takasho, despite the near term risks of weather, foreign exchange and other temporary factors.

 

Disclaimer

This report is intended solely for information purposes, and is not intended as a solicitation to invest in the shares of this company. The information and opinions contained within this report are based on data made publicly available by the Company, and comes from sources that we judge to be reliable. However we cannot guarantee the accuracy or completeness of the data. This report is not a guarantee of the accuracy, completeness or validity of said information and or opinions, nor do we bear any responsibility for the same. All rights pertaining to this report belong to Investment Bridge Co., Ltd., which may change the contents thereof at any time without prior notice. All investment decisions are the responsibility of the individual and should be made only after proper consideration.

Copyright(C) 2013 by Investment Bridge Co., Ltd. All Rights Reserved