Takasho Corporation (7590)
President
Nobuo Takaoka
| | |
| --- | --- |
| Company | Takasho Corporation |
| Code No. | 7590 |
| Exchange | TSE 2nd Section |
| Industry | Retail (Commerce) |
| President | Nobuo Takaoka |
| HQ Address | Minami Akasaka 20-1, Kainan-shi, Wakayama-ken |
| Year-end | January 20 |
| URL | |
Share Price
Share Outstanding (exc. Treasury Stock)
Market Cap.
ROE (Act.)
Trading Unit
¥450
12,278,389 shares
¥5.525 billion
3.1%
100 shares
DPS (Est.)
Dividend Yield (Est.)
EPS (Est.)
PER (Est.)
BPS (Act.)
PBR (Act.)
¥10.00
2.2%
¥22.23
20.2x
¥609.81
0.7x
* Stock price as of closing on March 30, 2018. Number of shares issued at the end of the most recent quarter excluding treasury shares.
| | | | | | | |
| --- | --- | --- | --- | --- | --- | --- |
| Fiscal Year | Sales | Operating Profit | Current Profit | Net Profit | EPS (¥) | DPS (¥) |
| January 2010 | 12,756 | 580 | 584 | 296 | 35.00 | 14.00 |
| January 2011 | 13,019 | 687 | 657 | 339 | 40.34 | 14.00 |
| January 2012 | 14,969 | 708 | 690 | 315 | 37.86 | 14.00 |
| January 2013 | 16,751 | 881 | 956 | 422 | 43.80 | 15.00 |
| January 2014 | 18,069 | 1,006 | 973 | 508 | 43.04 | 19.00 |
| January 2015 | 18,484 | 603 | 679 | 323 | 26.31 | 17.00 |
| January 2016 | 17,853 | 722 | 597 | 240 | 19.63 | 17.00 |
| January 2017 | 17,223 | 503 | 322 | 152 | 12.39 | 6.00 |
| January 2018 | 17,489 | 607 | 571 | 228 | 18.59 | 10.00 |
| January 2019 Est. | 18,490 | 457 | 436 | 273 | 22.23 | 10.00 |
* Estimates are those of the Company.

 

We present this Bridge Report along with the earnings results for the fiscal year January 2018 and other information regarding Takasho Corporation.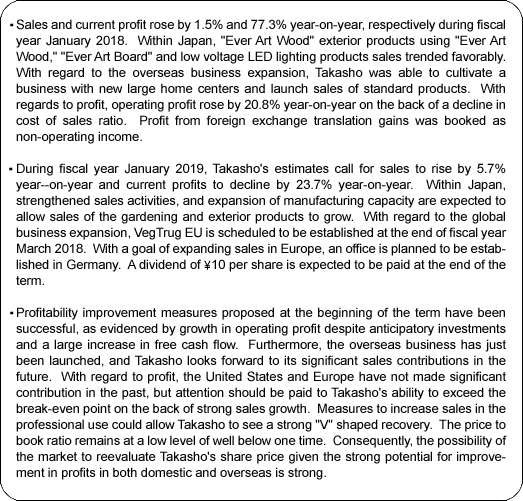 Takasho Corporation maintains a basic business concept of contributing to the "Creation of comfortable spaces" and manufactures and sells artificial and natural wooden fences, garden furniture, greenery materials, and other gardening related products and materials. Takasho's business philosophy is "to be a provider of better lifestyles globally through gardens." In the aftermath of the Second World War, Takasho changed its business style from sales of gardening materials to a gardening business, and then to a comprehensive lifestyle business, growing as a lifestyle maker that proposes better lifestyles with gardens. The Company is expanding its business realms as a lifestyle maker that provides various solutions responding to a wide range of gardening needs. Takasho always forecasts future changes to accurately create new value that matches the market's needs, and pursues its goal of becoming the "only global company" contributing broadly to gardening culture in urban environments. Takasho's vision is to "create happy family lifestyles and healthy environments that bring smiles to the people."
The Takasho Group manufactures products in Japan and China for sale in Japan, Europe, Asia, and Oceania. The Group's integrated structure with the ability to plan, manufacture and sell products has allowed it to become the leading company within the "gardening market," which is growing to become a firmly established market in Japan. Takasho maintains 7 domestic and 12 overseas subsidiaries. The Company listed its shares on the JASDAQ market in September 1980, and moved its shares to the Second Section of the Tokyo Stock Exchange on October 19, 2017.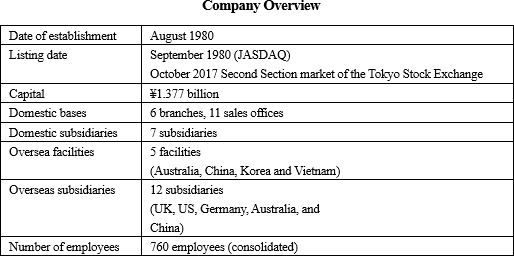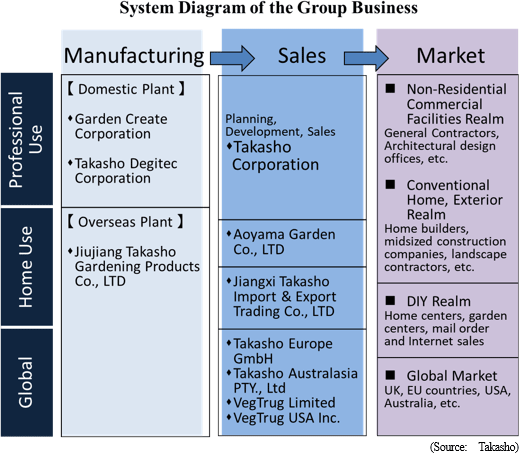 <Sales Routes>

Takasho's business unit can be divided into three sales routes of "professional use" products used by home builders and midsized construction companies, "home use" products sold to home improvement centers on a wholesale basis for use by general consumers and "exports." Each of these routes accounted for 60%, 31% and 9% of sales, respectively in fiscal year January 2018. Amidst the steady increase in sales, the professional use segment has also seen growth in the past few years.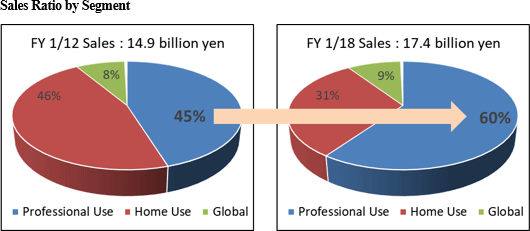 "Professional use" products are products sold primarily through Takasho's "PROEX" catalog, which is the industry's largest catalog with approximately 250,000 copies printed and distributed by direct mail to gardening and landscaping companies, architects and designers, construction companies specializing in exterior construction, commercial facilities and other users. Pictures of actual gardens using Takasho's products are included in the catalogs, and customers can fill in diagrams provided within the catalogs to order products they want to use in actual landscapes and facilities they are creating. Customers send these diagrams by fax or email to Takasho. In turn, Takasho will then create image diagrams using CAD and CG technologies to be returned to customers along with estimates within the same day to show what the gardens and landscapes they are creating look like using Takasho products and how much they will cost. The Company also boasts of the ability to supply ordered products in a very short period of time.

 

 
 

The Company has established long term targets for sales and operating profit of ¥50.0 and ¥5.0 billion to be achieved in fiscal year January 2025 and is implementing a vertically integrated business expansion which ranges from planning to customer services. At the same time, Takasho has identified areas including vertically integrated business expansion ranging from planning to customer services, global business expansion that leverages manufacturing facilities in China and a worldwide sales network, total business solutions where collaboration with house builders and development of non-house application use siding and building materials is conducted, and modernization business where LED illumination, solar lighting, and low voltage lighting is sold, within its business strategy to be achieved.


<Sales Strategy>

In its collaborative endeavors with house builders, Takasho's "Ever Art Wood" has come to be highly regarded and the number of its products listed in major manufacturers' exterior and gardening catalogs is increasing. In addition, the "5th ROOM" concept (a proposal of the garden to play the role as the fifth room in homes in addition to living rooms, dining rooms and bedrooms) and "Smart Living Gardens" concept (to be described later) are also growing in popularity.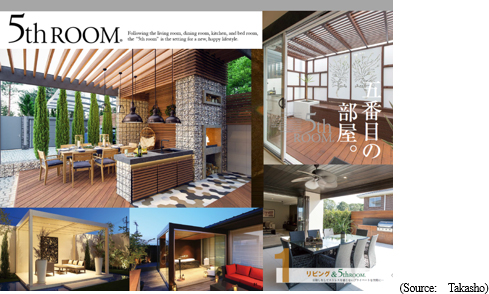 In addition to gardens, introduction of new products will focus upon exterior and contracting products related to new construction, reform and renovation.

 

 

Sales channels that are used simultaneously are real (catalog) and the internet (web tools). Free estimates and other services are provided by using information technology and web services, which also help draw customers to showrooms across the country. There is a new showroom established in Osaka.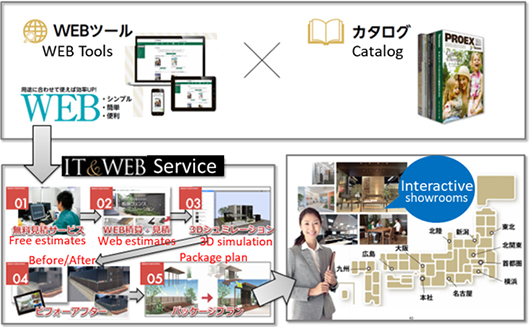 The gardening information site operated by gardening experts called "Garden Story" contains various information regarding how to grow flowers and greenery, how to show, maintain and enjoy gardens provided by "The More You Know, The More You Like Gardening" site, and information regarding cooking and desserts.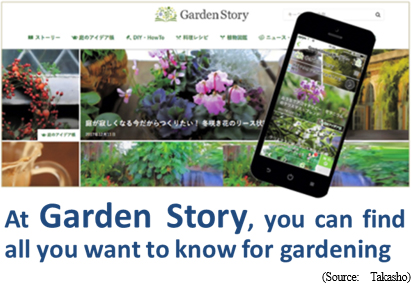 Moreover, the "Reform Gardening Club," which aims to become a group of professionals, seeks to increase communication between distributors and construction services providers. Certification systems such as "Exterior and Garden Meister System," "Water Garden Meister System" and "Garden Lighting Meister System" were also established. The number of people certified by the Lighting Meister course exceeded 5,000 in March 2017. The "Garden Therapy Coordinator" certification system was newly established, and a seminar for this certification system was held in November 2017.
Activities for rejuvenating the industry are also going well. Visitors to Takasho's Garden and Exterior Fair, an exhibition aiming at presenting next term's product policies for its clients, is held in July annually and has been successful. The fair is expected to be held on July 26th and 27th this year. The Company also actively supports its network of construction companies. The number of the Takasho Reform Garden Club member companies is approximately 700. The Company also held over 200 networking and regional training events throughout Japan based upon their corporate theme of "learn together, grow together".
In addition, Takasho will continue to conduct activities to educate the market. Showrooms were newly constructed in Hiroshima and the Tokyo metropolitan region in June 2014 and September 2015, respectively. The Tokyo showroom has been opened with the goal of improving services and strengthening sales in the Kanto region market, where its growth is anticipated, by enabling customers to see and feel the colors and texture qualities of various products. Also, the new Tokyo sample room has been established to allow customers to see and experience any kinds of materials and collaborative products, and various designs, layouts and constructions in a relatively intensive space. The sample room in Osaka moved for opening to Mino City in Osaka in April 1.

 

 

Japan's first authentic garden center called "GARDENER'S JAPAN" was opened adjacent to the Takasho headquarter in April 2012. Half of the "GARDENER'S JAPAN" facility is surrounded by greenery, and it boasts of open gardens that allow customers to thoroughly enjoy their visit to the facilities. Takasho is expected to strengthen the connection between the mail order site "Aoyama Garden." (http://www.aoyama-g.co.jp/)

 

<Product Strategy>

Ever Bamboo, Ever Art Wood and the lighting series of products, and Ever Art Board were launched in 1986, 2005 and 2014, respectively. Consequently, Takasho has extended its range of products in recent years.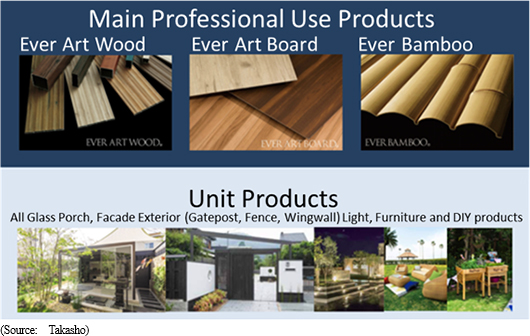 Takasho focuses upon exterior (new construction exterior siding), gardening (garden lifestyle solutions) and contracting (non-residential building materials, exterior siding) products. The Company also develops highly unique products based upon the unique concept that "gardens are paradises that exist in harmony with the homes they surround."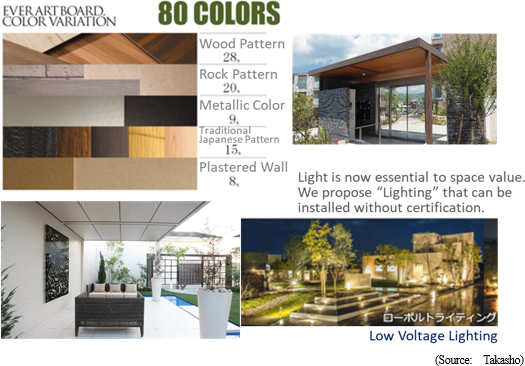 "Smart Living Garden" is a garden that realizes "energy conserving," "energy creation" and "energy storage" together with home by integrating GEMS, an energy management system arisen from "Smart House" concept and gardens, and also referred to Takasho's proposal activities for creating such a garden. Moreover, 100% use of LED for outdoor lighting was achieved in October 2014. Furthermore, the awarding of "Takasho Low Voltage Light System" with the "Best Selection Award" in the fourth award event hosted by the HEAD (Study Group on Home Environment and Advanced Design) contributed to an increase in consumer awareness of these products.
The contract (non-residential building materials and exterior siding) realm focuses upon the landscape construction materials business. Takasho is also expected to implement efforts to fortify its "Ever Art Wood" and "Ever Bamboo" product lineup. ("Ever Art Wood" has received certification from the Ministry of Land, Infrastructure, Transportation and Tourism as a fire proof material, and can be used in both exterior and interior applications.) The Company provides total packages comprised of extensive product combinations that appropriately match various garden environments for exteriors and interiors of various facilities, and it boasts of experiences in delivering a multitude of packages across the country.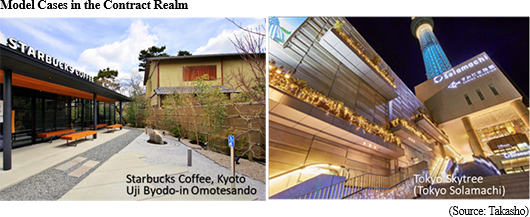 <Global Business>

Products sold globally are mainly manufactured at Takasho's plant in Jiangxi as part of its international brand. Takasho imports products with high cultural value from overseas markets, while manufacturing products including wood products, solar lighting, wire and other products at its plant in Jiangxi, China for export to various parts of the world. Ongoing efforts are implemented to fortify the manufacturing function at its Jiangxi plant, including introduction of automation using the cutting edge technologies. Despite the fact that Jiangxi plant boasts of 20,000 square tsubo (66,000 square meters) in floor space, the Company is considering the purchase of neighboring property as operating rates are trending very highly at the existing facilities.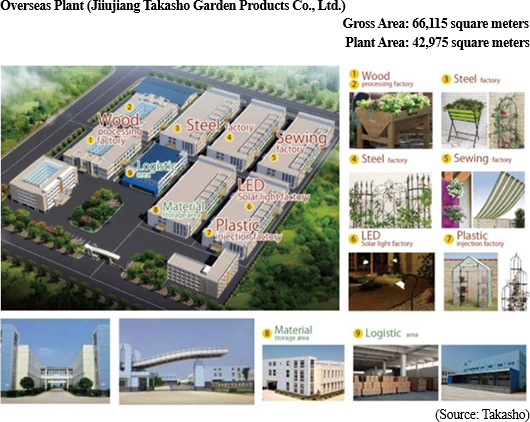 Global Expansion in Sales

Sales are expanding across a wide geographic region. Efforts have been made to fortify sales within the United States market, along with the establishment of "VegTrug USA" in February 2015, which has been fully funded by its wholly owned sales subsidiary(VegTrug) in the United Kingdom. At the same time, a new showroom was established in Vietnam in May 2016.
In addition to these regions, the Company also conducts business in Germany, Australia and Korea. In order to pursue its worldwide business expansion, it is said that Takasho needs to establish sales subsidiaries in countries with large markets like the United Kingdom, where gardening is estimated to amount to ¥4 trillion (compared with the Japanese market at only ¥600.0 billion).
The operation of a global site called "VegTrug.com" has been started and sales were launched in the United Kingdom, the United States, and Australia.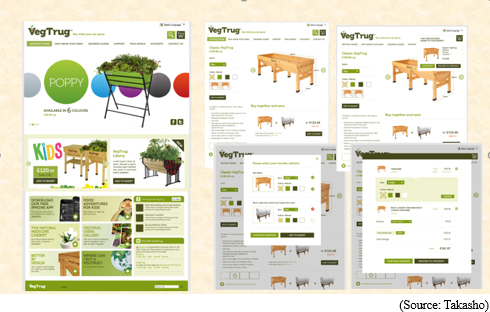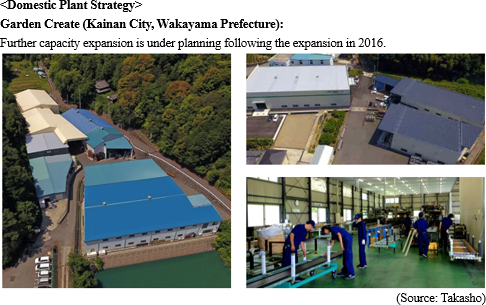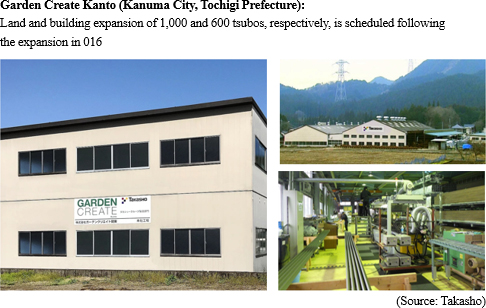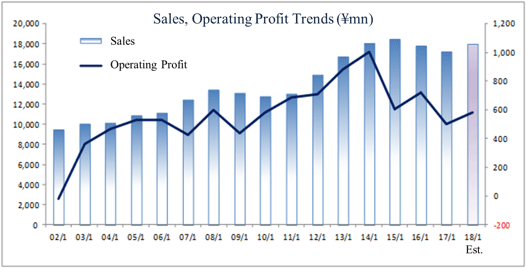 Fiscal Year January 2018 Earnings Results

 

Sales and Current Profit Rise by 1.5% and 77.3% Year-On-Year, Respectively

Sales rose by 1.5% year-on-year to ¥17.489 billion during fiscal year January 2018.
Within Japan, sales of the home use segment fell due to changes from trilateral transactions to direct transactions for select products manufactured overseas to reduce the negative effects of foreign exchange fluctuations. At the same time, favorable sales of exterior and related products using "Ever Art Wood," artificial wood made from aluminum, allowed the professional use segment to trend strongly. Furthermore, the sales of interior products using "Ever Art Board," an aluminum composite plate that imitates a variety of natural patterns such as wood, stone, plastered walls and Japanese style, also trended favorably. In addition, night garden low voltage (12/24 volt) LED lighting products trended strongly.
With regard to the overseas expansion, Takasho aggregates supply sources of product lines to its manufacturing subsidiary in China to reduce costs and improve productivity. The Company was able to cultivate business with new large home centers and launched standard products. In addition, changes to direct transactions with business partners to reduce the risk of foreign exchange fluctuations and other factors allowed sales to rise.
With regards to profits, overall sales, general and administrative expenses remained unchanged from the previous year, and a decline in cost of sales ratio led to a 20.8% year-on-year increase in operating profit to ¥607 million despite an increase in labor due to recruitment of staff to fortify the sales force and manufacturing function. Within non-operating expenses, the booking of provisions for allowance for doubtful accounts and foreign exchange profit (foreign exchange loss in the previous year) allowed current profit to rise by 77.3% year-on-year to ¥571 million. Net profit attributable to the parent company also increased by 50.0% year-on-year to ¥228 million.

 


 

Professional Use Segment

Sales of the "non-residential, commercial facilities" and "conventional home, exterior" realms rose by 81% and 4% year-on-year, respectively. Consequently, overall segment sales rose by 2.3% to ¥10.454 billion.

 

Home Use Segment

Sales declined by 2.5% year-on-year to ¥5.471 billion due to stagnant sales of seasonal products for home centers and other factors.

 

Global Business Segment

Sales rose by 21.1% year-on-year to ¥1.602 billion on the back of full scale transactions with large home centers and launch of sales over the internet. Furthermore, overseas sales rose by 33.7% year-on-year, and its share of total sales rose by 2.9% points year-on-year to 11.9%.

 

Others

Disposal of returned copies due to withdrawal of production and sales of "Gardening Magazine" published up until last year contributed to negative growth.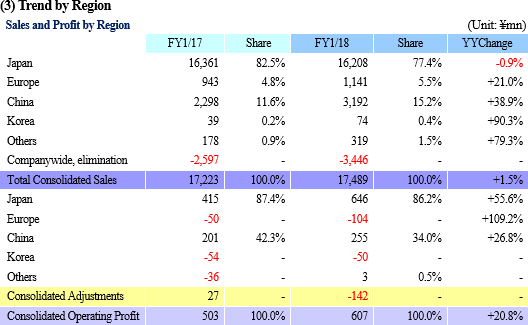 Japan

Segment sales declined by 0.9% year-on-year to ¥16.208 billion, but profits rose by 55.6% to ¥646 million over the same period. Sales in the professional use segment rose on the back of the launch of new products including Ever Art Wood, Ever Art Board, and lighting, with Ever Art Wood being used in new applications as building materials. However, sales in the home use segment fell due to changes to direct transactions to reduce the risk of foreign exchange fluctuations despite efforts to launch new products to grow sales. With regard to profits, a reduce in cost of sales, an improvement in the gross profit margin and restraint in growth of sales, general and administrative expense from the previous year led to a substantial increase in profit.

 

Europe

Sales rose by 21.0% year-on-year to ¥1.141 billion while segment loss increased to ¥104 million from ¥50 million in the previous year. A decrease in repeat orders on the back of chronically overstocked inventories in home centers, and inclement weather contributed to weaker sales. At the same time, launch of new products into the market with a focus on the VegTrug brand, along with standard products progressed and contributed to double digit sales growth. With regard to profit, efforts to restrain sales, general and administrative expenses, efforts to recruit staff to expand sales, and an increase in warehousing fees arising from increases in inventories caused the loss to expand.

 

China

Sales rose by 38.9% year-on-year to ¥3.192 billion, and operating profit rose by 26.8% year-on-year to ¥255 million. With regard to sales in China, favorable trends in sales locally, transfer of control in trade areas from the parent company, and aggregation of Takasho's products contributed to large growth in sales. Segment profit drastically increased due to positive effect of the large sales.

 

Korea

Sales rose by 90.3% year-on-year to ¥74 million, and operating loss declined to ¥50 million from ¥54 million in the previous year. An increase in the number of products sold in home centers and full scale entry into exterior related products contributed to a significant growth. Segment loss remained at the same level as last year despite of efforts to restrain sales, general and administrative expenses.

 

Others

Sales rose by 79.6% year-on-year to ¥319 million, and a recovery to a segment profit of ¥3 million was recorded from the loss of ¥36 million seen in the previous year. Fortification of the delivery function in the United States with a goal of expanding online sales, and cultivation of business with new large home centers led to a significant sales increase. This segment went into the black despite of anticipatory sales, general and administrative expenses accompanying the large sales.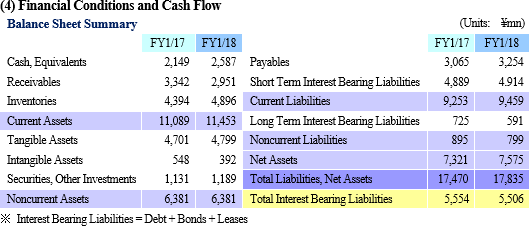 Total assets rose by ¥364 million from the end of the previous fiscal year to ¥17.835 billion at the end of fiscal year January 2018. With regard to current assets, notes and accounts receivables fell by ¥194 million to ¥2.457 billion over the same period due to sale of credit. At the same time, inventory on hand rose by ¥502 million to ¥4.896 billion. With regards to noncurrent assets, software declined by ¥118 to ¥246 million due to depreciation. Furthermore, new construction contributed to a ¥101 million rise in buildings and structures to ¥3.207 billion, and investment securities rose by ¥44 to ¥208 million due to implementation of fair market value accounting.

Total liabilities rose by ¥110 million to ¥10.259 billion, and current liabilities also rose by ¥205 million to ¥9.459 billion. The current portion of long term debt declined by ¥310 to ¥306 million on the back of a switch from use of long term to short term debt arising from the implementation of commitment line to source funds for working capital. On the other hand, notes and accounts payables rose by ¥188 million to ¥3.254 billion due to payment dates moved to subsequent periods, while short term debt rose by ¥335 million to ¥4.608 billion. Noncurrent liabilities fell by ¥95 to ¥799 million. Acquisition of structures led to an increase in asset retirement obligations of ¥17 to ¥165 million, and deferred tax liability rose by ¥16 to ¥19 million. At the same time, long term debt declined by ¥223 to ¥441 million due to the shift from long to short term debt for use as working capital.

Net assets increased by ¥254 million to ¥7.575 billion. Accumulated earnings and foreign currency translation adjustment account rose by ¥154 and ¥137 million to ¥4.347 billion and ¥381 million, respectively.

Capital adequacy ratio rose by 0.6% points to 42.0%.

 

 

Cash and equivalents rose by ¥457 million from the previous term to ¥2.587 billion during fiscal year January 2018.
The net inflow of operating cash flow rose by ¥1.128 billion from the previous term to ¥1.307 billion in the current term on the back of the booking of ¥563 million in net income before taxes and other adjustments, an increase in inventory assets and accounts payable of ¥231 and ¥201 million, and other factors. The net outflow of investing cash flow declined by ¥541 to ¥575 million due in part to acquisition of both tangible and intangible assets of ¥486 million and ¥46 million respectively. Consequently, free cash flow turned from a net outflow of ¥937 million in the previous term to a net inflow of ¥732 million. Financing cash flow went from a net inflow in the previous term of ¥910 million to a net outflow of ¥310 million in the current term due in part to a ¥634 million repayment of long term debt and a ¥323 million assumption of short term debt.

 

 
Fiscal Year January 2019 Earnings Estimates

 

Sales Expected to Rise by 5.7%, Current Profits Expected to Decline by 23.7%

Takasho's estimates for fiscal year January 2019 call for sales to rise by 5.7% year--on-year to ¥18.490 billion, and current profits to decline by 23.7% year-on-year to ¥436 million.
Based upon the concept of the garden playing a role as the "5th Room" in home, the Company has improved the strength of its brand in keeping with its position as a "garden lifestyle maker." Within Japan, strengthened sales activities, and expansion of manufacturing capacity are expected to allow sales of the gardening and exterior products to grow. In the global business expansion, the Company is conducting restructuring of sales strategies in the European region due to the dissolution of Takasho Europe, and as part of this restructuring VegTrug EU is scheduled to be established at the end of March 2018. With a goal of expanding sales of exterior products including Ever Art Wood products in line with Korea and Australia where sales of the product have trended favorably, a German subsidiary is scheduled to be opened on April 1, 2018. Consequently, the Company will continue to implement efforts to expand its sales within the European region. Moreover, Takasho will conduct measures to strengthen its manufacturing function in China and its marketing activities for Europe, Asia, Oceania, and North America.
A dividend of ¥10 per share is expected to be paid at the end of the term.

 

 
 

Profitability improvement measures proposed at the beginning of the term achieved a successful outcome. While current profit rose dramatically due in part to measures to limit the negative impact of foreign exchange fluctuations, attention should be paid to growth in operating profit and large increase in free cash flow despite of anticipatory investments. Furthermore, the overseas business has just been rolled out. In the United States, the start of transactions with large home centers and full scale operations of the new office are expected to allow sales and profits to grow dramatically.
Funds procured through financings have been used for capital investments. Consequently, Takasho has now entered a recovery phase where profits are expected to be derived from the investments made until now. Furthermore, measures to increase sales in the professional use segment could allow Takasho to see a strong "V" shaped recovery.
The price to book ratio remains at a low level of well below one time due in part to the estimates for current profit to decline. However, the potential for the market to reevaluate Takasho's share price given the large potential for improvement in profits of both domestic and overseas businesses is large.

 

Disclaimer

This report is intended solely for information purposes, and is not intended as a solicitation to invest in the shares of this company. The information and opinions contained within this report are based on data made publicly available by the Company, and comes from sources that we judge to be reliable. However we cannot guarantee the accuracy or completeness of the data. This report is not a guarantee of the accuracy, completeness or validity of said information and or opinions, nor do we bear any responsibility for the same. All rights pertaining to this report belong to Investment Bridge Co., Ltd., which may change the contents thereof at any time without prior notice. All investment decisions are the responsibility of the individual and should be made only after proper consideration.

Copyright(C) 2018 Investment Bridge Co., Ltd., All Rights Reserved