Regarding Our IR Support Services Menu
The two most fundamental issues shared by many companies in their IR activities are "how to raise recognition" and "how to promote better understanding" of their companies by investors. Investment Bridge is able to provide solutions to both of these issues by maintaining close communication with our corporate clients and accurately identifying the IR issues which vary from company to company. We also provide various concrete techniques designed to realize interactive and proactive communication between our clients and investors and to help create a strong and stable shareholder base for our clients. Furthermore, based on our bountiful experience and expertise, we provide accurate advice regarding various IR related and other issues arising from the capital markets. We also provide the most appropriate combination of unique solutions as discussed below, and help to create a highly effective and comprehensive IR events calendar for our customers.
"Bridge Salon" : IR Seminars Targeting Individual Investors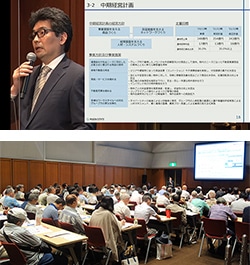 Our Bridge Salon IR Seminars provide opportunities for our corporate clients to communicate directly with individual investors. After our seminars we also hold networking events where our client companies can meet with individual investors to expand upon the messages conveyed during their presentations and to help promote better understanding of their companies. Thus, our corporate clients are able to find out how investors view their companies and whether or not their corporate message is understood by investors through these opportunities to directly hear the voices of individual investors and from feedback we provide based on questionnaires.
"Bridge Report" : IR Report Creation
Our Bridge Report is designed to provide investors with easy to understand information on our clients' near term earnings trends, long term management strategies, characteristics, strengths, business models, business domains and various other information. Bridge Report is provided to investors through our highly diverse network which includes financial industry portal sites, financial information vendors, and securities companies. Furthermore, we also offer optional services to create English versions of Bridge Reports and to distribute them to major overseas media and to various overseas institutional investors.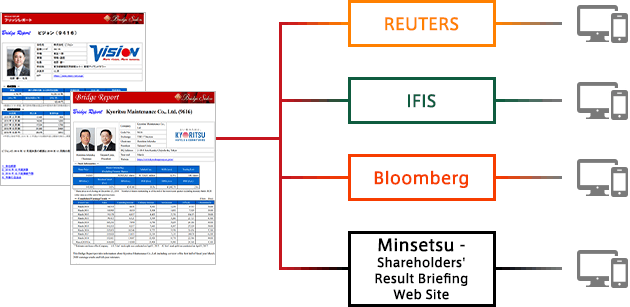 Internet Streaming Video Presentations
We also provide a service to stream our clients' IR presentations conducted at our Bridge Salon IR Seminars over the Internet. Streaming video contents over the Internet has become an indispensable tool in corporate IR activities and the availability of streaming video IR contents on a company's website is an important factor in a company's overall IR activities. Similar to Bridge Report, we also stream video IR contents to financial information vendors, thereby allowing investors who could not attend the Bridge Salon IR Seminars to view the presentations and obtain a better understanding of the respective companies.

Marketing Research
One of the most important concepts in marketing is "communication with the users." In IR activities, it is important for companies to always be aware of how they are perceived by investors. At Investment Bridge, we provide feedback from questionnaires distributed to individual investors attending our Bridge Salon IR Seminars.
Also, we are able to conduct marketing research on the internet using our website not only on IR field but also on our clients' product and services development.
Other Services Menu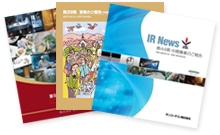 We also provide other services such as those listed below.
Creation of various communication tools targeting shareholders
English translation of various IR tools
Website creation
Perception studies of institutional investors and sell side analysts
Distribution of information to overseas institutional investors
We also provide various solutions and advice regarding capital structure strategies and the capital markets in addition to IR related communications services.
Please contact us for further details about our services.