Ferrotec Corporation (6890)
President
Akira Yamamura
| | |
| --- | --- |
| Company | Ferrotec Corporation |
| Code No. | 6890 |
| Exchange | JASDAQ |
| Industry | Electric Equipment (Manufacturing) |
| President | Akira Yamamura |
| HQ Address | Nihonbashi Plaza Building, Nihonbashi 2-3-4, Chuo-ku, Tokyo |
| Year-end | March |
| URL | |
Share Price
Shares Outstanding
Market Cap.
ROE (actual)
Trading Unit
¥2,083
24,995,248 shares
¥52.065 billion
19.2%
100 shares
DPS (Est.)
Dividend Yield (Est.)
EPS (Est.)
PER (Est.)
BPS (actual)
PBR (actual)
¥20.00
1.0%
¥192.66
10.8x
¥986.60
2.1x
* Stock price as of closing on 2011/6/1. Number of shares at the end of the most recent quarter excluding treasury shares.
| | | | | | | |
| --- | --- | --- | --- | --- | --- | --- |
| Fiscal Year | Sales | Operating Profit | Ordinary Profit | Net Profit | EPS (¥) | Dividend (¥) |
| March 2008 | 36,625 | 3,057 | 2,414 | 1,903 | 99.25 | 12.00 |
| March 2009 | 36,653 | 2,790 | 2,097 | 743 | 34.39 | 12.00 |
| March 2010 | 31,541 | 703 | 524 | 156 | 6.58 | 12.00 |
| March 2011 | 57,880 | 6,931 | 6,290 | 4,483 | 180.63 | 20.00 |
| March 2012 Est. | 70,000 | 7,500 | 7,200 | 5,000 | 192.66 | 20.00 |
* Estimates are those of the Company.

 

We present this Bridge Report along with the fiscal year March 2011 earnings for Ferrotec Corporation.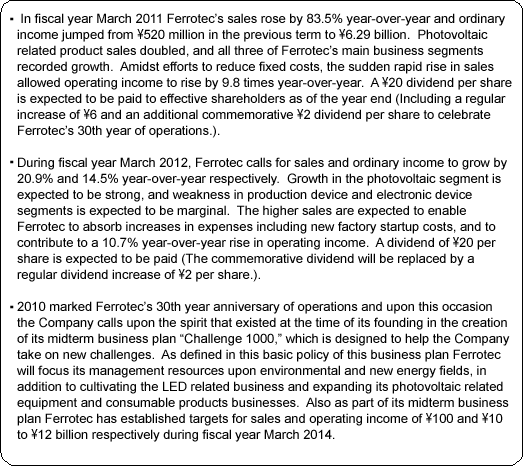 Ferrotec manufactures and sells silicon single crystal pulling equipment and other products in the photovoltaic related products category, semiconductor manufacturing equipment and flat panel display (FPD) manufacturing equipment parts, semiconductor materials, and various thermoelectric temperature controllers. And while most of these products may not be visible to consumers, they are widely used in personal computers, cellular telephones, devices using liquid crystal and plasma technologies. Originally, Ferrotec was a manufacturer of magnetic fluids application product. One of the most representative examples are Ferrotec's vacuum seals used in semiconductor and FPD manufacturing equipment parts, which have contributed significantly to the development of Japan's semiconductor and liquid crystal manufacturing equipment industry. Ferrotec's thermoelectric modules, which have become the next major product after the magnetic fluid products and are the "only one" product within the industry, are extremely precise parts that require high levels of metal processing and surface processing. Furthermore in recent years the photovoltaic business, where silicon crystal products and quartz crucibles and other consumable products are manufactured, has also seen rapid expansion. Ferrotec's vacuum seals are important parts used in silicon crystal manufacturing devices of the photovoltaic business segment and they leverage the technologies and knowhow accumulated until now.

The Ferrotec Group is comprised of 20 consolidated subsidiaries, which conduct manufacturing activities and other business operations in China, Europe, North America, Russia, and Taiwan, three non-consolidated subsidiaries, and four equity accounting method held affiliates in Korea and other countries.

 

<Business Segments (FY3/11 Sales Composition)>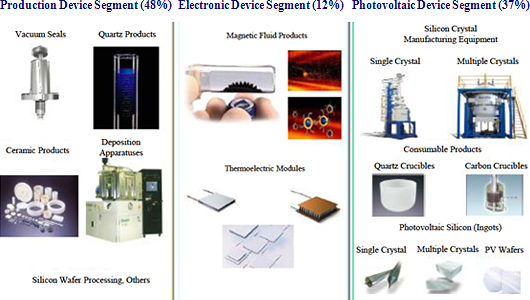 ※ Other than the products mentioned in the above diagram, saw blades, equipment part cleansing, machine tools, surface processing, and other products and services are included in the Other Business Segment which accounted for 3% sales in FY3/11.
Fiscal Year March 2011 Earnings Results

 

Sales Rise 83.5% YY, Ordinary Income Jump to ¥6.29 Billion from ¥524 Million in Previous Term

Sales rose by 83.5% year-over-year to ¥57.8 billion. In the production device segment, sales of vacuum seals for semiconductor manufacturing equipment including LEDs and flat panel display (FPD) manufacturing equipment, and organic EL flat panel displays grew. Sales of quartz and ceramics products (consumables) used in semiconductor manufacturing processes rose as well. In the photovoltaic segment, both orders and sales of silicon crystal manufacturing equipment rose, and sales of crucibles and other consumable products also increased. The electronic device segment sales also grew on the back of strong demand for thermoelectric modules for automated seat heaters. With regards to profits, the sudden increase in sales combined with effective fixed cost reductions seen from the previous term allowed operating income to grow sharply by 9.8 times year-over-year. Non-operating expenses increased on the back of a foreign exchange translation loss of ¥480 million, and losses of ¥70 million and ¥80 million were incurred on the back of fixed asset sale and impairment accounting implementation respectively. And while losses arising from the Great Eastern Japan Earthquake and Tsunami of ¥470 million were incurred, contributing to an total extraordinary loss of ¥710 million (Fixed asset sale losses of ¥380 million in FY3/10.), net income grew from ¥150 million in the previous term to ¥4.48 billion in the current term. Dividends of ¥20 per share are expected to be paid to shareholders as of the end of the term, including a ¥2 commemorative dividend to celebrate the 30th year of Ferrotec's operations and a regular increase in dividend of ¥6.

 

Impact of the Great Eastern Japan Earthquake and Tsunami

While Ferrotec did not suffer any injuries of its personnel in the Great Eastern Japan Earthquake and Tsunami that struck Japan on March 11, the Kamaishi Facilities suffered damage from the tsunami, and the Aizu Facility was partially damaged by the earthquake. Damages to buildings, structures, products, unfinished products, and inventories, and disaster relief related goods and building repairs amounted to extraordinary losses of ¥480 million, which have been reflected in the earnings results for fiscal year March 2011. Furthermore the functions of the tsunami affected Kamaishi Facility have been moved to and consolidated at the Chiba Technical Center. At the same time this facility has been renamed as the Ferrotec Chiba Plant and began operations from May 1.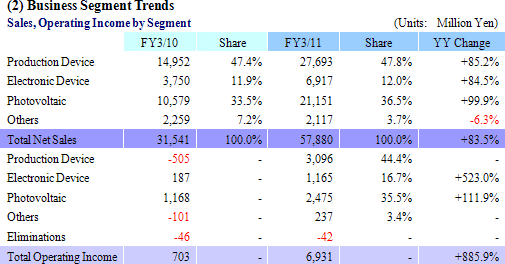 Production Device Segment

Sales rose by 85.2% year-over-year to ¥27.69 billion, and segment operating income rose to ¥3.09 billion from an operating loss of ¥500 million in the previous term. Capital investments in semiconductor and LED related applications are trending at high levels, and in mobile applications for medium to small sized LCD and organic EL remain strong. These strong investment trends allowed sales of vacuum seals used in manufacturing equipment to rise by 98.0% year-over-year to ¥7.76 billion, quartz products used in semiconductor manufacturing equipment to rise by 87.3% year-over-year to ¥6.50 billion, and ceramic products used in manufacturing processes to rise by 51.3% year-over-year to ¥3.81 billion. The transfer of the LED manufacturing business and deposition equipment to Ferrotec's United States subsidiary in January 2010 also contributed positively to earnings (Sales of EB-Guns and deposition equipment for LEDs rose by 3.5 times to ¥4.12 billion.). Moreover, earnings of semiconductor (silicon) wafer processing which had been included in the CMS business in the previous term have been included in this business segment from the current term (Combined total sales of silicon semiconductor products is ¥4.64 billion.).

 

Electronic Device Segment

Sales rose by 84.5% year-over-year to ¥6.91 billion, and segment operating income rose by 6.2 times to ¥1.16 billion. Sales of thermoelectric modules, which comprise 93% of this segment's sales, rose strongly on the back of strong demand from applications for automatic heated seats created by strong sales of automobiles in the China market and in other countries resulting from automobile sales support measures of various governments, in addition to a recovery in demand from consumer products and fiber optical applications. At the same time demand from semiconductor manufacturing and equipment in the fields of biology, physics and chemicals also recovered. Ferrotec also responded to rising labor costs by introducing an automated line at its Chinese subsidiary (Some of the products with higher functionality and electric power generation products are developed and manufactured at Ferrtoec's Russian subsidiary.).

 

Photovoltaic Segment

Sales nearly doubled to ¥21.15 billion and this segment's operating income rose by 2.1 times to ¥2.47 billion. The fulfillment of order backlogs for silicon crystal manufacturing equipment contributed to a 46.3% year-over-year increase in sales of manufacturing equipment to ¥9.80 billion. In addition to the traditional product of ingots, the launch of wafers for solar cells sales also contributed to a 3.1 fold increase in sales of photovoltaic silicon to ¥6.18 billion. Also the facilitation of expanded manufacturing facilities allowed sales of crucibles to rise by 93.0% year-over-year to ¥3.65 billion.

 

(3) Financial Conditions and Cash Flow

At the end of the current term, total assets rose by ¥13.53 billion from the end of the previous term to ¥61.49 billion. Increases in accounts receivables and inventories accompanying the expansion in sales, capital investments in tangible fixed assets, investments in investment marketable securities and other factors contributed to this rise in assets. Furthermore the rise in receivables and inventories are justified given the margin of increase in sales. Growth in tangible fixed assets is attributed to machine equipment for photovoltaic related applications, tools and equipment related to vacuum seals and quartz products, and to provisional construction accounts for the expansion of plant structures. At the same time payables, net assets, and interest bearing liabilities also rose. Interest bearing liabilities were used to fund increased working capital accompanying an expansion in business and prepayments for polysilicon purchase agreements. Along with the expansion in working capital accompanying the growth in Ferrotec's business, higher tax burden (Rose from ¥180 million to ¥1.05 billion) contributed to a decline in cash flow compared with the previous term. However a net inflow in operating cash flow of ¥1.83 billion was achieved. Aggressive capital investments in its subsidiaries in Shanghai and Hangzhou and M&A related to its United States subsidiary contributed to an expansion in the outflow in investing cash flow. The sourcing of capital through long term debt and bonds contributed to an inflow in financing cash flow of ¥4.5 billion. Consequently cash and equivalents rose by 24.6% or ¥1.44 billion from the end of the previous term to ¥7.31 billion at the end of the current term.

 


Fiscal Year March 2012 Earnings Estimates

 

Estimates Call for Sales, Ordinary Income to Rise 20.9%, 14.5% YY

During fiscal year March 2012 Ferrotec calls for sales to rise by 20.9% year-over-year to ¥70.0 billion. Photovoltaic segment related sales are expected to rise by a large margin on the back of an expansion in the market. At the same time small declines in both the production device segment and the electronic device segment are expected due to a break in semiconductor, FPD and capital investments in other realms, the conclusion of government support measures for car sales in various countries, and despite increases in consumable products and continued growth in automobile and other product sales in China. With regards to profits, the start of production at a new factory (To contribute a 2,000 employee increase) and an expansion in expenses are expected to lead to increases in both costs of goods sold and selling, general and administrative costs, but the higher sales are expected to absorb these higher costs and allow operating income to rise by 10.7% year-over-year to ¥7.5 billion. Ferrotec assumes an exchange rate of ¥82 to the United States Dollar (¥12.5 per Yuan.). Because the Company does not anticipate any foreign exchange translation losses, extraordinary is expected to improve. While the commemorative dividend will be eliminated, Ferrotec expects to increase its regular dividend by ¥2 per share for a total dividend payment of ¥20 per share to shareholders at the term end.

 

 

Production Device Segment

Vacuum seals used in the small to medium sized LCD and organic EL, and LED applications are expected to trend strongly. However a break in the capital investments in the semiconductor related realm is expected to lead to a decline in production device segment sales of 15.6% year-over-year to ¥6.55 billion. At the same time, sales of quartz products for applications in the LED and solar cells, and OEM applications for large semiconductor manufacturing machinery makers are expected to grow by 11.6% year-over-year to ¥7.25 billion. Ceramic products used in wafer circuitry testing tools and machine equipment parts are expected to rise by 10.0% year-over-year to ¥4.2 billion. Aside from these products, semiconductor wafers are expected to grow by 10.8% year-over-year to ¥5.14 billion, and EB guns and LED deposition equipment to fall by 1.0% year-over-year to ¥4.08 billion. Furthermore fortification of marketing for spare parts and subassemblies, and localization of production accompanying an expansion in market share in the Korean market are expected in the area of vacuum seals. In addition, the transfer of higher materials pricing to product pricing, shortening of delivery times for quartz products, expansion of sales of ceramic products in overseas markets including Europe, North America and Asia, and new client and new application development activities are expected to be conducted in the coming term.

 

Electronic Device Segment

Because Ferrotec has factored the negative impact of the Great Eastern Japan Earthquake and Tsunami disaster upon demand for thermoelectric modules for automated seat heaters into its estimates, it calls for this segment's sales to decline by 2.7% year-over-year to ¥6.27 billion. At the same time demand from applications in strategically important realms of fiber optics, medical testing, and biological equipment is expected to trend strongly. From the current term Ferrotec will cultivate applications for its products in the power device circuit board market, and expand its use of automation in its manufacturing facilities to raise its cost competitiveness.

 

Photovoltaic Segment

With bountiful orders backlog in silicon crystal manufacturing equipment, sales are expected to rise by 53.6% year-over-year to ¥15.05 billion. Furthermore the start of operations at a new plant is expected to enable Ferrotec to fulfill demand for quartz crucibles and boost sales by 54.2% year-over-year to ¥5.63 billion. Sales of silicon for use in solar cells and other products are also expected to grow by 37.1% year-over-year. Furthermore four new plants including the Yinchuan crucible plant, Hangzhou square crucible plant, the Shanghai wafer plant, and Yinchuan silicon plant will begin operation during the term.

 

 
"Challenge 1000" Midterm Business Plan
 

Ferrotec celebrated its 30th year of operation in 2010 and has identified the five principles of "self standing," "diligence," "integrity" "discipline," and "open mindedness" to calls upon the spirit that existed at the time of its founding as key themes in its newly created "Challenge 1000" Midterm Business Plan.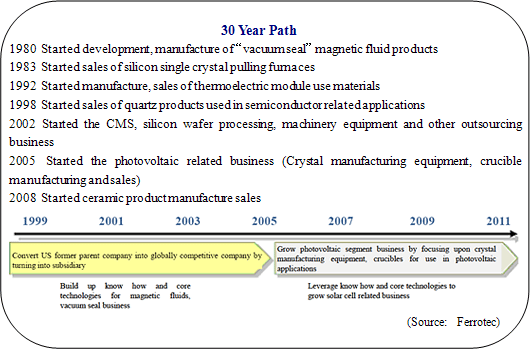 (1) Basic Policy

"Challenge 1000" maintains a basic policy of "further focusing Ferrotec's management resources upon environment and new energy fields," further expanding the photovoltaic (solar cells) related equipment and consumable products business, and fostering the LED related business as part of the production device segment.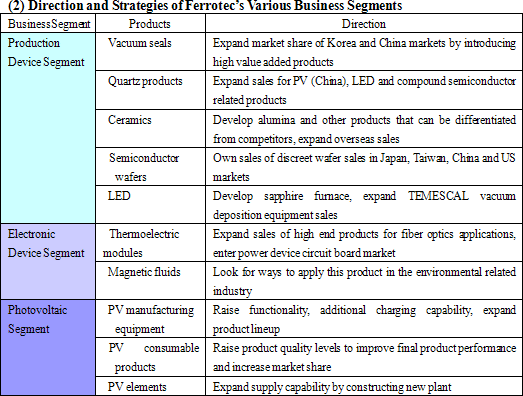 Production Device Segment

Ferrotec will cultivate the LED related business of the production device segment in terms of both manufacturing equipment and manufacturing equipment parts. Vacuum seals used as Metal Organic Chemical Vapor Deposition (MOCVD) equipment parts used in the manufacture of in LED are used as quartz and ceramic consumable products. With regards to manufacturing equipment, Temescal (Vacuum deposition equipment related business) was purchased from Edwards Vacuum Inc. in January 2010 and full scale efforts to establish a position within the LED market have begun. In addition, Ferrotec has fused its Group vacuum technologies with its business knowhow in China to rapidly expand the general use (low priced) vacuum deposition equipment business in China.

Ferrotec will develop and establish crystal manufacturing technologies by leveraging its strength of vacuum seal technologies to be used in cultivating chamber production of LED manufacturing equipment, and its silicon single crystal manufacturing technologies to develop the growth sintering furnace (Sapphire furnace) for single crystal sapphire (Used in crystal growth circuit boards).

Furthermore MOCVD is a technology to grow crystals that uses organic metals and gasses. MOCVD equipment is used in the process of manufacturing compound semiconductor crystals. In addition single crystal sapphires are superior in their mechanical characteristics, chemical stability, and optical transparency, and are used as highly-sophisticated information age opto-electronics and highly reliable parts materials. The quality of single crystal sapphires greatly affects the quality of LEDs and can also greatly reduce the manufacturing cost of LEDs, thereby raising their cost competitive standing.

 

Photovoltaic Segment

In addition to its current products of crystal manufacturing equipment (Single crystal pulling equipment, multiple crystal manufacturing equipment) and consumable products (Quartz crucibles, square crucibles), Ferrotec will also fortify and expand sales of ingot cutting equipment, wafer testing, and manufactured ingot and wafer.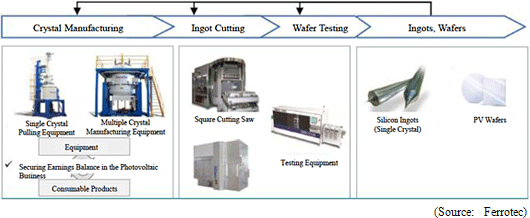 Ferrotec is pursuing a strategy of differentiating itself from its competitors through the "education of the manufacturing operational processes" and "superiority in running costs" of crystal manufacturing equipment. The Company also plans to sell equipment that has large furnace, fully automated, energy saving, additional charge, and recharge functionality (All of which contribute to reduced silicon manufacturing costs). With regards to ingot cutting and wafer testing, Ferrotec will apply the needs of its customers gathered in the silicon manufacturing equipment business to its equipment development process and develop wire saws that can use aggregated grain, which are better in terms of both time and effectiveness in polishing than loose grain. Furthermore the Company will fortify its product lineup through alliances, and fortify its sales structure for various machinery equipment through the cell process. Large reductions in costs will be pursued through integrated production and expanded sales of ingots and wafers. And through its experience in the manufacture of ingots and wafers, Ferrotec will endeavor to raise its equipment quality. Furthermore synergies from promotional activities in its products made in-house combined with accurate assessment of customer needs (Feedback to equipment) are also expected by both the manufacture and sales of ingots and wafers.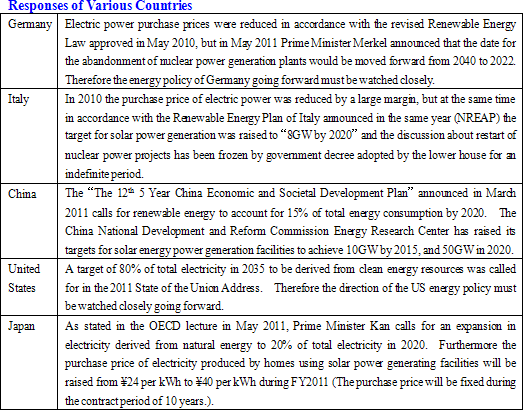 (3) Quantitative Targets

During fiscal year March 2012, Ferrotec calls for sales and operating income of ¥70 and ¥7.5 billion respectively, for an operating margin of 10.7%. During fiscal year March 2013, the Company has established targets for sales of between ¥75 to ¥80 billion and operating margin of between 10% to 12%. Furthermore in fiscal year March 2014, a sales target of between ¥90 to ¥100 billion and operating margin of between 10% to 12% have been established.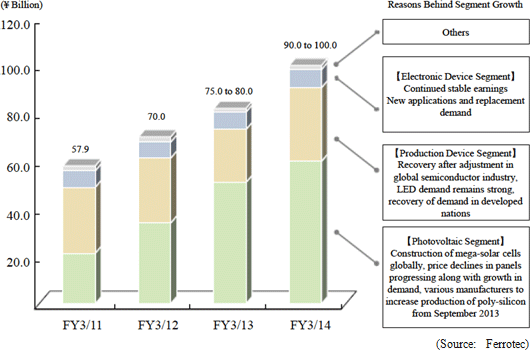 Analyses of the various manufacturers of solar cell module process equipment reveals that grid parity is expected to be achieved by 2013. Grid parity refers to the point at which the cost of electricity generated by solar power reaches the same cost as that of electric power supplied by the grid. While solar power generated electricity currently receives government policy support under the minimum price standard, these support measures will no longer be necessary when grid parity is achieved. And while solar power remains to be a high cost, low efficiency source of power when compared to electricity generated from fossil fuels, ever improving technologies are leading to reductions in the cost of electricity generated by solar power.

Amidst these trends, Ferrotec will fortify its lineup of consumable products and expand its sales regions, in addition to fortifying its production facilities. Moreover these products are very high in price competitive nature, and Ferrotec is in an extremely strong position amongst the various solar power generation related companies. Furthermore as seen in the cultivation of LED related and deposition equipment business, and the expansion of OEM semiconductors, there is still room for growth in the high profitability production device segment.

In fiscal year March 2012, the achievement of Ferrotec's sales targets may lead to positive surprises in terms of profits. However as expressed by Ferrotec during its earnings announcement meeting, "these sales targets may require a significant amount of effort to achieve." And while the targets for sales of ¥100 billion in the final year of the midterm business plan are high, these are realistic targets given the company's current standing. Exerting efforts to achieve the targets of the midterm business plan is important. Because growth in sales and profits was extremely high in fiscal year March 2011, it may be important for Ferrotec to build a foundation during the coming year from which it can base its continued longer term growth on.

 

Disclaimer

This report is intended solely for information purposes, and is not intended as a solicitation to invest in the shares of this company. The information and opinions contained within this report are based on data made publicly available by the Company, and comes from sources that we judge to be reliable. However we cannot guarantee the accuracy or completeness of the data. This report is not a guarantee of the accuracy, completeness or validity of said information and or opinions, nor do we bear any responsibility for the same. All rights pertaining to this report belong to Investment Bridge Co., Ltd., which may change the contents thereof at any time without prior notice. All investment decisions are the responsibility of the individual and should be made only after proper consideration.

Copyright(C) 2011, All Rights Reserved by Investment Bridge Co., Ltd.