Ferrotec Holdings Corporation (6890)
Akira Yamamura, President
| | |
| --- | --- |
| Company | Ferrotec Holdings Corporation |
| Code No. | 6890 |
| Exchange | JASDAQ |
| Industry | Electric Equipment (Manufacturing) |
| President | Akira Yamamura |
| HQ Address | Nihonbashi Plaza Building, Nihonbashi 2-3-4, Chuo-ku, Tokyo |
| Year-end | March |
| URL | |
Share Price
Shares Outstanding
Market Cap.
ROE (actual)
Trading Unit
¥1,587
30,842,206 shares
¥48.947 billion
8.4%
100 shares
DPS (Est.)
Dividend Yield (Est.)
EPS (Est.)
PER (Est.)
BPS (actual)
PBR (actual)
¥20.00
1.3%
¥129.69
12.2x
¥1,271.76
1.2x
* Share price as of closing on June 5, 2017. Number of shares issued at the end of the most recent quarter excluding treasury shares.
Fiscal Year
Sales
Operating
Income
Ordinary
Income
Net
Income
EPS (¥)
DPS (¥)
March 2014
44,745
798
1,262
1,391
45.18
6.00
March 2015
59,078
1,671
2,030
-2,132
-
8.00
March 2016
69,463
4,024
3,822
2,162
70.18
10.00
March 2017
73,847
5,678
5,675
3,256
105.67
18.00
March 2018 Est.
83,000
7,200
6,400
4,000
129.69
20.00
* Estimates are those of the Company. From the FY3/16, the definition for net income has been changed to net income attributable to parent company shareholders (Abbreviated as parent net income).

 

 

This Bridge Report reviews Ferrotec's earnings results for the fiscal year March 2017 and earnings estimates for fiscal year March 2018.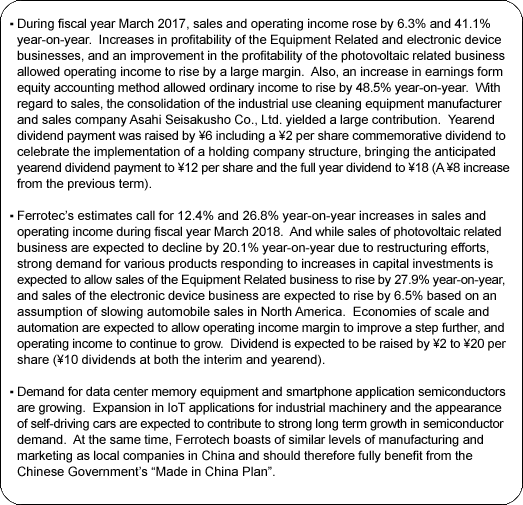 Ferrotec Holdings Corporation conducts various technological services and manufactures and sells semiconductor and FPD manufacturing equipment parts including consumable products and thermal element "thermoelectric modules" as core products of the electronic device business segment, and various products in the photovoltaic related business. The Ferrotec Group consists of 41 subsidiaries (32 consolidated subsidiaries, 1 non-consolidated equity accounting method held subsidiary, 5 equity accounting method held affiliated companies, 1 non-equity accounting method held affiliate, and two non-consolidated subsidiaries).

Ferrotec was born as a company with highly unique technologies including thermoelectric modules with uses in thermal elements and vacuum technologies that respond to magnetic fluids that were born from the NASA space program in the 1980s. Over the course of its 30 year history of operations, the Company has developed a wide range of diverse technologies with applications in the automobile, electronics, next generation energy and other industries. As a transnational company, Ferrotec deploys its businesses in Japan, Europe, the Americas, China, and Asia, and boasts of marketing, development, manufacturing, sales, and management capabilities in various countries and regions. A holding company structure was implemented from April 2017.

 

<Corporate Philosophy and Code of Conduct>

Corporate Philosophy

Bringing Satisfaction to Customers
Caring About the Environment
Providing Dreams and Vitality to the World

 

Code of Conduct

Our Company and its employees will endeavor to harmonize with the global society, and act with sincerity firmly based upon our corporate philosophy and social common sense. In addition, we will observe the laws and ordinances of each country, as a company which supplies products and services which contribute to the lives of people around the world.

Ferrotec Group's goal is to offer high quality products and services in the realms of "new energy" and "electronics", and gain the trust of customers by satisfying them through the provision of price competitive products and services.

Ferrotec Group will proactively promote activities that take the global environment into consideration as one of our most important management tasks and to adapt to the latest environment control technologies to our products and services. In addition, we seek to develop material, products, and services that can be utilized in "new energy" applications and as part of our efforts to resolve various problems confronting the global environment.

Ferrotec Group seeks to contribute to society by leveraging our core technologies and to be a company which continuously satisfies the expectations of our customers, stockholders, employees, clients, communities, and other stakeholders. Furthermore, all of our activities will be conducted to remain in strict compliance with laws, ordinances, social orders, international rules and social common sense.

 

<Business Segments>

Ferrotec's operations can be divided between the Equipment Related business segment, where Vacuum Feedthrough, quarts products, and other ceramic products used in semiconductor, FPD, and LED related manufacturing equipment are produced, the electronic device business segment, where thermoelectric module application products are made, and the photovoltaic business segment, where silicon crystal, PV wafers, and crucibles used in crystal manufacturing devices are produced. In fiscal year March 2017, sales of the Equipment Related, electronic device, and photovoltaic related business segments accounted for 43.7%, 17.1% and 25.4% (FY3/16 = 45.2%, 19.2% and 26.6%) of total sales respectively, while saw blades, equipment part cleaning, machine tool, and other products not included in reported segments accounted for 13.8% (FY3/16 = 9.0%).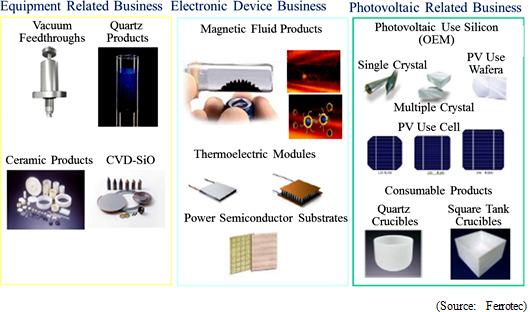 Equipment Related Business

Ferrotec provides total engineering services in the Equipment Related business segment, including the manufacture and sale of Vacuum Feedthrough of equipment parts for solar power, semiconductor, FPD and LED applications, consumable products used in manufacturing of devices, quartz products, ceramic products, CVD-SiC products, silicon wafer processing and equipment cleaning services (50% share in China).

The main product of Vacuum Feedthrough boasts of top market share in the world, and is a functional part that insulates the interior of manufacturing equipment from gas and dust contamination while supporting rotating action of the above mentioned equipment. These Vacuum Feedthrough use magnetic fluids (Fluids that respond to magnetic fields), which has been a core technology of Ferrotec since its founding. Because of instability in these applications arising from their link with corporate capital investments cycles, the Company focuses its marketing efforts upon expanding sales to applications for which demand is more stable, including transportation equipment, precision robots, and general industry usages. In addition, Ferrotec has also focused its efforts upon assuming consigned manufacture of vacuum chambers that use Vacuum Feedthrough and gate valves (Both use vacuum related equipment).

At the same time, quartz, ceramic, and CVD-SiC products are critical elements in the process of semiconductor manufacturing. Quartz products are able to resist high temperature conditions that exist in the semiconductor manufacturing process, and are a high purity silica glass product that protects semiconductors from undergoing chemical reaction by preventing it from activating with gas. Ferrotec boasts of a high share of quartz crucibles (Photovoltaic related business) used in the photovoltaic cell manufacturing process. This technology is also being used to cultivate high purity crucibles for use in semiconductor applications. The Company boasts of semiconductor manufacturing equipment manufacturers as their main clients in Japan and overseas who purchase ceramic products, which are Ferrotec's core material and technology. At the same time, semiconductor inspection tools for machinable ceramics and fine ceramics used in semiconductor manufacturing equipment are two main products in this realm.

CVD-SiC products are the term used to describe SiC products manufactured by "CVD method (Chemical Vapor Deposition method)" (created from compounds of silicon and carbon gas). Currently, semiconductor equipment and structural parts are provided, and research and development for products used in aeronautics and space (Turbine, mirrors), automobile (Power semiconductors), energy (Nuclear power related), information technology (Semiconductor manufacturing equipment parts) and other applications are also being conducted.

In addition, Ferrotec has achieved output of 300,000 units per month of 6 inch wafer processing (Ingot slicing) for discrete semiconductor applications, and its contributions in the realm of small diameter wafer processing are becoming significant.

 

Electronic Device Business

Thermal element "thermoelectric modules" are products that can instantly raise or lower temperatures to a highly precise degree and are a core product of this business. Thermoelectric modules are used primarily in heated automobile seats, and also in a wide range of other applications including genetic analysis equipment, optical communications, and consumer electronics. Ferrotec is also working on developing new demand and expanding further applications through cost reduction and quality improvement through development of new products using high performance materials and introduction of automated lines
Earnings of magnetic fluids, including applications currently being developed for use in fishing reels (Water protecting internal seals) and speakers for 4K televisions, are also conducted.

 

Photovoltaic Related Business

Ferrotec entered the photovoltaic related business in 2005, and manufactures and sells silicon crystal manufacturing equipment, consumable products including quartz crucibles, and silicon products used in photovoltaic applications. Based upon the current needs of the market, the Company is conducting manufacture and sales of silicon-use multiple crystal vessels (Manufactured using quartz processing technologies), single crystal crucibles manufactured when making ingots, and consigned manufacturing of silicon crystal ingots and wafers used in photovoltaic substrates. With regards to consumable products like crucibles, Ferrotec boasts of a high market share due to its wide ranging lineup of products and ability to manufacture customized products.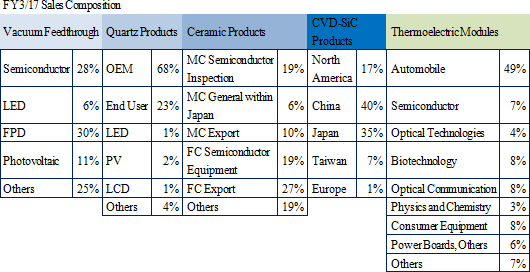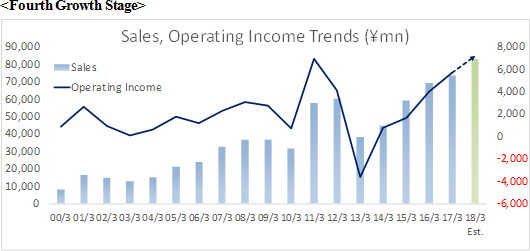 Ferrotec was established in September 1980 and began manufacturing and selling magnetic fluids and applied products (CP seals, Vacuum Feedthrough). CP seals used as seals in hard disc drives and Vacuum Feedthrough used as seals in vacuum equipment have been drivers of growth and the foundation of the Company's overall business. From 1990 onwards, Ferrotec has conducted aggressive overseas business deployment including the establishment of local companies in Massachusetts, United states in 1991, Hangzhou, China in 1992, Shanghai, China in 1995, and Singapore in 1997. Meanwhile, the company started manufacturing and selling thermoelectric modules in China (1992), and started manufacturing and selling quartz products for semiconductor related business (1998).. In 1999 the original parent company Ferrofluidex Co., Ltd. was acquired to deploy businesses in North America and Europe.

From 2000 onwards, Ferrotec started business process consignment for machine tools and silicon wafer processing that leverage its integrated manufacturing technologies including parts processing and assembly in 2002. In 2005, the Company launched the photovoltaic related business and began full scale manufacturing and sales of quartz manufacturing equipment and crucibles. In 2008, the production and sales of ceramic products was started to become a new driver of earnings. Now, Ferrotec operates its businesses in the four geographic regions of China, Asia, North America and Europe including Russia, and it has a goal of achieving ¥100.0 billion in sales from these four geographic operating territories in the fourth phase of its growth strategy.

 

 
Fiscal Year March 2017 Earnings Results

 

Sales, Operating Income Rise 6.3%, 41.1% Year-On-Year

Sales rose by 6.3% year-on-year to ¥73.847 billion due in part to contributions from the conversion of the industrial use cleaning equipment manufacturer and sales company Asahi Seisakusho Co., Ltd. into a consolidated subsidiary in July 2016 (Included in the other business segment). With regard to reported business segments, the influence of the stronger yen caused sales of the electronic device business to decline by 5.3% year-on-year, but favorable trends in Vacuum Feedthrough, quartz products, and DVD-SiC products allowed the Equipment Related business sales to rise by 2.7%. At the same time, photovoltaic related business sales rose by 1.4% on the back of increases in photovoltaic use silicon and silicon crystal manufacturing equipment. Operating income rose by 41.1% year-on-year to ¥5.678 billion. Improvements in sales mix and reductions in cost of sales allowed gross income to rise by 13.8% year-on-year. Also, successful efforts to restrain expenses through optimization of work processes and declines in dollar based expenses due to the stronger yen allowed growth in sales, general and administrative expenses to remain subdued at 5.6% year-on-year.

Increases in equity accounting method profits (From ¥142 to ¥238 million) and other factors allowed ordinary income to rise by 48.5% year-on-year to ¥5.675 billion. Booking of a loss on liquidation of noncurrent assets of the photovoltaic related business (¥343 million), impairment loss (¥229 million), and disaster related loss (¥158 million) caused extraordinary loss to increase from ¥499 to ¥731 milion, but reduction in tax rate from 37.7% to 36.9% allowed net income to rise by 50.6% year-on-year to ¥3.256 billion.

Capital investments rose by 112.8% year-on-year from ¥3.440 billion in the previous term to ¥7.322 billion in the current term. At the same time, deprecation declined by 16.5% year-on-year from ¥4.303 to ¥3.593 billion over the same period. The average exchange rate was ¥109.44 per United States dollar (¥121.03 in FY3/16), and ¥16.41 per Chinese yuan (¥19.19 in FY3/16).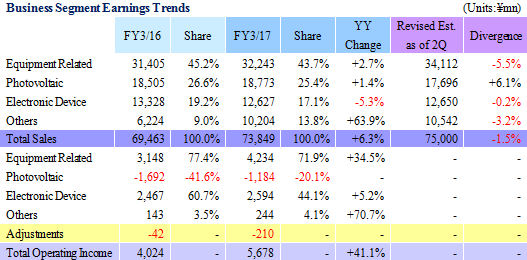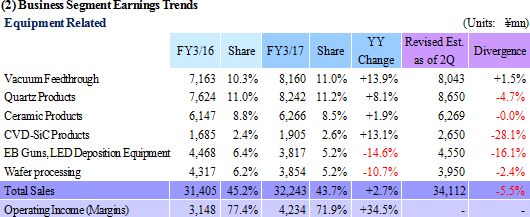 Investments for miniaturization and 3D-NAND in the semiconductor market, for large LCD applications in Korea and China and for OLED applications are acting as a tailwind for Vacuum Feedthrough, which saw a 13.9% year-on-year rise in sales. With regard to quartz products, demand from the two major OEM manufacturer customers in Japan and the United States remained strong, and overall demand remained stronger than Ferrotec's ability to supply products despite its increase in manufacturing capacity for OEM applications in the United States. Ceramic products suffered from the negative influence of the stronger yen and sales rose by only a small margin, but machinable ceramic "photoveel" saw favorable demand from automobile logic use inspection jigs within Japan and semiconductor memory use inspection jigs recovered to growth from the second half. At the same time, memory use inspection jigs trended favorably in overseas markets. Miniaturization of semiconductor and 3D-NAND applications allowed demand for fine ceramics to grow both inside and outside of Japan. CVD-SiC products grew on the back of investments in and increased production of semiconductors, with particular growth noted in North America, China and Japan. LED deposition equipment used for deposition in EB guns and metal film used as heat sources of film formation equipment for use in communication chips for compound semiconductor applications are trending in line with targets. Processed wafers of less than six inches faced temporary but intense pricing competition, but supply shortages during the second half allowed prices to recover. In addition, construction of an eight inch wafer plant was promoted to begin operating in fiscal year March 2018.

 

 

Photovoltaic use silicon and silicon crystal manufacturing equipment grew, but sales of quartz crucibles declined due to weakness in single crystal crucibles and multiple crystal square tanks. Single crystal crucibles saw advances in both development and mass production along with the shift towards semiconductor applications. Impairment accounting was implemented for multiple crystal vessel manufacturing lines. Photovoltaic use silicon and photovoltaic battery cells saw ad hoc demand due to the rush to buy ahead of the termination of the fixed rate electricity purchase system in China during the first half, but prices and demand declined in the second half.

 

 

Consumer electronics, semiconductor related, biotechnology and medical equipment, general industrial use, and mobile communications applications led by China trended favorably. However, the main product application of automobile seat heating applications suffered from the negative effect of the stronger yen despite favorable sales of automobiles in the United States and China. At the same time, power semiconductor substrate using thermo modules rose on favorable shipments within Japan and to new clients in Europe. Ferrotec is currently promoting investments for production capacity expansion.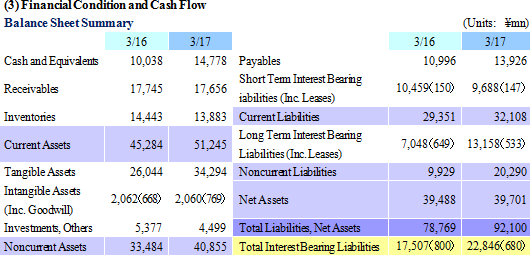 Total assets rose by ¥13.331 billion from the end of the previous term to ¥92.1 billion at the end of the current term. Long term liabilities including debts and cash and equivalents rose, along with an increase in tangible noncurrent assets (Construction provisions rose from ¥2.289 to ¥9.431 billion) on the back of eight inch wafer facility investments (¥7.142 billion). Goodwill amounting to ¥331 million (Including amortization of good will of ¥197 million) was booked within intangible noncurrent assets due to the conversion of Asahi Seisakusho Co., Ltd. into a consolidated subsidiary.

The conversion of Asahi Seisakusho Co., Ltd. into a consolidated subsidiary led to an increase in accounts payables and long term interest bearing liabilities including debt. Noncurrent assets rose by ¥3.455 billion. At the same time, net assets remained in line with the previous year's level due to the payment of dividends and a decline in foreign exchange adjustment provisions (Negative ¥2.456 billion). The exchange rates at the end of the term were ¥116.49 per United States dollar and ¥16.76 per Chinese yuan (¥120.61 and ¥18.36 at the end of the previous term). Capital adequacy ratio declined from 49.1% at the end of the previous term to 42.6% at the end of the current term.

 
 

A strong increase in the net inflow of operating cash flow to ¥8.218 billion (Including pretax income and depreciation of ¥8.707 billion) allowed increases in investments, including those made in the Chinese subsidiary, to be made. At the same time, the net inflow of free cash flow increased to ¥1.147 billion. Tangible noncurrent asset acquisitions amounted to ¥7.322 billion for assets of the Shanghai, Hangzhou, and Yinchuan subsidiaries amounting to ¥2.637, ¥1.470 and ¥1.979 billion respectively.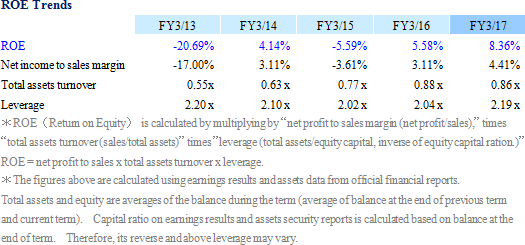 Fiscal Year March 2018 Earnings Estimates

 

Estimates Call for Sales, Operating Income to Rise 12.4%, 26.8% Year-On-Year

Ferrotec's estimates call for sales to rise by 12.4% year-on-year to ¥83.0 billion. Continued efforts to restructure the photovoltaic related business are expected to lead to a 20.1% year-on-year decline in this segment's sales. However, strong demand for various products due to investments responding to increases in capacity is expected to allow sales of the Equipment Related business to rise by 27.9%. A decline in automobile sales in North America has been factored into the estimate for a 6.5% year-on-year increase in sales of the electronic device business.

Operating income is expected to rise by 26.8% year-on-year to ¥7.2 billion. The start of operations of expanded facilities is expected to contribute to a rise on cost of sales margin, but economies of scale and increases in automation at existing facilities is expected to allow gross income to rise by 10.0% year-on-year. Increases in sales, general and administrative expenses are expected to be absorbed and contribute to a 1% point increase in operating income margin to 8.7%. Ordinary income is expected to rise by a smaller margin of 12.8% year-on-year due to a slight rise in interest payments from ¥527 million the term just ended to ¥550 million in the coming term, along with the disappearance of foreign exchange translation profit of ¥213 million. At the same time, the decline in tax rate to around 37% is expected to allow net income to rise by 22.8% year-on-year to ¥4.0 billion.

Ferrotec assumes foreign exchange rates of ¥110 and ¥16.00 per United States dollar and Chinese yuan (¥109.44 and ¥16.41 in FY3/17) respectively. Every yen movement relative to the dollar is expected to amount to about ¥970 and ¥60 million in sales and operating income respectively. Capital investments are expected to rise by 36.5% to ¥10.0 billion (¥7.322 billion in FY3/17) on a cash flow basis. Investments for eight inch wafer related facilities within the Equipment Related business are expected to amount to 65% of total capital investments. Depreciation is also expected to rise by 11.3% year-on-year to ¥4.0 billion, compared with ¥3.593 billion in the term just ended.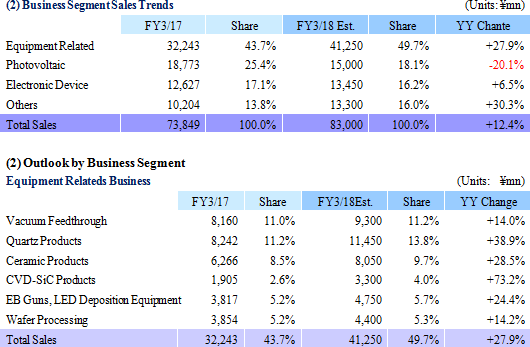 Sales of Vacuum Feedthrough are expected to grow by 14.0% year-on-year. Investments by Japanese and Korean manufacturers to offset shortages in 3D-NAND used in data centers within the semiconductor market have begun, and investments in OLED within the flat panel display market by Korean and Chinese manufacturers are also growing. In addition, consigned processing services are also expected to rise on the back of orders within China. Quartz products are expected to rise by a large 38.9% margin. Near term, orders from major OEM suppliers continue to exceed production capacity, and efforts are being promoted to expand output capacity. Furthermore, there is no sense of a peak in demand, with both equipment and device manufacturers continuing to see high capacity utilization rates. Ceramic products sales are expected to grow by 38.5% year-on-year. Machinable ceramic "photoveel" sales are expected to benefit from favorable demand from the automobile industry and three dimensional semiconductor applications, along with strong demand from new inspection tools for miniaturization applications. Fine ceramics are expected to grow both inside and outside of Japan on the back of increases in semiconductor investments. CVD-SiC products sales are expected to rise by 73.2% year-on-year due to the full year contribution after the shortened nine month accounting period in the previous term of the subsidiary responsible for this business. Along with the start of production of CVD-SiC products by the subsidiary established in Korea, efforts will be made to cultivate the non-semiconductor applications. Wafer processing is expected to rise by 14.2% year-on-year. The effect of price hikes are beginning to surface and production of eight inch wafers will begin on a full scale during the second half.

 

 

The decline in single crystal crucibles for photovoltaic applications within quartz crucibles is expected to continue. However, medium sized diameter and above applications for semiconductors are expected to grow. Single crystal crucibles for use in photovoltaic battery applications will continue to be manufactured for internal usage but overall production is expected to be reduced in steps. Ferrotec will focus upon planned production of photovoltaic silicon and photovoltaic battery cells in an effort to improve the stability of earnings. With regard to photovoltaic battery cells, passivated emitter and rear contact (PERC) technology with improved conversion efficiency rates will be introduced to improve profitability. Moreover, PERC technology is a new highly efficient technology that allows for a greater amount of electricity to be generated from the same amount of surface area.

 

 

Semiconductor related applications and changes in communications regulations in China are expected to act as a tail wind for communication equipment, and power semiconductor substrates are expected to increase on the back of new client cultivation in Europe. At the same time, the main automobile seat heating applications is expected to trend sideways as a slowing in sales of automobiles in the United States is anticipated to offset strength in sales of automobiles in China.

 

 
Efforts to Achieve Sales Target of ¥100.0 Billion (Vice President He Xian Han, Executive Director)
 

At the fiscal year March 2017 earnings announcement meeting held on May 25, Vice President and Executive Director He Xian Han explained Ferrotec's efforts to achieve its sales goal of ¥100.0 billion and progress in attaining this goal.

 

<Doubling Sales of Semiconductor Related Applications within 2 to 3 Years>

Ferrotec entered the quartz products business for semiconductor manufacturing equipment applications in 1998, and in 2001 began processing wafers (4, 5, 6 inch) using technology of Toshiba Ceramics Co., Ltd., the major semiconductor wafer manufacturer. At the peak, Ferrotec processed 350,000 wafers and became the number one wafer processing company in China. Thereafter, the Company expanded its semiconductor related business to include equipment cleaning, vacuum chamber, CVD-SiC, and other products.

 

Seek to Establish 8 Inch Wafers Capacity at Year End of 150,000 per Month

Currently, China is promoting its national policy of "Made in China Plan" as a means of cultivating its own semiconductor industry, and subsequent demand for materials is expected to grow along with the promotion of this policy. Therefore, Ferrotec has decided to cultivate the eight inch wafer business. Starting from wafer pulling, outer circumference polishing, cutting, leveling, mirror finishing, and final inspection are conducted in an integrated in-house process. The Company has already started shipments of samples, and demand is so strong that supplies cannot keep pace. Ingot manufacture is the subject of Government subsidies, and manufacture is being undertaken at the Yinchuan Plant which has the capability to reduce electricity costs. Eight inch wafer manufacture is expected to be raised to 150,000 units per month by the end of 2017 (Subsidiary's accounting period end is December). Ferrotec had initially expected to establish a capacity of 100,000 units, but progress in achieving optimization of processes and manufacturing allowed them to raise their production capacity.

Currently, China maintains a wafer self sufficiency rate of only 5%. And while the major global semiconductor manufacturers are accelerating their establishment of capacity in China, responses to the need for materials (Wafers) locally is not progressing. Investments to expand capacity are being curtailed currently by the three major wafer manufacturers as they endeavor to reverse the downward trend in pricing. Bucking this trend, Ferrotec will promote aggressive investments to expand its capacity. Global demand for 12 and 8 inch wafers is said to be 5.80 and 5.50 million units, so the Company is considering boosting its capacity to 300,000 per month depending upon market conditions and its manufacturing efficiencies. Currently, Ferrotec's maximum capacity at full utilization is expected to be 450,000 units, which would still only account for 10% of the worldwide demand.

 

Seek to Achieve ¥5.0 Billion in CVD-SiC Sales at an Early Stage

With regard to CVD-SiC, Ferrotec acquired Admap Inc. from Mitsui Engineering & Shipbuilding Co., Ltd. in 2015. At that time, demand had been expected to grow strongly and capacity was expanded. From June 2017, DVD-SiC jigs used in the preliminary stages of semiconductor manufacturing process began being produced at the Korea Plant. The cost of these products is expected to be reduced to half the cost of other existing plants. Currently, sample shipments are being made with mass production expected to begin from the fourth quarter. Ferrotec expects to manufacture this product in both Japan and Korea, and achieve sales of ¥5.0 billion.

 

Equipment Cleaning Business Boasts of 60% Share of Chinese Market

In addition to Shanghai and Tianjin, a new facility began operations in Neijiang, Szechuan Province from December 2016 as the world's leading facility primarily providing products to semiconductor clients from March 2017. Furthermore, Ferrotec expects to construct plants in Wuhan and other parts of the interior of China. Wuchan is a center for semiconductor and FPD manufacturers as part of the "50% Made in China Plan". The increase in semiconductor plants called for by the "Made in China Plan" portends growth in demand for equipment cleaning services. Consequently, Ferrotech has newly constructed two plants, as part of a six plant structure to cover the entire market in China. Ferrotec already boasts of about 60% of the equipment cleaning services market in China, and it is the only company that boasts of facilities to handle miniaturization equipment. The Company has also become a strategic partner to several major semiconductor manufacturing equipment manufacturers, and will promote this business with these partners in the rest of the world as well. Another strength of Ferrotec is its ability to conduct equipment overhauls.

Relationships with equipment manufacturers are being strengthened through its equipment cleaning service, and OEM supply of vacuum chambers and vacuum spare parts is expanding. These strengthened relationships are positively influencing the quartz and ceramic products businesses as well, with the new plant which began being constructed in January expected to become certified by customers in September. This plant will expand capacity by double once it begins operation. Shanghai assembly and Hangzhou part manufacturing plants will be integrated to raise production efficiency.

As a result of the above mentioned strategies, Ferrotec expects to double its semiconductor related sales within two to three years.

 

<Strong Anticipation for Power Semiconductor Substrate (DCB) and Thermoelectric Modules>

Ferrotec has high expectations for its power semiconductor substrate (DCB) and thermoelectric modules. Ferrotec has already acquired certification for its power semiconductor substrate from major Japanese semiconductor manufacturers, in addition to certification from major Chinese and Korean manufacturers. Currently, Ferrotec has also acquired certification from two European companies. The Company expects to derive ¥5.0 billion in sales from power semiconductor substrates within two years.

At the same time, fortification of thermoelectric modules mainly used in automobile related applications is being promoted. In addition, temperature control applications are expected to become more critical in the next generation 5G cellular telephones and demand is expected to grow for mobile applications. Aside from these applications, growth in blood testing (PCR) and consumer electronics related applications are also expected to grow. Ferrotec currently manufactures 600,000 units of thermoelectric modules and seeks to double this figure. Consequently M&A activities will be aggressively pursued in the realms of semiconductor and electronic device related applications. At the same time, Ferrotec will continue to implement restructuring efforts for its photovoltaic related business, but it is also considering the transfer of this business to a potential partner.

 

 
 

Demand for data center memory equipment and smartphone application semiconductors is growing. Expansion in IoT applications for industrial machinery and the appearance of self driving cars are expected to contribute to strong long term growth in semiconductor demand. At the same time, Ferrotech boasts of similar levels of manufacturing and marketing functions as local companies in China and should therefore completely benefit from the Chinese Government's "Made in China Plan". Therefore, Ferrotec appears to be capable of achieving its sales target of ¥100.0 billion by fiscal year March 2019, but this is only a passing point. During fiscal year March 2017, capital investments rose by 2.1 times year-on-year, but the facts that return on equity and return on invested capital rose from 5.6% to 8.4% and 5.4% to 6.9% respectively are key points to be considered.

 

 
<Reference: Regarding Corporate Governance>

 

◎ Corporate Governance Report                    Updated on April 20, 2017

Basic policy

The company considers that it is important to improve its corporate value, emphasize the soundness of its business administration to become an enterprise that will be trusted and supported by stakeholders, including shareholders, customers, business partners, and local communities, and also establish a managerial system for responding the rapid changes to the business environment swiftly and accurately.
As of June 28, 2016, two out of nine directors are outside ones, and the term of each director is one year, so that the company can respond to the changes to the business environment swiftly. In addition to a monthly meeting of the board of directors, the company flexibly holds an extraordinary meeting of the board of directors every time an important transaction emerges.
As for business operation, twelve operating officers (including 11 males and 1 female or 6 directors [who are all male]) are appointed as managers in charge of respective tasks or sections and assigned with clearly defined roles for business operation.
The company has the audit and supervisory board. As of June 28, 2016, the board of auditors is composed of 3 outside auditors (including a full-time one), and aims to strengthen corporate governance.
The company receives advice about legal affairs from Goto Law Office when this is necessary for business, in accordance with a legal consultancy contract.
The company also undergoes account audit by Ernst & Young ShinNihon LLC serving as comptroller in accordance with an audit contract, and tries to disclose information without delay as a company listed in the standard section of the JASDAQ market of Tokyo Stock Exchange, if an event specified in the provisions regarding disclosure occurs.

 

<Reasons for Non-compliance with the Principles of the Corporate Governance Code (Excerpts)>

The company implements all of the basic principles of the Corporate Governance Code.

 

<Disclosure Based on the Principles of the Corporate Governance Code (Excerpts)>
Principle 1-4   The so-called strategically held shares
The company holds strategically held shares for the purposes of maintaining and strengthening cooperative relations for business, keeping and cementing transaction relations, collecting and exchanging market information, and procuring funds stably.

 
Principle 1-7   Transactions with related parties
When making transactions with related parties, the board of directors needs to deliberate and make a decision. A director who have any interests about an item discussed by the board of directors shall not be involved with decision making about said item. The transactions with related parties shall be conducted under the same conditions as those for transactions with other companies that have no capital ties, and the company takes measures for preventing such transactions from harming the interests of minority shareholders.

 
Principle 5-1   Policies for constructive dialogue with shareholders
With the aim of achieving sustainable growth and improving corporate value, the company will promote the constructive dialogue with shareholders and explain its managerial policy and status understandably so that shareholders will understand them.

Policies for constructive dialogue with shareholders
(1) A director in charge of IR and managerial plans is included in the management that manages the dialogue with shareholders.
(2) The president's office for the cooperation among divisions for supporting the dialogue with shareholders cooperates with the accounting department in supporting the dialogue with shareholders.
(3) For enriching the means of dialogue other than individual interviews, the company holds a session for briefing financial results, and a business briefing session after each general meeting of shareholders, and utilizes a variety of information transmission methods, including printed matters. At the sessions for briefing financial results and business, the representative director gives explanations.
(4) The information on each dialogue is managed rigorously in accordance with the regulations for the management of insider information.

 

 

Disclaimer

This report is intended solely for information purposes, and is not intended as a solicitation to invest in the shares of this company. The information and opinions contained within this report are based on data made publicly available by the Company, and comes from sources that we judge to be reliable. However we cannot guarantee the accuracy or completeness of the data. This report is not a guarantee of the accuracy, completeness or validity of said information and or opinions, nor do we bear any responsibility for the same. All rights pertaining to this report belong to Investment Bridge Co., Ltd., which may change the contents thereof at any time without prior notice. All investment decisions are the responsibility of the individual and should be made only after proper consideration.

 

Copyright(C) 2017 Investment Bridge Co., Ltd. All Rights Reserved.