Ferrotec Holdings Corporation (6890)
Akira Yamamura, President
| | |
| --- | --- |
| Company | Ferrotec Holdings Corporation |
| Code No. | 6890 |
| Exchange | JASDAQ |
| Industry | Electric Equipment (Manufacturing) |
| President | Akira Yamamura |
| HQ Address | Nihonbashi Plaza Building, Nihonbashi 2-3-4, Chuo-ku, Tokyo |
| Year-end | March |
| URL | |
Share Price
Shares Outstanding
Market Cap.
ROE (Act.)
Trading Unit
¥1,813
37,003,134 shares
¥67,087 million
5.9%
100 shares
DPS (Est.)
Dividend Yield (Est.)
EPS (Est.)
PER (Est.)
BPS (Act.)
PBR (Act.)
¥24.00
1.3%
¥143.23
12.7x
¥1,386.51
1.3x
* Share price as of closing on June 22, 2018. Number of shares issued at the end of the most recent quarter excluding treasury shares.
ROE and BPS are the results at the end of previous term.
Fiscal Year
Sales
Operating
Income
Ordinary
Income
Net
Income
EPS (¥)
DPS (¥)
March 2015
59,078
1,671
2,030

-2,132

-
8.00
March 2016
69,463
4,024
3,822
2,162
70.18
10.00
March 2017
73,847
5,678
5,675
3,256
105.67
18.00
March 2018
90,597
8,437
7,157
2,678
77.08
24.00
March 2019 Est.
98,000
9,800
8,500
5,300
143.23
24.00
* Estimates are those of the Company. From the FY3/16, the definition for net income has been changed to net income attributable to parent company shareholders (Abbreviated as parent net income).

 

 

This Bridge Report reviews overview of Ferrotec's earnings results for the fiscal year March 2018 and earnings estimates for fiscal year March 2019.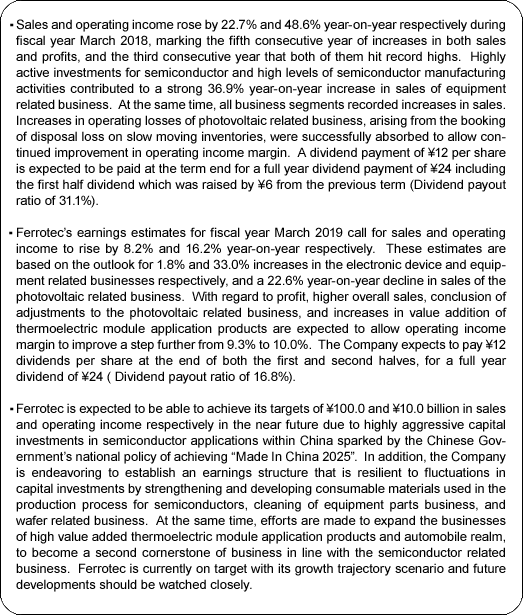 Ferrotec Holdings Corporation conducts various technological services and manufactures and sells semiconductor and FPD manufacturing equipment parts including consumable products and thermal element "thermoelectric modules" as core products of the Electronic Device Business Segment, and various products in the photovoltaic related business. Ferrotec Group consists of 42 subsidiaries (35 consolidated subsidiaries, 1 non-consolidated equity accounting method held subsidiary, 5 equity accounting method held affiliated companies, 1 non-equity accounting method held non-consolidated subsidiary). Ferrotec was born as a company with highly unique technologies including thermoelectric modules with uses in thermal elements and vacuum technologies that respond to magnetic fluids that were born from the NASA space program in the 1980s. Over the course of its 30 year history of operations, the Company has developed a wide range of diverse technologies with applications in the automobile, electronics, next generation energy and other industries. As a transnational company, Ferrotec deploys its businesses in Japan, Europe, the Americas, China, and Asia, and boasts of marketing, development, manufacturing, sales, and management capabilities in various countries and regions. A holding company structure was implemented from April 2017.
<Corporate Philosophy and Code of Conduct>
Corporate Philosophy
Bringing Satisfaction to Customers Caring About the Environment Providing Dreams and Vitality to the World
Code of Conduct
Our Company and its employees will endeavor to harmonize with the global society, and act with sincerity firmly based upon our corporate philosophy and social common sense. In addition, we will observe the laws and ordinances of each country, as a company which supplies products and services which contribute to the lives of people around the world. Ferrotec Group's goal is to offer high quality products and services in the realms of "new energy" and "electronics," and gain the trust of customers by satisfying them through the provision of price competitive products and services. Ferrotec Group will proactively promote activities that take the global environment into consideration as one of our most important management tasks and to adapt to the latest environment control technologies to our products and services. In addition, we seek to develop material, products, and services that can be utilized in "new energy" applications and as part of our efforts to resolve various problems confronting the global environment. Ferrotec Group seeks to contribute to society by leveraging our core technologies and to be a company which continuously satisfies the expectations of our customers, stockholders, employees, clients, communities, and other stakeholders. Furthermore, all of our activities will be conducted to remain in strict compliance with laws, ordinances, social orders, international rules and social common sense.
<Business Segments>
Ferrotec's operations can be divided between the Equipment Related business segment, where Vacuum Feedthrough, quartz products, and other ceramic products used in semiconductor, FPD, and LED related manufacturing equipment are produced, the Electronic Device Business Segment, where thermoelectric module application products are made, and the photovoltaic business segment, where silicon crystal, PV wafers, and crucibles used in crystal manufacturing devices are produced. In fiscal year March 2018, sales of the Equipment Related, electronic device, and Photovoltaic Related Business Segments accounted for 48.7%, 14.0% and 23.1% (FY3/17 = 43.7%, 17.1% and 25.4%) of total sales respectively, while saw blades, equipment part cleaning, machine tool, and other products not included in reported segments accounted for 14.1% (FY3/17 = 13.8%).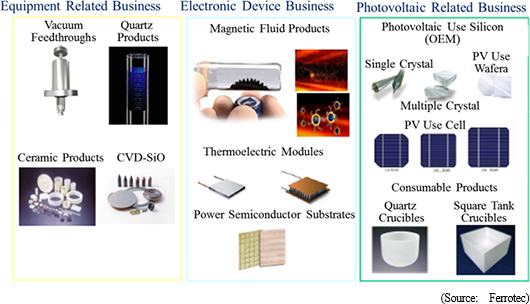 Equipment Related Business
Ferrotec provides total engineering services in the Equipment Related business segment, including the manufacture and sale of Vacuum Feedthrough of equipment parts for solar power, semiconductor, FPD and LED applications, consumable products used in manufacturing of devices, quartz products , ceramic products, CVD-SiC products, silicon wafer processing and equipment cleaning services. The main product of Vacuum Feedthrough boasts of top market share in the world, and is a functional part that insulates the interior of manufacturing equipment from gas and dust contamination while supporting rotating action of the above mentioned equipment. These Vacuum Feedthrough use magnetic fluids (Fluids that respond to magnetic fields), which has been a core technology of Ferrotec since its founding. Because of instability in these applications arising from their link with corporate capital investments cycles, the Company focuses its marketing efforts upon expanding sales to applications for which demand is more stable, including transportation equipment, precision robots, and general industry usages. In addition, Ferrotec has also focused its efforts upon assuming consigned manufacture of vacuum chambers that use Vacuum Feedthrough and gate valves (Both use vacuum related equipment). At the same time, quartz, ceramic, and CVD-SiC products are critical elements in the process of semiconductor manufacturing. Quartz products are able to resist high temperature conditions that exist in the semiconductor manufacturing process, and are a high purity silica glass product that protects semiconductors from undergoing chemical reaction by preventing it from activating with gas. The Company boasts of semiconductor manufacturing equipment manufacturers as their main clients in Japan and overseas who purchase ceramic products, which are Ferrotec's core material and technology. At the same time, semiconductor inspection tools for machinable ceramics and fine ceramics used in semiconductor manufacturing equipment are two main products in this realm. CVD-SiC products are the term used to describe SiC products manufactured by "CVD method (Chemical Vapor Deposition method)" (created from compounds of silicon and carbon gas). Currently, semiconductor equipment and structural parts are provided, and research and development for products used in aeronautics and space (Turbine, mirrors), automobile (Power semiconductors), energy (Nuclear power related), information technology (Semiconductor manufacturing equipment parts) and other applications are also being conducted. Ferrotec is currently implementing efforts to expand its six inch (diameter) silicon wafer processing to include eight inch wafer applications, and boasts of a top share of over 50% of the manufacturing equipment cleaning services within China.
Electronic Device Business
Thermal element "thermoelectric modules" are products that can instantly raise or lower temperatures to a highly precise degree and are a core product of this business. Thermoelectric modules are used primarily in heated automobile seats, and also in a wide range of other applications including heated wafers in semiconductor manufacturing equipment, genetic analysis equipment, optical communications, and consumer electronics. Ferrotec is also working on developing new demand and expanding further applications through cost reduction and quality improvement through development of new products using high performance materials and introduction of automated lines. Earnings of magnetic fluids, including applications currently being developed for use in fishing reels (Water protecting internal seals) and speakers for 4K televisions, are also conducted.
Photovoltaic Business
Ferrotec entered the photovoltaic related business in 2005, and manufactures and sells silicon crystal manufacturing equipment, consumable products including quartz crucibles, and silicon products used in photovoltaic applications. Based upon the current needs of the market, the Company is conducting manufacture and sales of silicon-use multiple crystal vessels (Manufactured using quartz processing technologies), single crystal crucibles manufactured when making ingots, and consigned manufacturing of silicon crystal ingots and wafers used in photovoltaic substrates. The Company is promoting transfer of technologies cultivated in the photovoltaic product realm to high value added semiconductor applications.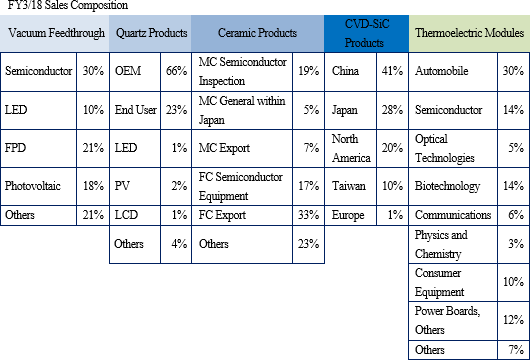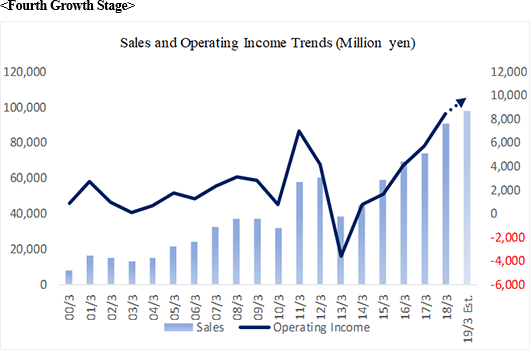 Ferrotec was established in September 1980 and began manufacturing and selling magnetic fluids and applied products (CP seals, Vacuum Feedthrough). CP seals used as seals in hard disc drives and Vacuum Feedthrough used as seals in vacuum equipment have been drivers of growth and the foundation of the Company's overall business. From 1990 onwards, Ferrotec has conducted aggressive overseas business deployment including the establishment of local companies in Massachusetts, United States in 1991, Hangzhou, China in 1992, Shanghai, China in 1995, and Singapore in 1997. Meanwhile, the company started manufacturing and selling thermoelectric modules in China (1992), and started manufacturing and selling quartz products for semiconductor related business (1998). In 1999 the original parent company Ferrofluidex Co., Ltd. was acquired to deploy businesses in North America and Europe. From 2000 onwards, Ferrotec started business process consignment for machine tools and silicon wafer processing that leverage its integrated manufacturing technologies including parts processing and assembly in 2002. In 2005, the Company launched the photovoltaic related business and began full scale manufacturing and sales of quartz manufacturing equipment and crucibles. In 2008, the production and sales of ceramic products was started to become a new driver of earnings. Now, Ferrotec operates its businesses in the four geographic regions of China, Asia, North America and Europe including Russia, and it is in the fourth phase of its growth strategy.
Fiscal Year March 2018 Earnings Results

Sales, Operating Income Rise 22.7%, 48.6% Year-On-Year
Sales rose by 22.7% year-on-year to ¥90.597 billion during fiscal year March 2018. Highly active investments for semiconductor and high levels of semiconductor manufacturing activities allowed sales of equipment related business to rise by 36.9% year-on-year. At the same time, all business segments recorded increases in sales. Operating income rose by 48.6% year-on-year to ¥8.437 billion due to a 0.8% year-on-year rise in gross margin to 27.5% arising from improvements in profitability of equipment related business that helped to offset disposal loss on slow moving inventories in the photovoltaic related business. At the same time, sales, general and administrative expense to sales ratio fell by 0.8 points. Equity in earnings rose from ¥238 to ¥328 million, but the booking of foreign exchange trans lation loss (Profit of ¥213 million in the previous term to a loss of ¥640 million in the current term) limited the growth in ordinary income to 26.1% year-on-year. Extraordinary loss of ¥1.779 billion resulting from litigation provisions for losses amounting to ¥1.114 billion combined with loss on disposal of fixed assets and impairment loss resulting from retreat from vessels business for photovoltaic applications and amortization of goodwill related to Asahi Seisakusho Co., Ltd. caused net income to decline by 17.8% year-on-year. The litigation loss provision reflects the court's first trial verdict reached in February involving the sale of photovoltaic related equipment sold in 2010, but Ferrotec's appeal for a retrial because of lack of transparency and misinterpretations during the course of deliberation has been accepted. Foreign exchange rates (Average for the FY 2018) of ¥112.04 per United States dollar and ¥16.63 per Chinese yuan (¥109.44 and ¥16.41 respectively in the previous term) were applied.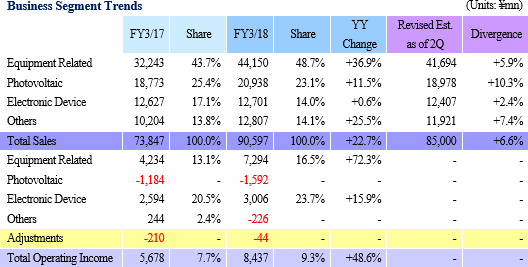 Vacuum Feedthrough sales rose by 44.1% year-on-year thanks to continued favorable demand from semiconductor manufacturing equipment applications, and firm demand from Flat Panel Display, large liquid crystal display, and OLED due to aggressive capital investments of manufacturers in China. In sales of materials, quartz products rose 39.8% year-on-year on the back of strong demand from the three major OEM manufacturers within Japan and two in the United States, and from DRAM manufacturers in Taiwan. Also, supplies of Silicon etcher parts provided to major OEM manufacturers within Japan were started. Ceramic products grew by 39.4% year-on-year in response to demand mainly from semiconductor logic inspection tools (Japan) for machinable ceramic (MC) "photoveel", general industrial machinery (Japan), and medical equipment (Overseas). Strong sales of fine ceramics (FC) were recorded on the back of record high orders for etching equipment from overseas customers and strong demand from semiconductor film formation equipment and FPD equipment applications were seen within Japan. At the same time, CVD-SiC product sales rose 59.5% year-on-year because of increases in materials used in semiconductor manufacturing equipment arising from strong new capital investments by Japanese and overseas manufacturers operating within China. Parts for new equipment, mass production of niche products responding to demands of cutting edge applications, and entry to markets for large parts and non-semiconductor realm are expected to become strong growth factors supporting Ferrotec in the future. Sales of EB guns and LED deposition equipment rose 3.1% year-on-year due to increasing demand for equipment used in IoT applications in the realms of communications and filters. In the near term, Ferrotec is promoting development of various applications for 5G communications base stations with a goal of cultivating these products to become strong contributors to earnings. Wafer processing services sales rose 33.9% due to strong full capacity utilization of 370,000 units per month of 6 inch wafers in response to strong demand from analog, discreet and power semiconductor applications. Production for certification of mass production of 8 inch wafers has begun (Currently environmental response scrutinizing has been halted). As for profit, profit margin improved offsetting increased R&D expenses and increased capacity such as operation of new factory.

Quartz crucible sales fell 9.4% year-on-year due to lower sales of single crystal crucibles to photovoltaic applications although single crystal crucibles to semiconductor applications increased. Furthermore, the retreat from unprofitable business of vessels for photovoltaic applications also contributed to this weaker performance. Photovoltaic use silicon sales rose 22.6% year-on-year. The maintenance of capacity utilization rates for single crystal N type wafers on the back of strong demand from clients operating in China and the United States allowed sales to increase and profitability to be maintained. However, declines in wafer pricing from the start of 2018 due to increases in production by a major Chinese manufacturer and a temporary decline in demand are a cause for concern with regard to the photovoltaic application business. Consequently, Ferrotec is promoting a shift in the focus of its business strategy from photovoltaic to semiconductor applications. Sales of cells and other products rose 13.5% year-on-year. While full year sales grew, sales of both single and multiple crystal products trended weakly due to declines in pricing during the latter half of the year. Competition in the PERC single crystal cell product realm intensified. In addition, declines in order backlog caused an 82.7% year-on-year decline in silicon crystal manufacturing equipment. Consequently, the Company is promoting a shift of its focus for sales of silicon crystal manufacturing equipment towards semiconductor applications. With regard to profit, losses booked for disposal of slow moving inventories caused the loss to expand but improvements in overall assets conditions have been completed and future concerns over assets have now been resolved. Furthermore, Ferrotec will continue to implement efforts to firmly establish profitability through activities relating to OEM, consigned manufacturing, asset sales, and collaborative arrangements.

Thermoelectric module sales fell 1.0% year-on-year due to weak demand from heated automobile seats caused by a decline in car sales in the North American market, and despite increases in sales to semiconductor heated wafer, other industrial use, biotechnology and medical inspection and consumer electronic applications. Sales of heated automobile seats in Europe and China were favorable but not strong enough to offset weakness in other product applications. Ferrotec has created a new automobile project team to pursue business opportunities in the realms of electric vehicles (EV) and automatic driving cars. Magnetic fluids and other product sales rose 21.5% year-on-year. Sales of boards for power semiconductor used in industrial, electronic, and automobile applications increased and sales of magnetic fluids mainly for linear vibration motors used in smartphone applications also increased. With regard to profits, increases in the sales composition of high profitability realms such as semiconductor and biotechnology equipment, and boards for power semiconductor allowed profitability to improve.

Total assets rose by ¥26.357 billion from the end of the previous fiscal year to ¥118.457 billion at the end of the current term on the back of cash brought in by the issuance of new shares amounting to ¥8.9 billion and issuance of a corporate bond for active capital investments. Tangible assets rose (including increase in construction in progress of ¥1.754 billion) due to increases in capacity to raise output of 8 inch wafer equipment, and quartz and ceramic products. As for intangible assets, goodwill declined from ¥769 to ¥378 million due in part to ¥392 million in amortization including temporary amortization of ¥185 million for Asahi Seisakusho. However, other accounts increased due to the booking of ¥1.260 billion for land use rights for the subsidiary for 8 inch wafer production established in Hangzhou, China. Foreign exchange rates of ¥113.00 and ¥17.29 per United States dollar and Chinese yuan were applied at the end of the term (Compared with ¥116.49 and ¥16.76 at end of FY3/17) respectively. Equity ratio increased from 42.6% to 43.3%.

Increases profits and depreciation of ¥4.188 billion (Compared with ¥3.593 billion in FY3/17) allowed the cash inflow from operating activities to rise by 21.0% year-on-year to ¥9.946 billion. At the same time, the larger payments for both tangible and intangible noncurrent assets offset the inflow from operations and caused free cash flow to turn to a net outflow of ¥2.441 billion. The main acquisitions for tangible and intangible noncurrent assets included investments associated with the Shanghai, Hangzhou, and Yinchuan subsidiaries which amounted to ¥3.485, ¥5.298 and ¥1.4 billion respectively. Moreover, capital investments on a payment basis rose from ¥7.322 billion in fiscal year March 2017 to ¥12.3 billion.

*ROE(Return on Equity) is calculated by multiplying by "net profit to sales margin (net profit/sales)," times "total assets turnover (sales/total assets)" times "leverage (total assets/equity capital, inverse of equity capital ration.)" ROE = net profit to sales x total assets turnover x leverage. *The figures above are calculated using earnings results and assets data from official financial reports. Total assets and equity are averages of the balance during the term (average of balance at the end of previous term and current term). Capital ratio on earnings results and assets security reports is calculated based on balance at the end of term. Therefore, its reverse and above leverage may vary.
Fiscal Year March 2019 Earnings Estimates

Sales, Operating Income Expected to Rise 8.2%, 16.2% Year-On-Year
Ferrotec's earnings estimates for the coming fiscal year March 2019 call for sales to rise by 8.2% year-on-year to ¥98.0 billion. This increase is expected to be derived from a strong 33.0% year-on-year increase in equipment related business sales, and despite the outlook for a relatively weak 1.8% year-on-year increase in electronic device business due to continued sluggish demand for thermoelectric modules used in heated automobile seats affected by car sales in North America and a 22.6% year-on-year decline in sales of photovoltaic business due to weakness across most products in this segment. There is a strong demand for material products from major semiconductor manufacturing clients to increase their output. The Company will respond to it by adding new lines and establishing new manufacturing factories. With regard to profit, increases in sales and the conclusion of adjustments to the photovoltaic related business are expected to allow gross income margin to rise by 1.0% year-on-year to 28.5%. Increases in sales, general and administrative expenses arising from higher variable expenses, depreciation and amortization are anticipated to be successfully absorbed, allowing operating income to rise 16.2% year-on-year to ¥9.8 billion, approaching ¥10 billion. While foreign exchange translation loss is expected to decline, interest payments are expected to increase from ¥633 to ¥700 million, allowing non-operating income to remain in line with the term just ended. A decline in extraordinary loss and declines in tax rates from 51.2% to 37% are expected to allow net income to grow by 97.9% year-on-year to ¥5.3 billion. Ferrotec applies average annual foreign exchange rate projections of ¥105.00 and ¥16.00 per Untied States dollar and Chinese yuan (¥112.04 and ¥16.63 in FY3/18) respectively for its fiscal year March 2019 estimates. Consequently, its currency sensitivity for every single yen change is ¥950 and ¥65 million at the sales and operating income levels respectively. The Company also expects to spend ¥40.0 billion on capital investments (Compared with ¥12.3 billion in FY3/18), with the main investments including ¥8.0 billion to increase capacity of material products to match the needs of semiconductor manufacturing equipment clients, ¥3.0 billion to raise capacity for power semiconductor boards (Current output of 100,000 units to be raised by 350,000), ¥4.0 billion for the parts cleaning business (One new factory added and one existing factory's capacity to be expanded), these will amount to ¥16.0 billion with replacement of existing facilities. The remaining ¥24.0 billion will be spent on fortifying the large diameter semiconductor wafer production facilities of the Hangzhou and Yinchuan subsidiaries. Subsequent to these investments, depreciation and amortization is expected to increase to ¥5.0 from ¥4.188 billion in the term just ended. Ferrotec is expected to be able to cover its capital requirements during the first half by using the ¥8.0 billion raised through the new share issuance undertaken in the term just ended and the ¥5.0 billion credit line from domestic financial institutions, and in the second half by using ¥12.0 billion in loans from Japanese financial institutions, ¥4.0 billion from loans assumed by subsidiaries in China, ¥4.0 billion cash on hand and leases.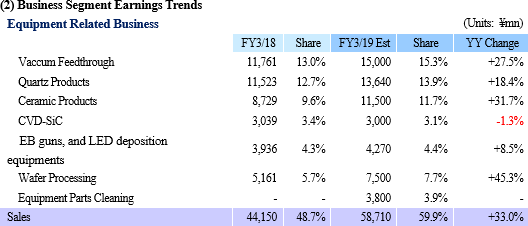 Vacuum feedthrough sales are expected to rise 27.5% year-on-year due to strong demand from semiconductor manufacturing equipment applications and despite adjustments after the second half caused by delays in capital investments by major panel makers for OLED applications. Consigned processing demand, mainly within the China market, is also expected to grow. Sales of quartz products are expected to rise by 18.4% year-on-year on the outlook for continued increases in demand. Aggressive semiconductor related capital investments are expected to contribute to increases in demand from both major Japanese and United States OEM manufacturers. Also, supplies of spare quartz parts for device manufacturer applications are anticipated to rise on the back of operations of a new factory. In addition, supplies of silicon parts to major Japanese OEM manufacturers are expected to expand. Ceramic products sales are expected to grow by 31.7% year-on-year on the back of strong growth in demand for MC "photoveel" used in domestic semiconductor logic inspection tools, and steady sales for domestic general industrial machinery, and overseas medical equipment applications, and despite declines in semiconductor memory use inspection tools within Japan. While parts for FPD applications within Japan are expected to fall, fine ceramic products for semiconductor manufacturing equipment parts and overseas film formation and etching equipment applications are expected to increase. CVD-SiC product sales are expected to decline by 1.3% year-on-year due to adoptions of alternative materials for equipment parts by some clients and inability to cultivate demand because production is reaching its capacity despite the start of mass production of large parts and increase in materials for domestic and overseas semiconductor manufacturing equipment resulting from new investments in China. EB gun and LED deposition equipment sales are expected to grow 8.5% year-on-year based upon the outlook for increases in demand from IoT applications in the realms of communications and filters. At the same time, wafer processing sales are anticipated to rise by 45.3% on the back of increases in the output capacity of 6 inch wafers from the current level of 350,000 to 400,000 units per month within the coming year, and the start of 8 inch wafer production at the end of June (Production was halted until end of May due to the need to strengthen environmental responses for waste water). Pricing recoveries are being seen due to a shortage of wafers within the industry and it is penetrating from 12 inch products to 8 and 6 inch ones. In addition, equipment parts cleaning has been separated from its inclusion within others to become a reported segment. The equipment parts cleaning segment is expected to see a 24% year-on-year increase in sales.

Quartz crucible sales are anticipated to rise by 8.1% year-on-year. While demand for medium diameter crucibles used in semiconductor applications is expected to grow, the start of operations at factories in China built by semiconductor manufacturers are behind schedule. Ferrotec is promoting a shift in the focus of its business strategy and is concentrating its marketing resources upon semiconductor applications, but it will maintain its efforts to cultivate 32 inch applications that show great promise in the future within the photovoltaic related business. Photovoltaic use silicon sales are expected to decline by 36.3% year-on-year due to fears over stagnant wafer pricing despite the outlook for increases in global installation in fiscal year 2019 and increases in shipment of N type wafer resulting from its growing assessment certification. With regard to multiple crystal products, efforts will be concentrated upon securing utilization rates and profitability on OEM applications. Cell and other product sales are also expected to fall by 1.6% year-on-year. Efforts will be made to maintain capacity utilization rates on OEM applications of multiple crystal and PERC in China, and to secure favorable pricing by further improving its PERC technologies.

While demand for thermoelectric modules from semiconductor manufacturing equipment, biotechnology, medical examination device, beauty home appliance and other consumer related applications is expected to trend favorably, heated automobile seats application demand is expected to continue to trend weakly. Ferrotec will endeavor to bolster its sales to automobile related applications by cultivating other product applications including heads up display, battery cooling and others. While sales to power semiconductor substrate applications are increasing on the tail wind of support provided by the global trend for reductions in power consumption, magnetic fluid related sales are on the decline.
Medium to Long Term Growth Strategy
The target of ¥100.0 billion sales is merely a passing point as it is now within reach and Ferrotec will endeavor to achieve even higher growth by focusing its efforts upon for electronic device product applications within the semiconductor, electric vehicle (EV), communications, medical and consumer electronic realms. At the same time, efforts to restructure the photovoltaic related business and strengthen the sales structure in Europe will also be conducted.
<Growth Realm Strategy>
(1) Investing Management Resources into Semiconductor and Other Equipment-Related Business: Material Products, 8 Inch Wafers, Cleaning Business (2) Introducing Applied Products into the Automobile Industry (Electric Vehicles): Applications Other Than Automobile Seats (3) Expansion in Growth of the Electronic Device Business: Strengthen Communications, Medical, and Domestic Electrical Appliances Fields
(1) Investing Management Resources into Semiconductor and Other Equipment-Related Business: Material Products, 8 Inch Wafers, Cleaning Business
Diversification of product applications within the semiconductor realm indicate that a super cycle has begun and that growth is expected to continue. Amidst this trend, Ferrotec is leveraging the strength of its product range which covers most of the pre-manufacturing processes to expand growth within the semiconductor realm.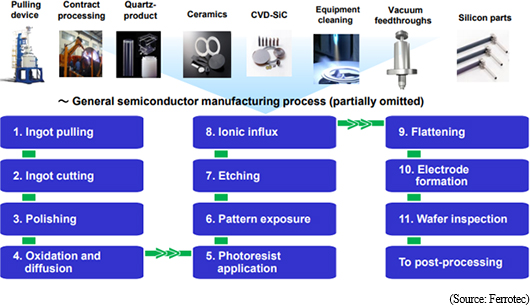 The main focuses of its strategy within the semiconductor realm are material products, 8 inch wafers and equipment parts cleaning services. Increases in demand for semiconductors are contributing to expansions in the market for materials for quartz and ceramic products. Consequently, ongoing investments to expand output capacity are being made in response to strong demand for quartz products from major OEM manufacturers in the United States and Japan. A new factory in Jiangsu Province in China will be completed around October 2018, with full scale contributions to profits expected to begin from fiscal year March 2020 onwards. Currently, expansion of production capacity of ceramic products is being conducted both inside and outside of Japan. In Japan, where the most of developments are made, the Ishikawa Development Center began operation from January 2018. Furthermore, measures will be implemented to strengthen its development capacity by integrating the Kansai Plant in Hyogo. With regard to overseas (China), a new production line is being constructed at the existing factory in Hangzhou, China to respond to growing demand from major clients in the United States and Japan. Construction of this new line will be completed around January 2019 and full scale contribution to earnings is expected from fiscal year March 2020. With regard to 8 inch wafers, preparations are being made to begin mass production of silicon crystal (Ingots) and wafers in China, with ingots and wafers planned to be produced at the second factory in Yinchuan and the factory in Hangzhou respectively within fiscal year March 2020. As a result of these efforts, 6 to 8 inch ingots in Yinchuan, the production capacity for 6 and 8 inch wafers is expected to reach 400,000 and 100,000 units per month respectively at the Shanghai facility (Collaboration with Global Wafers of Taiwan), and 350,000 units per month for 8 inch wafers at the Hangzhou facility (Collaboration with Guangzhou City) (400,000 and 450,000 units per month for 6 and 8 inch wafers respectively) will be achieved within fiscal year March 2021. With regard to the equipment parts cleaning business (already covers 60% of shares in China), clients' requests for increases in capacity are rising in response to the miniaturization and three dimensional (3D) applications of semiconductors. Therefore, construction of fifth cleaning factory (Existing factories: 1 each in Shanghai, Tianjin, and Dairen, and 2 in Sichuan) is being promoted in Anhui Province, China. It is expected to begin operations at the end of calendar year 2018, with full scale contribution to earnings anticipated in fiscal year March 2020. The equipment parts cleaning business is expected to grow to become a ¥10.0 billion business. Aside from the above-mentioned developments, Ferrotec is implementing efforts to strengthen its consigned manufacturing services in Europe and China, and to cultivate OEM manufacturing of semiconductor manufacturing equipment to become a cornerstone of earnings. Ferrotec subsidiaries manufacture the various manufacturing equipment used by the parent company for its consigned manufacturing services. The Company is already conducting consigned manufacturing of parts units (ASSY) for semiconductor manufacturing equipment.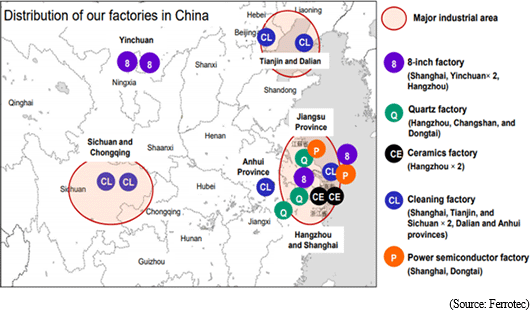 (2) Introducing Applied Products into the Automobile Industry (Electric Vehicles): Applications Other Than Automobile Seats
According to the "Structural Changes in the Automotive Industry and Their Equality" report by the Manufacturing Industry Bureau of the Ministry of Economy, Trade and Industry, the global sales of new cars will reach 100 million units in 2020. The rising demand for automotive semiconductors is expected to accelerate along with the concentration of cutting edge next generation technologies in cars and the increases in the output and sales of automobiles. In light of these conditions, Ferrotec has launched an automobile project team in January. Staff responsible for Japan, Europe, North America, Southeast Asia, and China participate in this project team to come up with responses to new applications focused upon electric and hybrid vehicles with a goal of creating sales of ¥20.0 billion.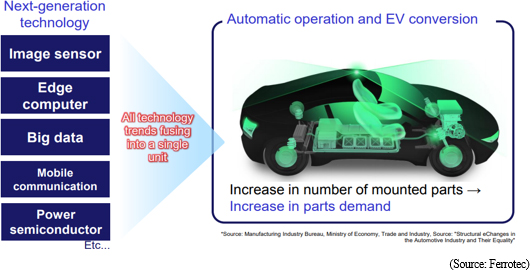 Mainly developing thermo-modules, magnetic fluids, and power semiconductors, etc. and making proposals for in-car mounted products suitable for further advancement. Ferrotec's Core Technology Products Support a Wide Range of Applications

(3) Expansion in Growth of the Electronic Device Business: Strengthen Communications, Medical, and Domestic Electrical Appliances Fields
Efforts are being made to expand the support area of thermoelectric modules. Specifically, Ferrotec will endeavor to strengthen its responses in the realms of communications and medical care, and conduct measures to develop power generation modules. Furthermore, the market for industrial power semiconductor applications is expected to expand from ¥2.7000 trillion in 2017 to ¥4.7000 trillion in 2030. Currently, most of Ferrotec's applications are in the realm of consumer products, but its customers are asking it to expand production. Therefore, a power semiconductor substrate (DCB substrate) factory is being constructed in Jiangsu Province.

<Photovoltaic Related Business Reorganization and Strengthening European Sales Structure>
Photovoltaic Related Business Reorganization
A shift in the focus of the business strategy will be implemented with a transfer of technologies developed in the photovoltaic business to cultivate semiconductor applications. Currently, self-made silicon mono-crystal manufacturing equipment for semiconductor applications is in operation at Ferrotec's own plants with quartz crucibles for use in semiconductor applications already reaching 50% of the total. In addition, pulling apparatus for 12 inch application are at prototyping stage.
Strengthening European Sales Structure
In order to capture business opportunities in the realm of automobiles in Europe, efforts are being made to strengthen the European sales structure. Ferrotec maintains operational bases in France, Italy, Spain and Russia in addition to its European head office in Germany, and it already has consigned processing business with three major machinery manufacturers in Europe. Furthermore, demands for increased production from major power semiconductor clients are also strengthening. Efforts are also being made to expand the thermoelectric module business through collaborations between Germany and Russia.
<ESG Initiatives>
In addition to contributions to local communities through its Group companies in providing scholarships both inside and outside of Japan, efforts are being made to strengthen Ferrotec's ESG initiatives including the development of human resources within its holding company structure. With regard to the scholarship program, contributions to the development of human resources with roots in local communities have led to the implementation of scholarships for Anaheim University in the United States and Zhejiang University in China. Moreover, contributions to local communities also include efforts to undertake a clean-up of the area around the Shonan factory of its subsidiary, Asahi Seisakusho, and sponsor meetings with local residents with a goal of contributing to interaction with local residents and to environmental improvement. In addition, the Holding company provides opportunities for its young employees to discuss various topics with its top management every month with a goal of passing along management philosophy to them and long-term development of human resources.
The Chinese Government has identified 10 industries to become drivers of growth for the economy including industrial robots and aerospace realms as part of its "Made in China 2025" strategy. Also, this strategy calls for China to become a country with strong manufacturing capabilities in these realms by 2025 and to become the world's top manufacturing country by 2049. Moreover, China has established targets to raise its self-reliance for semiconductors, fundamental parts and fundamental materials. As part of this goal, China is aggressively implementing capital investments for semiconductors and its total output capacity is expected to expand from 2019 onwards. Ferrotec seeks to ride this wave of growth in the pursuit of its sales and operating income targets of ¥100.0 and ¥10.0 billion respectively in the near term. Furthermore, the Company seeks to grow its materials business, including consumable materials used in semiconductor manufacturing, and its manufacturing equipment parts cleaning business, and strengthen and cultivate the wafer business a step further as part of its quest to establish an earnings structure that is insulated from volatility in capital investment spending. Also, efforts to grow high value-added product applications of thermoelectric modules and expansion in the realm of automobiles to become a business on par with the semiconductors are also being promoted. Currently, Ferrotec's various strategies are on course and the future developments of these strategies should be closely watched.
<Reference: Regarding Corporate Governance>

Basic policy
The company considers that it is important to improve its corporate value, emphasize the soundness of its business administration to become an enterprise that will be trusted and supported by stakeholders, including shareholders, customers, business partners, and local communities, and also establish a managerial system for responding the rapid changes to the business environment swiftly and accurately.
As of July 14, 2017, two out of seven directors are outside ones, and the term of each director is one year, so that the company can respond to the changes to the business environment swiftly. In addition to a monthly meeting of the board of directors, the company flexibly holds an extraordinary meeting of the board of directors every time an important transaction emerges.
As for business operation, nine operating officers (including 8 males and 1 female or 4 directors [who are all male]) are appointed as managers in charge of respective tasks or sections and assigned with clearly defined roles for business operation.
The company has the audit and supervisory board. As of July 14, 2017, the board of auditors is composed of 3 outside auditors (including a full-time one), and aims to strengthen corporate governance.
The company receives advice about legal affairs from Goto Law Office when this is necessary for business, in accordance with a legal consultancy contract.
The company also undergoes account audit by Ernst & Young ShinNihon LLC serving as comptroller in accordance with an audit contract, and tries to disclose information without delay as a company listed in the standard section of the JASDAQ market of Tokyo Stock Exchange, if an event specified in the provisions regarding disclosure occurs.
<Disclosure Based on the Principles of the Corporate Governance Code>
Principle 5-1 Policies for constructive dialogue with shareholders
With the aim of achieving sustainable growth and improving corporate value, the company will promote the constructive dialogue with shareholders and explain its managerial policy and status understandably so that shareholders will understand them. Policies for constructive dialogue with shareholders (1) A director in charge of IR and managerial plans is included in the management that manages the dialogue with shareholders. (2) The president's office for the cooperation among divisions for supporting the dialogue with shareholders cooperates with the accounting department in supporting the dialogue with shareholders. (3) For enriching the means of dialogue other than individual interviews, the company holds a session for briefing financial results, and a business briefing session after each general meeting of shareholders, and utilizes a variety of information transmission methods, including printed matters. At the sessions for briefing financial results and business, the representative director gives explanations. (4) The information on each dialogue is managed rigorously in accordance with the regulations for the management of insider information.
Disclaimer
This report is intended solely for information purposes, and is not intended as a solicitation to invest in the shares of this company. The information and opinions contained within this report are based on data made publicly available by the Company, and comes from sources that we judge to be reliable. However we cannot guarantee the accuracy or completeness of the data. This report is not a guarantee of the accuracy, completeness or validity of said information and or opinions, nor do we bear any responsibility for the same. All rights pertaining to this report belong to Investment Bridge Co., Ltd., which may change the contents thereof at any time without prior notice. All investment decisions are the responsibility of the individual and should be made only after proper consideration.
Copyright(C) 2018, Investment Bridge Co., Ltd. All Rights Reserved.