BAROQUE JAPAN LIMITED (3548)
Chairman and CEO
Hiroyuki Murai
| | |
| --- | --- |
| Company | BAROQUE JAPAN LIMITED |
| Code No. | 3548 |
| Exchange | TSE 1st Section |
| Industry | Retail (commerce) |
| Chairman and CEO | Hiroyuki Murai |
| Address | 4-7-7 Aobadai, Meguro-ku, Tokyo |
| Business | Production and retail (SPA) company, mainly carrying out planning and sale of women's apparel and accessories. Focusing on the expansion of joint ventures in mainland China. |
| Year-end | End of January |
| URL | |
Share Price
Shares Outstanding
Market cap
ROE (Actual)
Trading Unit
¥1,212
35,503,000 shares
¥43,029 million
-
100 shares
DPS (Est.)
Dividend Yield (Est.)
EPS (Est.)
PER (Est.)
BPS (Act.)
PBR (Act.)
¥10.00
0.8%
¥136.75
8.9times
¥-
-times
* The share price is the closing price on December 21. ROE and BPS are not written here as they have not yet been made public.
Fiscal Year
Net Sales
Operating
Income
Ordinary
Income
Net Income
EPS
DPS
Jan. 2015 (Act.)
62,525
-683
-874
-2,340
-74.75
0.00
Jan. 2016 (Act.)
68,769
5,996
6,141
4,221
134.85
0.00
Jan. 2017 (Est.)
72,843
6,146
6,386
4,424
136.75
10.00
* The forecasted values were provided by the company.
* Net income is profit attributable to owners of the parent. Hereinafter the same apply.

This report contains an overview of Baroque Japan Limited, the earnings estimates for the term ending January 2017, and an interview with Mr. Murai.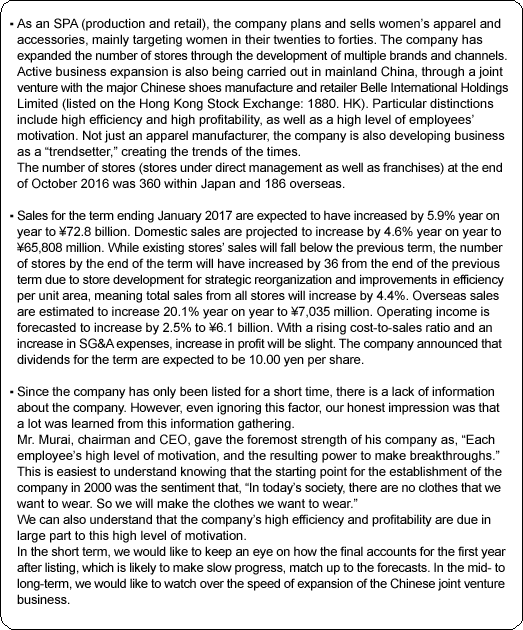 As an SPA (production and retail), the company plans and sells women's apparel and accessories, mainly targeting women in their twenties to forties. The company has expanded the number of stores through the development of multiple brands and channels. Active business expansion is also being carried out in mainland China, through a joint venture with the major Chinese shoes manufacture and retailer Belle International Holdings Limited (listed on the Hong Kong Stock Exchange: 1880. HK). Particular distinctions include high efficiency and high profitability, as well as a high level of employees' motivation. Not just an apparel manufacturer, the company is also developing business as a "trendsetter," creating the trends of the times.
The number of stores (stores under direct management as well as franchises) at the end of October 2016 was 360 within Japan and 186 overseas.
Corporate history

In the early 2000s, Mr. Hiroyuki Murai (the current company chairman and CEO) was introduced through an acquaintance to the active young founding members of Fakedelic Co. Ltd., who were energetically managing a small-scale, roughly 360-square-foot store in SHIBUYA109.
Mr. Murai was very interested in their sentiment that, "In today's society, there are no clothes that we want to wear. So we will make the clothes we want to wear," and in their dynamism and accomplishments that would lead them to great popularity. He advised them on the various issues that occurred as the company grew.
Mr. Murai, who impressed those around him with a high level of motivation while pursuing his goals, was also very interested in the SPA (production and retail) business. Mr. Murai's management ability sparked, and in 2006, he embarked on a new management enterprise as the chairperson of Fakedelic Holdings Co., Ltd.
After several companies' establishments and mergers, in February 2008, Baroque Japan Limited was born.
In May 2009, a subsidiary company was established to directly manage operations in China, and in November 2010, the first directly managed "MOUSSY" store opened in China.
In August 2013, the company reached an agreement for a joint venture business in China with the leading Chinese retailer Belle International Holdings Limited*. The company was listed on the First Section of the Tokyo Stock Exchange in November 2016.

*Belle International Holdings Limited
Established in 1991. Developer of footwear, sportswear, and apparel. Largest Chinese retailer of women's footwear. Handles a wide range of brands, including its own brands, licensed brands, and other companies' brands as a sales agent. Also deals in handbags, accessories, and men's footwear. One of China's leading retail businesses in the sportswear and apparel industry.
At the end of August 2016, the company had 20,600 stores in China, and 138 stores in Hong Kong and Macau. Listed on the main board of the Hong Kong Stock Exchange on May 27th, 2007.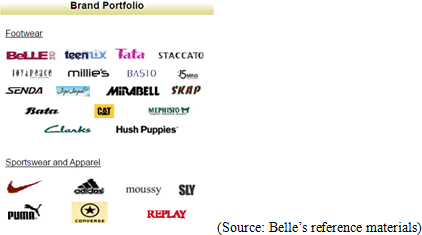 Corporate ethos, etc.

The company's philosophy is "Challenge."
The company continues to tackle challenges with five key strategies while pursuing a grand aim of "putting the fashion brands launched by Baroque out into the world as Japan's representative fashion brands" with its strengths in acutely perceiving customers' latent needs and responding with products.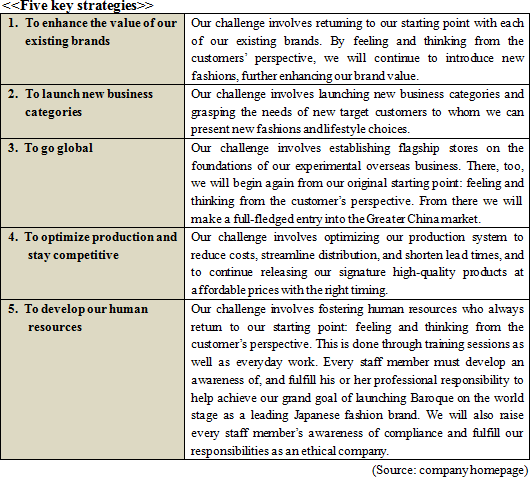 [Market environment]
◎Japanese market

According to the Ministry of the Economy, Trade and Industry's "Research on overseas expansion strategies in the Japanese fashion industry" (released on July 16th, 2014), the Japanese fashion market has been slowly declining for the past ten years, and only slight growth is expected looking towards 2020.
Looking also at individual companies' situations, despite the fact that many companies are aiming to advance into overseas markets, few companies' overseas sales rates exceed 20%, and over 70% of domestic companies have an overseas sales rate of less than 10%. Success or failure in the full-scale overseas expansion is the key to the future growth of the industry.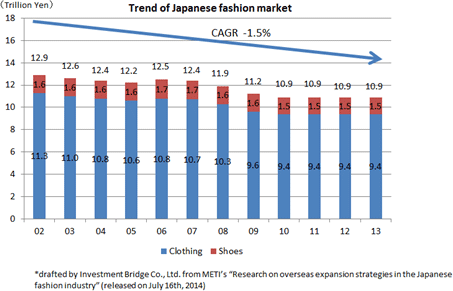 ◎Overseas

On the other hand, looking at the overseas market, fashion markets in the principal 18 countries and regions are expected to grow by ¥119 trillion from ¥206 trillion in 2013 to ¥325 trillion in 2020, an annual growth rate of 6.7%.
Amongst these, mainland China is expected to grow by approximately ¥60 trillion, from ¥45.6 trillion to ¥103.9 trillion, with an annual growth rate of 12.5%. It accounts for half of the total increase and is the market with the largest growth. Next is North America, which will grow by approximately ¥10 trillion, with an annual growth of 2.7%.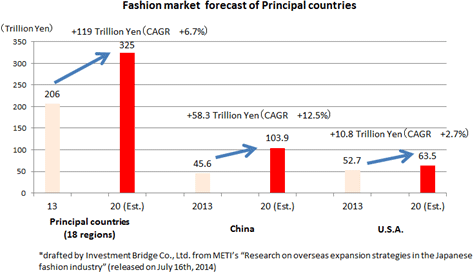 Meanwhile, looking at the market transition separated by price band (luxury, middle, and low), out of the ¥119 trillion growth up to 2020, the middle-price band will account for more than half at ¥66 trillion, then the low-price band at ¥40 trillion, and finally luxury, at ¥14 trillion.
A breakdown by country/region shows that of the increment in the middle-price band, China accounts for the majority at ¥37 trillion, and China also accounts for around half of the increment in the low-price band, at ¥18 trillion.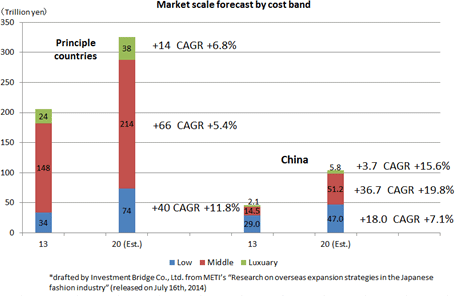 In addition, with the growth of the Chinese economy, the upper middle class (yearly disposable income of over ¥1.5 million) and the wealthy (yearly disposable income of over ¥3.5 million) are expected to increase by an annual rate of 9%, from approximately 160 million households in 2015 to 250 million households in 2020, supporting the expansion of the middle-price band fashion market.

Therefore, for Japan's fashion businesses to achieve success in advancing into overseas markets from the point of view of volume, the full-scale and focused opening up of the Chinese market is vital.
Business Description

As an SPA (production and retail), the company carries out planning and sales of women's apparel and accessories, with women in their 20s-40s as the main target market.

1) Domestic business

The company sets its brands and sales channels for each of the following key target customer demographics.
Some of the major brands are flagship brand MOUSSY, which opened its first store in SHIBUYA109 in 2000, AZUL by moussy, which branched off from MOUSSY in 2008, and ENFöLD, which began in 2012.
With these at the center, through 14 fashion brands (13 apparel brands, 1 footwear brand) the company covers a wide range of fashion tastes, including "feminine," "mode," "elegant," and "casual."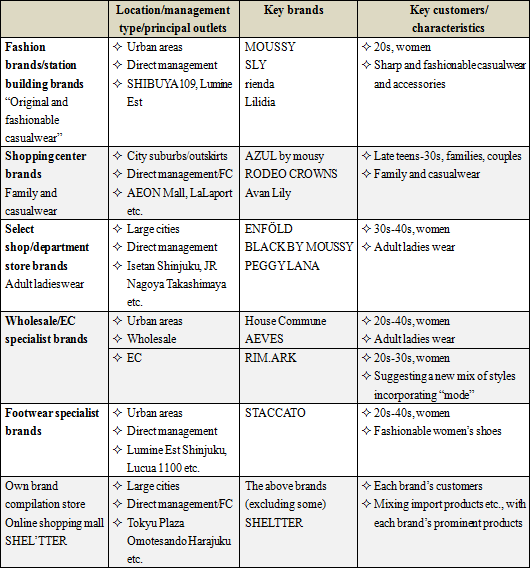 Sales were composed of approximately 55% from shopping centers, 35% from fashion brands and station buildings, and 10% from other sources (department stores and others).

2) Overseas business
*China

In 2007 a local subsidiary was established in Hong Kong. In 2010, beginning with the opening of the first directly managed MOUSSY store in Shanghai, the company expanded to operate 22 directly managed stores focusing on the Shanghai and Beijing areas.
From 2013 the company began the joint venture operations with its strategic business partner Belle International Holdings Limited, and transferred the control of all of the directly managed stores to the joint venture company.

Baroque Japan and Belle established the Chinese wholesale holding company Baroque China Limited (investment ratio: Baroque 51%, Belle 49%), and the Chinese retail holding company Baroque China Apparels Limited (investment ratio: Baroque 49%, Belle 51%), and their respective wholly owned subsidiaries expanded into the wholesale and retail business.
The sales from Baroque's Chinese joint venture business consist of wholesale to retail businesses, and royalties.
The figure also includes the equity in earnings of Baroque China Limited, and minority interests in Baroque China Apparels Limited.
In the term ended January 2016, sales from the Chinese joint venture business were up 77.2% compared to the previous term, at ¥4,960 million, and the proportion of sales was 7.2% of Baroque's total sales.
The equity in earnings of affiliates included in Baroque Japan's non-operating income was ¥272 million in the term ended January 2016, having made a huge increase of around sevenfold from the previous term's ¥38 million.
The company also expanded MOUSSY and SLY in-shop specialty stores through franchise stores in Hong Kong and Macau.

*North America

In April 2016, the company established the North American subsidiary BAROQUE USA LIMITED and opened stores for MOUSSY and ENFöLD in Manhattan, New York.
Centering on New York, the company is aiming to improve brand recognition through the creation of a community utilizing SNS and EC, which have proved successful in Japan, while carrying out test marketing and testing the brand concept.

◎Strategies for opening stores
<Japan>

The company efficiently operates in-shop stores of 700-1000 square feet in fashion buildings and shopping centers across the country.
Stores are also operated mainly in highly populated areas such as Tokyo, Osaka, and Nagoya.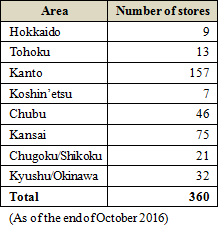 From now on, the company plans to increase the net number of stores (stores opened minus stores closed) by around 20 per year.
Currently, stores in the capital are concentrated around the city center, in Shinjuku, Shibuya, Marunouchi, Ikebukuro, etc. The company plans to open branch stores in other areas centered around station buildings.
There is still scope for opening branch stores in semi city center areas.
The company will look towards further improvements in efficiency per unit area in regional capitals. In order to do this, the company will renovate the shops and secure the sales floor that has a higher sales efficiency per unit area in the region.

In terms of risk control in plans for opening branch stores, in addition to considering only properties in the best locations that are classed as S or A, the company carries out rigorous checks on each shop's individual income and expenditure on a monthly basis.

<China>

The number of stores in the Chinese joint venture with strategic business partner Belle increased rapidly, from 24 at the end of January 2014, to 176 at the end of October 2016.
The company plans to continue to open stores at a rate of about 60-100 per year.

Along with opening new branch stores centered on brands MOUSSY and SLY, the company has also opened a SHEL'TTER boutique branch store, and is using it to carry out the test marketing for the brand not yet launched in China.
As for the product lineup, MOUSSY and SLY offer the exclusive merchandise for China to match the needs for the local customers.
<America>

In September 2016, the company established the first two directly managed stores in New York, ENFöLD WEST VILLAGE and MOUSSY SOHO.
The company will continue to inspect its brand positioning and to improve recognition in the North American market.

◎E-commerce strategies

While the mainstay of the company is the active development of physical retail stores, efforts are also being made towards the expansion of e-commerce sales.
Through blogs, SNS, and web magazines, in addition to popular sales staff's personal accounts, and company accounts separated by brand, the company is also carrying out transmission of information through influencers (public personalities, etc. with influence over consumers).
The company is also developing multifaceted marketing by publishing fashion magazine SHEL'TTER, which is available to buy, and reinforcing leads from the magazine, as well as providing information on trends through the curation site SHEL'MAG.
In November 2016, the e-commerce engine was reformed. Through new CRM, the company is reinforcing customer data management, product design, and marketing strategy.
The company is also putting effort into cross-border e-commerce by supporting multiple languages and direct delivery to overseas customers, and so forth.
In addition to the company's own website, the company is effectively utilizing other companies' sites, beginning with ZOZOTOWN, and is aiming to increase the e-commerce ratio (the proportion of sales accounted for by e-commerce), which was 9.6% in the term ended January 2016, to 20%.
Characteristics and strengths

◎High efficiency and profitability

Comparing the inventory turnover rate and gross profit margin with those of other major companies in the same industry, the company stands out in terms of efficiency and profitability.
While a business model with relatively small-scale stores and rapid turnover of inventory supports high efficiency and profitability, this has also been achieved due to the following reasons.

Firstly, the products are highly competitive.
As the company's products already have high brand recognition, greater value is placed on them compared to other companies' products, and their added value is relatively high.
The second reason is the strong selling power.
The company's store staffs feel that the products are "clothes I want to wear myself and things I want," therefore they are highly motivated to support the brand. As a consequence, they are proactive in selling to customers, and there are many cases of highly fashion-sensitive staff members gaining popularity amongst customers for providing information and outfit suggestions, and so customer loyalty is also extremely high.
Furthermore, the company also has unique know-how in stocking for both long cycles and short-term trend, based on a goal of stocking up and selling out week by week.

In addition, the following radical SCM (supply chain management) review, which the company has been putting efforts into for several years, is beginning to show results. On the company side, there is still plenty of room to improve profitability by reviewing delivery frequency and lots. The knowledge and experience of world-class SCM that Mr. Murai acquired at Canon are significantly contributing in this area.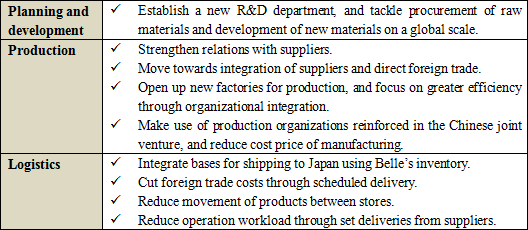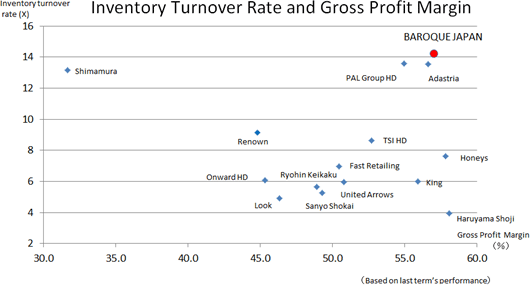 ◎Advantages for opening up the Chinese market

Probably almost all Japanese companies aiming at business development in Asia place opening up the enormous Chinese market at the core of their management strategy. However, history indicates that this is not simple to accomplish.
Against this background, the company's Chinese joint venture is continuing to expand the number of stores, sales, and profits.

The company and Belle differ in the scale of their sales by almost a factor of ten. However, Mr. Murai, who graduated from Rikkyo University and then studied abroad in Beijing, built up his experience of business in China and Hong Kong at Canon and Japan Air System, and gained acquaintances in Belle's management through a network of personal connections in Greater China. He built relationships of deep trust through earnest discussions of business management, particularly concerning the proper state of retail, and he eventually launched the joint venture.
The company has built up an alliance with Belle, China's most prominent shoe manufacturer and retailer, in terms of both funding and operations, and as business partners, the company has a significant advantage when it comes to opening up the Chinese market.

◎Corporate culture: High staff motivation

The sentiment that "In today's society, there are no clothes that we want to wear, so we will make the clothes we want to wear," has been passed down continuously, from the establishment of the company's effective predecessor, Fakedelic Co., Inc., to today. It is one of the greatest characteristics and strengths of the company.

The company provides an environment where part-time shop staffs can be promoted to the product development and planning departments if they are highly motivated towards their work and can strive towards "creating clothes that I want to wear."
Also, the company held the "First Star Discovery Contest" in 2015 as a way of promoting those who are ambitious and revitalizing the stores.

This was a unique effort to motivate the store staff and office employees with a project involving the company supporting employees in "realizing their dreams." Contest participants created a video describing their dreams and uploaded it to YouTube. Those who gained the most views entered the Grand Prix.
The winner of the first contest was hoping to launch her own brand, and in spring 2016, RIM.ARK made its debut.
This was an initiative unique to the company, whose philosophy is "Challenge."
Fiscal Year January 2017 Earnings Estimates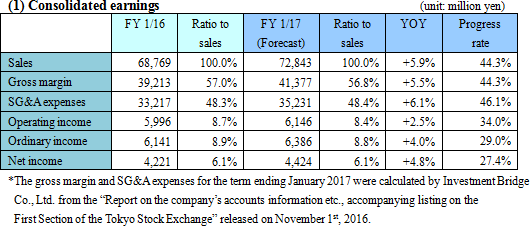 Increase in sales and profit

(Sales)

Domestic sales are estimated to increase by 4.6% year on year to ¥65,808 million.

Due to measures to increase average spending per customer, such as strengthening product planning and development and reviewing product composition implemented in the previous year, sales from existing shops were at 100.7% compared to the previous term. However, sales this term are expected to reach only 97.8% compared to the previous term as a result of the economy's uncertain prospects and a drop in consumer spending.

Gross domestic sales are estimated to increase by 4.4% year on year to ¥55,844 million. The number of stores at the end of the term will have increased by 36 compared to the end of the previous term.

Sales through e-commerce channels are projected to increase by 7.6% year on year to ¥7,081 million. The beginning of service of the electronic magazine SHEL'MAG, with its portal to the company's online shopping site, as well as the completion of the SHEL'TTER app, etc., will contribute to this.

In terms of wholesale aimed at domestic dedicated stores, ¥2,881 million (an increase of 1.6% compared to the previous term) is expected from royalties related to brand license operations.

Overseas sales are projected to increase by 20.1% year on year to ¥7,035 million.

Growth of wholesale sales from consolidated subsidiaries to equity method affiliate companies, which are included in the consolidated sales, will slow down due to stocking restraints on the retailers that are the equity method affiliate companies. The reason for restraints on stocking is that up until the previous term, the company was active in opening branch stores and stockpiling in order to raise brand recognition and appeal to new customers, which resulted in an excess of stock. The excess stock situation will be resolved during this term, and stocking is scheduled to return to normal levels from next term.

At the end of this term, the number of stores related to the Chinese joint venture business is scheduled to have increased by 61 from the end of the previous term, giving a total of 197 stores.
(Operating income)

The cost rate this term is estimated to increase by 0.2 points to 43.2%. While the company is working on reducing stocking costs through an SCM reform that has been showing results since the previous term, due to an increase in the stocking cost due to improvements in product quality, as well as the expansion of products at affordable prices, reductions in stocking cost will be partially constrained.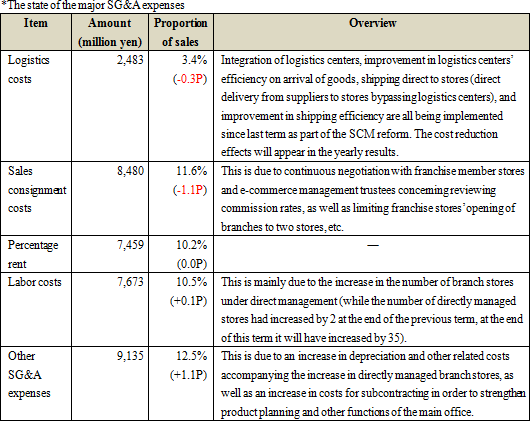 (Ordinary income)

Non-operating income will be mainly interest income and investment profit from equity method. It is expected to be ¥560 million, an increase of 39.7% from the previous term.

Expected interest income is calculated based on performance in the previous term.

The investment profit from equity method is calculated based on retail profit planning by the joint venture company with Belle International Holdings Limited. This term it is expected to be ¥498 million, an increase of 82.8% from the previous term, mainly due to the sales increase resulting from the opening of new branch stores.

Non-operating expenses will be mainly due to interest expense. It is expected to be ¥319 million, an increase of 24.6% from the previous term.
We asked Mr. Hiroyuki Murai, chairman and CEO, about his company's strengths, his vision for the company, and the message he wants to give to investors.

"Our greatest strength is each employee's high level of motivation. It gives us the power to make breakthroughs."

Our greatest strength is "each employee's high level of motivation" towards their work, and the power to make breakthroughs that this driving force provides.

I believe that my job as a manager, on top of constantly bringing out this motivation, is to create an arrangement whereby we can use this motivation as a driving force.

For example, take the 2011 Great East Japan earthquake. 57 stores were forced to close or to reduce their business hours, which was a great blow to us. On that occasion, despite the fact that the main road to Tohoku was affected by the earthquake and the nuclear accident, making it difficult for traffic to get through, store staff from West Japan got hold of vehicles and went around each of the East Japan stores. As well as gathering up the stock, they sold it in the West Japan stores, recovering the loss from East Japan.

This was not something the company had asked them to do. Rather, each employee had thought, "With the company in a crisis, what should we do?" I am still deeply grateful to the employees.

In this way, their motivation has a great power to overcome problems. This was something we also observed when we began moving into new fields of business, such as publishing SHEL'TTER, and entering the Chinese market, and it can indeed be said that it is one of our company's intangible assets.

The employees' motivation towards their work is also a source of "new ideas and ways of thinking not bound to pre-existing ideas." This is linked to strong product development and strong sales power, and consequently to the high efficiency and profitability that are this company's distinctive characteristics.
"We will continue to be a trendsetter, creating the trends of the time, and not limiting ourselves to clothing."

The starting point for the company's establishment was "to set the trends of the time."

At the time the category happened to be clothing. However, we will go forward as a trendsetter and create new trends, without being limited to only making clothes.

The current focus is clothing, but in the mid- to long-term it might be IT.

For that reason, what is necessary is our company philosophy, "Challenge."

While our organization has also been growing in scale, we will continue to create an arrangement whereby we ensure that we maintain the speed of our decisions and action, and move forward as a "trendsetter."
"I would certainly like to receive support for this company in challenging wide areas, without being confined to any particular category."

I would like all of our investors to recognize us as a business that is not confined only to the categories of "apparel," "fashion," and "retail," but that challenges larger fields.

Moreover, while we may be small, I want our investors to see our high profitability that far surpasses other top-class companies in the same industry.
Although, we are already expanding our activities into the huge Chinese market, we will continue to make a great leap into the vast foreign market, not only focusing on Japan. I look forward to your support in the mid- to long-term perspective.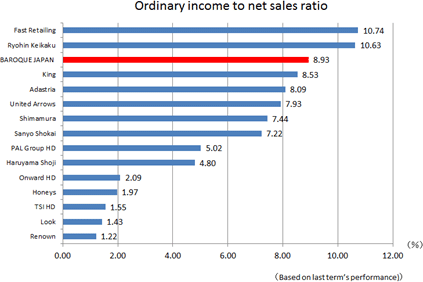 Since the company has only been listed for a short time, there is a lack of information about the company. However, even ignoring this factor, our honest impression was that a lot was learned from this information gathering.
Mr. Murai gave the foremost strength of his company as, "Each employee's high level of motivation, and the resulting power to make breakthroughs." This is easiest to understand knowing that the starting point for the establishment of the company in 2000 was the sentiment that, "In today's society, there are no clothes that we want to wear. So we will make the clothes we want to wear."
I also understand that the company's high efficiency and profitability are due in large part to this high level of motivation.
In the short term, we would like to keep an eye on how the final accounts for the first year after listing, which is likely to make slow progress, match up to the forecasts. In the mid- to long-term, we would like to watch over the speed of expansion of the Chinese joint venture business.
<Reference: Regarding corporate governance>

◎ Corporate Governance Report

The company submitted a latest corporate governance report on November 1, 2016.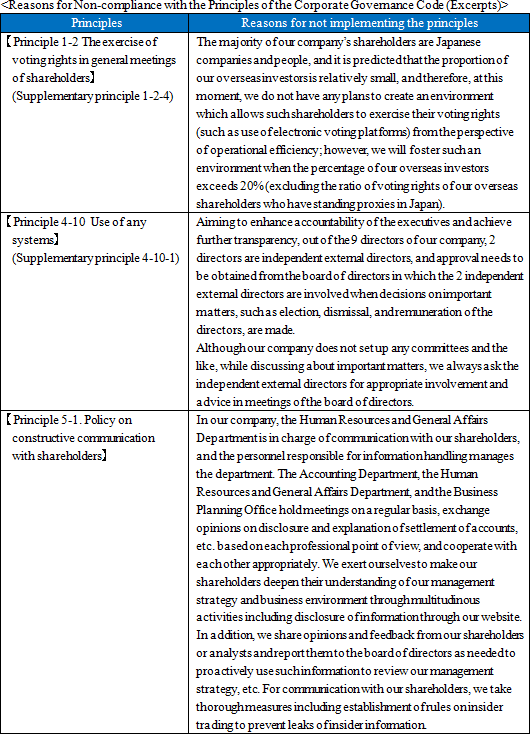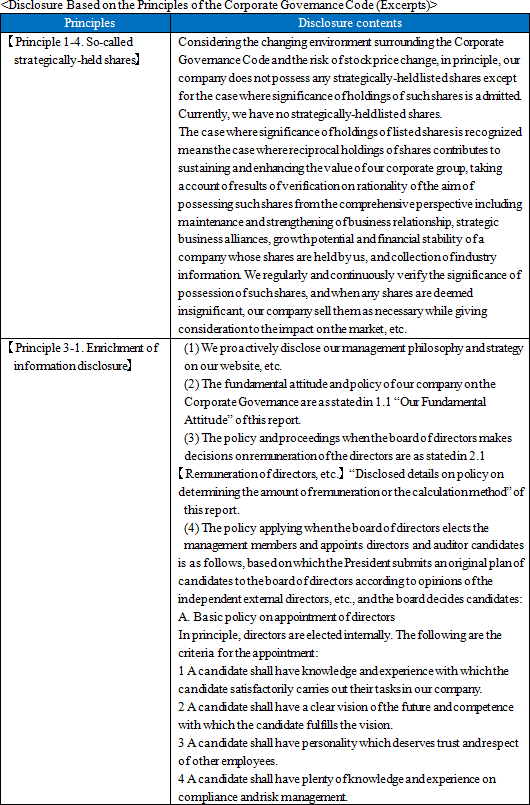 Disclaimer
This report is intended solely for information purposes, and is not intended as a solicitation to invest in the shares of this company. The information and opinions contained within this report are based on data made publicly available by the Company, and comes from sources that we judge to be reliable. However we cannot guarantee the accuracy or completeness of the data. This report is not a guarantee of the accuracy, completeness or validity of said information and or opinions, nor do we bear any responsibility for the same. All rights pertaining to this report belong to Investment Bridge Co., Ltd., which may change the contents thereof at any time without prior notice. All investment decisions are the responsibility of the individual and should be made only after proper consideration.
Copyright(C) 2017 Investment Bridge Co., Ltd. All Rights Reserved.